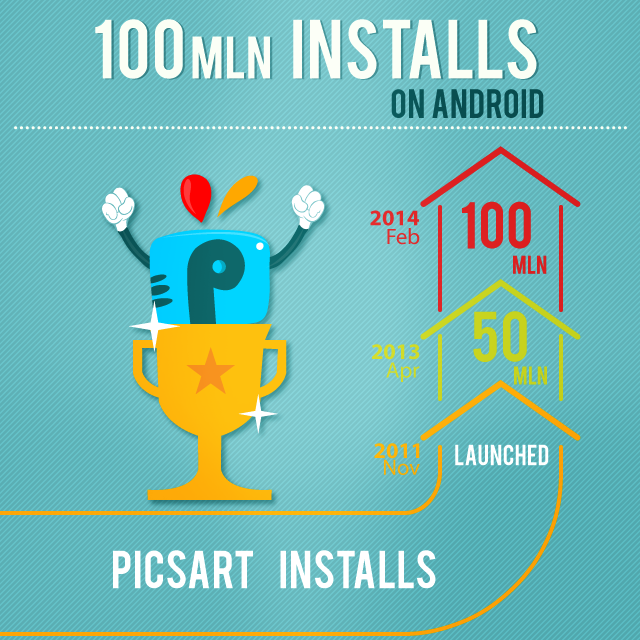 Just over two years since our launch in late 2011, PicsArt Photo Studio has become the first app in the photography category to surpass 100 million installs on Google Play. This is a huge milestone for us, as we are one of only 40 apps to reach this number.
Being the most downloaded photo app, PicsArt is also one of the very few apps with 100 mln+ installs with a consistent, high user rating of over 4.6/5, which it shares with less than 5 other apps on Google Play, including Instagram and Temple Run.
What makes us unique and successful is our ability to pack comprehensive photo-editing and drawing features into the easy-to-use and intuitive interface of a mobile app. PicsArt is not just an app though, it is also the largest mobile art community, currently at 11 million users, where artists are inspired to share, learn, and create together. Thus, we are the only photo editor to offer the complete creative package, providing the tools and the inspiration to ensure that everyone can unleash the great artist within.
Our user-base ranges from total beginners and amateur artists to professional photographers summing up to over 110 mln users on Android, iOS, and Windows Phone. PicsArt's popularity is dispersed primarily through word-of-mouth, spreading like wildfire when users tell their friends and families about the free photo-editor that has it all.
None of this would have been possible without you, our dedicated users. And we return the favor by crowdsourcing our decisions, listening to our community at every major junction and responding by developing PicsArt in step with the opinions and wishes of our ever-growing user-base. As a result, we are the place where everyone discovers and realizes their potential to become a great artist.
PicsArt was born from a bootstrap mentality. It was our ambition from the start to create an all-in-one app with an arsenal that could rival the best desktop editors, and then make it available to everyone. We know that inside of everyone there is an artist waiting to emerge, in need only of the right tools, and we strive to be present on each and every smartphone and tablet to make this happen.
We extend our deepest gratitude to all of you to whom we owe our success. We promise to continue developing, growing, and improving the app you already know and love, ensuring that PicsArt is not only the app you want, but the app you deserve!