One of PicsArt's goals is to be a constant inspiration for all things photography-related (I think we do a great job, no?). And since it's almost National Photography Month, we decided to up the ante and bring on the excitement full force.
So this May (T-minus 4 days), join us on a 30-Day #PAPhotoChallenge! Every day for 30 days, we'll give you a prompt to get your creativity flowing. And below you can see the full list so you can start your planning!
BONUS: by participating in the #Macro, #WideAngle and #Fisheye challenges you are automatically eligible to win some awesome olloclip prize packages, including a Macro Pro Lens, 4-IN-1 Lens, Active Lens and cases. For the rules, read below.
On May 31st, we'll be featuring our favorite photos from the month, so make sure to edit your shots with the PicsArt photo editor and share them every day with the hashtag #PAPhotoChallenge. We can't wait to see what you create.
Oh! And if you live in Berlin, Los Angeles, Mexico City, Tokyo, San Francisco or Shanghai, join us on May 1st for our first global #MobilePhotoWalk! The first 24 people at each walk (with an iPhone 6 and up) get a free olloclip ($100 value!). For more details, click here.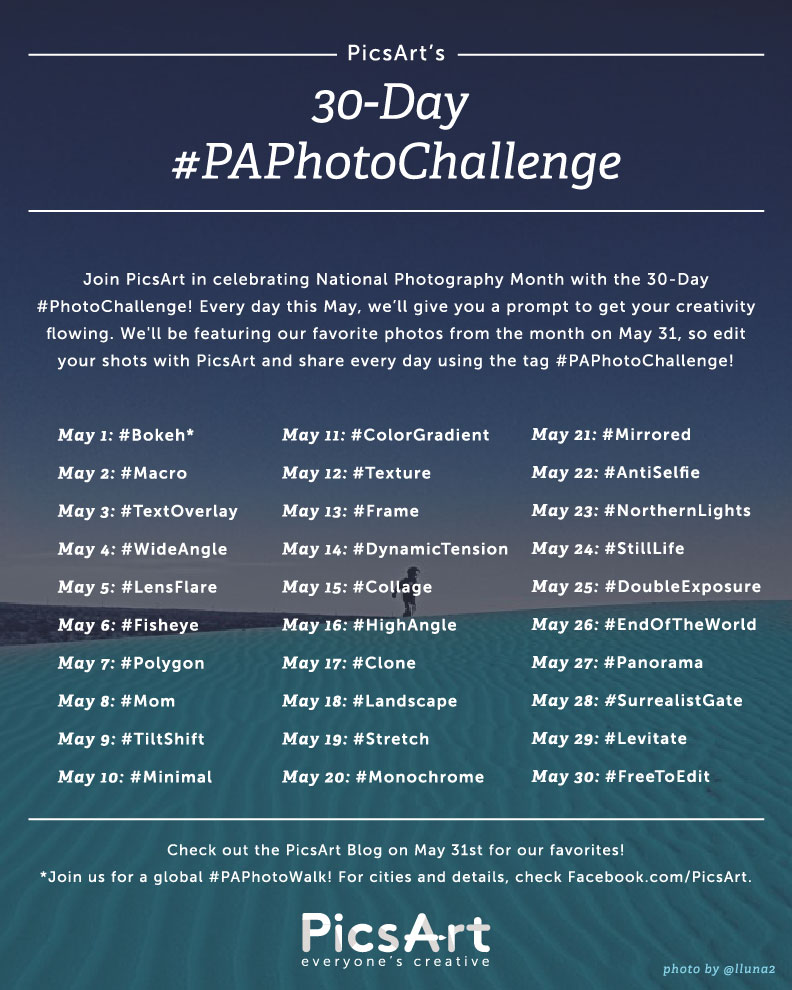 For the olloclip prizes:
How to Participate
Submit your original #Macro, #WideAngle and/or #Fisheye images on May 2, May 4 or May 6, respectively with the corresponding hashtags and #PAPhotoChallenge to enter.
After submissions close, a jury of editors will select the entrant that best embodies the prompts.
You can submit as many images as you would like.
There will be a 1st, 2nd and 3rd place winner for each contest.
The 1st Place Winner will receive a package with an olloclip Macro Pro Lens, 4-IN-1 Lens, Active Lens, Studio Case System and an olloCase.
The 2nd and 3rd Place Winners will receive the olloclip lens of their choice (you choose from Macro Pro Lens, 4-IN-1 Lens or Active Lens) and an olloCase.
The Fine Print
The winner will be notified of winning via comment from a PicsArt Community Manager within a week of the day they submitted the photo, and will be given an email address to send their email and mailing address. Each entrant is responsible for monitoring his/her photo comments for prize notification and emailing the email address given. If a winner does not send their address to the email given within one week PicsArt and olloclip have the right to forfeit that prize winner's prize.
If the prize is returned as undeliverable or is not easily deliverable from the United States (for example international carriers will not deliver to certain locations, or customs does not allow the package to enter the location), that winner shall forfeit the prize. Prize is non-transferable. No substitution or cash equivalent of prizes is permitted.
olloclip is responsible for fulfillment of the prizes.
PicsArt is not responsible for any typographical or other errors in the offer or administration of this content, including but not limited to, errors in any printing or posting of these Official Rules, the selection and announcement of any winner, or the distribution of any prize. No purchase or payment of any kind is necessary to enter to win.
Employees of PicsArt or olloclip are not eligible to win the prize.
This promotion is in no way sponsored, endorsed or administered by, or associated with Facebook, Google, Microsoft, or Apple. Any questions, comments or complaints regarding the promotion will be directed to PicsArt, not to Facebook or Apple.