What Makes a Good Real Estate Logo?
Your real estate company logo is the signature insignia of your business. It represents the quintessential values that you stand for, as well as your history, tradition, and services. An effective logo will always have a powerful concept behind it, and convery an important message. The best real estate logos also tend to be those which achieve the perfect balance between form and function.
To design a great logo you need to distil all the available information and reduce it to the most minimal, distinctive idea. Then you should define your target audience and make sure the logo design, color scheme, typeface, and layout not only visually represent the concept, but are appropriate for the intended audience.
Researching current styles and trends might be helpful in the design process, but great designers always stress the importance of longevity in successful logo design. So, you should consider the timelessness of your design, but ask yourself if what you settle on will still be effective in 20 years or more.
Also remember that your logo should not only provide a clear sense of the company's character and mission, but should do so in the most memorable and unique manner. Memorability is achieved by keeping your logo design simple, uncluttered, and recognizable. Celebrated logo designer Jeff Fisher recommends keeping in mind the famous Nike logo, "Remember, the basis of the hugely effective international branding for the world's largest shoe manufacturer is a very simple graphic swoosh."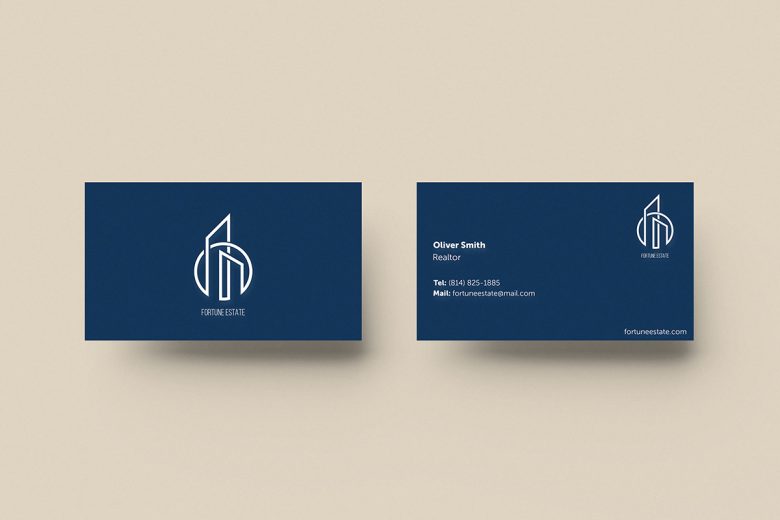 Versatility is another key component you should take into consideration while designing a real estate company logo. Designers advise sketching your logo in black and white only, to ensure it looks great in even its simplest form. This will draw the attention of the audience to the composition of the design elements, rather than distracting them with color. As logos work across a variety of touchpoints and are scaled to various sizes, they should be designed in vector format.
The selection of layout, typefaces, the color palette, 3-D imagery, symbols, metaphors, patterns or shapes should be made according to the above mentioned rules, and as approved by your client. It's not just a case of throwing an icon or artwork next to some words. Designers need to combine type and graphic elements carefully, to create a concise identity image.
However, while rules should never be ignored, they are also meant to be broken, reassessed, and subverted. Some of the most successful logo designs are those which have challenged design rules in the most unique and unexpected ways.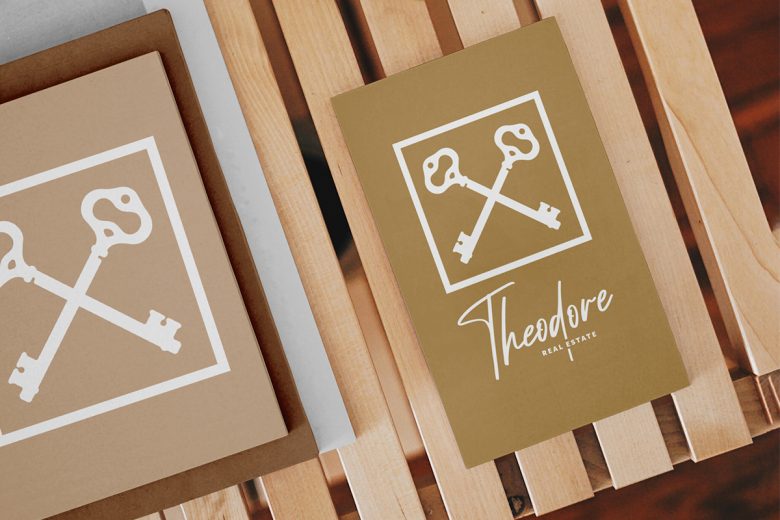 Real Estate Logo vs Regular Logos
A real estate company logo often contains a symbol of a home as its core communication. Think of Engel & Volkers, Smith Mountain Homes, or John Lautner's iconic Goldstein residence  in the Williams & Williams Estate group logo. Sometimes, the symbol is the visual component of the company's name, as the picture of the porch in Porchlight Real Estate Group logo, and the symbol of the key in Key Montana. In other cases, it symbolizes what the company stands for, such as the regal lion door knocker which conveys the feeling of opulent and historic homes in Luxury Real Estate logo. Designers favor symbols, because at their best, they make the logo instantly recognizable and memorable. Strong design immediately informs the viewer that it is a real estate company, not a law firm. Timelessness can also help the brand stand strong as styles and trends change, as well as helping to establish a relationship with the client.
However, the symbol incorporated in the real estate company logo doesn't necessarily need to say what the company does. Designer David Airey thinks that "Restaurant logos don't need to show food, dentist logos don't need to show teeth, and furniture store logos don't need to show furniture. Just because it's relevant, doesn't mean you can't do better. The Mercedes logo isn't a car. The Virgin Atlantic logo isn't an airplane. The Apple logo isn't a computer."
Moreover, the subject matter of a logo and even appropriateness of content don't play a significant role. Late Modernist master Paul Rand believed that "a one-to-one relationship between a symbol and what it symbolized is very often impossible to achieve. Ultimately, the only mandate in the design of logos is that they be distinctive, memorable, and clear."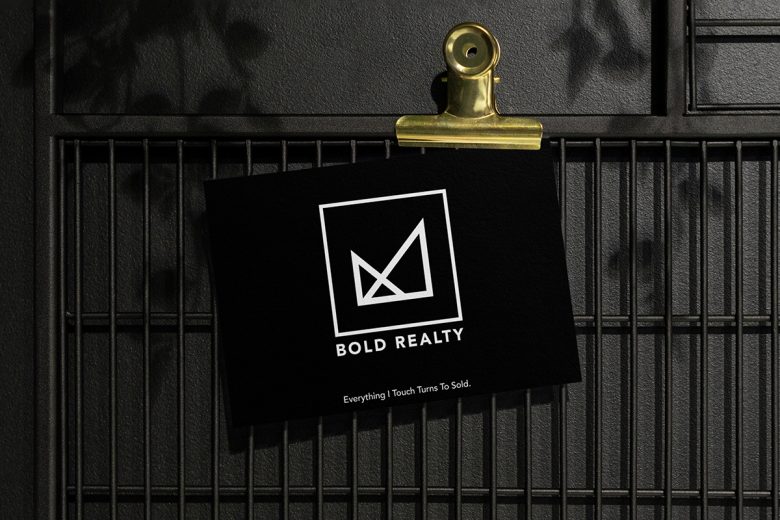 What are Some of the Best Real Estate Logo Ideas?
Are you going for elegant, classy, creative, minimalist, modern, or vintage? Below we will introduce some of the best real estate logos to draw inspiration from.
For a creative logo sample, check out the Compass real estate company logo, which captures the audience's attention with its unique design. Compass is all about providing their clients with valuable guidance and direction. Accordingly, the slash in the 'O' in the logo represents the needle of a compass, conveying a clear sense of direction.
For an idea of how to design an expressive, welcoming logo, check out Bahamas Realty's. It expresses the Caribbean feel with a seashell, conjuring images of beaches, and water. The logo also creates a feeling of warmth, through a stylized outline and a color palette of blue and dusty rose.
BAC Estate real estate company logo is all about deep midnight blue, with mysterious shades evoking elegance, power, and loyalty. It also alludes to the blue of the sky merging with the blue of the Mediterranean, creating the perfect ambience for high-end luxurious villas. The bold typeface of the capital letters in white creates an artsy contrast with the blue, while the small 'estate' positioned within the leg of the letter is classy and original.
At Properties logo incorporates @, usually reserved for emails and social media channels. It's a classic sample of modern real estate logo conveying a trendy brand which values transparency and innovation, and is perfect for online communications.
Tirelli & Partners' logo is both modern and vintage – in perfect accord with the city of Milan. It combines the personalized warmth of the hand-lettering style with more traditional fonts. The incorporation of the owner's signature indicates luxury, trust, and tradition.
Carratelli Real Estate logo evokes elegance, prestige, and uniqueness. The classy, modern typeface decorated with a Renaissance style ornament evokes the image of the eternal city of Rome.
Julian Pilarski real estate company logo is minimalistic and sturdy – stylized initials combined with words in a circle. The use of white space evokes power, professionalism, and confidence.
Gregg Lynn's logo is a perfect example of incorporating art deco styled sleek geometric figures and opulent finishes. The typeface is simple and clean, and the design elements work well without detracting from each other.    
Sunworld Estates company logo is modern, elegant, and vibrant. It instantly conveys the flare of sunny beaches in Costa Blanca, Spain. The geometrically shaped symbol of the sun, the modern typeface, and the contrasting color palette work in perfect harmony to make a unique and strong logo.
The real estate company logo for Realty Sage is a successful illustration of the firm's expertise in sustainable homes, as part of its earth-friendly campaign. The blue, which conveys clean water and the sky, plays against the green of nature to create a profile of a home. The green leaves in the words 'Realty Sage' further reinforce the feeling of an eco-friendly home.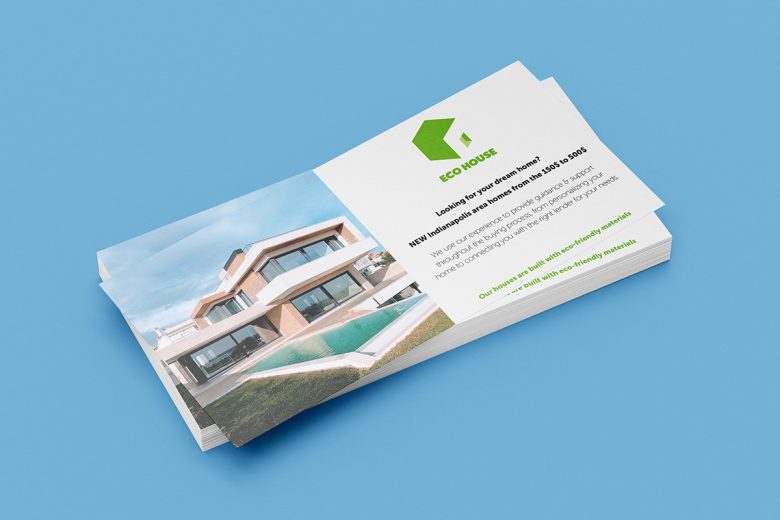 How to Make a Logo in PicsArt? 
Now that you are all set, start designing your ultimate real estate company logo with PicsArt. It's easy, fun and doesn't require any professional skills. PicsArt's signature collection of tools will help you realize your most original ideas!
Step 1) Open the PicsArt app and click the + icon, then Drawings and Pick Canvas to select your background canvas. You can also select a solid color background or choose an image from the #freetoedit collection.
Step 2) Tap on the image icon to select a photo from your library or a sticker. You may also create a symbol using the shape and text editor options. Then rearrange and resize your elements according to your design idea.
Step 3) Select the Effects icon then choose Artistic, Paper, Sketch, Canvas or any other which suits your logo design.
Step 4) Tap on Text to select the color of your text, and then tap on Font to select the font.
Step 5) Click Opacity and Blend to edit your text, and then click Apply.
Step 6) Tap on Draw then on the Color Wheel to select the color palette of your design.
Step 6) Download/share your design on PicsArt and your social media.
Experiment with various Effects, Light, and Fonts; add Photos, Masks, Frames, and Stickers to bring to life your most daring real estate logo ideas.
Do you want to use the desktop version? Proceed with the same steps by uploading your picture on the PicsArt Editor online.
PicsArt all-in-one Photo and Video Editor, Collage, and Sticker Maker is the world's largest creative platform with over 150 million monthly active creators and influencers. PicsArt has collaborated with major artists and brands like The Jonas Brothers, Gwen Stefani, Maroon 5, Lizzo, Meghan Trainor, One Direction, MONSTA X, Warner Bros. Entertainment, iHeartMedia, Condé Nast, and more. Download the app today to level-up your photos and videos with thousands of quick & easy editing tools, trendy filters, fun stickers, and brilliant backgrounds. Unleash your creativity with PicsArt and upgrade to Gold for awesome premium perks!