Portraiture is an art with many components, perhaps the most of which is in the body positions of the subjects themselves. A good pose can be the difference between a photograph that compels and one that falls flat. The best poses make you feel something without thinking too deeply about it. They're natural without feeling chaotic or unplanned. But this balance can be difficult to achieve.
In this article, we've put together some tips on how to get the most of your posed photography, with a special focus on one of our favorite poses: sitting down (which seems simple, but there's much more to it than meets the eye). For most people, posing for a camera does not come naturally, so whether you're an amateur or a pro — whether you're posing for yourself or your being commissioned to create poses for others — here are some tips on how to prep, which poses work in different situations, and finally, how to make the most of your poses during the editing phase with the PicsArt app.
How To Prepare When Taking Posed Photos
Choose a Location: Your location will do a lot to set the tone of the photo shoot. the research and maybe even scout beforehand. Is it a cityscape? Or a pastoral countryside? Different poses speak to different environments, so bear that in mind.
Create a Plan: Before going into your shoot, have some idea of what you are going for.  If you're featuring jewelry, for example, poses will be very different. You might be taking a number of close-ups in addition to full body shots, where you're looking away from the camera, not to distract from the jewelry in question. But if it's a family photo, you'll likely want to include the landscape in the shot, and poses will look much less spontaneous.  Once you have a goal, brainstorming what poses will achieve the look is easy.
Know Your Angles: Posing for a photo can be nerve-wracking for some, even if they're experienced. Start by looking at pictures of yourself (or the person you're photographing). See which angles you like, and more importantly, which you don't. When you see something you don't like, don't just brush it off; try to identify it. Was it the body position itself? Or was it a facial gesture? This will avoid making these mistakes in the actual shoot, making your time efficiently spent!
Shake It Out: Everybody's natural movements are different, and that's part of the beauty of photography. Some people will gravitate into a standing pose, others into sitting. Work with your (or your model's) natural movements. If poses start to feel stale, get up, take some deep breaths, and reset.
Use Props: Props can be essential to the photo shoot, depending on the pose. If your models are sitting down for example, you will definitely want a chair, or some kind of raised object, like a rock. Props can also provide important contrast. Walking with an umbrella, open or closed, for example, can help the model find new poses and an interesting shot. Though also bear in mind, props can be edited into images later on, in post-production. That's where apps like PicsArt come in handy.
Different Kinds of Body Poses
Once you've considered preparatory elements, you will want to actually try out some poses. But which poses are right for which situations? It's not so straightforward, but here are some tips and best practices.
Standing
Standing is a relatively easy pose and is extremely common. To begin, take a deep breath and roll your shoulders back. One of the worst things you can do in a standing pose is to slouch. Keep your upper body as tall as possible, even if it feels a bit exaggerated. Remember, the camera is a brutally honest medium. Even the slightest bit of slouching will show through, so you'll often have to overcorrect. Standing poses are great when trying to show off an outfit or the landscape behind you.
Walking (Towards and Away)
Walking poses are always a bit tricky. Whoever is being photographed should begin walking a few seconds before the photo is taken, and the walk should be exaggerated by stepping one foot in front of the other whilst looking in different directions or directly at the camera. The person taking pictures should move around while the person is walking in order to get different angles and even silhouettes. This will look different whether the model is walking towards or away from the photographer. If walking away, the person being photographed should make special effort to look back at the camera or down to the side. Ot try putting weight on the back leg, which gives the body a slight curve and accentuates the waist. Walking poses are also helpful when trying to showcase an outfit, mostly because it offers a glimpse into what clothes will look like while in use, as most of the time, we aren't going to be sedentary in our clothes.
Laying Down
Don't confuse laying down with being lazy — it is one of the trickier poses out there! It is quite a common pose in glamor photography, since it can be used to convey a bit of sensuality, but it can be used in nearly anything. There are several different kinds of laying down poses. If you lie on your side, it will create a sense of longevity in the torso and legs. This pose is often used quite a bit in swimsuit photography since it highlights certain muscles in the body.
View this post on Instagram
Sitting Down
Seated poses have taken on a new life with the rise of social media platforms, like Instagram and TikTok. That's because sitting is a more casual pose, and allows for some very cute postures and emphasizes coy expressions. With seated poses, you can create a variety of different shapes with the arms and legs, which are much more limited in standing up poses. These poses are great if you're wanting to showcase a gesture or capture a mood. With the model sitting, you can use different angles and heights to get different looks. Also bear in mind that, particularly with sitting photos, angles from above are more slimming for the person being photographed.
Top Tips for Seated Poses
View this post on Instagram
You don't need to micromanage your models (or yourself) when photographing them in sitting down poses. Have a vague idea of where and how you want them to sit and let them get comfortable. Once they're settled in, you can adjust them. Here are a few other things to keep in mind:
Good Posture Is Important: Unless you're going for a more grungy look, try to lengthen your spine when sitting and relax your shoulders.
Choose the Right Chair: Chairs can be an amazing prop and can encourage good posture, offer multiple ways to sit, and set a great right height. In chair poses, you can also have your feet touching the ground or cross-legged on the chair itself to achieve varying levels of spontaneity/mischievousness/casualness.
Aim for Equal Distance: Whatever is closest to the camera will appear larger, especially when shooting with a wide-angle lens. If the model is in a cross-legged pose or has their feet close to you, raise the camera and point it down diagonally, so the camera is equidistant from the feet and the face.
Don't Sweat the Details: Unless you're a professional photographer, you don't really have to aim for perfection. There is a lot you can do to create variety in your photos during the editing portion. Say you want to be sitting against a brick wall, but don't have one around, just try to nail the sitting portion, and later you can edit in the brick textures! Or you want to shoot midday but crave a good golden hour or shadow effect? You can easily edit that in!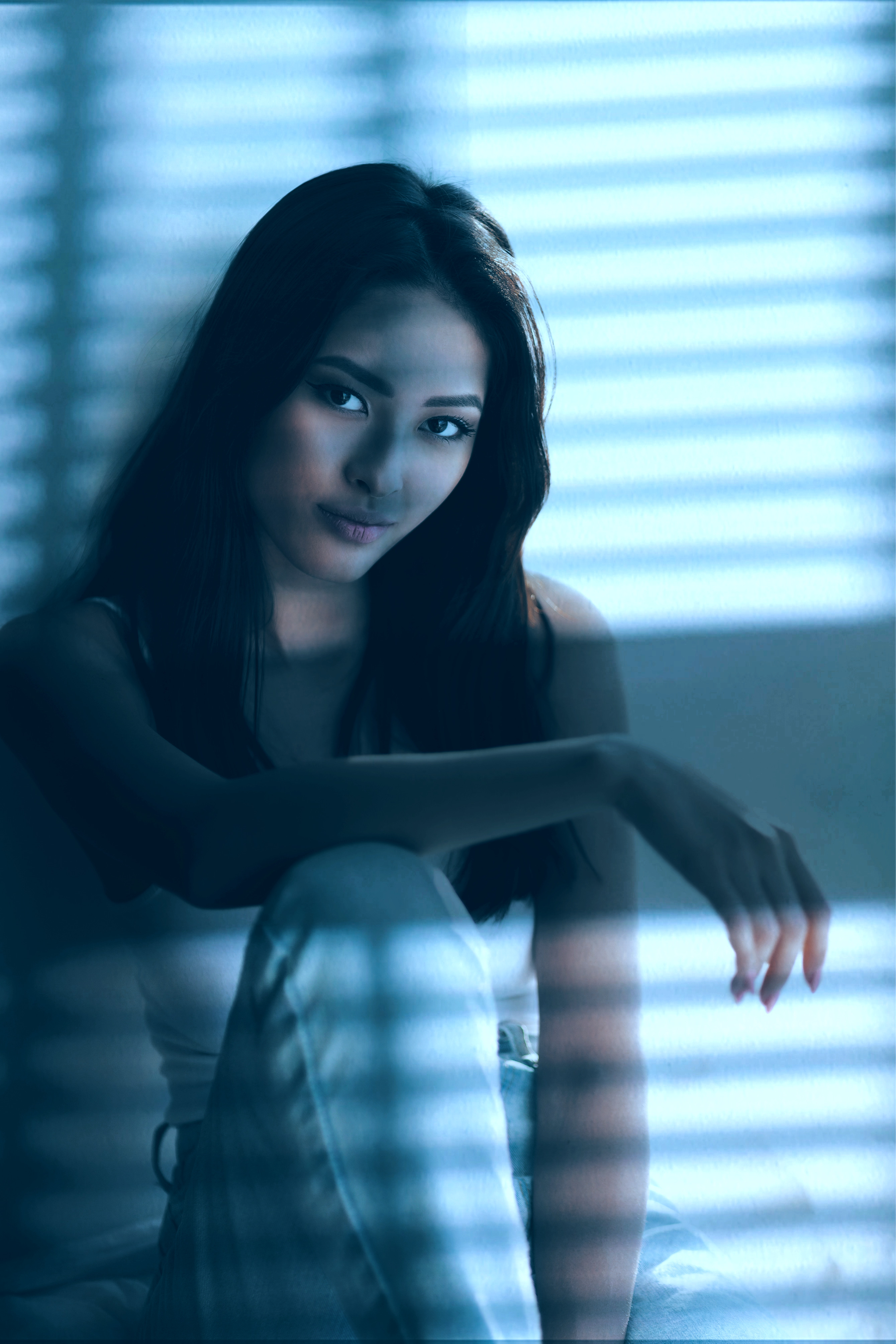 via PicsArt
Editing Your Sitting Poses on PicsArt
The PicsArt app will let you edit your hard won poses to perfection. Here's how:
To get started in the PicsArt mobile app:
Open the PicsArt app and tap on the plus sign at the bottom of your screen. Upload the picture you'd like to use, or you can also take a picture right in the app by scrolling down and selecting the Camera icon.
Select the Stickers icon. Type in whatever background or prop you are looking for. For example, "Christmas lights."
Select the lights of your choice. You can adjust elements like opacity or even shadow. Play around with the settings until you're satisfied.
You'll also want to erase some of the sticker so that it will not interfere with your subject, and appear in the background. Select the eraser tool at the top of the screen, and erase the necessary parts of the image. Click Apply.
Click Next and download or share your image.
To get started on  PicsArt Web:
Open the PicsArt Web Editor and tap the Upload button in the bottom right.
Click the Stickers icon on the side panel. Type in "Christmas lights" or whatever else you would like to add to your photo.
Click Download and you've got a great new profile pic to share across all your social platforms!
PicsArt all-in-one Photo and Video Editor, Collage, and Sticker Maker is the world's largest creative platform with over 150 million monthly active creators and influencers. PicsArt has collaborated with major artists and brands like Taylor Swift, The Jonas Brothers, Gwen Stefani, Maroon 5, Lizzo, Meghan Trainor, One Direction, MONSTA X, Warner Bros. Entertainment, iHeartMedia, Condé Nast, and more. Download the app today to level-up your photos and videos with thousands of quick & easy editing tools, trendy filters, fun stickers, and brilliant backgrounds. Unleash your creativity with PicsArt and upgrade to Gold for awesome premium perks.