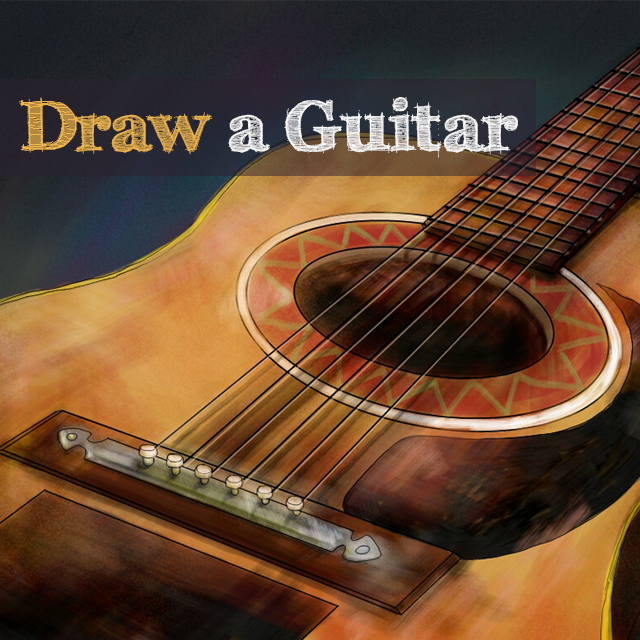 For this week's Drawing Challenge, sling an acoustic over your shoulder and grab a pick, because its time to draw your very best guitar.
It is the world's most popular instrument, whether you are banging away on a wooden-bodied steel-string or plugging your Fender into an amp. What possibilities a guitar offers, sliding up and down the neck, picking at lightning speed or gently opening your hand across a felt string to let the warm notes resonated throughout the instrument's hollow interior and cascade through the air.
One thing about the guitar, though, is that there is always someone better. Guitarists push themselves to their limits, and just when you think you're really becoming impressive, another troubadour comes out of nowhere and blows you away. The same goes for Drawing Challenges, so bring your A-game to this contest and see how you fare. The stage is yours.
New Submission Rules & Deadlines!!!
All drawings must be submitted between 9:00 AM (PST)on Saturday, Sept 8thand 3:00 PM (PST) on Sunday, Sept 9th.
To Submit your drawings wait for the tag which will be announced this Saturday at 9:00 AM (PST) on Facebook, Google+ and Twitter. You can also submit them directly in the "Contest" section of the app once submission begins.
How to Vote
Voting will begin as soon as submissions start at 9:00 AM (PST) on Saturday, and will last until 3:00 PM (PST) on Monday.
You can vote for your favorite images in the "Contests" section of the app or by visiting the "Contests" section of our website.
Non-Original Artwork Will be Removed!!
All submissions must be original drawings created by users using only the PicsArt App drawing tools.
Users CANNOT copy images from our clipart files, other users, or the Internet.
Images that don't meet the requirements above will be removed, to ensure fair voting opportunities for authentic drawings! Thank you.