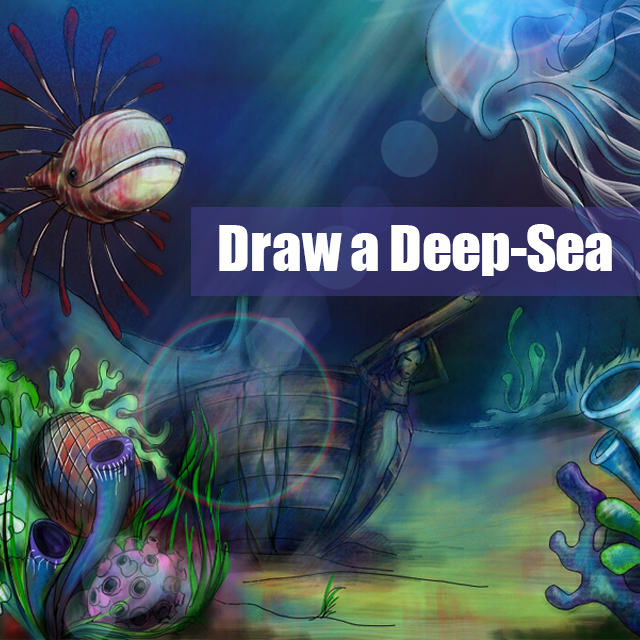 Use PicsArt drawing tools to paint the mysterious world of the deep ocean. The deep ocean is a magical place. It is home to some of the world's strangest creatures, giant squid, viperfish, odd shaped eels, and sharks with gaping jaws. Among all of the oddities of the ocean depths, however, there also live some of the most breathtakingly mystical fish, science has ever discovered. Countless species of fish, shrimp, and even plants below glow in the dark, giving off light with the natural chemistry of their bodies, producing mesmerizing blue and green illuminations that twinkle and glimmer in the dark abyss.
This week, explore the deep ocean and use PicsArt to recreate the hauntingly beautiful world that awaits miles below in the deepest cavities of the ocean floor.
New Submission Rules & Deadlines!!!
All drawings must be submitted between 9:00 AM (PST)on Saturday, August 31thand 3:00 PM (PST) on Sunday, September 1st.
To Submit your deep-sea drawings, wait for the tag which will be announced this Saturday at 9:00 AM (PST) on Facebook, Google+ and Twitter. You can also submit them directly in the "Contest" section of the app once submission begins.
How to Vote
Voting will begin as soon as submissions start at 9:00 AM (PST) on Saturday, and will last until 3:00 PM (PST) on Monday, September 2nd.
You can vote for your favorite images in the "Contests" section of the app or by visiting the "Contests" section of our website.
Non-Original Artwork Will be Removed!!
All submissions must be original drawings created by users using only the PicsArt App drawing tools.
Users CANNOT copy images from our clipart files, other users, or the Internet.
Images that don't meet the requirements above will be removed, to ensure fair voting opportunities for authentic drawings! Thank you.