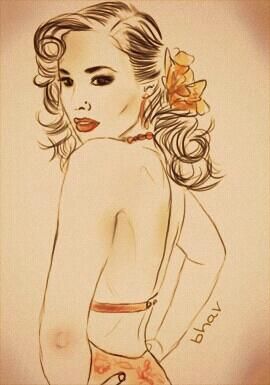 The Portrait Drawing Challenge has ended, and the top 10 winners are in. This contest featured 1129 submissions as well as an impressive level of drawing talent with a wide range of styles.
The winner this week was bhavna (@bhav12), who won 1803 votes for her rather elegant minimalist approach. She used PicsArt tools to create a look as though her drawing was sketched with charcoal on a piece of parchment.
Second place went to naïf (@naif2577), who garnered 1446 votes for her close up portrait of a woman's face. This drawing was a great example of how PicsArtists can capture incredibly realistic textures in their drawings using the PicsArt tool. Check out the shining gloss on the lower lip.
Ella Mineldi (@toastngoats), took the third place with 1131 votes for another portrait of a young woman. This one was truly creative, as she elected to use watercolor paint strokes for the background, markers for the clothes, and then colored pencil to render the face and hair in amazing detail.
Another notable entry was zahraa's (@crystalahh), drawing based on a photo she had previously taken of a young boy smiling. The whole thing was sketched by hand using PicsArt app and took her hours to complete, but the results are stunningly realistic and capture the joyous energy of her initial photograph.
Check out the rest of the contest winners below, and as always, thanks to everyone for participating!