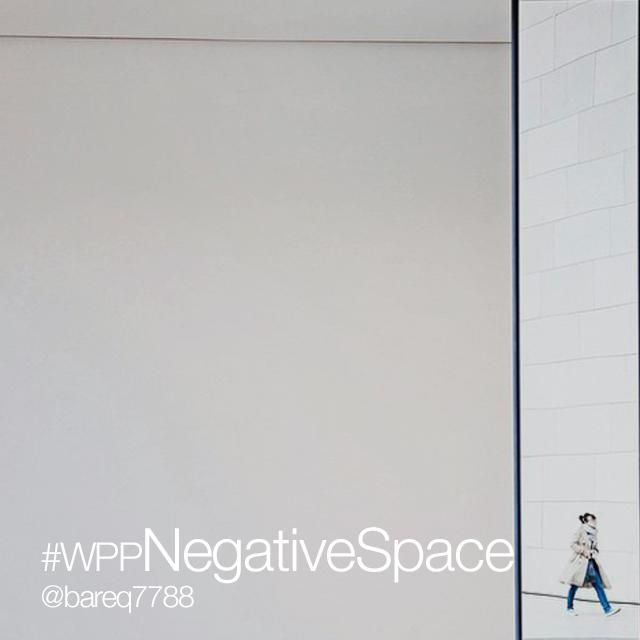 For this week's Weekly Photo Project, we're looking at an important element of composition: negative space.
As a photographer, learning to see the world through your viewfinder in terms of positive and negative space is a valuable skill. To put it simply, positive space is the subject of your image, negative space is everything else, and the challenge lies in finding a balance between the two.
A strong composition uses negative space strategically to draw attention to the subject of your image. Negative space can be anything—and it isn't necessarily empty space. It may be a bright pattern, a brilliant sunset, or elements in your foreground and background that serve as a frame for your image.
This week, we challenge you to shift your attention from positive space to negative space. As you compose a shot, pay attention to the space surrounding your subject, rather than the subject itself. Use the space around your subject to guide you, and observe the effect that this shift in focus has on your compositions.
Show us what you capture by submitting your images with the hashtag #wppNegativeSpace.
About the Weekly Photo Project
This contest focuses on pure photography instead of edits. The subject of the photograph needs to take center stage. Submissions with minor edits (such as tuning contrast, brightness, etc, filters, and HDR) will be accepted. Submissions with clipart, intensive edits (such as mirroring, warping, drawing, shape masks, text, and stickers), or that do not include the requested subject, will be rejected.
How to Enter the Contest
Submit an entry by tagging it with #wppNegativeSpace or by submitting it in the Contests section of the app. Submit a maximum of three photos between today and 11:59PM EST on Thursday, December 17th.
How to Vote
Voting begins on Friday, December 18th at midnight, immediately after the submission period ends, and closes at 11:59PM EST on Monday, December 21st. Vote in the Contests section by selecting your favorite entries. All entries in the Contests section will be displayed in random order. No new entries are permitted once voting begins.
Contest Winners
The top 10 photos with the most votes are the contest winners and will be featured in app. The PicsArt team may also make selections in addition to these votes.
Have questions? Write to us at contest@picsart.com.