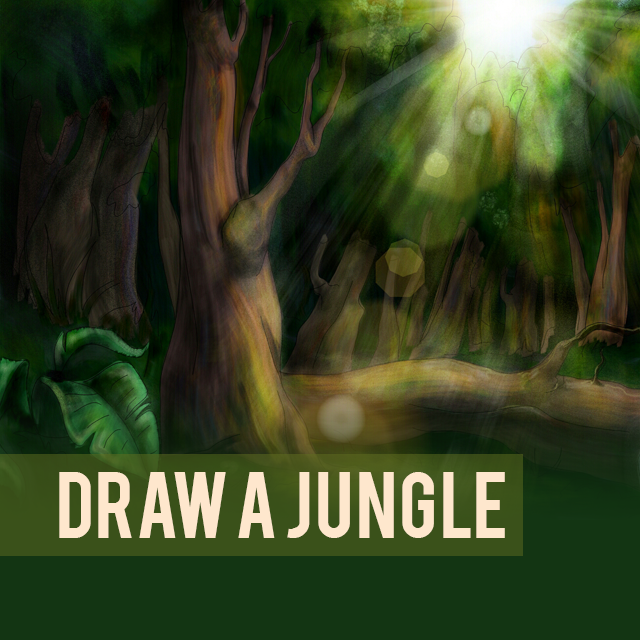 Use PicsArt drawing tools to create an original picture of life in the jungle. Paint a scene or focus on a specific piece of its nature, but bring us deep below the canopy into the dark and mysterious heart of the jungle.
The great jungles of the world are located in Africa, Asia, and the Americas, vast densely overgrown stretches of land, sweating in intense tropical heat and heavy rainfall. These are homes to the most diverse groups of animal and plant species in the world. Technicolor frogs, screaming chimps, ferocious tigers, beetles as big as elephants or, in some cases, actual elephants. Pink flamingos, snapping piranha, under every leaf and behind every tree is another biological marvel. The jungle is alive, it is dangerous, and it is beautiful.
To capture the marvel of the jungle, you'll need to reach far beyond the bear necessities. A jungle is wet and wildly lush, so this is a great opportunity to show off your skills at drawing complex textures like wet leaves, moist fur, or the elaborate shadows cast by the jungle Canopy.
Channel your inner Mowgli, and hack your way into the jungle with your imagination and your touch screen. Just make sure you make it out alive and have a killer jungle drawing to show for your efforts. Good luck!
How to Submit Your Drawings
All jungle drawings must be submitted between 9:00 AM(PST) on Saturday, Aug 17th and 3:00 PM(PST) on Sunday, Aug 18th.
To Submit your drawings wait for the tag which will be announced this Saturday at 9:00 AM (PST) on Facebook, Google+ and Twitter.
How to Vote
Voting will begin as soon as submissions start at 9:00 AM (PST) on Saturday, August 17th and will last until 3:00 PM (PST) on Monday, August 19th.
You can vote for your favorite images in the "Contests" section of the app or by visiting the "Contests" section of our website.
Non-Original Artwork Will be Removed!!
All submissions must be original drawings created by users using only the PicsArt App drawing tools.

Users CANNOT copy images from our clipart files, other users, or the Internet.
Images that don't meet the requirements above will be removed, to ensure fair voting opportunities for authentic drawings! Thank you.