Only half way into its second year, the PicsArt photo editing and drawing app has surpassed 55 million downloads and now holds the highest rating among the top 50 most downloaded Apps on Google Play. With over 750,000 entries, users have awarded PicsArt an average rating of 4.7 out of 5, besting all of other top apps including rival photo sharing app Instagram.
The list includes big names such as Youtube, Google Maps, Gmail, and Angry Birds. "Even being in this elite group is a fantastic success, a threshold still yet to be achieved by brands like Adobe's Photoshop or Autodesk's Pixlr," said PicsArt CTO Art Mehrabyan. "But the fact that we have the highest user ranking makes us especially proud."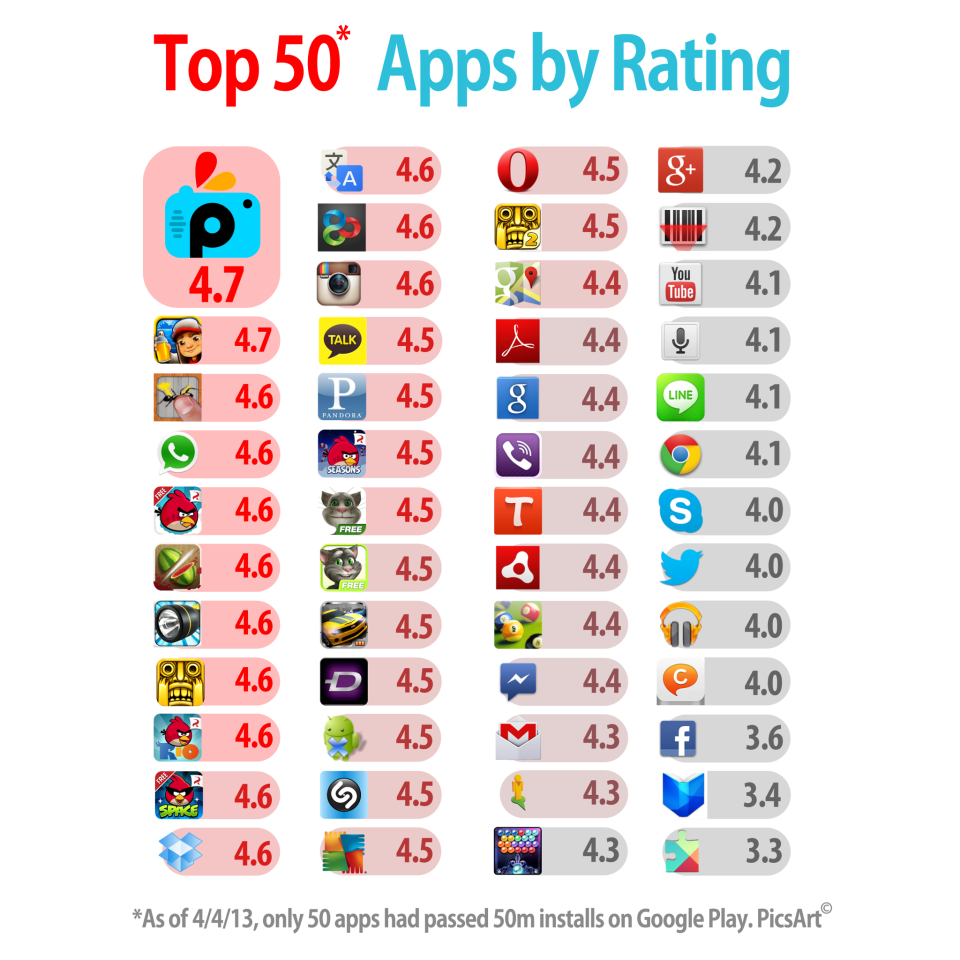 PicsArt has steadily surged in popularity since it was first introduced in November of 2011, separating itself from the competition by packaging a remarkably expansive set of editing tools into a simple and intuitive mobile app.
PicsArt's ease of use empowers ordinary people to express their inner artist by removing all technical roadblocks and letting their imaginations run wild. PicsArt user Sammie Carey comments:
"Nothing I do not like! Maybe if I was a pro at this sort of stuff I would perhaps find things I do not like. However I am not and this is easy to use and does more things than I expected! 🙂 for free! Fab."
icsArt has achieved success among casual and serious photo editors alike, who use the app at an average rate of 2 million users every day. Users can apply a wide range of filters, masks, and effects, or customize their own. The App also offers the ability to insert texts, callouts, clipart, borders and frames, a collage tool and a drawing tool. This combination matches the diversity of options present in complex editing programs such as Adobe Photoshop without the confusion, making traditionally advanced features instantly accessible to users of all levels through a mobile app.
Mobile apps today are all about convenience on the go, and often live or die by the millisecond. PicsArt's ability to offer consumers such an effortless and versatile experience frees mobile editing to keep up with the user's imagination in real-time. The app makes the user's life easier without diluting the experience, and as of now is reaping the benefits with top honors among Google-Play's biggest applications.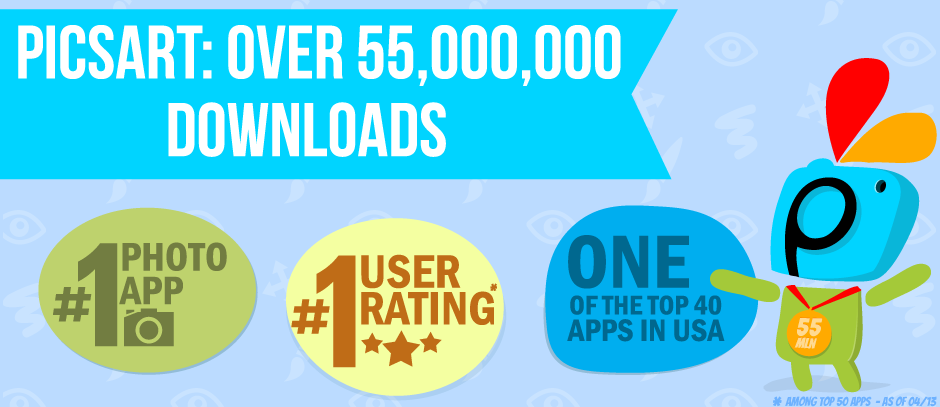 PicsArt is headquartered in the US, where the team has spent 4 years engineering mobile imaging apps. The company currently employs over 30 software engineers, 6 moderators who ensure that public streams are free from inappropriate content, 2 community support specialists that helps users resolve issues, and 5 content marketing and PR specialists who are responsible for contests, blog posts, tutorials and user interviews. PicsArt is a rapidly expanding organization and is actively hiring Android and IPhone developers.