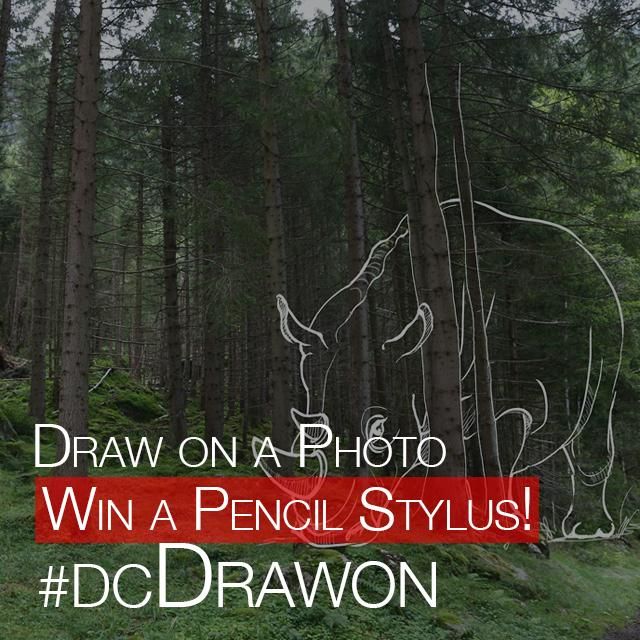 In celebration of PicsArt's new Pencil features, this week's Drawing Challenge is asking you to use the PicsArt app to draw on a photo and imagine what your camera did not capture. As a special prize, we're offering each of the top two winners a Pencil stylus by FiftyThree!
If you've ever daydreamed, then you've imagined fantasies around you unseen to the rest of the world. This week, unleash your imagination from the confines of your head, and draw your daydreams into your photos using PicsArt Drawing tools. Draw a spacesuit on a friend, an extension to your house, or a monster in the local lake. If you can think it, you can draw it.
Just import a photo into your drawing space and start sketching. You have nothing to lose, and so much to gain. After all, a brand new Pencil stylus is at stake! Keep reading below for more details!
How to Enter the Contest
Submit a maximum of two drawings between Friday morning July 31st and Tuesday, August 4th, at midnight PDT.
Submit a drawing by tagging it with #dcDrawOn or by entering it in the Contests section.
Non-original art will be removed. Your drawing must be drawn with the PicsArt app, and it must be your own work.
How to Vote
Vote for your favorite drawings in the Contests section by using the vote button. All entries will be displayed randomly.
Voting begins Wednesday, August 5th and closes Monday, August 10th.
Contest Winners
The 10 drawings with the most votes win and will be featured within PicsArt as winners of the contest. Our jury will also choose one entry outside of the the top 10 to be featured.
The two entries with the most votes will each win a FiftyThree Pencil stylus that they can use to be even more creative on PicsArt and put a finer point on their art.
The top two winners will be notified via comment from a PicsArt Community Manager that they have won within 48 hours of the voting ending, and will be given an email address to send their mailing address to. Each entrant is responsible for monitoring his/her photo comments for prize notification and emailing the email address given. If a winner does not send their address to the email given within one week, or if the prize is returned as undeliverable, that prize winner shall forfeit the prize. Prize is non-transferable. No substitution or cash equivalent of prizes is permitted. PicsArt is not responsible for any typographical or other errors in the offer or administration of this content, including but not limited to, errors in any printing or posting of these Official Rules, the selection and announcement of any winner, or the distribution of any prize. No purchase or payment of any kind is necessary to enter to win.
Employees of PicsArt or FiftyThree are not eligible to win the Pencil stylus.
FiftyThree® is building a new generation of mobile tools for millions of creative thinkers around the world. FiftyThree are the creators of Pencil, a digital stylus and winner of two IDSA awards.
This promotion is in no way sponsored, endorsed or administered by, or associated with Facebook or Apple. Any questions, comments or complaints regarding the promotion will be directed to PicsArt, not to Facebook or Apple.
Have questions? Write to us at contest@picsart.com.