While Thanksgiving may look a little different this year, that shouldn't stop you from getting into the festive mood – starting with your phone! Below we've rounded up 16 of our favorite Thanksgiving wallpaper looks that you can easily upload to your phone. And best of all, they're free! Rest assured, there are no leftovers here – from pumpkins to perfect table settings, you can use these as Thanksgiving screensavers or wallpaper for your phone and desktop. 
Ready for Your Freebies? Here Are Our Favorites
Get Into the Fall Spirit
First things first, if you're not there already – it's time to get into the fall spirit with these autumnal-inspired wallpaper options. 
1. Fall in Love With Fall: Using one of our Tumblr Text stickers, this fall wallpaper will create a sense of warmth and coziness.
2. Gimme Leaves Please: Get creative and Remix this image to give yourself or your loved one a set of leaf wings.
3. Sweater Weather Is Here: It's officially sweater weather, so why not make a collage? Replace the image with your own and customize it to create the perfect HD Thanksgiving wallpaper.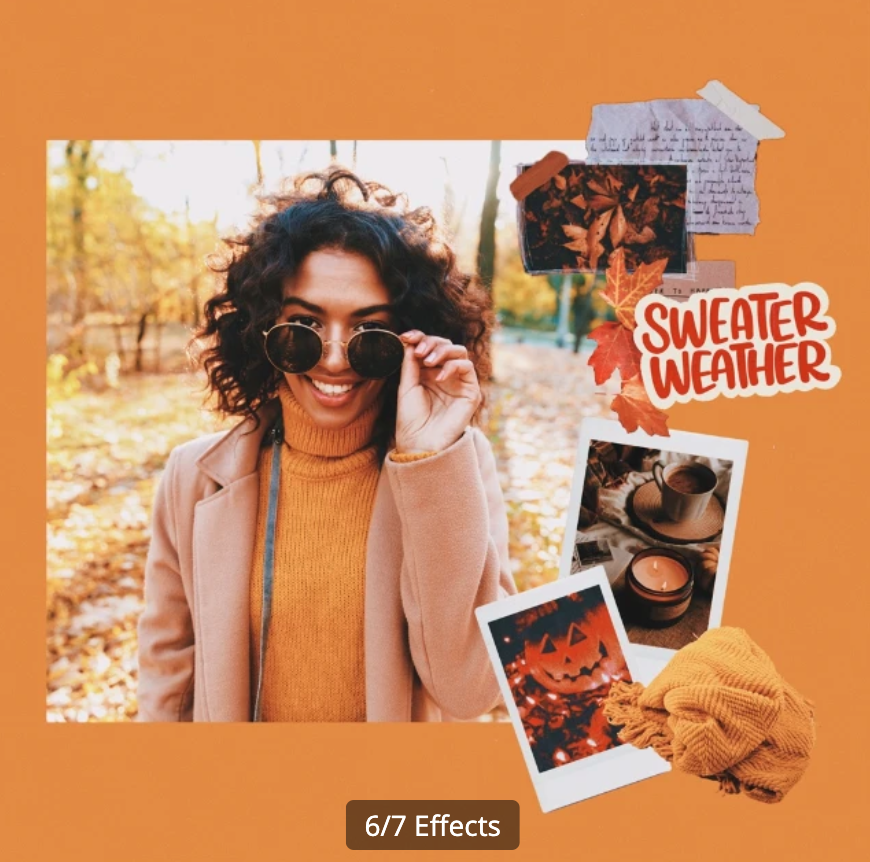 4. Set a Fall Reminder: Because we all need a little reminder now and then, download the wallpaper as is or Remix to create a specific reminder for this Thanksgiving.
Autumn Leaves & Pumpkin Pie Please
Foodie content is the ultimate way to get you into the Thanksgiving swing of things. Check out these drool-worthy free Thanksgiving wallpaper ideas.
5. Pie, Pie, & More Pie: Did someone say pie? Download this free Thanksgiving wallpaper and start thinking of your favorite pie recipe — you'll definitely be the most popular guest at the Thanksgiving table.
6. Sweet as Pumpkin Pie: Pumpkin pie is definitely one of our favorite parts of  Thanksgiving. Download this now or add some cute Thanksgiving-inspired stickers to add festive flair.
7. Ready for a Thanksgiving Feast: If you're a sucker for a good table setting, this Thanksgiving wallpaper is made for you!
8. Make a Fall Rainbow: Green, yellow, orange, & red – behold the perfect Fall rainbow for your Thanksgiving screensaver.
Leaf It to Us
While we love the perfect fall leaf, why not make things even cuter like these two edits?
9. Add Sparkle to Your Fall Leaves: Add a cozy filter and select one of our Thanksgiving and fall stickers.
10. The Perfect Leaf Doesn't Exist: Using our awesome Brush tool, create the perfect fall leaf.
Give Em' Pumpkin to Talk About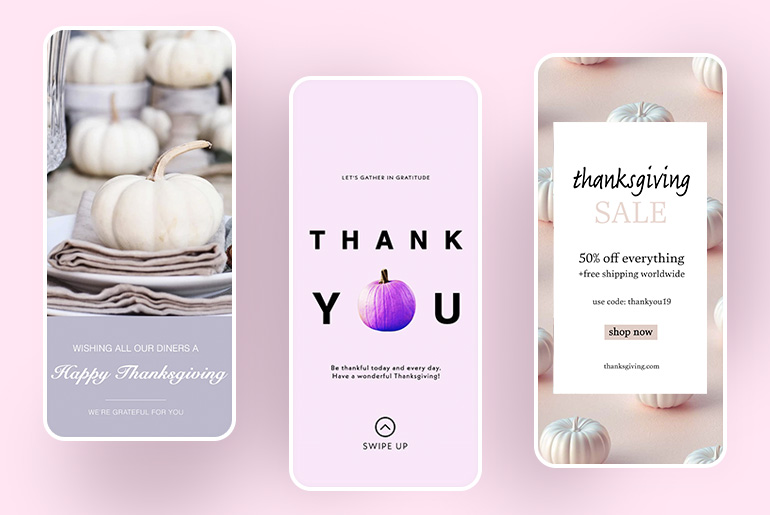 What's Thanksgiving without pumpkins, really? 
11. Pumpkin-Obsessed Much? If you're all about all things pumpkins, then this is one step short of turning your phone into an actual pumpkin. Download as is, or try out one of our Shadow masks to create cozy Thanksgiving vibes.
12. A Hygge Thanksgiving: Pumpkins and a hot cup of tea make for the ultimate Thanksgiving wallpaper.
13. Thankful This Thanksgiving: Using our Text tool, create a thoughtful message for the perfect Thanksgiving screensaver.
There's Always Something to Be Thankful For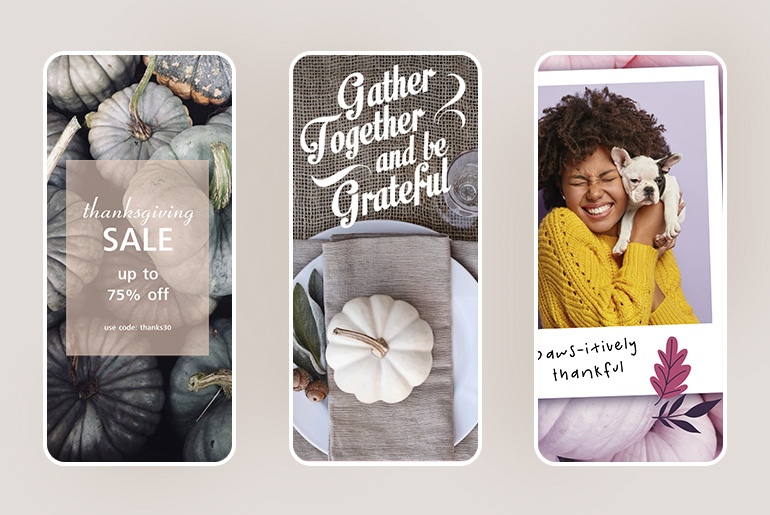 Thanksgiving is more than just delicious food. It's also about the company you keep. Whether you're hanging out virtually or with a small group of friends and family, remind yourself what you're thankful for with these HD Thanksgiving wallpaper ideas.
14. Remember to Give Thanks: A simple yet important reminder to be thankful this year and always.
15. What Are You Thankful For? Create a thoughtful message on this chalkboard, either with our Text or Callout tool.
16. Let Our Lives Be Full of Thanks & Giving: Using the Text tool, create a personalized message about what you're thankful for, or add your favorite Thanksgiving quote or phrase.
Now that we've inspired all the Thanksgiving feels, it's now time to upload your favorite to your Thanksgiving HD wallpaper or screensaver to your phone or desktop!
After selecting your favorite wallpaper, download it to your device.

iOS:

Go to Settings, tap Wallpaper, then choose New Wallpaper. From here, select the folder where you saved your image and go ahead and select it. 
Android:
Tap and hold the home screen. From the drop-down menu, tap Styles & Wallpapers. Find your downloaded image and select it as your new HD Thanksgiving wallpaper.

Desktop
Macbook:

Step 1) Go to the Apple menu, select System Preferences.

Step 2) Click Desktop & Screen Saver.

Step 3) From the Desktop menu, go to the left-side menu and select the folder where you saved your HD Thanksgiving wallpaper.

Step 4) Double-click your image and your wallpaper should now appear as your new background. 
PC:
Step 1) Right-click your desktop and choose Personalize.

Step 2) Click the Background option on the left-side pane
Step 3) Toward the bottom of the screen, select Browse to use your own images. Find where you've saved your Thanksgiving Wallpaper and select it to upload.

Step 4) Click Save and your wallpaper should appear. 
PicsArt all-in-one Photo and Video Editor, Collage, and Sticker Maker is the world's largest creative platform with over 150 million monthly active creators and influencers. PicsArt has collaborated with major artists and brands like Taylor Swift, The Jonas Brothers, Gwen Stefani, Maroon 5, Lizzo, Meghan Trainor, One Direction, MONSTA X, Warner Bros. Entertainment, iHeartMedia, Condé Nast, and more. Download the app today to level-up your photos and videos with thousands of quick & easy editing tools, trendy filters, fun stickers, and brilliant backgrounds. Unleash your creativity with PicsArt and upgrade to Gold for awesome premium perks!