PicsArt has partnered with Mexican-born, LA-based multi-media artist Javiera Estrada who is using the new PicsArt Brushes tool to create unique collage work on her original photographs with her vintage collection of stickers along with custom stickers she finds in the PicsArt community. We had the chance to meet the charismatic artist in LA for an exclusive interview.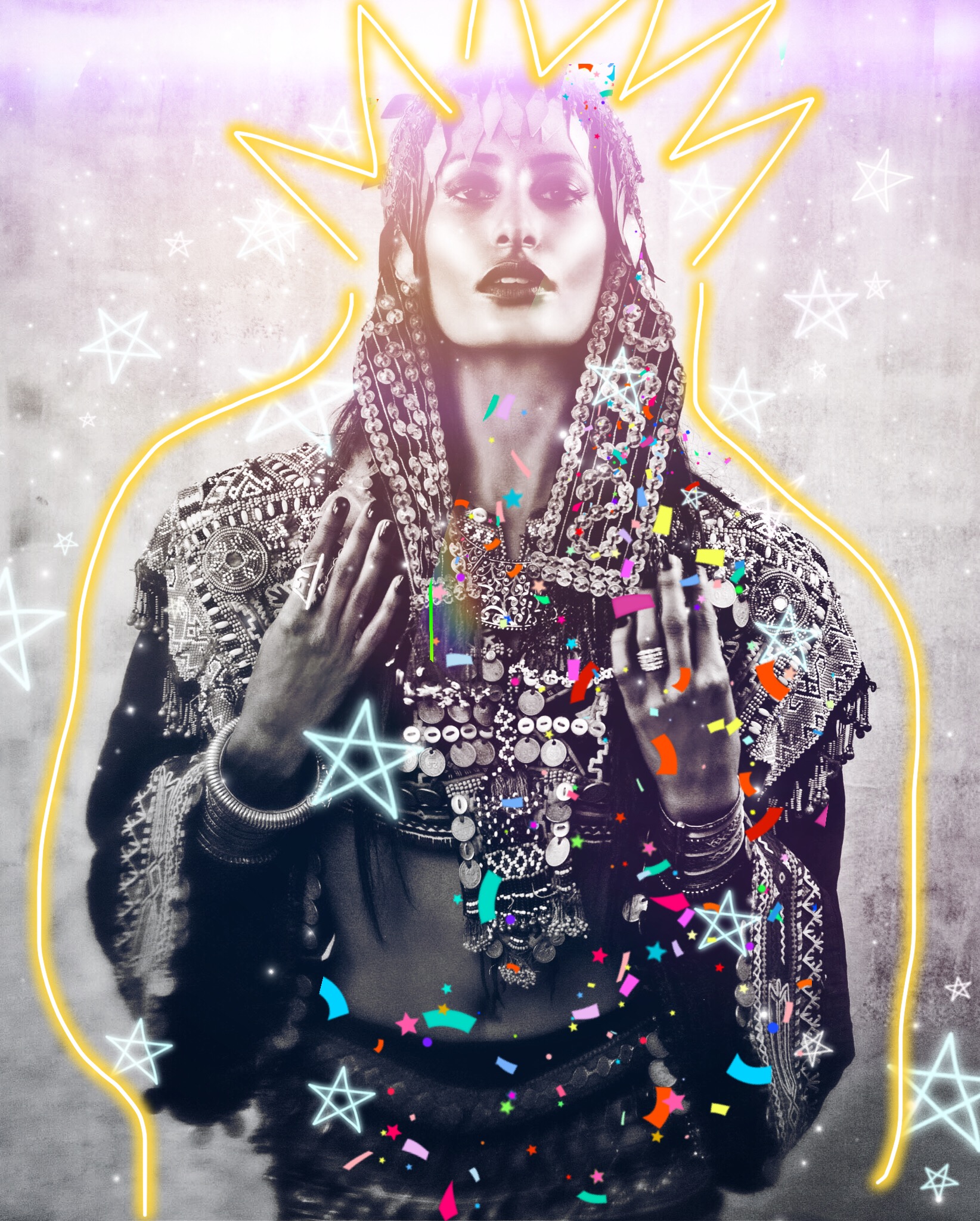 via PicsArt
When did you start using collage in your work?
I've always loved collage but didn't fully get into it until I started my In the Bedroom series. It was a great way to illustrate the paradoxical and bizzare elements of the subconscious mind juxtaposing reality.
Where are you from? How does your heritage inspire your art?
I was born in Acapulco, Mexico and lived there until I was eight. Even though I don't recall my childhood in vivid detail, I find that it has impacted what I'm drawn to aesthetically. I have a deep love and fascination of flowers, La Virgen de Guadalupe, skeletons and skulls which are all symbolic of Mexican culture.  These fragments of my imagination are extremely influential in what I create as an artist.
We have many photographers in the PicsArt community. Do you have any advice? How did you find your voice/your own style?
I can't say that my path has been or is traditional in any sense. I am not someone who will stick to one thing for the rest of my life. I don't find that interesting. I like to explore similar themes in different mediums which might take me far away from my "style" or comfort zone. This is, of course, a longer journey that has led to me finding a common thread in all my work which is a lot of empty space, texture, a central and intimate focus on the subject and a depth that can't be explained in words.  
My advice for anyone starting out is first to love it more than anything else because it will consume you and there will be times you question your decision.  BE PERSISTENT. I can't stress this enough. It takes a lot of time to master a craft and you must be patient. There is nothing more rewarding than hitting your stride but this may take some time and most people give up right before. Experiment and create like crazy and through your hard work and determination, your own unique style will emerge.
What is the next project that you are working on?
My next project is called Man vs Nature. I'm not really revealing too much yet as I am still in the incubation process and want to let that magic simmer a bit longer before putting it out into the world. What I can say is that it's another evolution of collage and of course using two of my favorite subjects: Nudes and Flowers.
You are doing a collaboration with PicsArt. Can you tell us more about your challenge?
I'm excited to be the first artist to be working with the new PicsArt Brushes with PicsArt! I have been working with collage for years and I am looking forward to seeing what the online community will do with the vintage stickers that I will be sharing with them. I'm currently showing my In the Bedroom series at Saatchi in Santa Monica, California. I took photographs of women in their bedrooms with my Hasselblad camera. I then created a one-of-a-kind print and covered the photograph with vintage illustrations ("stickers").  By placing them on different layers of plexiglass, it creates a three dimensional art piece which can only be properly viewed in person.  The PicsArt community can use the Brushes Sticker Tool to cover one of my images from the In the Bedroom series with my vintage sticker collection or whatever inspires them. I will then choose my favorites and make an animated video with the winning remixes. It's exciting for me to be working with a new platform and medium and I'm interested to see how the PicsArt tools will impact people's creative process.
Javiera has been selected as this month's "Ones to Watch" at Saatchi, and is currently part of the group exhibition entitled Constructed at Saatchi in Santa Monica, California. The exhibition showcases her mixed media work from the In the Bedroom series, where Javiera uses collages of vintage illustrations on her original photographs taken with a Hasselblad camera.
PicsArt photo editor, collage maker and sticker maker is a totally new kind of creative community, with over 100M+ monthly users. PicsArt has collaborated with brands like Dior, Jared Leto's band Thirty Seconds To Mars and Lindsey Stirling. Supermodels Izabel Goulart, Doutzen Kroes, and Natalia Vodianova have shared PicsArt remixes on their social media. Download the app to get in on the action!