In the far reaches of Southwestern Alaska is Graveyard Point, named after the small cemetery eroding at the point's edge, into Bristol Bay. Sometimes, old coffins wash out with the soil, scattering bones of dead fishermen across the coastline.
This is the haunting setting that backdrops one of the region's greatest natural phenomena; an epic salmon run. Five intersecting rivers at the point create bottlenecks for thousands of salmon swimming upstream. This is the real draw of Graveyard Point, attracting swaths of grizzlies and fisherman who come each year for the glorious freeforall. Among them is Corey Arnold.
Corey fishes here with about one hundred and thirty others, working 20-hour shifts and shacking up in the derelict dormitories of an abandoned salmon cannery. Since he started fishing at the age of two, Corey always knew exactly what he wanted to be. He dressed as a fisherman for Halloween as a kid before suiting up for the real thing as an adult. Somewhere along the way, his dad put a camera in his hands and Corey reeled in a Bachelor's degree in photography.
These twin passions have produced stunning portraits of Corey's lifestyle, but his photos at Graveyard Point may be his best work. He lives and breathes this annual pilgrimage, and his photos take us through it all, from dragging nets through the muck, to bonding with foxes during downtime. You can understand the addiction of this natural eden, with its cycle of backbreaking work and hard-earned reward. You can feel the mud and smell the saltwater.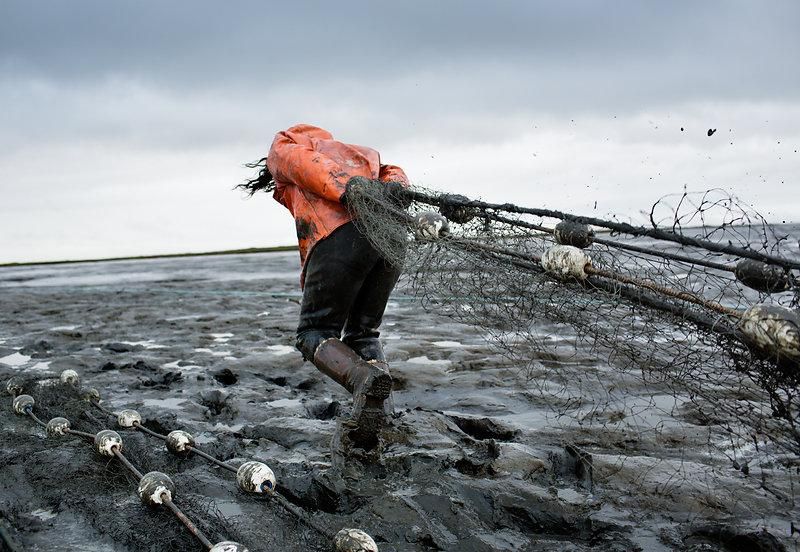 It's a stunning glimpse not only into a special place, but into a special moment in time for a tradition maybe nearing its end. There are more than coffins loosening below the point's surface. Gold and copper were discovered upstream, and proposed mines threaten to decimate the wild salmon population permanently.
The fishermen will stay home, the grizzlies will search elsewhere, and Corey's photos will become relics of another natural paradise washed away by the tides of industrial greed. It's a story we've heard before, but that hardly lessens the sting. These photos, in fact, ensure we feel it more. They remind us simultaneously of what we still have, and of how special and fragile the whole thing is.