You see tote bags with eye-catching designs everywhere these days. They always seem to make the person carrying them look so stylish and environmentally conscious too. That may be among the many reasons why lots of people are increasingly rejecting all other bags in favor of DIY tote bags. Knowing how to make a tote bag is a talent of course, but it's one that you can master easily. There are all kinds of tote bag patterns and styles you can play with to make yours stand out. We'll help you get there with the help of this easy tote bag tutorial.
Throughout the course of our explorations of all things tote, we'll cover the benefits of a DIY tote bag, offer tips for printing one, provide instructions on how to make a tote bag pattern, explain how to make a tote bag from scratch, and so much more. Our step-by-step guide should be all you'll ever need to design and print tote bags that will turn heads wherever you go.
Benefits of a DIY Tote Bag
First thing's first, what are the benefits of a DIY tote bag? Here are some of the main ones:
Making a

DIY tote bag

is a good way to flex your design muscles. The whole process is a fun foray into the world of colors, textures, and shapes. What better way to put your passion for design to good use than to make something practical and trendy. 

A

DIY tote bag

is, of course, an essential attribute of green living. The main benefit of tote bags is they are washable and reusable. Bid farewell to plastic and the massive environmental damage it causes.

A

DIY tote bag

is totally unique. One of the most enjoyable aspects of designing and printing your own tote bag is that you can fill it with insider jokes, or spread the word about the causes or ideas that matter most to you.

It's a good way to save money. Have you seen those Balenciaga shopper totes that cost more than $2,000? We're not about that life.

DIY tote bag

s cost almost nothing. And who can't use a little extra dollar in their pocket these days?

A

DIY tote bag

makes a great gift. Think how awesome it would be to receive a tote bag from a friend who has designed and printed one just for you, taking into account your personality and unique style.

DIY is therapeutic. Like any creative endeavor, doing things yourself brings a lot of joy (AKA serotonin).
It's super easy. With PicsArt, designing your very own

tote bag pattern

will be a breeze.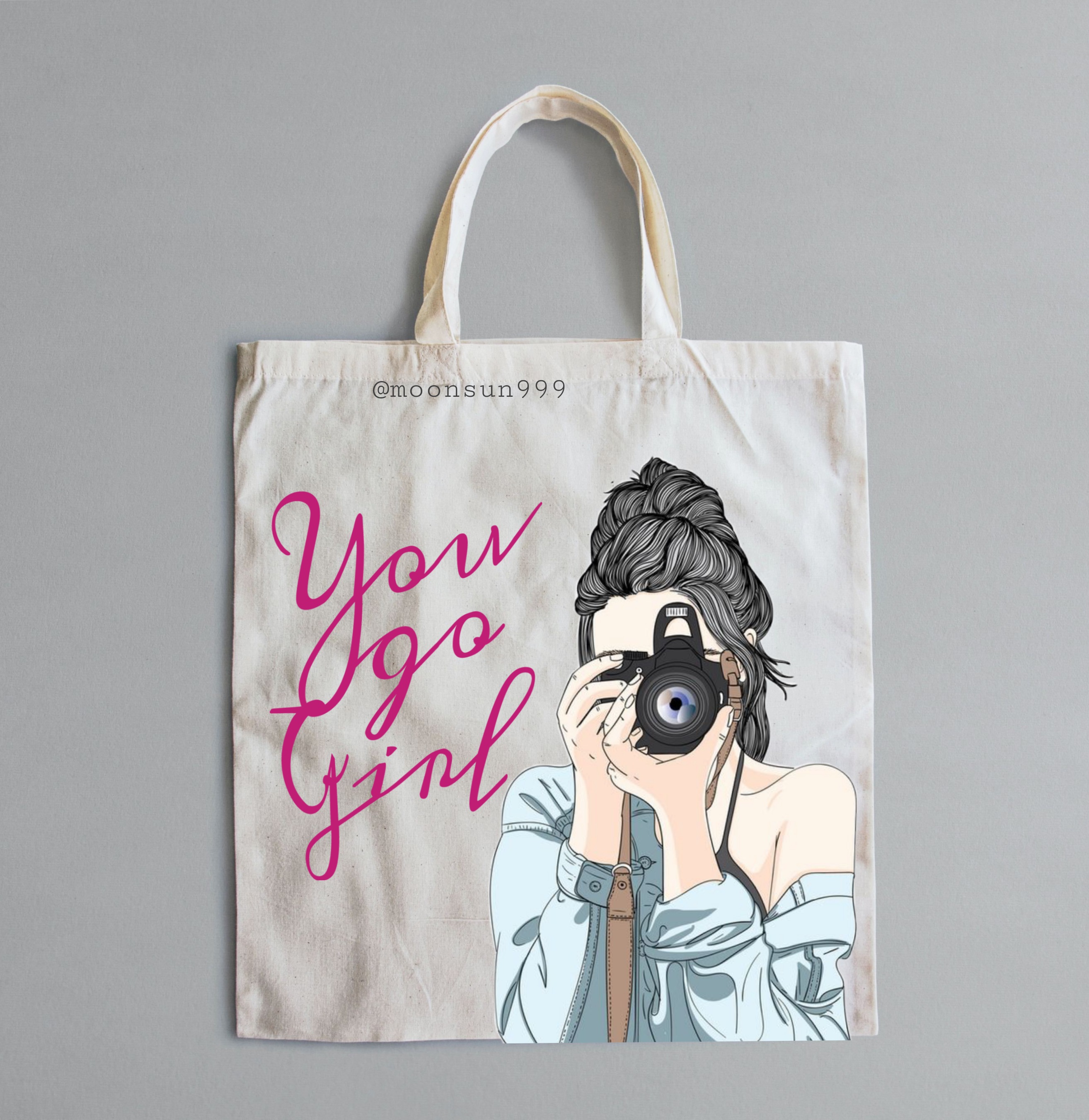 via PicsArt
Tote bag vs Other Bags 
As we've mentioned, tote bags are a modern-day success story, and the stocks of all other bags are going down. Why is that? Tote bag connoisseurs will say it's because they're superior because: 
Tote bags are light and easy to carry. Some purses seem to be designed to give arms a workout. They're massive and heavy and bound to ruin your mood if you walk long distances. Tote bags, on the other hand, mostly made of heavy canvas, are way lighter. 

Tote bags are practical. Forget clutch bags, shoulder bags, mini backpacks or chunky backpacks. Tote bags are flexible holdalls made to secure your valuables, simple as that. 

Tote bags are classically designed and minimalistic. The uniformity of shape gives tote bags that minimalistic look that's so in vogue these days.

Tote bags are easy to make. As soon as you tire of your old tote bag, just come up with a new design, pattern, and color. It takes just a couple of hours of your time, but the hours of use and pleasure it'll bring make that time well spent.

Tote bags give off a youthful and democratic vibe. No more weird bag shapes or designs crafted to send a message of privilege and luxury out to the world. People want simplicity and equality now.

Tote bags live forever. Seriously, our tote bags might just outlive us all. You can wash them as much as you like and they'll still look as good as new.
Tote bags are animal and environmentally friendly. No cows or marmots are harmed in the making of tote bags. Plus, they create minimal damage to the environment. Isn't that something we should all aspire towards in our choices?
Now that we've convinced you of the undeniable merits of tote bags, let's get down to business and find out how to make a tote bag pattern. 
How to Make a Tote Bag Pattern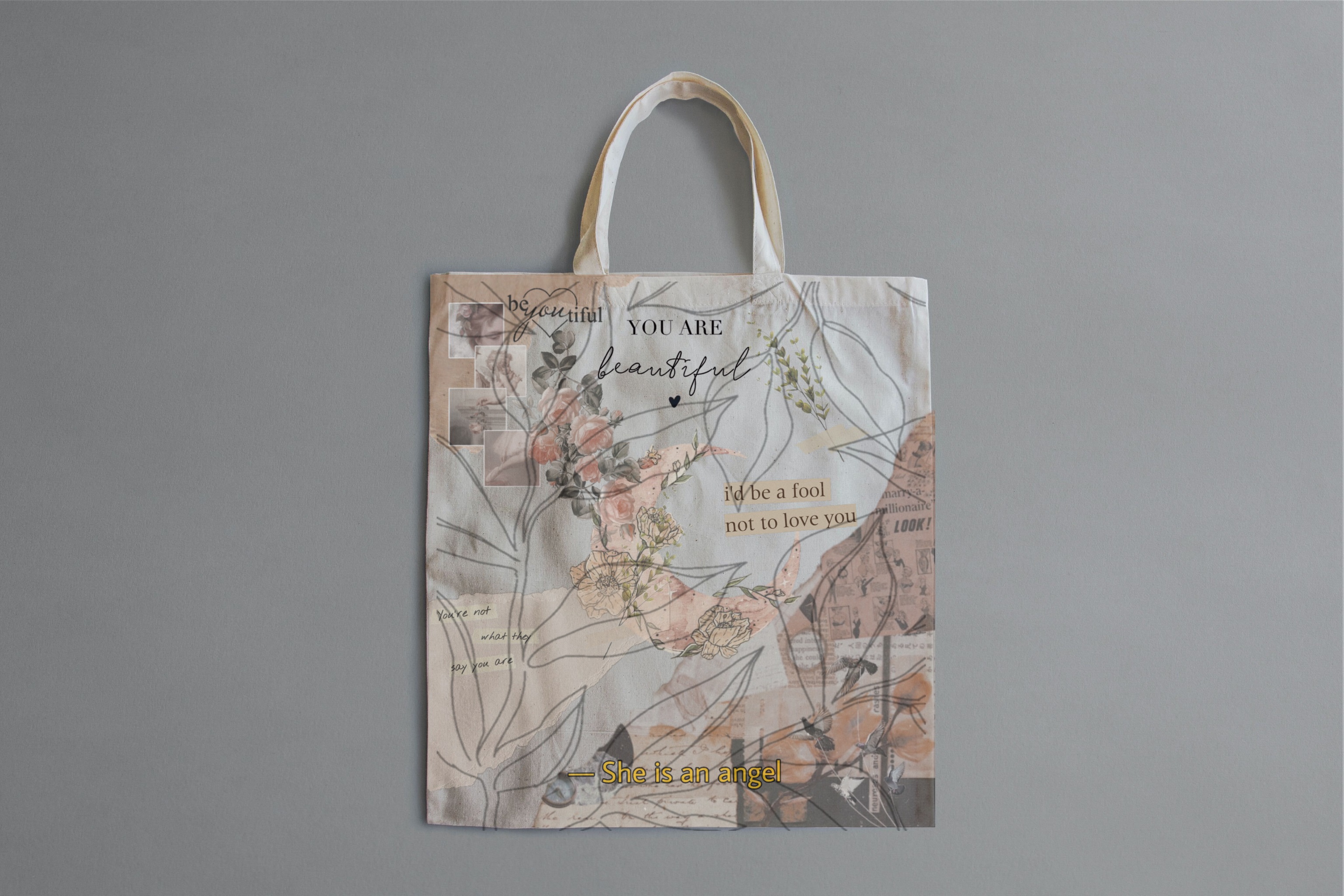 via PicsArt
The best way to go about making a tote bag pattern is to use PicsArt, an awesome all-in-one photo and video editor for both smartphones and PC. Here's a step-by-step guide: 
Step 1. Open the PicsArt app on your iPhone or Android and tap on the + in the middle to add the photo you want to use as a background to your DIY tote bag pattern. It can be a background you've designed yourself or downloaded. Click Start Edit in the right-hand corner of the pic. 
Step 2. Scroll the menu that appears to the right and tap on the Shape Mask tool. 
Step 3. You'll see a vast array of pre-made patterns you can use, from a collection of dots to a pattern of circles similar to a round target. Pick the one you like best. 
Step 4. Adjust the Opacity – it's best to set it to 100 in most cases – and then choose the background color and pattern by tapping on Bg color and Bg pattern respectively. Check out the extensive library of patterns available.
Step 5. You can also choose to further edit the applied pattern. For example, you can tap on Multiply if you want to add more than one shape mask or try Difference for a surreal look. 
For added inspiration, we really recommend that you have a look through the diverse library of PicsArt stickers because they can be used to create a number of beautiful patterns. To check out the stickers, here's what you should do:
Step 1: Open the app, click the + and then tap on Draw and Color. 
Step 2: Choose a background to edit. 
Step 3: Tap on Sticker from the menu below and pick the sticker you want to add. 
Step 4: If you want to create a repeat pattern, click Duplicate, the button to the right of the eraser icon. Done. 
Tips for Printing a Tote Bag Pattern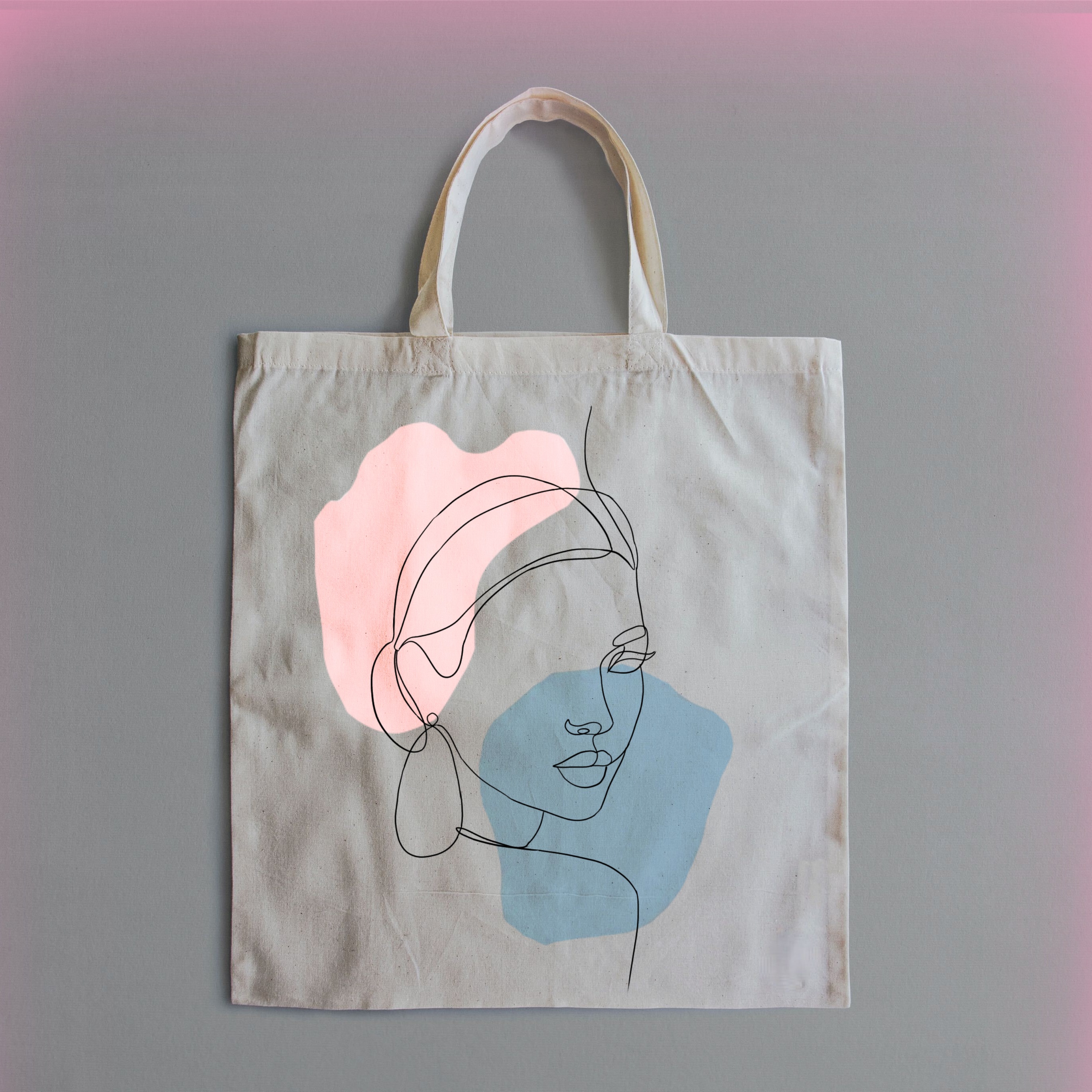 via PicsArt
After you've finalized the pattern or image that you want on your DIY tote bag, it's time to print it. Here are some tips for doing it right: 
Take into account the scale of your image or pattern. Since most of the time you'll be stretching a smaller image/pattern, it may lose some visual quality. Make sure to resize your image and run it through PicsArt's

Image Upscale tool

available in the PicsArt online Photo Editor. This AI-powered tool will increase your photo's resolution, making it look so much better when you actually print it. 

The easiest way to print a pattern on a tote bag is by mirroring the image and first printing it on transfer paper. Then iron the fabric of the tote bag and place the printed image on it face down. Iron the pattern on according to the instructions of your transfer paper. Remove the paper layer, place silicone or baking paper on top, and iron some more for a perfect result. Let it cool and remove the paper. There you have it, a tote bag with a personalized design. 

Don't forget to wash your DIY tote back separately and in the cold water mode to avoid bleeding colors or shrinking. Also, don't throw your tote bag into the dryer. 
How to Make a Tote Bag?
In most cases, you can start off with a plain canvas tote bag and just print your designs on it, but if you're really dedicated to your DIY project, or you just want your whole bag covered in a pattern, you may also want to sew a tote bag yourself. The materials you need are: 
One yard of cotton canvas, denim or upholstery fabric. 

Three yards of 1 1/4″ wide cotton webbing or belting for the handles.

All-purpose thread and other sewing basics, such as scissors and measuring tape.
Here's how to make a tote bag if you're semi-skilled at sewing. It's easy, don't worry:
Step 1: Cut out your bag. For this example that should be a piece 36″ long by 18″ wide.
Step 2: Pin on the handles and then sew them on. 
Step 3: Sew the side seams and then sew the bottom shut. Now top-stitch around the bag's entire opening to finish edges.
PicsArt all-in-one Photo and Video Editor, Collage, and Sticker Maker is the world's largest creative platform with over 150 million monthly active creators and influencers. PicsArt has collaborated with major artists and brands like The Jonas Brothers, Gwen Stefani, Maroon 5, Lizzo, Meghan Trainor, One Direction, MONSTA X, Warner Bros. Entertainment, iHeartMedia, Condé Nast, and more. Download the app today to level-up your photos and videos with thousands of quick & easy editing tools, trendy filters, fun stickers, and brilliant backgrounds. Unleash your creativity with PicsArt and upgrade to Gold for awesome premium perks!