Since purchasing a simple point and shoot camera just five years, Elle Hanley has created an artistic universe of tree nymphs, woodland princesses, and haunting surrealist characters in the wilderness surrounding her hometown of Seattle.
Crows gather menacingly in a metal tree, a ballerina with powder-white skin rises to her toes amidst floating globes, a Geisha's shaul is pulled by the beak of a stork.
With work this beautiful and original, we just could not help reaching out and asking Elle about her photography. She told us about everything from how she comes up with her costumes to the time she shot artistic nudes next to a grade-school field trip.
Our conversation just had loads of great insight and a lot of fun stories that you don't want to miss. Check it out below!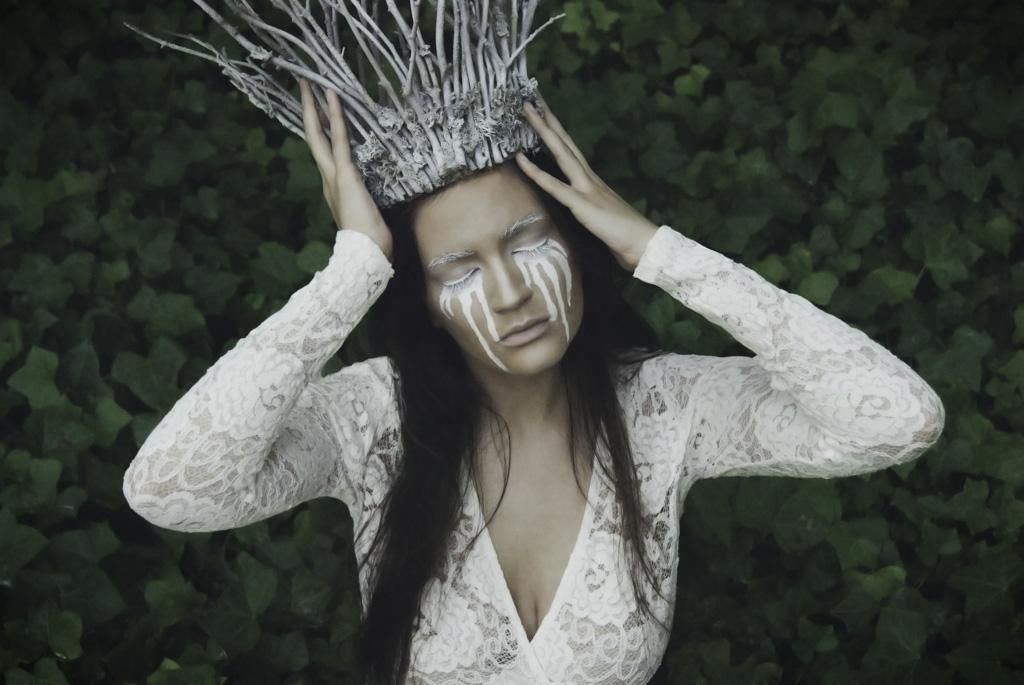 There are a lot of cultural mixes in your photos. Do you have a multi-cultural background?
I suppose I do though I don't usually think of myself that way.
Growing up my parents listened to classical Spanish guitar and jazz, drove Volvos and had Danish furniture. My mother cooked all kinds of food; Indian curries, Sichuan stir-fry's, French soufflés and on. My best friend was Japanese so I got to eat seaweed, sushi, and all kinds of things that still had their heads attached. Pretty fantastic truly.
I'm actually on a Danish television kick right now. It's such a lovely language to listen to.  I myself am a mix of Irish, English, French and German.
There is a sort of stuck out of time feel to your portraits. Are you fascinated with earlier time periods?
Yes, I really want to depict an "other worldly" feel.  A time period that's not really definable and I often choose landscapes that appear like other planets.
Nature also plays a big role in your photos. How important is the natural world for your art?
The natural world plays a huge part in my images.  I rarely shoot indoors and enjoy the challenge and effects the landscape and weather bring to my pieces.  I love the delicate balance between humans and nature and am intrigued by the natural tension that exists amid them.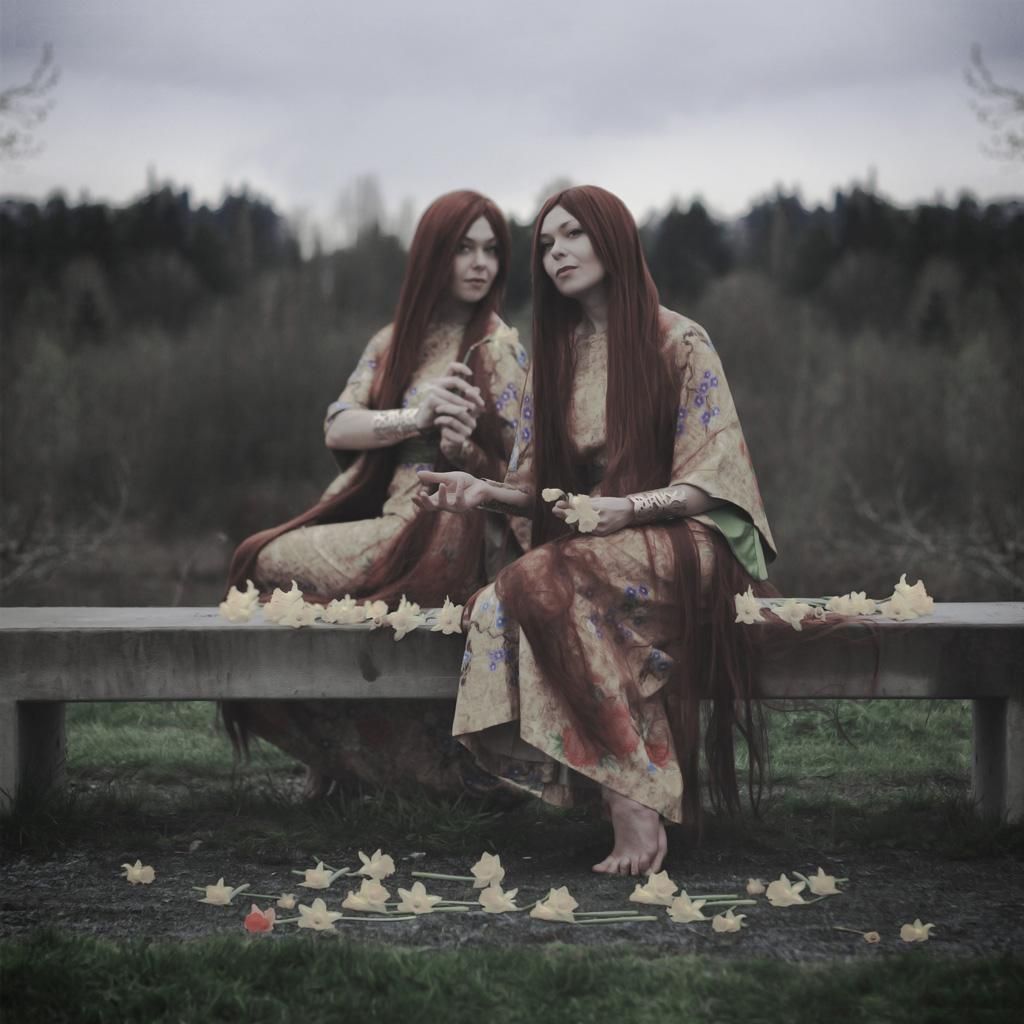 Your costumes are wonderful. How do these come about? Do you make them, or do you sort of find them spontaneously?
Thank you! I spend a lot of time trying to source and procure just the right wardrobe for my shoots because I always have something very specific in mind to help communicate the story.  I usually buy or get something on loan from a designer and enhance with specific props.  Occasionally I build something I need such as a crown of twigs or roses or "armor".
Do you ever think of characters, or do the figures in these images remain a bit mysterious even to you?
Well I try to create a partially fleshed out character so my model understands how to emote and hold themselves for the shoot but honestly I prefer to leave some mystery as I think that can be what is so appealing in the images.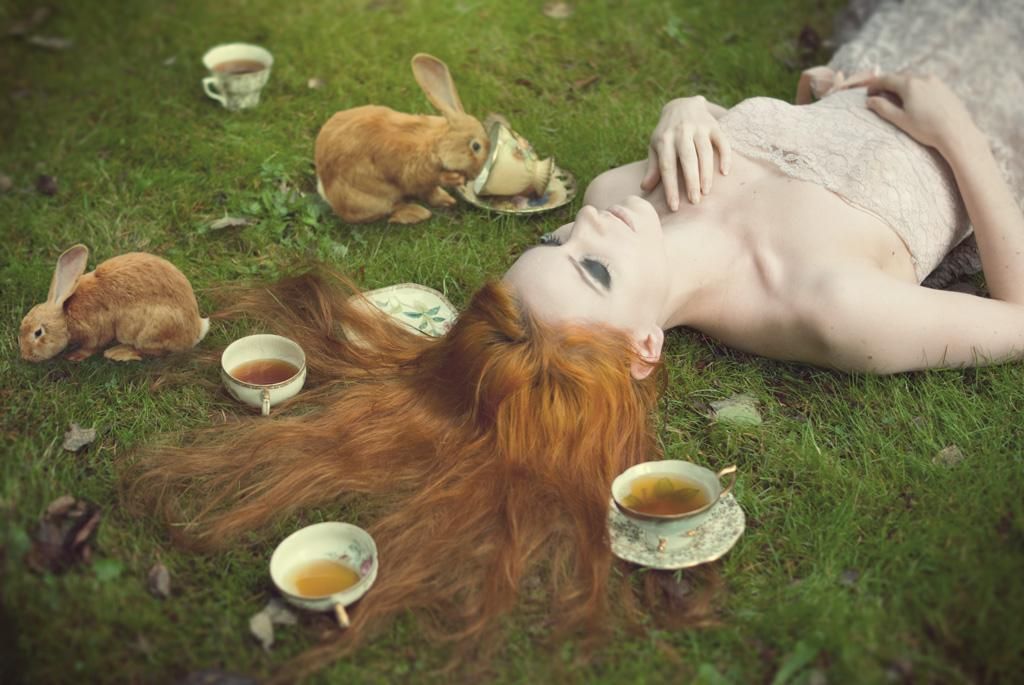 How much of your photos are shot on location, and how much is added later on through the editing process?
Nearly everything is shot on location even if it's shot separately and joined in post later.  Sporadically I decide after a shoot that I want to add an animal or a more interesting sky to an image so then I pull something from my "stock" folder of shots I've taken from all over and integrate it in.
Just yesterday I created an image in which I placed a white wolf into.  Initially I thought I might use birds but seeing the wolf I knew it would fit the image perfectly. It's a good idea to keep a healthy stock folder of images so you can create without restrictions.
What was the most fun you ever had on a photography shoot?
Oh wow, that's a great question. All sorts of fun and laughable things have happened such as shooting near a particular art piece that yelled at us for touching it, listening to monkeys howl while shooting near the zoo, shooting art nudes to find out behind the trees was a grade school field trip, shot an entire fashion editorial in a public library with make-up and hair done in the bathrooms, put a model in a lake full of lilies, made it snow in the summer, and chased hungry dogs away from my cake props.  One of my favorite things is when a small child thinks my model is a "princess" and can't stop staring.