Whether it's bad lighting or yellow stains caused by your coffee addiction, it's inevitable to find photos of yourself smiling with not-so-white teeth. It's not the worst thing in the world, but let's face it, when it comes to close-up shots, wouldn't it better to have pearly whites instead?. If you're too embarrassed to post your selfie on social media, and actual teeth whitening at the dentist's office is not a viable option, using a  teeth whitening app to magically make your teeth sparkle is your best bet!
How to Whiten Teeth in a Photo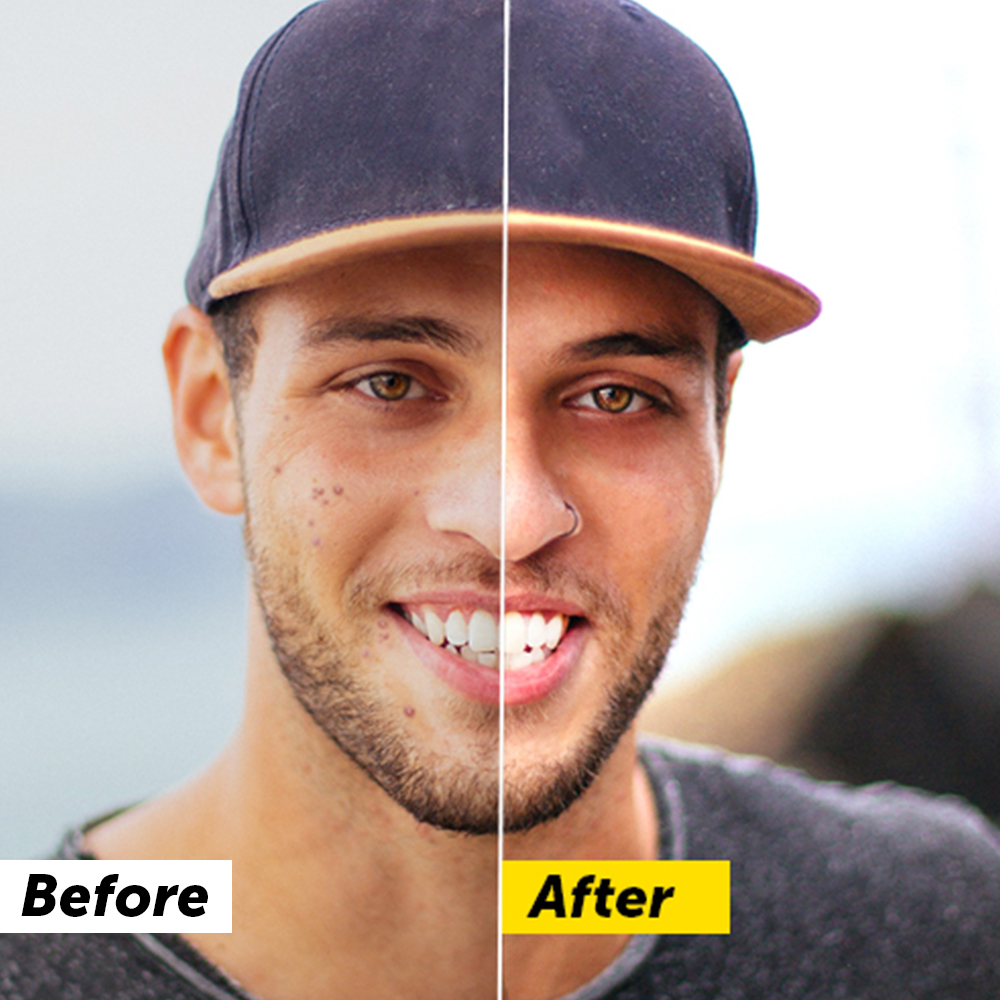 Luckily, PicsArt's teeth whitening photo editor is built into the app, and makes it super simple to whiten your teeth in just a few easy steps.
Open the PicsArt app and tap on the plus sign at the bottom of your screen.

Upload the image you'd like to edit.

Click the Beautify icon at the bottom of your screen.

Scroll to the right and tap on the Teeth Whiten icon.

The app may automatically detect your teeth and whiten them, but you can adjust the whiteness using the scale.

If your teeth were not detected, you can manually whiten them using the Manual tool. Double tap the Manual tool and adjust for Whiten, Size, Opacity, and Hardness until you achieve your desired look.

Save your image and show off those pearly whites!
Use Teeth Whitening Tool for Eyes
Brightening your eye whites is often a forgotten step in the usual photo editing routine. Although a tiny detail, it's one that really rejuvenates your face and gives your photo that special finishing touch. The teeth whitening tool is a great hack for brightening your eye whites, too! You can easily use the Manual tool aforementioned and lightly brush over your eye whites for a similar whitening effect. We suggest zooming in on your eyes and using the smaller size of the brush tool for an easier application.
Makeup Photo Retouching Tools
Now that we've covered how to beautify your teeth and your eye whites, let's discuss the rest of your gorgeous face! If you want to take your look to the next level, check out the array of makeup retouching tools available on the PicsArt app. 
From fixing blemishes and restoring skin tone to removing wrinkles and eye bags, Beautify has all kinds of retouching tools for all your cosmetic needs. Let's dive a little deeper into these editing tools.
Auto


The Auto tool is great for quick, on-the-go photo editing. Similar to an airbrush tool, Auto instantaneously brightens, smooths, and invigorates colors and features in your photo. You can always adjust the Fade scale to decrease or increase the effect. 

Face


This premium Beautify tool allows you to literally edit your entire face! Specifically, you can make adjustments to the actual size and shape of your face, nose, lips, eyes, and eyebrows. When clicking into each of these categories, you'll see several variations of styles and a scale to control exactly how much you want to enhance that body part. For example, under the Eyes category, there are six different options to adjust your eye shape and size as well as an Amount scale you can slide back and forth until you achieve your desired result.

Wrinkle


This is another premium tool that's great for any wrinkles you want to smooth over. The app may automatically detect and smooth over any visible wrinkles in your photo. Or you can switch to the Manual tool and adjust accordingly. 

Smooth


Similar to the Wrinkle tool's smoothing effect, the Smooth tool gives your entire photo an overall glam vibe. It smooths over any hard edges and surfaces, adding a glow-like effect to your image. Use the Smooth scale underneath to minimize or accentuate the effect.

Eye Bag


Feeling a bit tired? Use the Eye bag tool to remove your dark circles and/or eye bags and give your face a refreshed appearance. 

Face Fix


Check out the Face Fix tool for an overly dramatic glow/blur effect that gives your photo a unique texture. You can play around with the Manual settings to reduce or amplify effects.

Blemish Fix


If you have a pesky little blemish or pimple you want to blur out, the Blemish Fix is your go-to retouching tool. Simply tap on the blemish area on your face and watch the tool work its magic. You can adjust the size of the tool for larger or smaller areas and watch it remove blemishes!

Hair Color


Have you ever wanted to dye your hair pink or blue or red, but chickened out? This unique Hair Color tool allows you to explore a whole spectrum of colors you can digitally apply to your hair. Play around with the Amount and Saturation scales to adjust how deep you want the color. Who knows, maybe you love blue hair on you so much that you'll decide to go for it in real life! 

Detail


Imagine making the title of your essay bold. The Detail tool is the photo editing version of that. Simply swipe over the desired area and see the colors pop in front of your eyes. This is a great makeup tool if you want to define your lipstick, eyebrows, and mascara. 

Eye Color


Want blue eyes to match your blue hair? That's a whole vibe and it's totally doable with this feature! The app may automatically detect your eyes, or you can manually place the tool directly on your pair of eyes. Let's say the app only detected two out of three people in your photo, you can always tap on the Plus Eye icon at the top to add an extra pair of eyes. Check out all the stunning eye colors you can choose from and have fun with it!

Red Eye


Camera technology has undoubtedly advanced in the past decade. Yet we still end up with red eyes from time to time. This tool is a necessity for such times. Simply tap on your red eyes and click Apply on the top right to remove the red color from your eyes.
The Best Face Editor App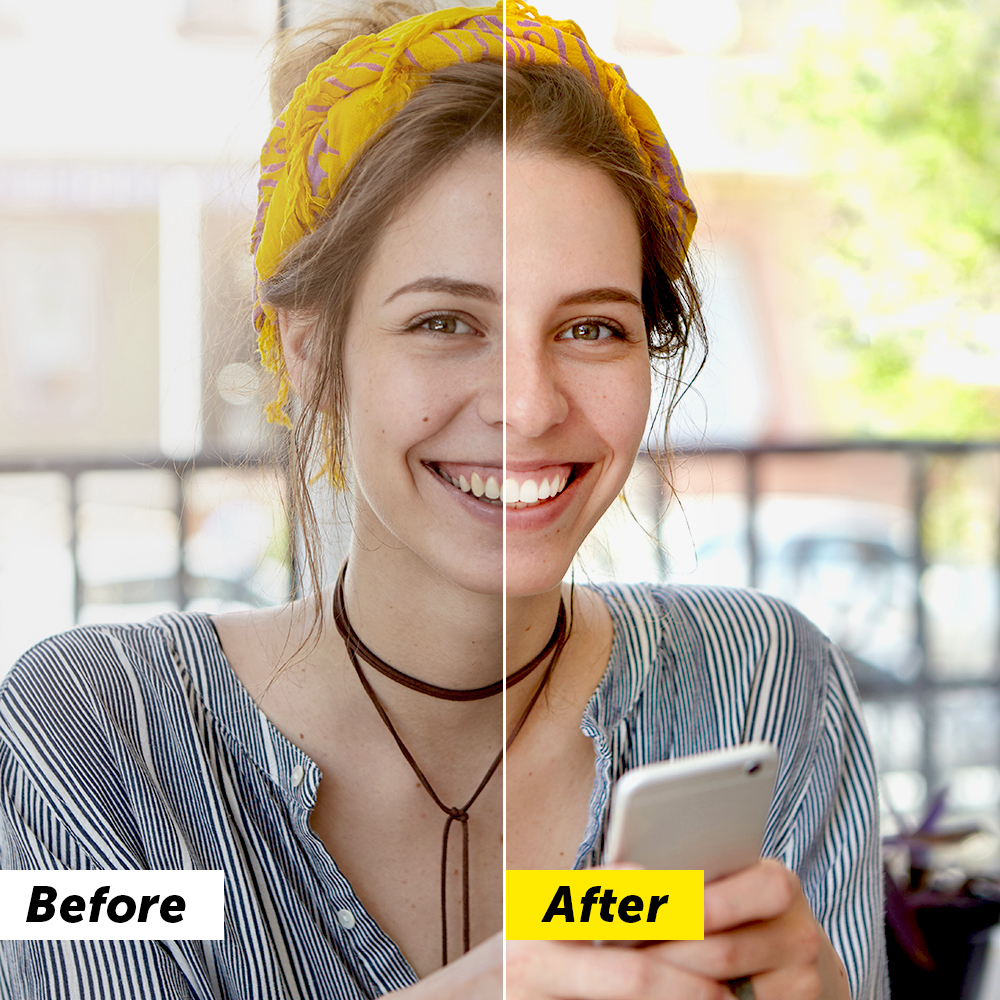 We covered a plethora of face editing tools to meet all of your selfie retouch needs. From basic teeth whitening to the more intricate face editing tools, you can find them all available at your fingertips on the PicsArt app. Take it one edit at a time and stun your followers with your final work of art. 
PicsArt all-in-one Photo and Video Editor, Collage, and Sticker Maker is the world's largest creative platform with over 150 million monthly active creators and influencers. PicsArt has collaborated with major artists and brands like Taylor Swift, The Jonas Brothers, Gwen Stefani, Maroon 5, Lizzo, Meghan Trainor, One Direction, MONSTA X, Warner Bros. Entertainment, iHeartMedia, Condé Nast, and more. Download the app today to level-up your photos and videos with thousands of quick & easy editing tools, trendy filters, fun stickers, and brilliant backgrounds. Unleash your creativity with PicsArt and upgrade to Gold for awesome premium perks!