Let's talk about all things negative effect. What's a negative effect? Well, in the analog days of photography, one would take a roll of film and hold it up to the safelight of the darkroom to see what was there before deciding which images to develop. On the film's surface, the content of the photos appeared "negative", meaning that the tonalities were inverted. In the case of black-and-white film, this meant that dark tones seemed light and vice versa. In other words, it was like seeing an image in reverse.
These ghostly miniature images of the film rolls of old became so popular they morphed into their own style. Even though not many of us currently use film, we still create the negative effect today. It's common in suspense and horror films, but it's in no way limited to those genres. The negative effect gives off a nostalgic vibe, and applying this inverted twist on digital photos is an easy way to add some artfulness to a composition.
New-age negatives: digital magic
It's possible to apply the negative effect in creative, layered ways and take an ordinary image to new levels. Instead of transforming an entire image into a negative, you can invert certain sections and shapes within a photo, achieving a funky abstract look in a matter of seconds. In the angolgue age, this kind of editing would have taken several sessions in the darkroom and involved a lot of cutting and pasting. Now, you can quickly make virtual cuts and easily flip negative and positive gradients. In the following tutorial, we'll explore how to invert an image, creating a modern day negative effect.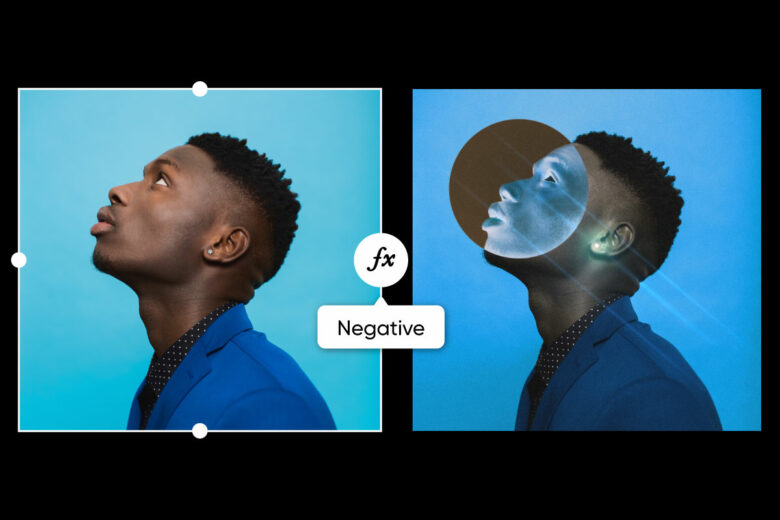 Replicate the negative effect on your imagery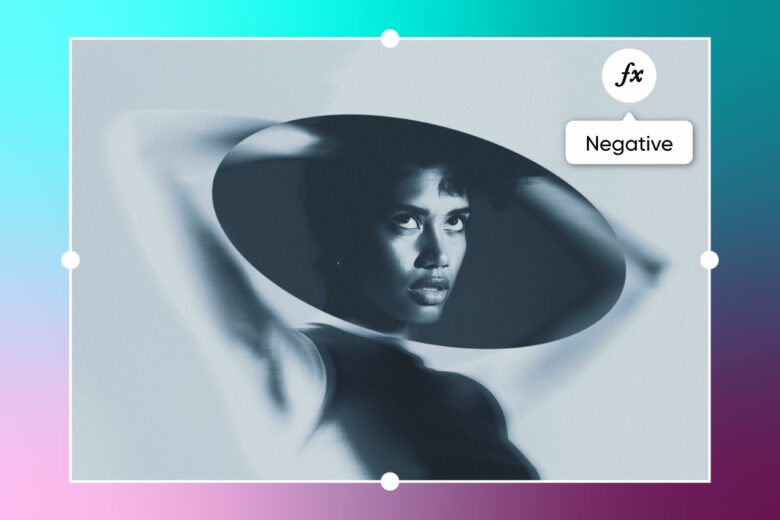 Prepare for negative vibes only
1. Open the Picsart mobile application and click on the purple plus sign at the bottom of the screen to start a new project.
2. Your photo library will appear at the top of the screen. Select the photo with which you wish to work. We recommend choosing a black-and-white portrait, if possible, for your first attempt at using this effect. With a two-tone image, it's easy to differentiate flipped shades. You can invert color images, too, so if you don't have a grayscale photo on hand, that's not a problem. You'll get eye-catching results with whichever image you choose.
3. On the editing screen, select the FX tool from the menu beneath your canvas. This is one of only two tools you'll need to pull off an incredible look.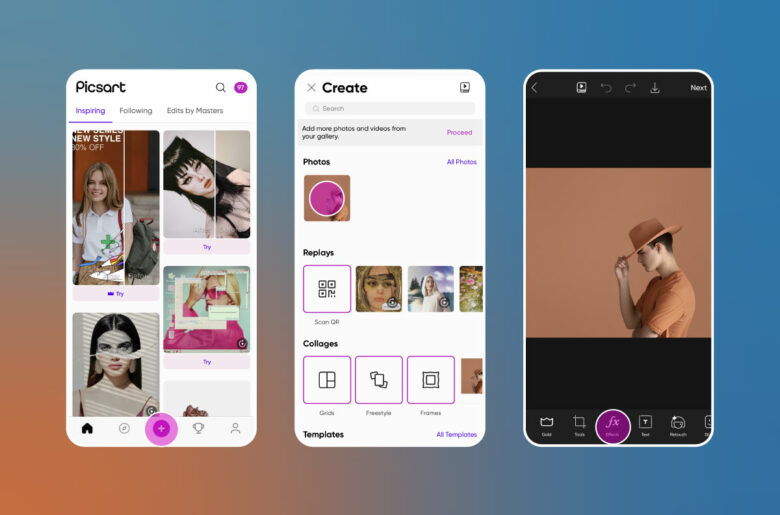 4. With the FX tool open, you'll see various filter categories. We have a vast library of filters, so choose the Colors category to narrow your options, and then select Negative. This will invert the tonalities of your entire photo. Once you've applied the filter, select Apply in the upper right-hand corner of the screen to make the effect stick.
Go further with your negative effect
5. If you're satisfied with your project, jump to the final steps of this tutorial to learn how to export and share your image. However, we recommend having some more fun by applying the effect to sections of your photo to add complexity to the composition. To highlight a particular area, use the Selection function under Tools in the menu at the bottom of the screen. Choose a shape from the menu at the bottom and move and stretch it until it's covering the part of the photo to which you wish to apply the next Negative filter. Once you've situated your shape, click FX in the toolbar pop-up at the top of the screen. The app will apply the edits you make during this step only to the selected area.
6. On the next screen, select Negative from the menu of effects at the bottom of the page. Don't worry about the fact that the rest of your image has momentarily disappeared. Remember, you're only editing the selected area at this time. Once you've placed the filter, click Apply in the upper right-hand corner to get back to your entire image.
7. Now it's time to unleash your creativity. Repeating the previous steps, make more selections in different shapes and invert the hues of only these parts. If you don't know where to start, try selecting focal points in your composition, as we've done below. When you're satisfied with your composition, click Apply in the upper right-hand corner of the screen to save your changes.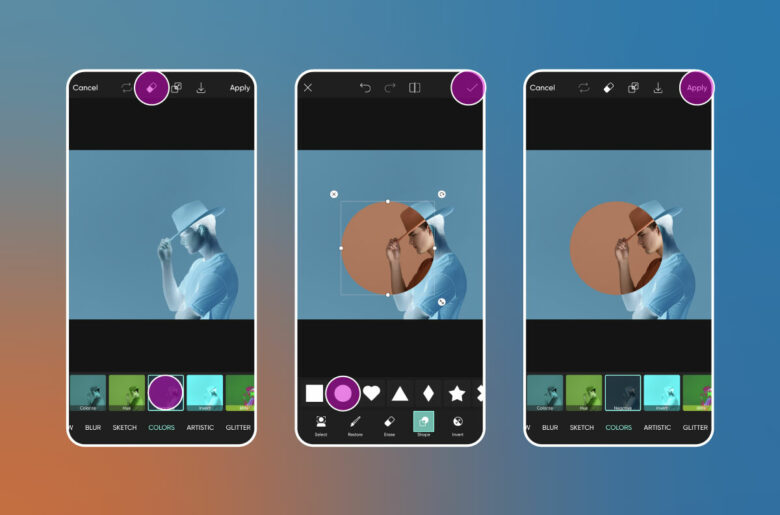 Positivity is overrated anyway
8. If you're done editing, tap Next in the upper right-hand corner of the screen. Otherwise, stick around on the editing page to add final touches like text or stickers.
9. On the final screen, you can choose whether to save your photo or post it to social media. You can post to Instagram, Pinterest, and beyond directly from the Picsart app. Don't forget to add a hashtag like #negative or #film to help followers understand how you created this look.
Picsart is a photo and video editing platform and creative community. A top 20 most downloaded app worldwide with over 150 million monthly active users, its AI-powered tools enable creators of all levels to design, edit, draw, and share content anywhere. The platform has amassed one of the largest open-source content collections in the world, including photos, stickers, backgrounds, templates, and more. Used by consumers, marketers, content creators and businesses, Picsart tools fulfill both personal and professional design needs. Picsart has collaborated with major artists and brands like BLACKPINK, Taylor Swift, Lizzo, Ariana Grande, Warner Bros. Entertainment, iHeartMedia, Condé Nast, and more. Download the app or start editing on web today, and upgrade to Gold for premium perks!