Aries Season: March 21 – April 19  
Aries fam, where you at ?‍♀️?‍♂️
If we had to guess, we'd say you're likely bouncing around with the energy levels of someone who's just downed a box of Sour Patch Kids. There's also a high probability you're putting all that hype toward achieving your latest goal and/or convincing your besties to join you on a wild road trip adventure. By nature Aries are go-getters who aren't afraid to rush headfirst into the unknown. Haters will call you impulsive, but your ability to not overthink and just DO is definitely one of our favorite qualities about you and your fellow fire zodiac signs ???
The Tea On Your Upcoming Year ?
Love horoscope ?: Beware of being too quick to friendzone. As an Aries, you understandably gravitate toward the life-of-the-party types. It's important to remember, especially this year, to branch out when it comes to your dating life. Don't count out quieter love interests or you might just miss out on your soul mate!
Friendship horoscope ?‍♀️: Prepare to expand your squad! Your positivity and optimism will draw even more people into your circle this year than usual. Don't worry about your old and new friends hitting it off — that's a no brainer. Live it up and get ready for some iconic group pics!
Travel horoscope ?: Let. someone. else. plan.  (? louder for the Aries in back!). We know itineraries and being at the front of the pack are your thing, but the stars are telling you to take a backseat when it comes to mapping out at least one of your trips this year. Trust, it will lead to life-changing experiences that never would've crossed your mind!
Aries Photo Editing Guide
We created a PicsArt Aries guide to help you shine equally as bright on social media as you do in real life where let's be honest, you're THRIVING✨
Our Light Masks have Aries written all over them! They match your fiery attitude to a T and feature your lucky color — red! Next time you're in a social media crunch, or just feeling yourself, simply apply and post. Your friends are going to  ❤️ it!
If there's one thing we're certain of, it's that Aries are ALWAYS on the move. This makes our Motion Tool PERFECT for you! The Motion Tool can take any static shot from basic to #goals in just one swipe, but action photos are where this tool really shines. What are you waiting for? Break out all those jumping pics and start editing!
Reach your full magical Aries potential on social media with our Gold Glitter and Rainbow Brushes. They both send out major good vibes (just like you), plus they're a great option for when you want to take your fierceness down a notch but still make a statement on Facebook, Instagram, and/or Twitter! More glitter is always better, right? ✨✨✨
We know your secret: SOME (potentially a lot) of your trademark Aries energy comes from coffee. We're not mad, we just want to alert you that we have an awesome Coffee Addict Sticker Pack just for you! It's equal parts cute, hilarious, and so Aries that we can't even!
Template – Aries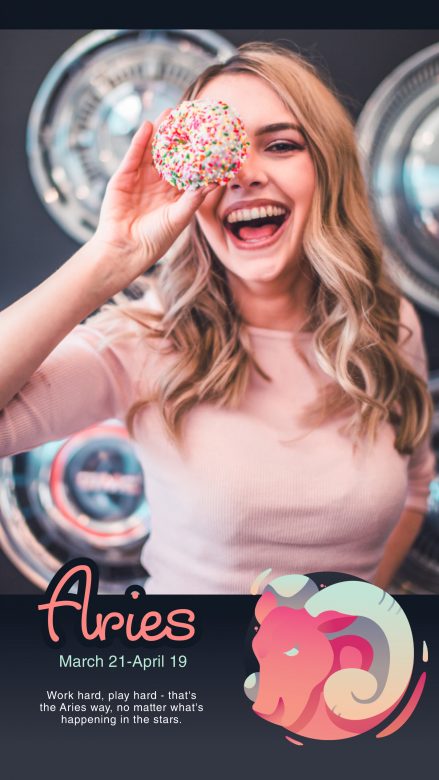 Feeling #blessed to be an Aries right about now? You should be! Shout it to the world with our Aries Instagram Story Template. Just select a selfie, save, and post!
PicsArt Photo and Video Editor, collage, and Sticker Maker is the world's largest creative platform with more than 150 million monthly active users and influencers. PicsArt has collaborated with several brands and artists, including Disney, MTV, Taylor Swift, The Jonas Brothers, Gwen Stefani, Maroon 5, 30 Seconds to Mars, and more. Step-up your photo editing with thousands of tools, edits, backgrounds, stickers, and filters. Awesome starts here! Download the app today, and upgrade to PicsArt Gold to unleash your creativity!