Gemini Season: May 21 – June 20
Helloooo Gemini peeps! 👯‍♀️💫
Y'all are real ones! Out of the 12 zodiac signs, you guys definitely bear the burden of the most internet shade. Despite the infinite memes, you consistently manage to emerge from the ashes of your haters like a fabulous phoenix – better than ever! We respect that 🙌 By nature you're adventurous, everyone's bestie, and 100% fluent in sarcasm. Keep doing you and telling all the savage jokes you want. In the words of Kris Jenner, 'You're doing amazing!'
The Tea On Your Upcoming Year 🔮
Love horoscope 💕: Usually your love life is along the same lines of your musical taste and by that we mean all. over. the. place. (Sorry, not that sorry.) But this year the tides are changing. Don't freak out when you fall into a routine with your boo. Just because you're not on a rollercoaster of emotions 24/7 doesn't mean they aren't Mr. or Mrs. Right!
Travel horoscope 🛫: We're happy to report an Instagram-influencer status trip is in your future! Unfortunately, the stars are warning us that when the opportunity arises you'll try to flake. Don't do it! The alternative is you sitting at home watching travel vlogs to cope with your FOMO and no one wants that. #JustBeingHonest
Friendship horoscope 👯‍♀️: Things are going to get a TINY bit rocky for you during Mercury retrograde BUT it's nothing you can't overcome with your day-ones by your side. If you find yourself feeling lost, don't hesitate to call up your Libra, Capricorn, and/or Cancer besties — they're the wisest of the zodiac bunch. Steer clear from hitting up any fire signs for advice. They mean well, but they're too hot-headed for the challenges you'll be up against 😤
Gemini Photo Editing Guide
We created a PicsArt Gemini guide to help you shine equally as bright on social media as you do in real life where let's be honest, you're THRIVING✨
The Mirror Distortion Effect was made for you 💯 Your symbol is a pair of twins after all! Next time somebody calls you out for being two-faced instead of appreciating your trademark dual personality, own it! Bring a whole new less toxic and more glam side of two-faced to the table with PicsArt. Going for extra style points? Add one of our Magic Effects on half of your remix to take it to the next level!
If there's one thing that we know for certain, it's that Geminis aren't afraid to tell it how it is. Our 'Whatever' Sticker Pack is here for you on those days you wake up on the salty side of the bed and just need to get it out of your system! P.S. We highly recommend adding the Stickers to cat photos if you're in need of a pick-me-up.
On the outside, Geminis are as cool as cucumbers, but on the inside, we know you're really like 😲😲😲 more often than not. Next time you're feeling stressed skip your Headspace app (yes, we went there) and try our Pastel Paint and K-Pop Brushes instead. Swiping them on pics is weirdly relaxing and will have you chilled out and ready to take on the world in a flash 👊
Our Shape Mask Tool has Gemini written all over it. It gives you the freedom to be your creative self and is mega-versatile, just like you! From lightning bolt ⚡️to ice cream cone cutouts 🍦, we got you covered!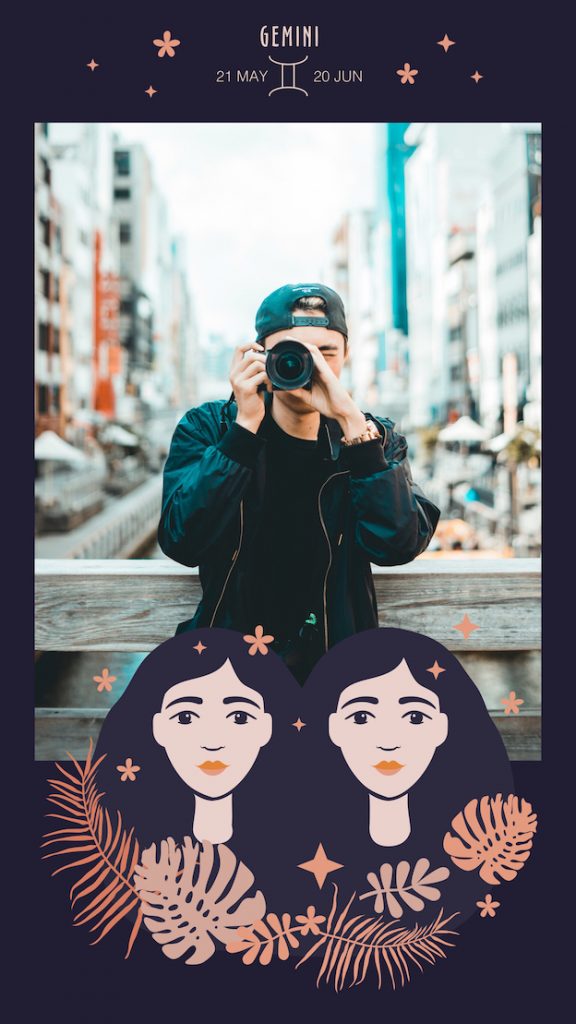 Proud to be a Gemini after reading the above? You should be! Tell the world what's up with our Gemini Template. Just select a fire selfie, save, and post! Oh yeah, and did we mention it's the perfect size for your Insta Story? 😉
PicsArt photo and video editor, collage and sticker maker is the world's largest creative platform with more than 100 million monthly active users and influencers. PicsArt has collaborated with several brands and artists, including Disney, MTV, Dior, DJ Snake, Gwen Stefani, Maroon 5, 30 Seconds to Mars and more. Step-up your photo editing with thousands of tools, edits, backgrounds, stickers and filters. Awesome starts here! Download the app today, and upgrade to PicsArt Gold to unleash your creativity!