We've all been there: you snap what you think is an amazing shot, only to find out later that it's a bit fuzzy or lacking that crispness you were aiming for. The good news? It's possible to enhance your image clarity and make your photos sharper — and you won't need any design skills to make it happen.
Picsart's AI-powered image unblurring tool can help you effortlessly improve images with artificial intelligence, so you can enjoy beautiful photos every time. Here's how to make pictures clearer in just a few seconds with Picsart.
What is image clarity?
First things first: What exactly is image clarity? Simply put, image clarity refers to the sharpness, detail, and overall quality of an image. A clear picture is one where the subject is well-defined, with crisp lines and distinguishable details. Just like in real life, every nuance, texture, and detail is right there in front of you.
Now that we've got the concept down, let's break down the components that contribute to image clarity:
Focus:

If your camera isn't focused on the right spot, you're probably going to end up with a blurry picture. Whether you're using a smartphone or a DSLR, take a second to ensure your subject is in focus before you press the shutter button.

Sharpness:

Sharpness is all about crispy edges. It's like giving your image a clear, defined outline. Achieving sharpness involves finding the right balance between under-sharpening (soft edges) and over-sharpening (halos and unnatural lines).

Contrast:

This adds depth and definition to your images. It's the difference between the lightest and darkest parts of your picture. A

good contrast

helps details pop and creates a sense of three-dimensionality.

Color accuracy:

Believe it or not, accurate colors also contribute to image clarity. When colors are true to life, it's easier to distinguish different elements within an image.
Why use an image enhancer?
Whether you're a selfie connoisseur or a nature photographer, you're probably already well acquainted with the joy of capturing moments through a lens. But if you want to take those moments to the next level, consider using AI image enhancers to get the job done right.
So, why should you use an image enhancer? When you learn how to make pictures clearer online, you'll see wide-ranging benefits, including:
Better image quality:

Image enhancers have the power to transform your ordinary photos into stunning masterpieces. They can help correct exposure, adjust colors, and enhance details, making your images crisper, more vibrant, and more captivating.

Increased efficiency:

Image enhancers offer a streamlined editing process. They provide user-friendly tools and presets that expedite the editing process, letting you achieve impressive results in a fraction of the time.

Professional and polished visuals:

The best way to stand out in a crowded marketplace? Professional, polished visuals that highlight your brand. An image enhancer can help build trust with customers, reinforcing your credibility and professionalism.

Reuse older content:

Instead of spending hours on content creation, why not breathe life into older content with AI? By adjusting the quality, clarity, and overall aesthetics, you can transform older content into fresh, impactful content.

Save time and budget on reshoots:

Whether you're shooting product pictures or headshots, it's easy to miss less-than-perfect shots during a photoshoot. Fortunately, you can save time and budget by instantly restoring blurry, low-quality images.
How to make photos clearer
with Picsart
Ready to clean up your pictures? When you use Picsart, you can instantly upgrade your pictures to a higher image resolution. Here's how to get started.
On the web: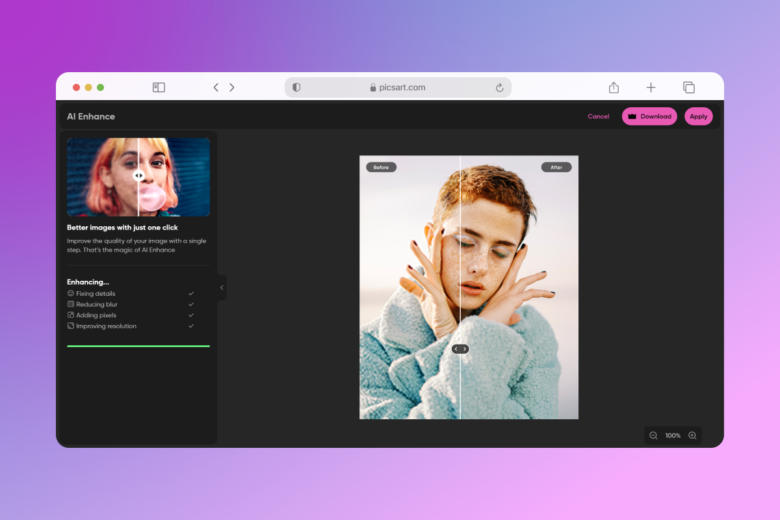 Open AI Enhance.

Then, choose an image from your photo library to clarify.

Enhance your photo.

In the photo editor interface, click AI Enhance and watch AI work its magic to improve your image clarity.

Preview your results.

Check out a preview of your newly enhanced photo. From there, you can add any finishing touches as needed with Picsart's built-in

photo editing tools

.

Download the image.

When you're finished editing, click Export and then Download to save your new photo.
On mobile: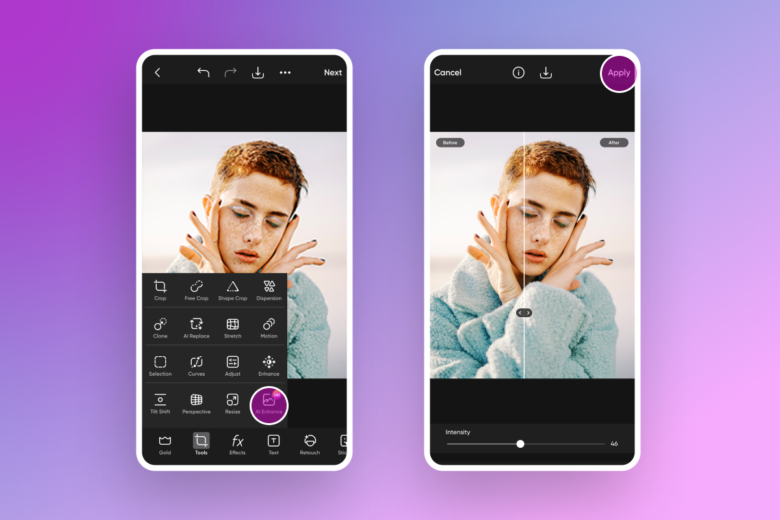 Open the Picsart app.

Next, tap on the plus sign (+) to start a new project.

Upload an image.

Choose a picture from your photo library to clarify.

Open the Enhance tool.

Open tools and tap AI Enhance. Then, watch AI work to clarify your image within seconds.

Refine your image.

Need to make any other edits? Use our photo editing tools to adjust the saturation, brightness, and other aspects of your photo.

Download the image.

Tap Next and then Save to download your newly enhanced photo.
With Picsart's smart AI-powered image enhancer, you'll instantly learn how to make an image clearer, crisper, and brimming with details — even if you're not a pro photographer. Get started today!