In a sea of selfies, let yours take center stage! Selfies have come a long way since they were first introduced in the early 2000s (shout out to front-facing cameras ?). So much so that there's an entire social media holiday dedicated to them, National Selfie Day. ??
This National Selfie Day, we're teaching you how to take the perfect selfie and pumping you up with plenty of creative selfie ideas to help you stand out from the crowd! Because let's be honest, the selfie competition is FIERCE, but so are you. ?
Below you'll find our "selfie pro starter pack!" ?
Mirror mirror on the wall… who has the best mirror selfie of all? It's a new frontier for mirror selfies and the future for the trend is ✨bright.✨ You may have noticed an influx of aesthetic mirror selfies on your timeline and thought, "how?!'. We're here to let you in on a little secret — they may not actually be mirror selfies at all. ? The faux mirror selfie is alive and well and we're here for it! Our mirror photo frame stickers & Replays make it ridiculously easy to hack your way to a flawless Instagram feed, no Snow White mirror necessary. 
Get All Kinds of Artsy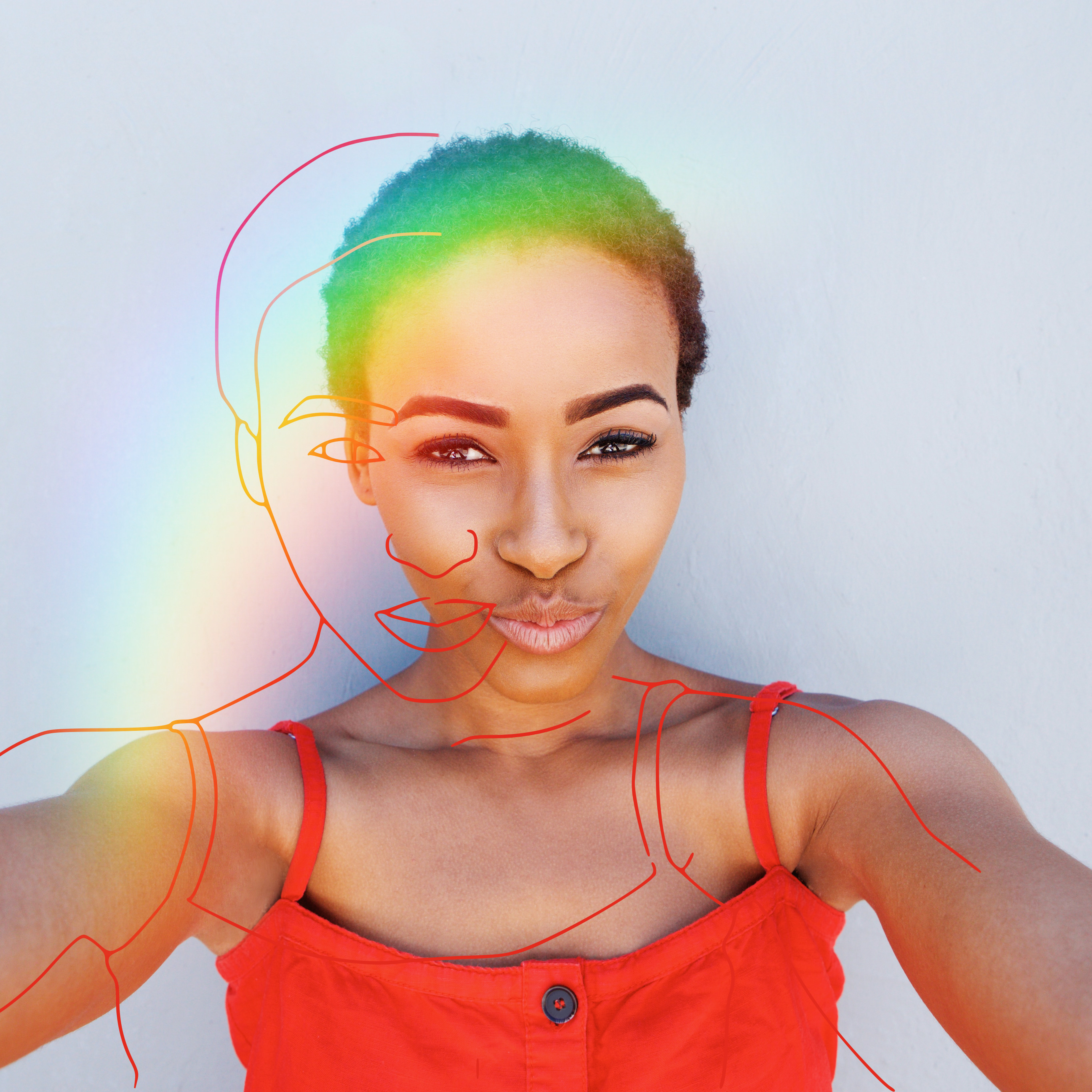 Elevate the fine ~art~ of selfie-taking with a Sketch effect and Prism mask combo! It's so easy that we created this example in just two taps. ? Don't forget you have our everyday filters to lean on this National Selfie Day, too! Add in a summertime feel with our SUN, BRNZ, and '90s series. ?
Throw it Back (to the Renaissance!)
View this post on Instagram
Turn any #basic selfie into a masterpiece on National Selfie Day with our cutting edge Canvas Effects. ?⚡️ It's never been easier to turn yourself into a true work of art! Our Canvas effects match your face to thousands of famous paintings and sculptures in seconds. If this doesn't get you into the hypothetical Museum of Best Selfies (or at least into a pop-up exhibit) we don't know what will. ?
Fake a Golden Hour Selfie
Everyone knows the surest way to a stunning selfie is to capitalize on the magic of golden hour. ?✨ Remembering to snap a selfie during golden hour is another story entirely. Shadow masks (and golden hour stickers) to the rescue! ?‍♀️?‍♂️ Our new Shadow Masks are here to help you "fake it 'till you make it" and have the power to glow up any selfie in one tap. We have 18 different variations to choose from so you can keep calm and selfie on!
Have Fun With Our Beautify Tools & Makeup Stickers
It goes without saying that you're perfect just the way you are, but that doesn't mean you can't play around and experiment with your look from time to time! National Selfie Day is all about self-expression so why not take a walk on the wild side? Whatever crazy style you've been wanting to try can become a reality in just a few seconds with PicsArt using our makeup stickers and Beautify tools. Just do you, and the rest will fall into place!
PicsArt Photo and Video Editor, collage, and Sticker Maker is the world's largest creative platform with more than 150 million monthly active users and influencers. PicsArt has collaborated with several brands and artists, including Disney, MTV, Taylor Swift, The Jonas Brothers, Gwen Stefani, Maroon 5, 30 Seconds to Mars, and more. Step-up your photo editing with thousands of tools, edits, backgrounds, stickers, and filters. Awesome starts here! Download the app today, and upgrade to PicsArt Gold to unleash your creativity!