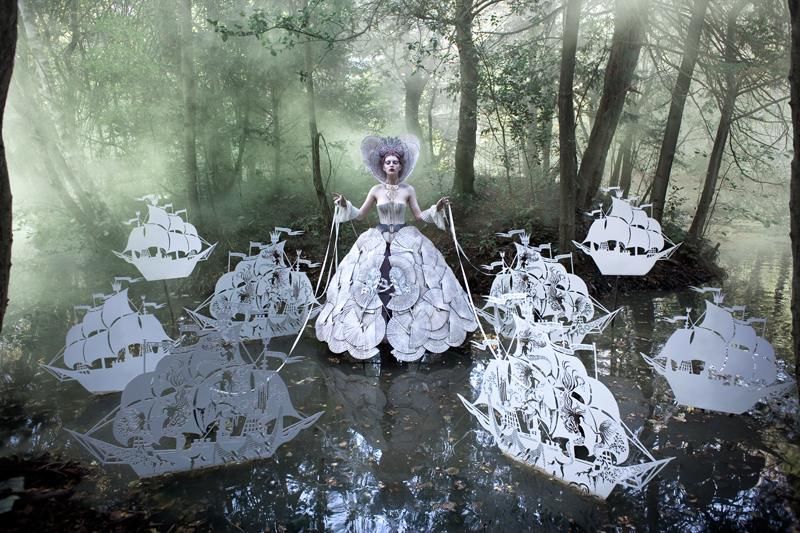 Wonderland is a project in which British photographer Kirsty Mitchell creates fairytales through still images. Her photos have a stunning level of detail, which is amazing considering she shoots on location with models, crafting her costumes and props by hand on a shoestring budget. Behind the fantasies, however, is a touching real-life story.
Wonderland began in Kirsty's childhood, when her mother, an English teacher, would read her favorite stories to Kirsty. "She used to read to me all the time up until my early teens, which sounds quite old, but it was simply her way of sharing the beautiful unusual books she would hunt down… they were often tales from European folklore, dark stories, with strange magical pictures that stayed with me for the rest of my life."
Kirsty studied photography in art school, then switched to fashion design, which lead to a career that lasted 11 years, until everything suddenly changed. In 2007, she had returned to her camera to cope with a difficult period, when her mother was diagnosed with a brain tumor. "I was thrown into the trauma of her treatment and decline… I began taking self portraits, creating more and more elaborate pictures, to push the real world as far away as I possibly could."
Kirsty's mother died in 2008, and remembering those time when her mom read to her as a girl, Kirsty thought on them as among the most special moments they had shared. She tracked down the original 1970's editions of her mother's favorite books. "Holding them in my hands formed a powerful connection back to my earliest memories of my mother, which were safe and full of love… They became my starting point and my inspiration."
Photography would be her medium, but her fashion experience became invaluable as she began crafting the costumes in her Fairy Tale images. She cites her time with designer Alexander McQueen, whose work transcended fashion into art, as her greatest inspiration, saying her costumes are more like sculptures than clothing.
Kirsty's ideas are inspired by illustrations from her favorite books and historical figures, which she blends with her own sensibilities. "The costume for 'The White Queen' was based on our English 'Queen Elizabeth I' however the twist was that I built the piece like a sculpture from 240 hand painted wooden fans, so she looked like a paper doll from a child's pop-up book."
By shooting on location, Kirsty lends her work the credibility of a real-life environment. "Sudden hailstorms in Springtime, rainbows, bursts of sunlight and black skies within minutes… this is something I can never predict and always brings an extra dimension to the work."
Wonderland has garnered international attention and fans all over the world. Kirsty plans on wrapping with a book and a tour of her photos so she can share her work in person with the people who have supported her through the years. "For me the most exciting part is to finally celebrate my mother's life with the book and see new generations of children and adults enjoy something she has inspired. I think it will take quite a while to believe it when it is finally finished."