It's no secret that nature is full of inspiration. Whether you're passionate about hiking and the great outdoors or you simply seek out the joys of nature's spectacular scenes, you'll find that landscape photography is full of artistic opportunities. But how do you take good landscape pictures? Today we're exploring this evergreen theme. 
Landscape Photography vs Normal Photography
First thing's first, what is landscape photography? Well, have you ever found yourself staring out at an untouched landscape stretching towards the horizon and realizing there's not another person in sight? Landscape photography is about using art to connect deeply with the natural world. Usually, this means photographing mountains, beaches, trees, or some other naturally occurring scenery. But in modern art, the definition of landscape photography could even include man-made skyscrapers or some other part of an urban landscape. 
Sometimes, you'll hear landscape photography compared to portrait photography. This refers to the orientation of the image. If it's horizontal, then it's a landscape photo, whereas a vertical image is considered to be a portrait.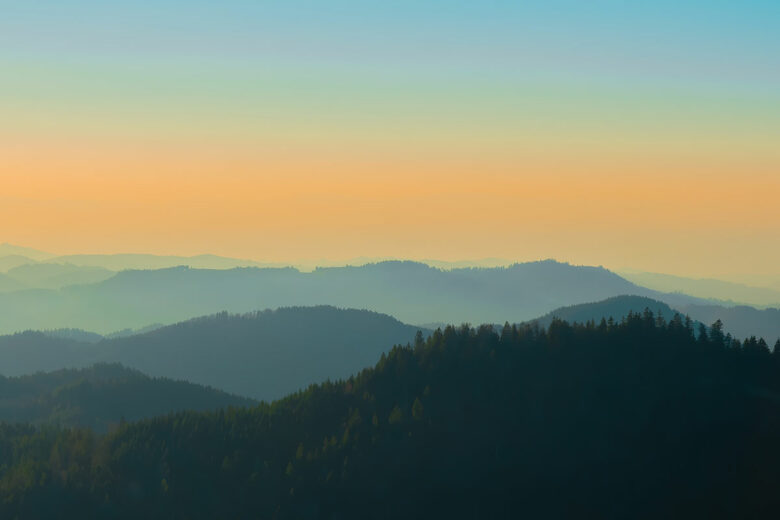 Landscape Photography Tips
Taking a beautiful landscape image might seem as simple as snapping a shot of whatever majestic scene is in front of you. But to take a really exceptional photo, there are a few things to keep in mind. First, it helps to master the fundamentals of photography. With a little practice and these helpful landscape photography tips, you will soon be able to take professional-looking landscape images. 
1) Create Depth
Depth of field is the amount of the photograph that is actually in focus; the amount of distance between the closest and farthest objects that appear in sharp focus in your picture. Depth is a great landscape photography technique to use as it helps create a sense of place, drawing the viewer further into your image. Creating depth communicates the dimensionality of your world, transforms your photograph beyond a 2-D flat image, and provides a sense of realism for the viewer. 
On a DSLR camera, your depth of field is controlled by your camera's aperture. A larger aperture lets in more light and softens the focal plane. A smaller aperture will give you a sharper image. But even on a smartphone, there are a few easy ways to add depth to a photo. 
You can u

se leading lines

to draw the eye from the bottom of the frame to the top. 

Use the

artistic tool of perspective

to create the illusion of depth, just like the ancient Greeks. 

Take an aerial perspective, using natural elements like

fog or atmospheric conditions to

obscure some elements of your photo. This is often seen when fog makes trees in the background appear hazy.

Use foreground elements to shoot through a natural frame, which helps put distance between the viewer's eye and the main subject.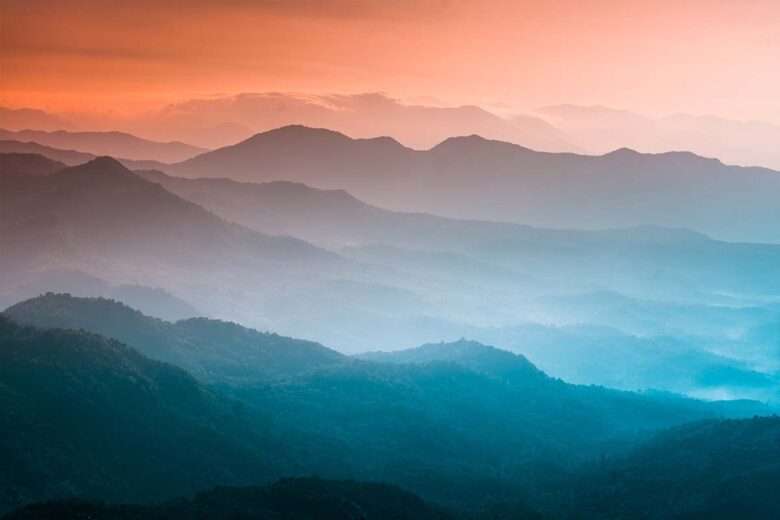 2) Use the Right Equipment
How do you take good landscape pictures? Part of it starts with your toolkit. Before you head out on your next outdoor photography adventure, you might consider investing in a few tools. If you're serious about the form, you might already have some of these:
A wide-angle lens

, which will show a broader view of the scene that you're trying to capture. Photographers typically use wide-angle lenses to capture large, panoramic shots. This lens is also useful in tight spaces where you can't otherwise back up enough to get the whole picture in the frame (like in real estate photography). Of course, there will be times when you want to focus on small details, like the moon rising over a mountain range. But if you are taking a lot of photos, you will likely want a wide-angle lens in your toolkit. 

A tripod comes in handy when you're trying to avoid camera shake and get a sharp, clear image. It's essential if you're hoping to capture as much detail as possible in a long exposure photo, and very helpful if you're shooting at night. You'll want a tripod that is sturdy, but portable. 

If you're photographing water, leaves, or the sky, don't leave home without a

circular polarizer

. This affordable filter controls for glaring light on reflective surfaces. It can make a notable difference, especially when you're photographing the surface of a body of water, or leaves freshly coated with dew. The polarizer rests right on top of your lens or on your phone camera. 

Consider also investing in a telephoto lens if you're shooting wildlife in nature. Sometimes you can't get close enough to your main subject to capture the photo you want, so this long-focus lens will help you get a clear image from a safe distance.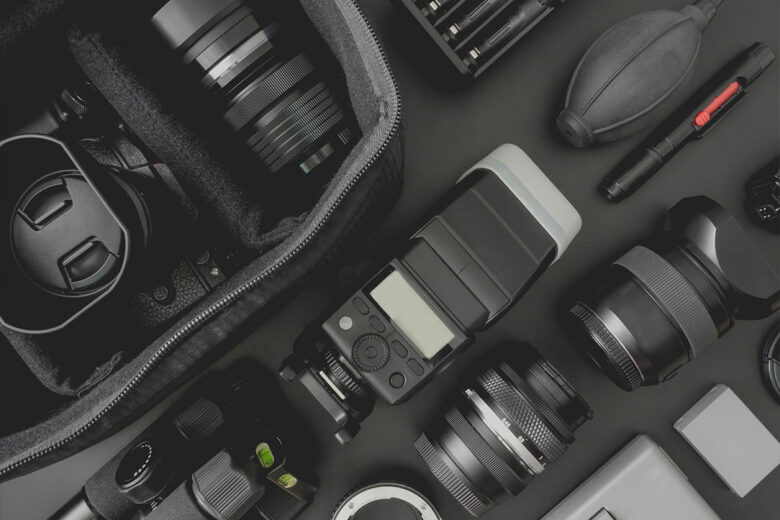 3) Find the Right Settings on Your Camera
The better you get to know your camera, the easier it will be to capture gorgeous landscape photos at any time of day. Dim light is often difficult to shoot in, but adjusting your camera settings properly can help you achieve beautiful sunset shots or night photography. Some things to keep in mind: 
ISO is the function that changes the brightness of your photo. You will want to keep this as low as possible. If you're struggling to get a clear image, you can push it up but not above 125. This will result in longer exposure times, but you will be rewarded with higher quality and sharper photos. 

To achieve the maximum depth of field, choose a small aperture, like apertures of f/16 or f/22. Remember, the higher the f-stop, the greater detail can be seen in the foreground and background of the photo with a very deep depth of field. If you're using a high f-stop and low ISO, you will need a slow shutter speed. This is where a tripod is really helpful to get a crystal clear image.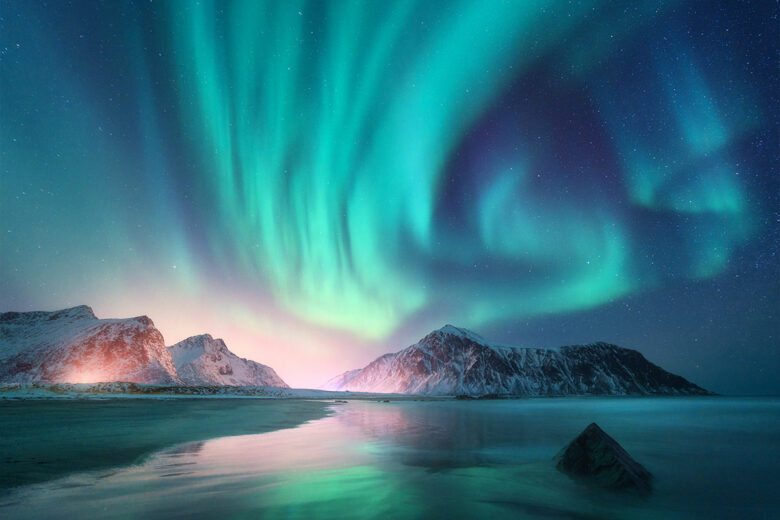 4) Shoot During the Golden Hour
There are two magical times of day that are considered some of the best times to shoot outside. The hour just after sunrise and before sunset are known as golden hour, when the sun is just above the horizon, and the sky is full of warm, glowing natural light. During golden hour, lighting conditions are softer and take on a beautiful red-orange quality that enriches the rest of the colors in your photo. Because of the angle of the sun in the sky, light is also directional, which helps create romantic sunbursts and dramatic silhouettes. 
Because golden hour is so fleeting, you can also layer it on in post-processing by adding a golden hour filter to enhance your images with a noteworthy glow.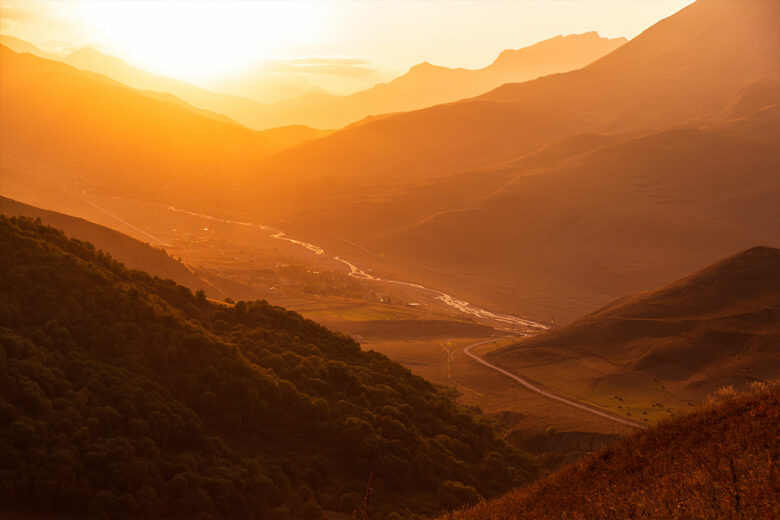 5) Compose an Artistic Landscape Photo
Landscape photographers use several tools to improve the overall composition of their photos: 
The

rule of thirds

is how people typically learn about composition. Most DSLRs and smartphone cameras have built-in settings to show these grids in the viewfinder. Instead of framing your landscape in the center of the image, you can try dividing the image into thirds horizontally and vertically and framing it along the focal points where those lines intersect. 

Reflect the natural beauty of the world around you by literally

 using reflections to create a balanced composition. Any mirror-like surface — whether it is the crystalline surface of a lake or the window of a passing car — can lend itself to landscape photography. Reflective shots are also a great example of how fun it can be to break the rule of thirds. Instead of relying on the rule of thirds, use the horizontal line where your subject meets the reflection as the center of your image. 

Color

is a great way to add an abstract emotion to your image. As light temperature changes throughout the day, so does the way that we perceive it.

Brush up on color psychology principles before your next shoot and see how it changes your approach to composition

. Then notice whether your shot is built around cool or warm tones, complementary colors, or a full spectrum of chromatography.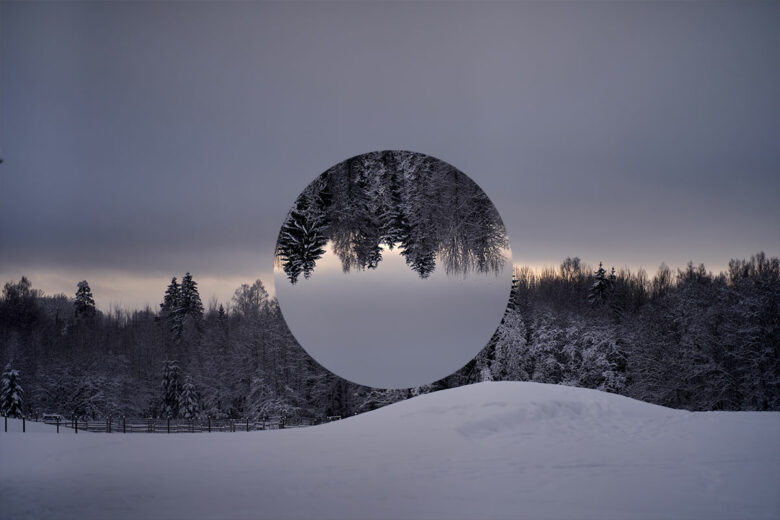 6) Capture Movement
Nature is alive and constantly moving, so landscape shots don't need to be static. Think crashing waves, blustery winds, or the gentle, sleepy drifting of clouds. Slowing your shutter speed can help capture the natural movement of the landscape. Just remember, you'll need to use a smaller aperture to isolate the details of the movement, and to limit the amount of light that reaches your camera's sensor. If you don't, you'll end up with a shot that's overexposed.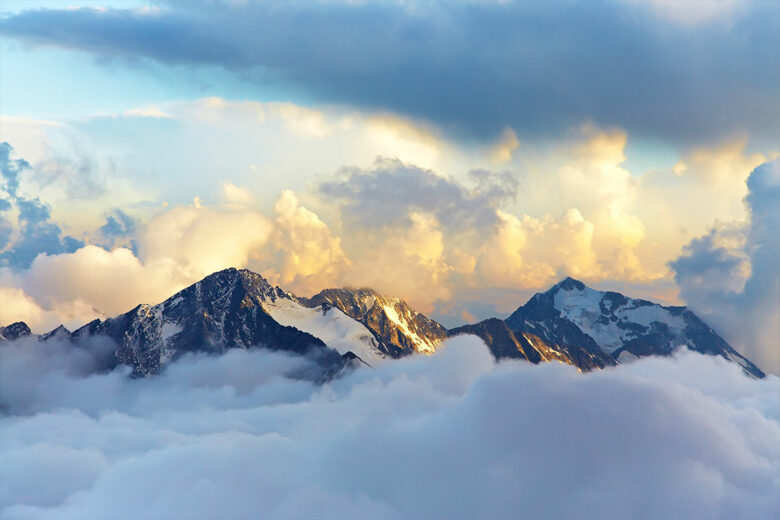 7) Find Personal Expression
Finally, landscape photography doesn't mean you can't include people. When you're photographing a wide-open scene, capturing a human or animal subject in it can help make your image more interesting. Here are some tips: 
Don't be afraid to set up the scene. If the person is your friend or a model, ask them to move them around and suggest pose tips. Of course, you never know when you're going to have a bird fly by at just the right time. 

Typically in landscape photography, the focal point of the image is a tree or another interesting natural formation. Using a human element as your subject can add a new sense of realism to the shot, and can help provide a balanced composition if there's a lot of white space. Unlike a natural object, using a human model also provides a sense of scale, and makes it clear to the viewer just how awe-inspiring and impressive the landscape really is. 

Finally, you don't even need to necessarily shoot a whole person from far away. You can create an interesting landscape composition with just a silhouette, an outstretched hand, or a foot print implying that a human was there. 
How to Edit Landscape Photography in Picsart
Now that you've learned how to improve your landscape photography skills, it's time to edit your photos. Let's put these tips together with this quick and easy tutorial. 
If editing on web:
1) Open the Picsart Web Editor and start a new project.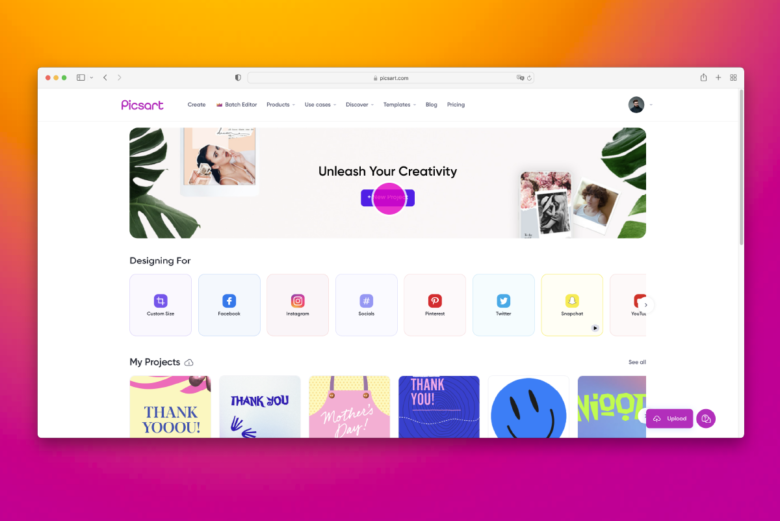 2) Click on Upload in the left toolbar and select a landscape photo from your gallery. If you don't have one on hand, you can hone your editing skills using a photo from the vast library of free-to-edit content. Simply Search 'Landscape' to get started.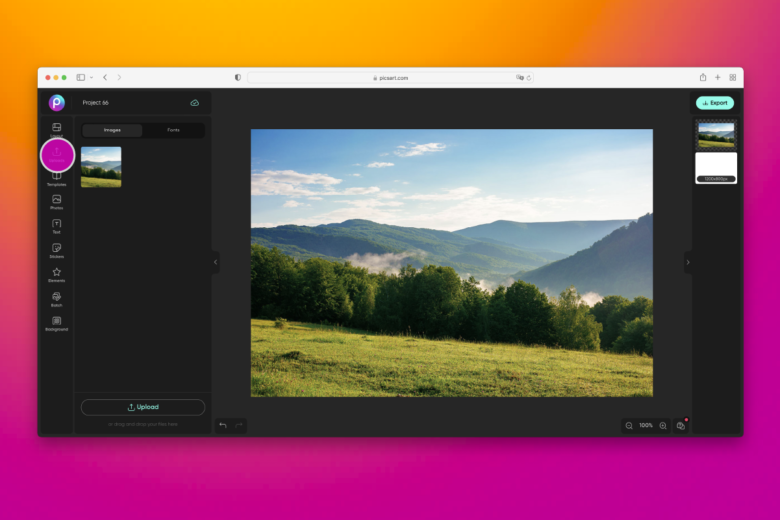 3) Add some drama to your image by applying a filter by applying an Effect (fx in the above toolbar). Search through all of the Effects to add the right one for your image's color palette.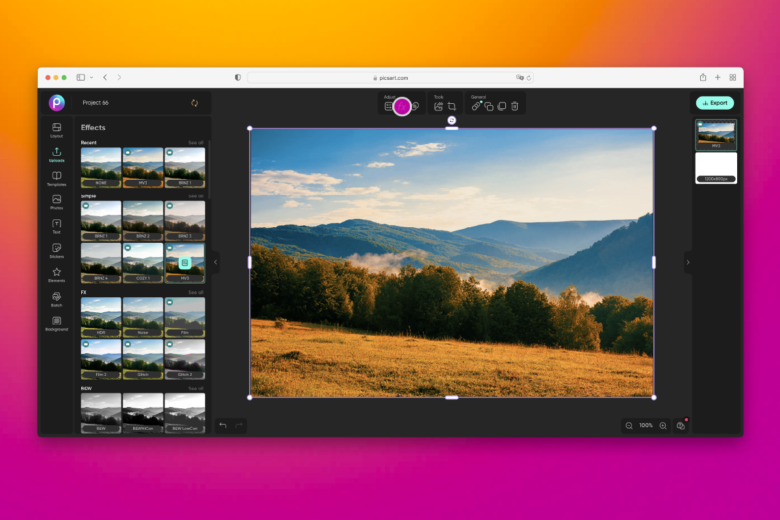 4) Use the Adjust tool in the above toolbar to manually adjust the brightness, contrast, shadows, highlights, and opacity.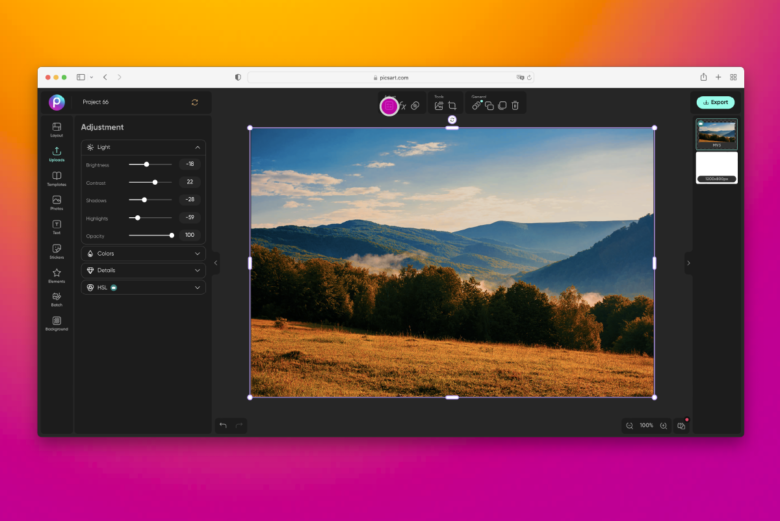 5) When you're done, select Export to download and save your edited image. Here you can name your file, select the file format and size, and upscale your image if needed.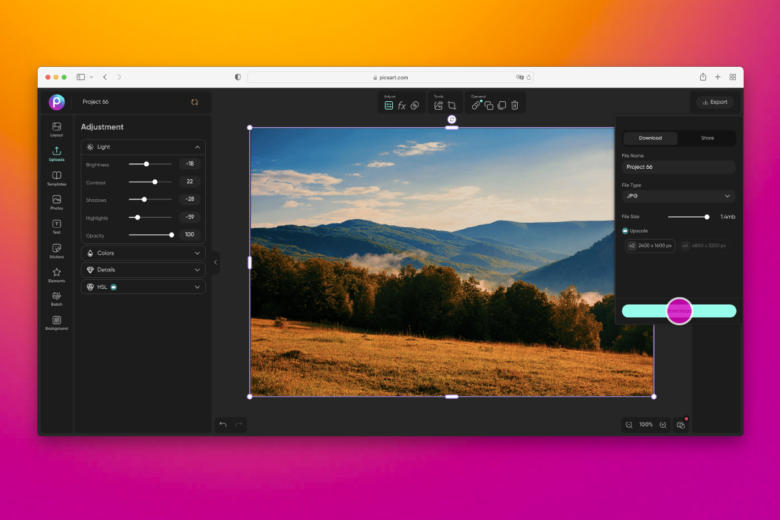 If editing on mobile:
1) Open the Picsart mobile app and tap the plus sign (+) to start a new project.
2) Under Photos, select a photo from your camera roll. If you don't have one handy, tap on All Photos and select the Search option. Type in "landscape" or another topic to find a free-to-edit photo to use.
3) Let's apply a filter to bring out the colors in your photo. Scroll across the bottom Editor toolbar to select Effects (fx) then search for the right filter for your image.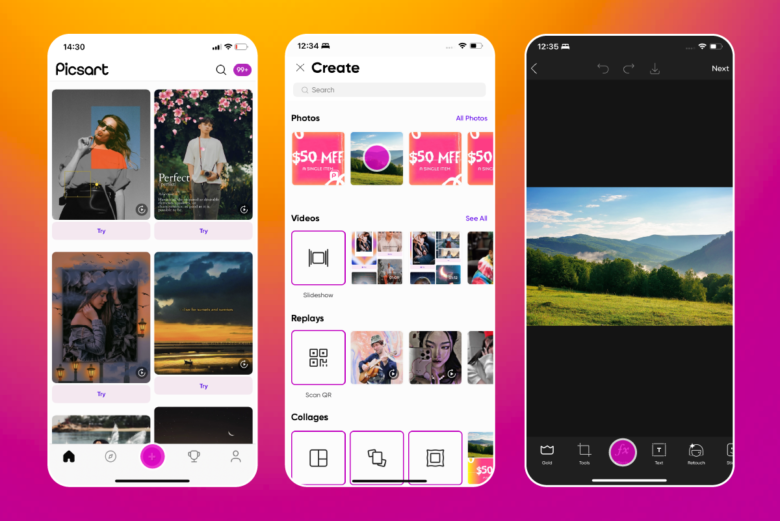 4) Once you've selected your filter, scroll across the toolbar and tap on Tools then select Adjust. Here you can manually adjust the brightness, contrast, clarity, saturation, hue, shadows, and highlights. Tap Apply to lock it in.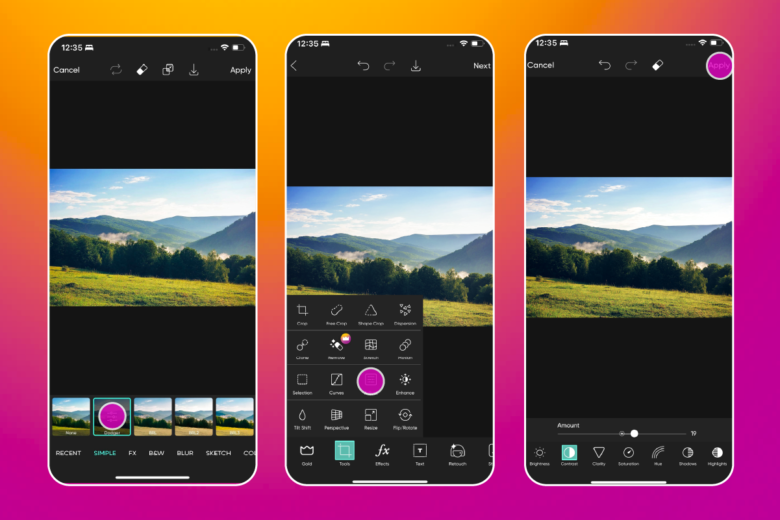 5) Once you've taken into account all of our landscape photography tips in your post-production editing, it's time to save and share your work. Tap Next, then Save or Post your image to share with the Picsart community. You can also save your edit as a Replay that you can use as a preset to apply a similar style to other landscape images.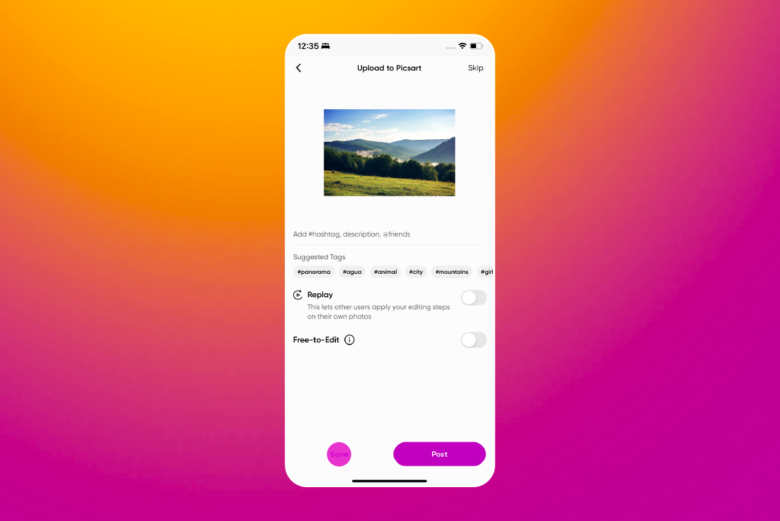 Picsart is a full ecosystem of free-to-use content, powerful tools, and creator inspiration. With a billion downloads and more than 150 million monthly active creators, Picsart is the world's largest creative platform. Picsart has collaborated with major artists and brands like BLACKPINK, Taylor Swift, the Jonas Brothers, Lizzo, Ariana Grande, Jennifer Lopez, One Direction, Sanrio: Hello Kitty, Warner Bros. Entertainment, iHeartMedia, Condé Nast, and more. Download the app or start editing on web today to enhance your photos and videos with thousands of quick and easy editing tools, trendy filters, fun stickers, and brilliant backgrounds. Unleash your creativity and upgrade to Gold for premium perks!