As we introduced a new PicsArt with Magic Effects that turn your photos into customizable works of art, we thought… why not do the same for videos too?
And with that, we're proud to introduce Magic Video, an app that transforms your videos into moving works of art. Become a comic book character, be part of an abstract painting or simply color it up with the Rainbow Effect. Magic Video has it all.
Choose your video, apply your favorite Effect and watch the magic unfold. Here's one I took during lunch of an iconic San Francisco cable car.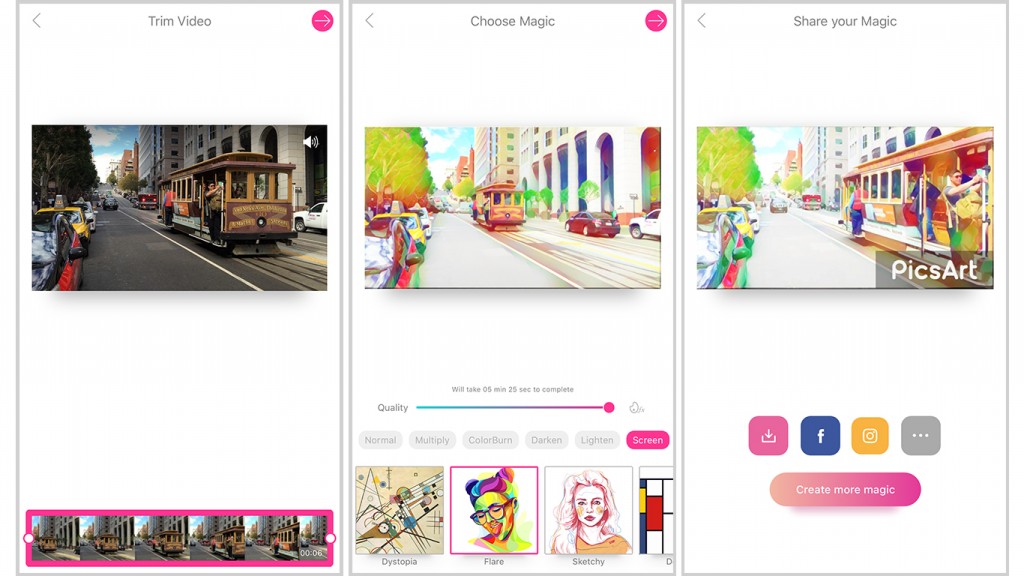 And here's our Magic Video!
How does it work? Well, like a lot of things in life, "it's complicated." But to keep it simple, we'll say that we're using artificial intelligence to "train" each Effect to make sure each one looks great when you use it. Then we packaged all 10 Effects into the app, where they lay in waiting to kick into action when you need them most.
Because Magic Effects live on your phone, they render really quickly, or as quickly as we can make them. They may not be "space shuttle-fast" but we're pushing the envelope of what your little phone can do…and clocking at a pretty impressive rate!
Magic Video is the first of its kind to store AI-powered video effects on the phone and we believe, with the latest version of PicsArt, we're introducing a new level of creativity that was not accessible to you before. And that's what we're here to do for you.
Try Magic Video. Share it with your friends and keep an eye on the app because we'll be updating it regularly!