Artist Loan Chabanol is one of the coolest Parisians you can meet in LA. The model, actress and artist embodies French chic and mixes it with happy California vibes. She recently collaborated with PicsArt and Artists for Peace and Justice (APJ) for the #HaitiIsLove challenge by creating unique stickers. In an exclusive interview, the Chanel muse shares her inspiration and why she loves the tools in PicsArt photo editor and collage and sticker maker.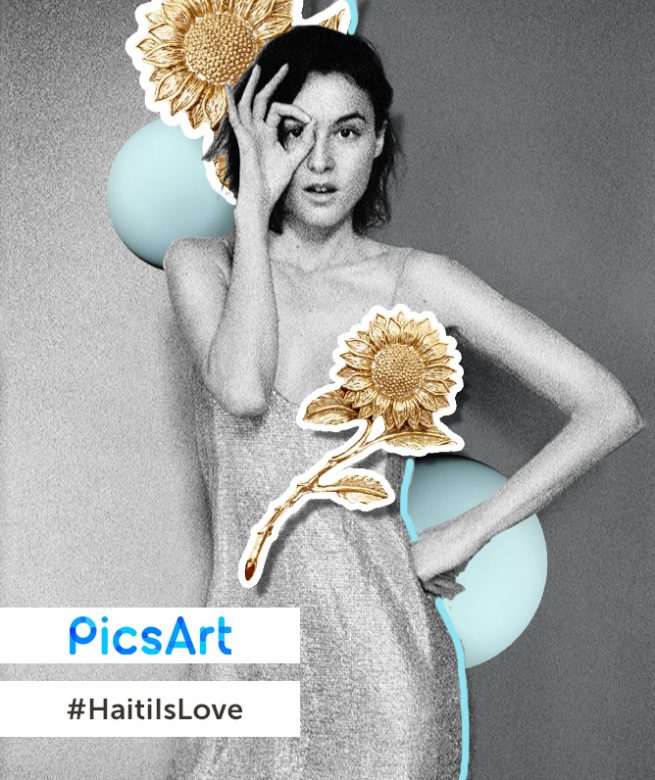 Loan, you went to Haiti last year after working with APJ. Can you tell us more about that experience?
I travelled to Haiti with my friend – curator Monica Watkins. Being there in the APJ school and visiting the students, I can only remember their smiles, their eyes full of life and their desire to learn, give and build. I felt very moved by them. I got to visit the APJ film institute in Jacmel and see a part of their culture through music and film. I left Haiti with the feeling you get when you just met someone that you can't wait to meet again.
You are an artist – how did you come up with the idea to do a project with PicsArt for APJ?
I always wanted to do a personal project with APJ but I was waiting for the right one. I was introduced to PicsArt by the visionary Katharina Kowalewski, and I felt that it was a perfect match with what I have always imagined for them. Things came alive in my mind as I could picture a universe that PicsArt could provide to bring awareness about Haiti to the younger generation.
You helped create the stickers for the #HaitiIsLove challenge. What was your inspiration?
I straight away saw planets, stars, lights, angels and sunflowers. I felt that there are things beyond our minds that we cannot physically reach. In order to open our heart we need to think purely towards one another. Being in Haiti with all those beautiful people opened my heart. They live in the moment all the time because it's all they have. Ultimately it's all we have too.
Can you tell us how you use PicsArt and which tools you like most?
I love using PicsArt ! I use it sometimes just to edit one picture 20 times! I love their masks and the light effect tool. It is so easy to use and fun! You cannot stop using it when you start.
You have been modeling since you were 16, how was the transition from model to creator?
I always felt I could create. If I never became a model, I would probably have tried to go to art school… because ultimately I always felt that I belonged in a world of artists. It's like a heart beat feeling to me.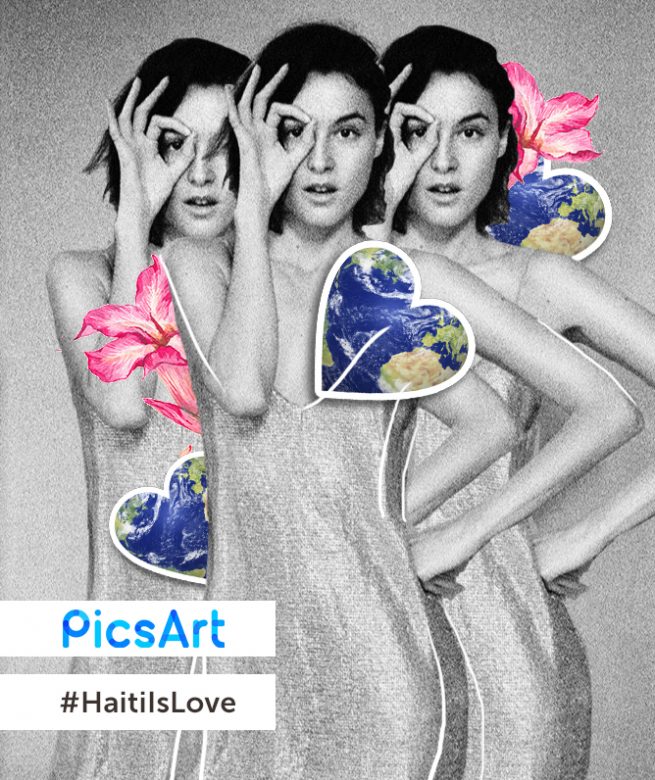 You can follow Loan on PicsArt here.
And don't forget  to join our APJ challenge. Share your edits on Instagram using the hashtags #HaitiIsLove #PicsArt and #APJ. Also don't forget to mention @artistsforpeace and @PicsArt.
PicsArt photo editor, collage maker and sticker maker is a totally new kind of creative community, with over 100M+ monthly users. PicsArt has collaborated with brands like Dior, Jared Leto's band Thirty Seconds To Mars and Lindsey Stirling. Supermodels Izabel Goulart, Doutzen Kroes, and Natalia Vodianova have shared PicsArt remixes on their social media. Download the app to get in on the action!