Welcome to the second edition of the PicsArt Creative Trends Report — the industry's first and only look into the popular and emerging trends in photo-sharing, based on the collective edits of more than 70 million people from around the globe.
This summer, the images people are sharing show a shift towards playfulness and self-transformation… Which makes sense as this is the unofficial season of fun and reinvention.
Below are the top creative techniques people are using to transform themselves and the fastest rising and most popular photo effects of season.
Top Creative Trends
One of the hottest trends this summer is what we've deemed #mermaidlife, where people are finding their inner sea gods and goddesses by turning themselves into mermaids (and mermen!), complete with shimmering scales — talk about the ultimate #summergoals.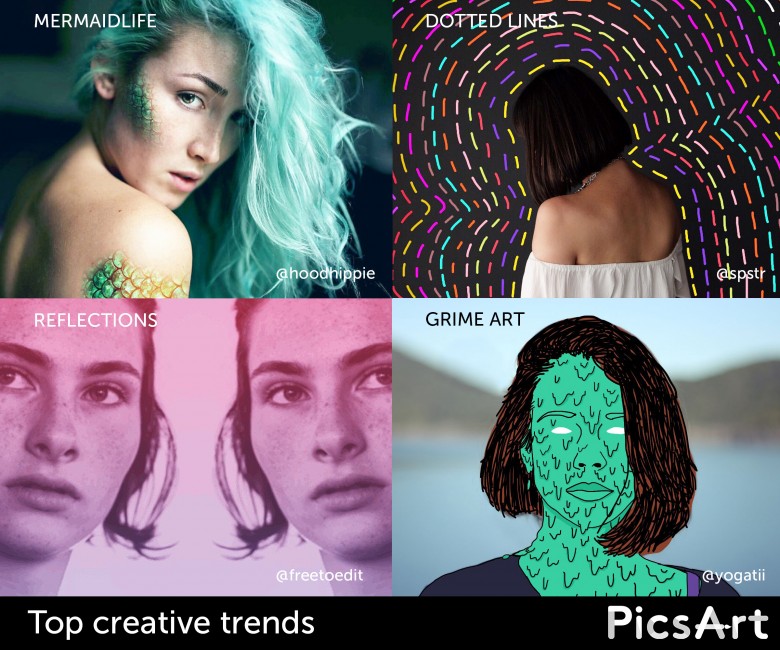 Dotted lines are also now a thing. We love this modern day paper doll trend because the possibilities are endless — choose your image, focal point, and experiment with different colors and patterns until you get a look that's uniquely yours.
Regardless of our true astrological sign, we all have a little Gemini in us. What better way to express your dual nature than using the reflection technique to create two of you…. And people around the world agree. We're seeing reflection portraits pop up everywhere.  
Grime Art is a creepy crawly trend that's making a big splash and we're huge fans. It's the ultimate Anti-Selfie. Ugly-on-purpose cool meets zombie comic book. We dare you to try it on yourself or get creative with famous works of art.
Fastest Rising Photo Effects
That's hot! Below is a snapshot of the fastest growing photo effects. Some of them, like Suntan, are pretty self-explanatory, the effect of which is like getting the telltale golden glow of an island getaway without the risk of melanoma.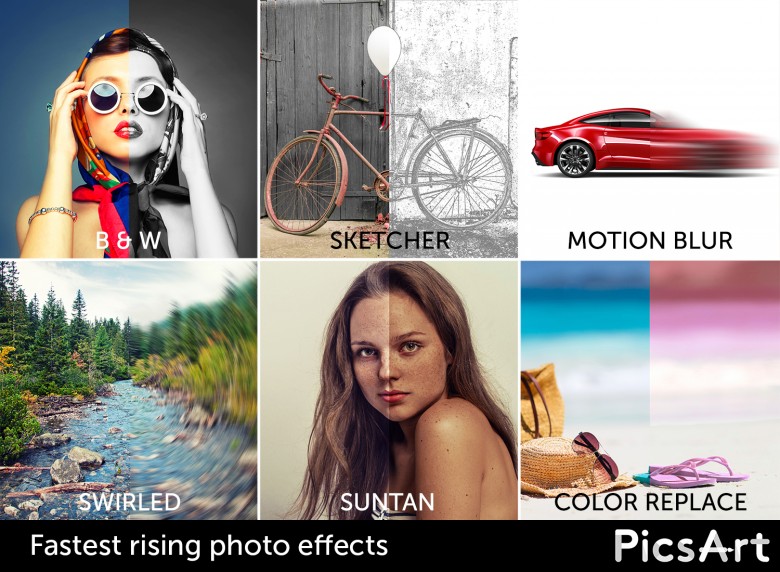 B&W is also on the rise, and it's no surprise — black and white photos are both classic and modern, minimal and powerful. They say more with less, allowing the eye to focus on the details of the image without getting saturated with color.
Motion Blur and Swirled both create the effect of motion, and we're noticing the effect being applied to evoke feelings of speed, or dizziness, and accentuate the action of your action shots.
Most Popular Photo Effects
Since our last creative trends report, we're seeing some consistency among the overall most-used photo effects — you're still loving HDR 1 to give your photos that professional, DSLR-grade, crisp clarity. The Cinerama effect is also still one of the most popular effects, and for good reason —  it baths your snaps in that slightly faded, nostalgic beauty of old movies.
Similar effects that continue to be popular are Dodger and Light Cross — naturalistic filters that make your photos look just a little bit warmer, crisper, and emotive.
New to the most popular party is Blemish fix, and we can certainly see why: who wouldn't want a little helping hand when your skin decides to throw a temper tantrum right before that group photo? (Happens to the best of us).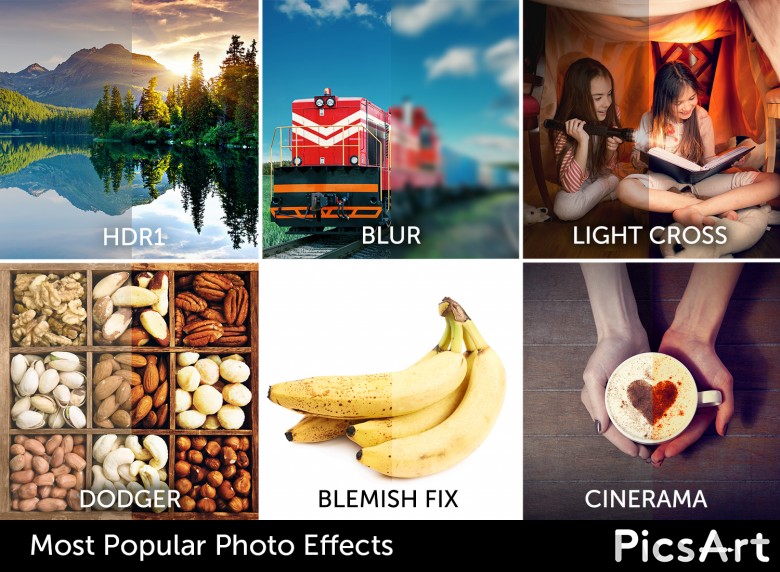 This concludes this installment of our creative trends report. Thank you for continuing to make amazing images that truly knock our socks off, and for making PicsArt has the coolest, boldest, most supportive online community out there. Stay tuned for our next report, and until then, keep 'em coming!