For the last decade and a half, Etsy has been helping creatives turn their hobbies into jobbies. Etsy is an online marketplace for handmade goods that has taken the world by storm as a reaction to the mass production and industrial design that has consumed the home goods market over the last 50 years. If you're an independent maker in the modern era and you aren't already selling your creations on an Etsy shop, then the chances are high you likely will at some point.
The platform is an amazing resource for artisans and craftspeople, providing them with a global marketplace made up of consumers craving handmade items — everything from thrift store antique finds, to handmade furniture, lighting, and flatware. It makes it easy for people to sell their goods without the hassle of maintaining and designing a physical storefront. But while your digital Etsy shop is less high maintenance than a physical one, it still requires maintenance and care. Especially as credibility can be an issue on the site, part of being a successful shop owner is creating an enticing store that shoppers can navigate with ease. This means taking time and effort to professionalize your shop's visual imagery with great design. In this tutorial, we're going to show you how to use PicsArt's all-in-one photo and video editor to help create simple Etsy banners that put your creativity on display!
What Is the Perfect Etsy Banner Size?
The most powerful visual tool on your Etsy page is your banner imagery, so we encourage you to take advantage of it. You can choose either a big or mini banner. In most instances, the bigger the better. According to Etsy's website, the minimum required size for big shop banners is 1200 x 300 pixels. The recommended size is 1600 x 400 pixels. It is essentially your cover photo, so like on any other social platform, you're going to want to make it pop. It. If you choose to use a mini banner instead, the minimum required size for mini shop banners is 1200 x 160 pixels. The recommended size is 1600 x 213 pixels. All images in your shop should be one of these file types: .jpg, .gif, or .png. These are the only image file types Etsy supports. 
Other Images to Consider
Shop icon: You can think of this like your shop's logo. It follows a square ratio. Etsy's website recommends 500 x 500 px. 
Profile Photo: Also follows a 500 x 500 px recommendation. This is another one of the images that your buyer first sees when entering your store. The question is, how much should it align with the content in your banner? Some people like to use the profile picture as a way to offer contrast. So if your banner is a photograph, you might want to make the content in your profile your logo. Alternatively, you could use it as an extension of your banner to showcase more of your work. 
Order Receipt Banner: The order receipt banner only appears at the top of your order receipts. The size of this feature is fixed and must be exactly 760 x 100 px. While some shop owners don't pay attention to this feature, since it's not so client-facing, it's still an important part of the online shopping experience. And good impressions with the customer after a purchase is made are often predictors of whether or not they will return in the future.
What Makes a Good Etsy Shop Banner?
Use Simplicity Strategically

Etsy has had problems in the recent past with fraudulent sellers. This means that the shop's visual branding and design aesthetic is an opportunity to not just sell your handicrafts, but also to instill trust in potential buyers and show them that you are a serious artist or craftsperson. Simplicity is one of the quickest routes to conveying this sense of authenticity and modernity. This can be achieved in a number of ways. You could use a simple photograph from your marketing material, like in the store above. Or you could select a color for your background and add some text — a slogan perhaps, or the name of your store, or a recent sale, like the image below.
Create Contrasts with Colors

Utilizing color in your branding and photography is a great way to catch customers' eyes. It's a children's toy maker who makes environmentally friendly and non-toxic kids' toys from natural materials, like wood. The natural element is really conveyed through this photograph, which contrasts the earthy tones of the wood with the colors of the painted toys, especially the rainbow in the middle. It really draws us in!
Divide and Conquer
While sometimes, one photograph can have a powerful impact, other times, splitting up the frame is a great way to kill multiple birds with one stone. In the Etsy store featured above, you can see that not only has the seller used the banner as a way to feature his or her work in different settings, but also, to showcase the name of the store and the logo.  But be aware that many images may result in a banner that looks disjointed, messy, and unprofessional! The 2:1:1 split of the composition here is a nice, logical effect. 
Show Your Work in Practice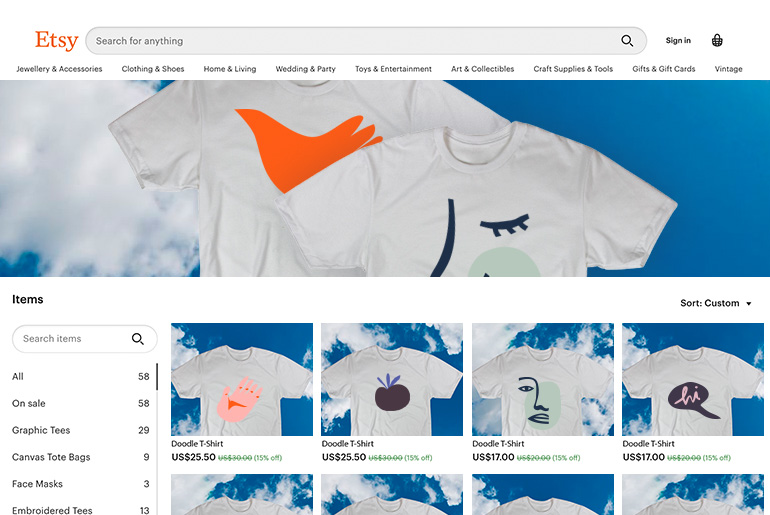 When someone lands on your store page for the first time, you want them to immediately see what you're doing and why they should be interested. For example, a seller of hand-painted tiles should show their work installed on a kitchen backsplash or on a garden wall. This simple graphic showing the product in situ helps the buyer envision their products in their real-life and puts the product front and center in an eye-catching way. 
Make Your Branding Primary

Sometimes, saying your name loudly and proudly is the best way to go with a banner. This can be a simple design or something more intricate, depending on what your logo looks like. In the above image, the shop has a shorthand logo, which they've used in the profile photo, and a longform version of the logo which constitutes the big banner. 
How to Make an Etsy Banner on PicsArt
If you're on the app, follow these easy instructions:
Open the

PicsArt app

. Upload an image, or choose a background color from the options in the app. 

Select the

Tools

icon and click on the

Crop

tool.

Select the

Free Crop

icon. Then, at the top of the screen, tap on the dimensions. Doing so will conjure up a pop-up that allows you to type in your

Custom Crop Ratio

. Reminder: For a big banner,  input 1200 px for width and 300 px for height. For a mini banner, input 1200 by 160 px.

Click the

Free Crop

icon, and the little lock icon will close. This means your proportions are locked, so you can zoom in and out, to make sure you capture the content you want in your crop zone.

Click

Apply

. 

If you'd like to add a photo to your banner, scroll to the right on the bottom menu and click the

Add Photo

icon. If you'd like to add text,

follow our tutorial

to add text to your images. 

When you're satisfied with your edits, save or post your image!
If you're using PicsArt on your desktop: 
Open

PicsArt's Desktop Editor

in your browser and upload an image. 

Upload an image, or choose a background color from the options in the app. 

Select the

Fit

icon from the left hand bar. 

Locate the little lock icon next to the dialogue boxes and click it to unlock the aspect ratio.

In the dialogue boxes, input 1200 px for width and 300 px for height. For a mini banner, input 1200 by 160 px.

Adjust the original image to your desired size within the new aspect ratio. 

If you'd like to add a photo to your banner, select the

Photo

icon on the left hand bar. If you'd like to add text, follow our tutorial to add text to your images. 

Finally, click

Share

to post on social media or

Download

at the top right. 
Uploading an Etsy Shop Banner
Now that you've made yourself a fabulous banner with PicsArt, your last step is to put it to use on Etsy's platform. To do so, just open your account page in Etsy, click the Info and Appearance link on the left-hand panel. In the Shop Banner Image section, select the Browse icon to upload an image from your desktop, or from the saved files on your phone. Once you've uploaded the image, click Save and you're done!
PicsArt all-in-one Photo and Video Editor, Collage, and Sticker Maker is the world's largest creative platform with over 150 million monthly active creators and influencers. PicsArt has collaborated with major artists and brands like Taylor Swift, The Jonas Brothers, Gwen Stefani, Maroon 5, Lizzo, Meghan Trainor, One Direction, MONSTA X, Warner Bros. Entertainment, iHeartMedia, Condé Nast, and more. Download the app today to level-up your photos and videos with thousands of quick & easy editing tools, trendy filters, fun stickers, and brilliant backgrounds. Unleash your creativity with PicsArt and upgrade to Gold for awesome premium perks!