Content and form are the "what" and "how" of artmaking. Be it a painting, a sculpture or a photograph, when a piece of art strikes us as meaningful, the artist has achieved one or both of those things well.

If you're looking to up your skills as a photographer, here's a tip from the pros: As you take your own inspirational or artistic photos, focus on interesting content and try to frame it in a unique way. Remember, the best photos serve as visual commentary on what the artist finds important or striking about the subject matter. It's not just about snapping the shutter at exactly the right moment. Taking an epic photo also involves  striving for the right lighting, a balanced composition, rich tonalities, and all the right angles. 
The photographs below represent different subject matter categories, from journalism to portraiture. In some of the images, the photographer focused more on immortalizing the importance of an occasion, while in others they were obviously more interested in making beautiful, evocative art. Either way, these pieces capture the times and circumstances in which they were created. 
"First Flight" by John Daniels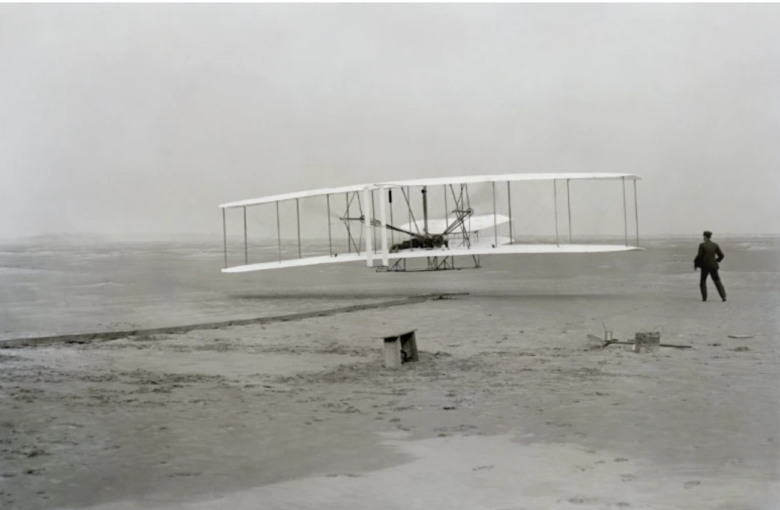 Sometimes you're just in the right place at the right time. This photograph was taken by John Daniels, a medic on-site the day of the Wright Brothers' first successful flight. While not an artist by trade, Daniels pulled off an incredible photo with hints of sharp contrast, rich grayscale, and balanced composition — a feat, indeed, especially when on the fly. 
2. "Rope Bridge, Carrick-a-Rede. County Antrim, Ireland" by Unknown.

Via Library of Congress
Get inspired by photochrom prints. Popular in the 1800s, many decades before the invention of color photography, this ink-based artform brought images to life in full color by transferring negatives onto printing plates. These images combine a paint-like quality with sharp photographic details, resulting in a dreamy watercolor look. You can edit your photos to get this effect by upping the "clarity" (also referred to as the "sharpness" on some programs), heightening the contrast, and placing a vintage filter over the entire composition. We recommend the VHS or BRNZ filters if using our app.
3. "Fencer" by Georges Demeny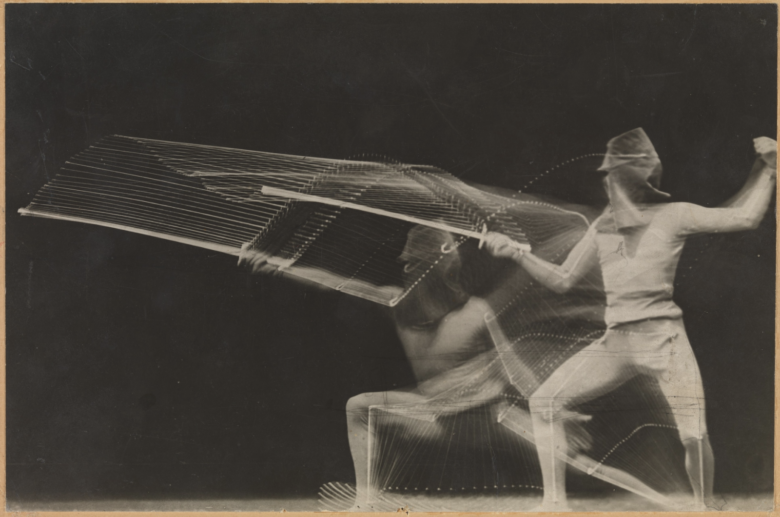 Not a photographer but a scientist, George Demeny studied movement and captured this photograph as part of a motion experiment. This photo teaches us that even rudimentary cameras can achieve impressive effects. Light, not technology, is the key ingredient in all good photography. Different apertures and shutter speeds decide how much light gets into an image and how fast. While these types of creative decisions are harder to make on smartphones, you can still experiment by taking movement photos in dark spaces with a light source focused on your subject. Use the neon lights of a bar or restaurant to achieve a hip version of this effect. When you snap a photo in this dimly lit space, the color of the light will illuminate your subject.
4. "Bouquet" by Adolphe Braun
Decades before there were vintage Instagram filters like "Hefe" and "Rio de Janeiro," there was simply sepia, which is a warmer shade of grayscale. Likewise, long before people were taking still lifes of their brunch plates, early photographers were capturing the commonplace objects of their daily lives as well. You can shoot an artful photo of even the most mundane object, whether a stack of books on your nightstand or a fork from your kitchen. In fact, Andrés Kertész's photograph of a fork leaning up against a bowl is one of the most famous still lifes of the 20th century. If you're looking for more inspiration, both Kertész and Man Ray are excellent resources. When photographing a still life, the idea is to transform an ordinary item into a textured, dimensional, balanced image. Think of it as an interior landscape.
5. "Suffrage March"

Via Library of Congress
Make an archive for the future by photographing what is happening around you right now. Whether you think it's newsworthy or it's simply close to your heart, community gatherings like marches, meetings, and campaigns make important content for photographs. Capture these moments and you could be helping a future viewer witness change in the making. You never know how much a "simple" photo might signify for future generations. The photo above was taken at an early suffrage march in New York City; the person who took it probably had no idea that many years later it would be important enough to earn a space in the Library of Congress archives.
6. Untitled Photograph by Ansel Adams

Via the National Archive
Known for deeply contrasted black-and-white nature pictures taken from the 1920s to 1980s, Ansel Adams continues to be an important source of inspiration for landscape photographers everywhere despite the fact that most of his photos are over 50 years old.  His compositions, featuring mountains, forests, and canyons, often place the viewer front and center. This allows us to feel like we've actually stepped into these settings and are experiencing the awe of some of the world's most magnificent landscapes first hand. As you take your own nature photos, think about scale and how to transmit the magnitude of the landscapes you're capturing, be it in full color or black and white.
7. "Men Playing Cards in Restaurant, Shellpile, New Jersey" by Arthur Rothstein

Via Library of Congress
Both journalism and art photography alike go beyond capturing exceptional moments and historical events. Sometimes, the best markers of the times and trends are images that capture everyday scenarios and human relationships. Arthur Rothstein's image of card players not only reminds us of the timeless importance of being social and having a good time, but it also captures the bygones of an era like 5-cent sodas and vintage pinups. Unposed photos can end up being nostalgic archives of your life, so snap candids whenever you can.
8. "Between Weedpatch and Lamont, Kern County, California. Children Living in Camp" by Dorothea Lange 

Via the National Archive
Dorothea Lange acted as a photographer for the Farm Security Administration, meaning that her images focused on rural life. While there is value in busy cityscapes, you can find great content anywhere, including more remote settings. What's particularly striking about this photo is not where it was taken but how. The house represents structure and protection but also a portal to the outside world. Try to create depth by exploring the dichotomy between inside and out with your own photos.
9. "Duke Ellington" by William Paul Gottlieb

Via the Smithsonian
Portraiture is one of the most important categories of any art form, and photography is no exception. A good portrait captures emotion, ambiance, and other visual cues that inform the viewer about the historical or social significance of the photo. Learning to take a great portrait needn't be complex; it can even be as simple as starting at home. Take pictures of your loved ones — two-legged or four — even as they perform their daily tasks. It's often the true, candid movement of life that brings out the best work — not posed photos on flawless backdrops. If you're interested in learning more about portraiture photography, check out some of the contemporary greats like Cindy Sherman, Carrie Mae Weems, and Annie Leibovitz.
10. "Portrait of Billie Holiday and Mister, Downbeat, New York, NY., c.a. Feb 1947" by William Gottlieb

Via Library of Congress
Portraits with pets might get a bad rap for being kitschy or comedic, but posing with your four-legged friend can make for a stunning image. After all, our pets are an essential part of our lives. In another gorgeous photo from William Gottlieb's jazz series, the iconic Billie Holiday poses with one of her many dogs, Mister. Remember to focus on what's important to your subjects when taking a portrait, and if you are sitting for your own photo, don't be shy about including what's close to your heart.
11. "Chicago, Illinois. In the waiting room of the Union Station" by Jack Delano

Via Library of Congress
Light: it's what makes a photo, literally. It can even be its own subject. The pointed rays of light and dappling on the floor make this ordinary image of a train station extraordinary. In the age of selfies, we may all be experts at finding our best light, but we can take our knowledge a step further and experiment with capturing light itself. Study the way rays filter through your windows or hit the plants in your garden and take advantage of natural effects, which are the original #nofilter.
12. "Operating a Hand Drill at Vultee-Nashville, Woman is Working on a "Vengeance" dive bomber, Tennessee" by Alfred Palmer

Via Library of Congress
While the workplace might not be the most obvious setting for your photoshoot, environments in which people are creating, thinking, and collaborating are actually ideal for candids. If your coworkers are on board, document your processes. Years down the road, you'll have images of those vital first steps towards your big idea. The image above is arguably one of history's "viral" photos; to this day, the "Rosie the Riveter" character continues to be instantly recognizable. The reference points directly back to the era and historical circumstances in which the photographer took this shot.
13. "Far Side of the Moon at Apolune"

Via the Met
It's not always necessarily a human being behind every great photo. This 1967 photo of the moon—taken by an unmanned spacecraft—proves this much. Sometimes, it's all about getting the right angle or a hard-to-get close-up of a rugged landscape, so get creative. Use the timer on your phone or camera to help you get a tricky shot or put your drone to work. Then, you can put your own touch on the image during the editing stages. 
14. "1964 Meyers Manx, Valley Center, San Diego County, CA" by Casey T. Maxon

Via the Library of Congress
There is beauty in the details of our lives, and we don't have to be professional photographers to see it. Just take a spin on social media to appreciate the different ways people document the "little things" in exciting ways. Whether an aesthetically pleasing stack of books, the perfect cup of coffee, or details on an article of clothing, these micro-views into one's daily speak volumes. They can even come to represent an era. Take this photo of the bright orange interior of a classic car. As the saying goes: They don't make them like this anymore. When capturing your everyday joys, strive for a balanced composition and good color choices: monochromes, contrasting two-tones, and complementary hues.
15. "Winged Victory of Samothrace" by Unknown

Via the Art Institute Chicago
Artwork, unsurprisingly, makes for great photographic content, and sculpture is surefire subject matter. Rich in detail and contrast, it favors black-and-white photography or monochrome work, too. So, the next time you're at the museum or park, try shooting different angles of sculptures, making the most out of shadows. Just remember to give credit to the original artist and name of the work with a proper caption.
16. "Venice" by Alfred Stieglitz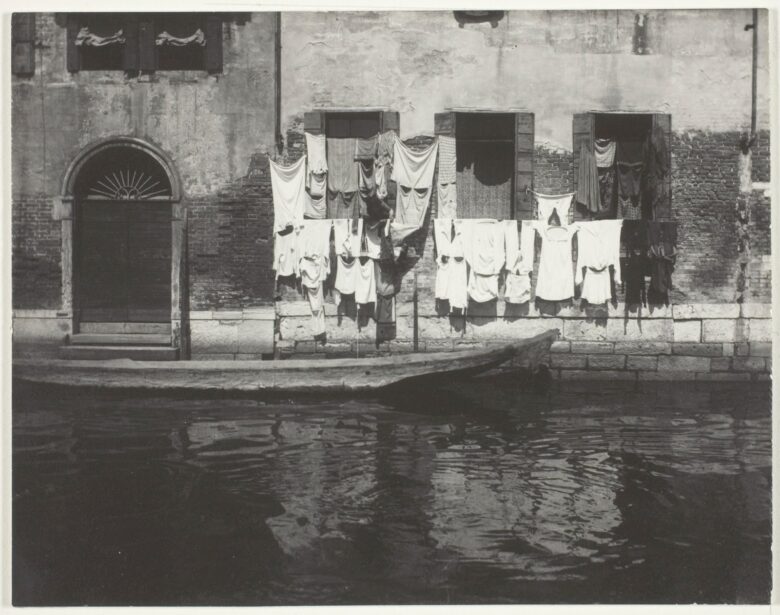 Long live the almighty travel photo. New places bring out the creativity in us; when we're appreciating unknown surroundings, we pay close attention to everything we see. Plus, we're excited about the content because it's novel and interesting to us. Photograph widely and freely as you document your travels. Then, when you get home, you can decide what makes the cut. 
17. "Shell Gasoline Sign, Angle View, Delaware Street, Walton, New York" by John Margolies

Via the Library of Congress
You don't need to plan an exotic getaway to take a good travel photo. There is excellent subject matter right in your hometown. A gas station might be an ordinary sight, but the rich color scheme of this photo by John Margolies transforms this everyday locale into a work of art. Margolies spent his career photographing the roadside architecture of the United States with an eye for quirky buildings and bold colors. Try looking beyond the obvious subject matter to see a place for its artistic qualities: shapes, hues, and light.
18. Photo of the Golden Gate Bridge from the Historic American Engineering Record

Via the Library of Congress
Feats of engineering are all around us, and they make for excellent subject matter. We don't recommend trying to get an angle like this one — engineers took this photo — but there are plenty of safe ways to capture impressive structures. Take cityscape photos from the observation deck of towers or capture the scale of a building by standing beneath it and pointing your camera upward. You could also try taking pictures of details on these massive structures to give some perspective. Walk across a bridge with a designated pedestrian lane, and focus your lens on rivets and cables.
19. "Colorful Historic Motel, Wildwood, New Jersey" by Carol Highsmith

Via the Library of Congress
There are some photographs so curated that it looks as if the artist edited them after the fact. Take this Carol Highsmith photo of a colorful motel. At first glance, one might think Highsmith edited the bold doors to give the composition pattern and contrast. While that's not the case, we can learn something about editing from this photo. You can replicate this effect, or a similar one, in editing software by changing the color of certain composition features. 
20. "Behemoth Black Hole Found in Unlikely Place"

Via NASA
Scientific wonders in nature and space are great subject matter for photos, and they are also an excellent source of inspiration for after-effects. No, NASA isn't going to loan you a space telescope to get an unbelievable shot of a black hole, but this image is so otherworldly, it almost looks as if an artist created it with editing software. With our app's mirroring and filtering tools, you can create your own little virtual universe. 
Picsart is a full ecosystem of free-to-use content, powerful tools, and creator inspiration. With a billion downloads and more than 150 million monthly active creators, Picsart isn't just the world's largest creative platform; we're also the fastest growing. Picsart has collaborated with major artists and brands like BLACKPINK, the Jonas Brothers, Lizzo, Sanrio: Hello Kitty, I am a Voter, Bebe Rexha, Maroon 5, One Direction, Warner Bros. Entertainment, iHeartMedia, Condé Nast, and more. Download the app or start editing on web today to enhance your photos and videos with thousands of quick and easy editing tools, trendy filters, fun stickers, and brilliant backgrounds. Unleash your creativity and upgrade to Gold for premium perks!