What must it be like to be a fly on the historical walls of the White House? A building which, before we know it, will soon house the United States' 45th president? Not many have had the opportunity to get behind its pristine, white, Palladian pillars. And those that do hardly have the time to let the events unfolding before their eyes seep in. That's why there are those whose sole responsibility it is to immortalize these fleeting moments.
Joyce Boghosian, who served as staff White House photographer during both Bush administrations and the early stages of the Obama administration, is one of those individuals. Her career after high school in the 80's, working as a photographer at the Old Town Alexandria Gazette, the oldest newspaper in the United States. It wasn't long before she caught wind of an internship at the White House for Vice President George H. W. Bush's photographer, David Valdez. One thing led to the next, and she was traveling side-by-side Bush (whom, she recalls, White House staff referred to informally as "41," as he was the 41st president), as staff assistant to the President's photographer.
Through her experiences, we might surmise that there is perhaps no more unique lens to experience the White House than through that of a camera.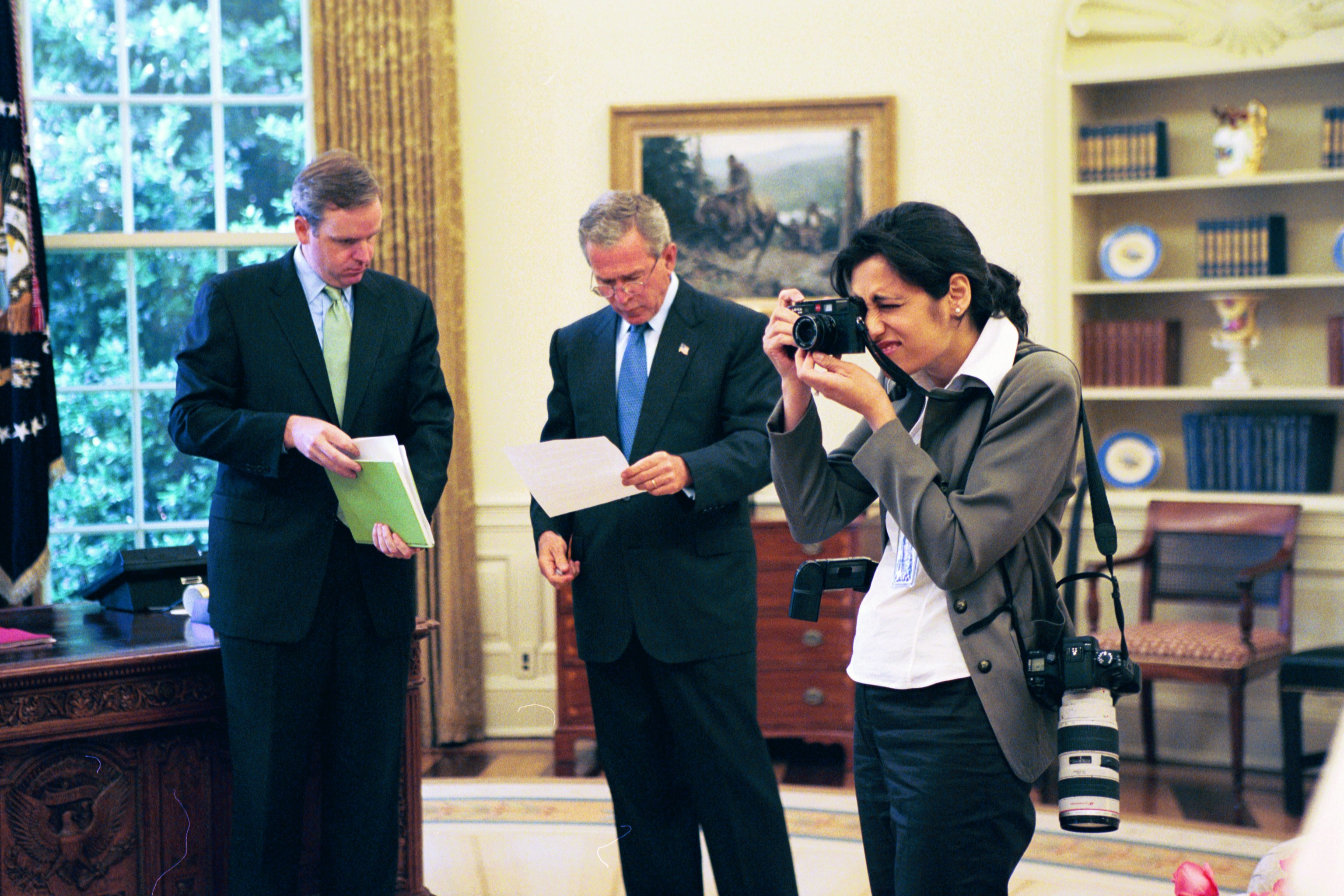 Why do you think it's important that the White House have photographers?
Well, it's a way to record history. It's just a different means. You have audio. The President has a diarist. We also have photos, and look how many photos we look back on of the Presidents.
There are a lot of skills involved in different types of photography. Which skills came in handy in a position like yours?
Thinking back to my days at the White House, there's a lot of pressure involved when you walk into a room and you know you only have a couple of seconds to get a picture of the President and another world leader or the President in an intense meeting. So, the skill of knowing how to get your exposure quickly, how to focus quickly. And also, how to be discreet. I think that is the most important thing at the White House. It became part of my method of photography; there are tactics you use to just blend into the background. As well as producing a well-exposed, focused photo.
What do you feel was your job to capture as a White House photographer and who did you consider your audience?
That's a good question. The audience is really historians. My images, and the rest of the photographers', will eventually go to the President's Library — the National Archives. Our job was to document the Presidency. And in that role, you also want to have a picture that can be published in the newspaper because on any given day, any given event, the press/media can request a picture of whatever the president was doing. So, yes, you have to document the presidency, but you also have to capture photos that are captivating and interesting and will generate interest in the newspapers.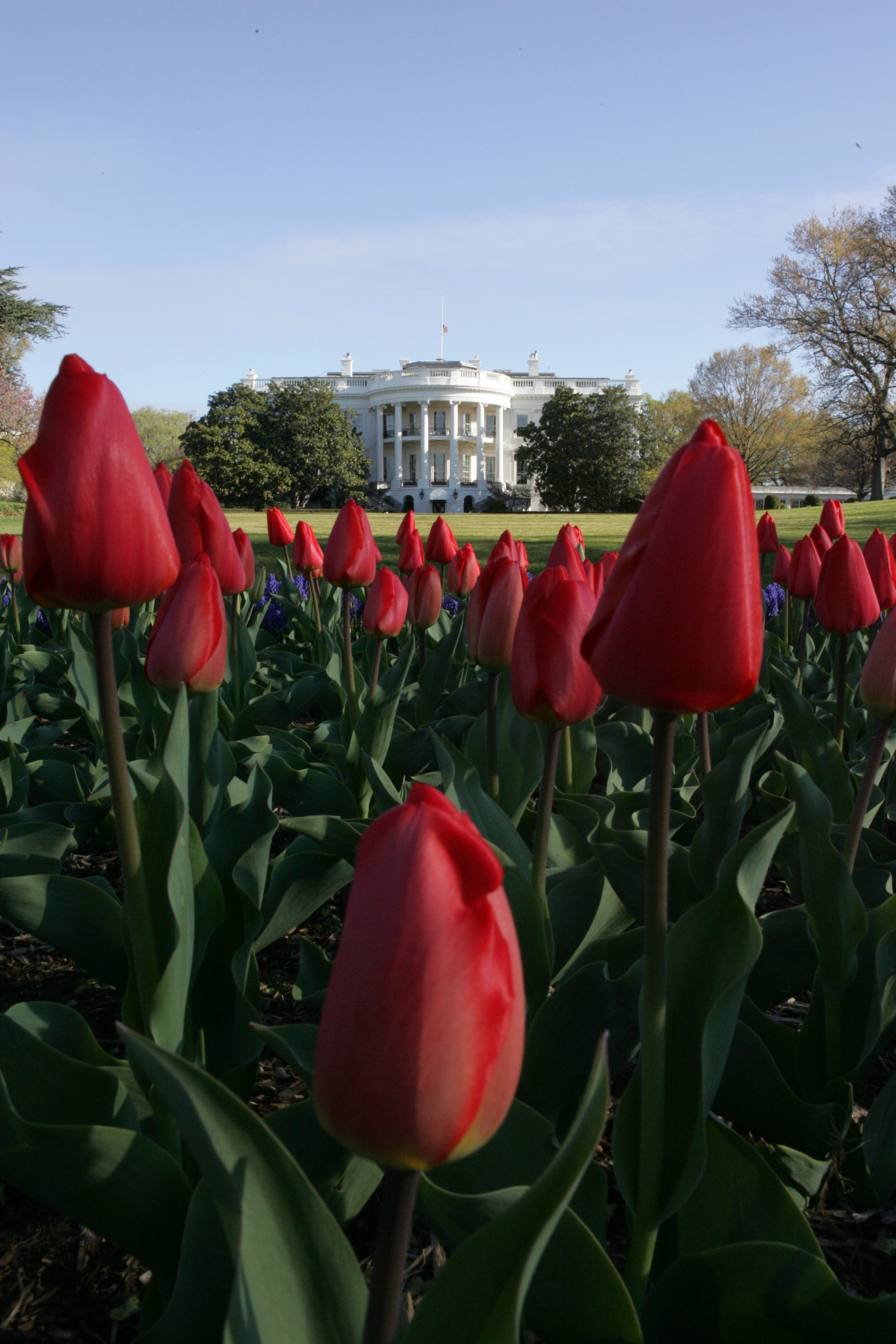 In the end, Presidents are human. What were some of the "human" traits you witnessed that made you maybe feel different about them, or like them more? 
Working for both father and son Bush as a staff photographer, I was often in the tight circle around them photographing meetings, travel and social events.  Some of my most treasured memories was when I was with them during their down time, in between meetings or informal settings. I saw their humorous side; perhaps that is what helped them get through each day of what can sometimes be a thankless job as President. I saw heartfelt concern for what was going on in the world at the time. I saw their consideration for staff working after hours, weekends and holidays. They often were considerate to help staff get on their way home if it was a weekend or holiday. Two days after George W. Bush left the White House in January 2009, I received in the mail a handwritten letter from him thanking me for my service, documenting the presidency and the long hours it entailed. He wrote the letter in the Oval on his last day as President.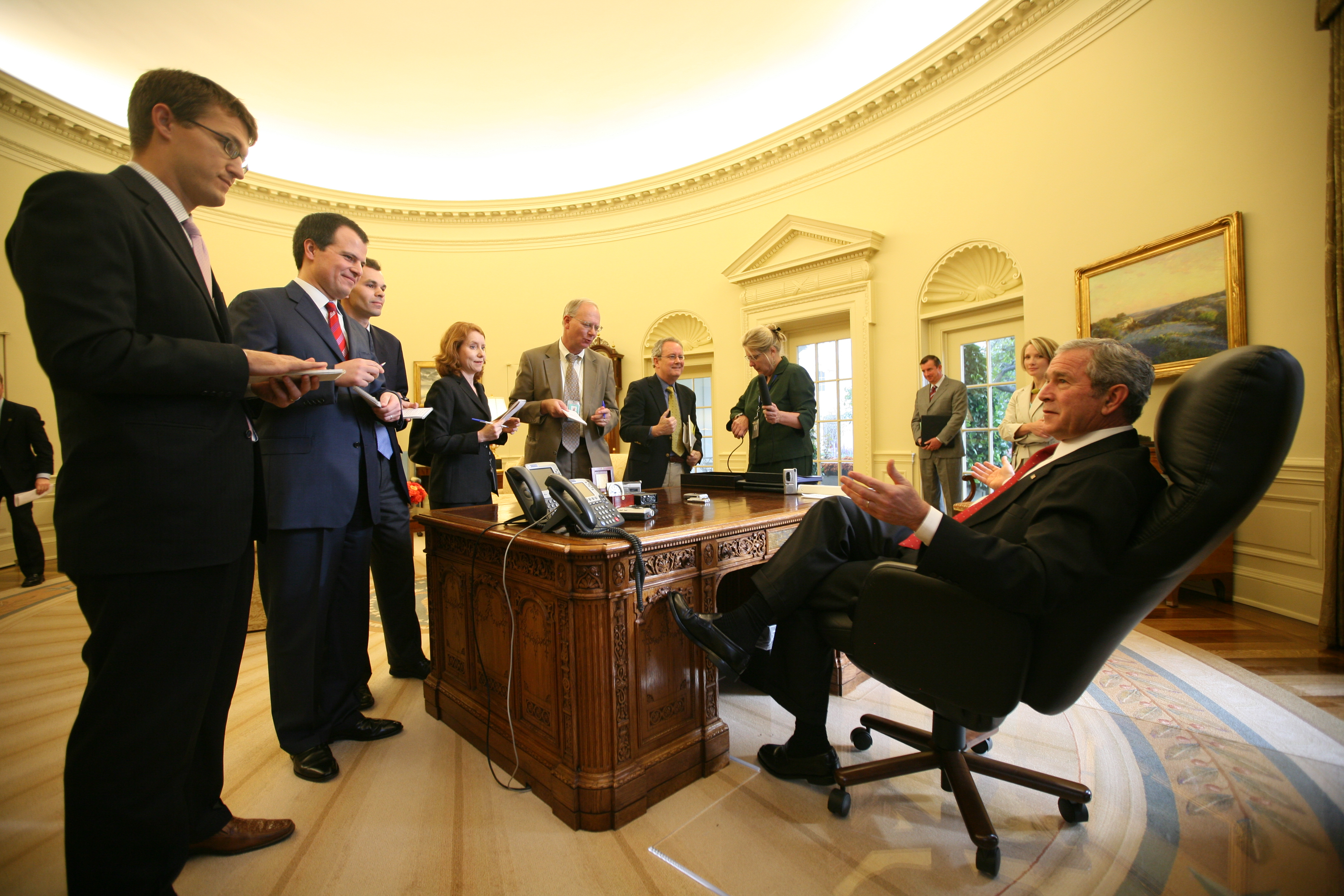 After George H. W. Bush's administration, you left the White House. Is it normal for photographers from previous administrations to be asked to leave?
Pretty normal, yup. They usually don't carry over photographers… When Bob McNealy — Clinton's photographer — came in, he told me that he wanted people that lived and breathed Bill Clinton to stay there, and he told me, "You don't live and breathe Bill Clinton," so I went. I left.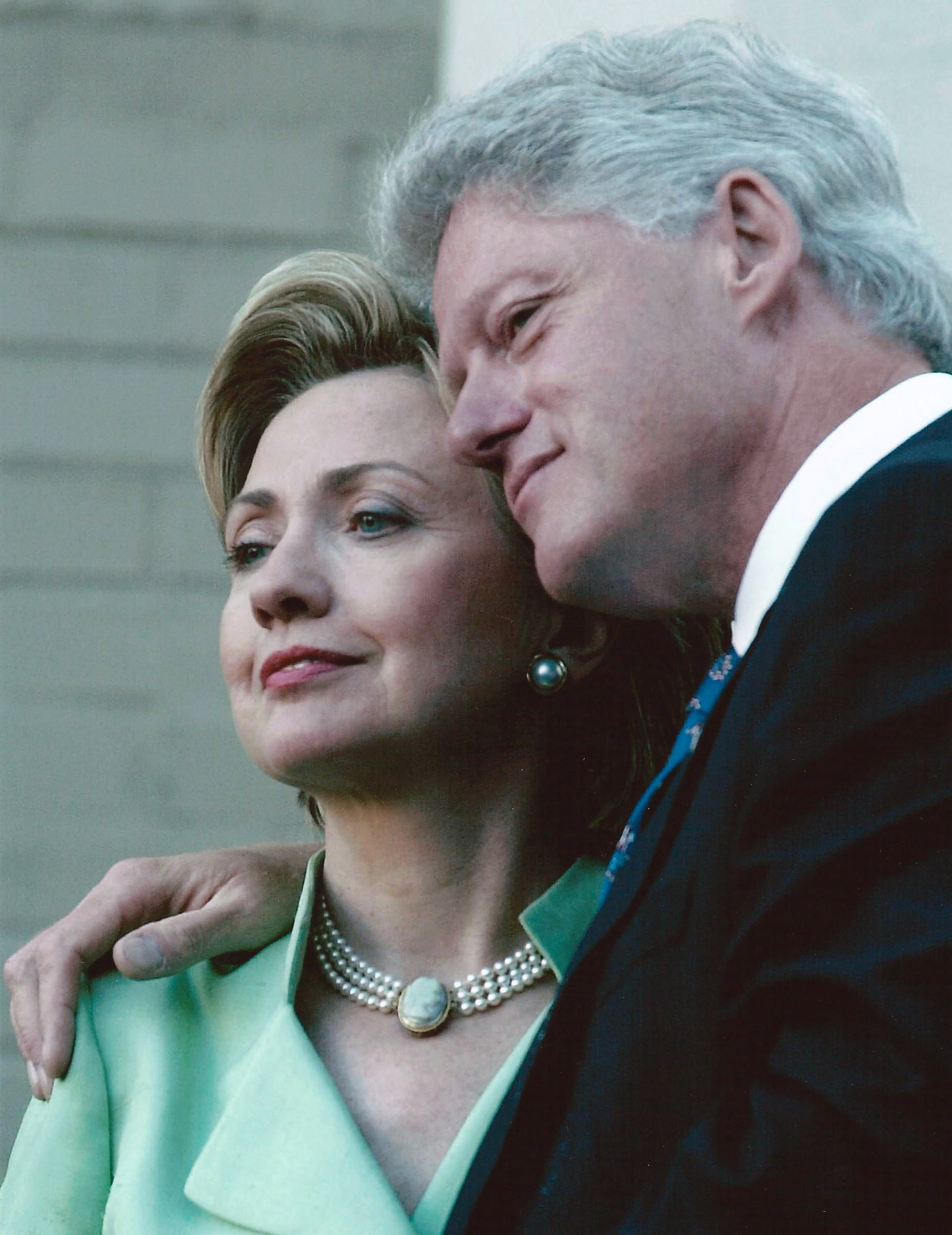 Do you have any interesting stories from that transition?
On the day of the inauguration… no one had told me I had to leave yet. And my old boss, David Valdez, who knew he was leaving, he told me, "Look. If you're still there on the day of the inauguration, if no one has told you to leave yet and you still have your pass, go into the Oval Office and photograph the transition of the presidency." So, I went into the Oval Office that day. I heard Bill Clinton being inaugurated over the loudspeakers that you hear outside the door, as I was watching Bush's desk being loaded on a truck and Clinton's desk being moved in and curtains coming down, curtains going up, paintings switched out, phones being changed. So, within the three hours of the inaugural events, the Oval Office is being completely transformed — furniture, carpeting, curtains. So, that was really interesting.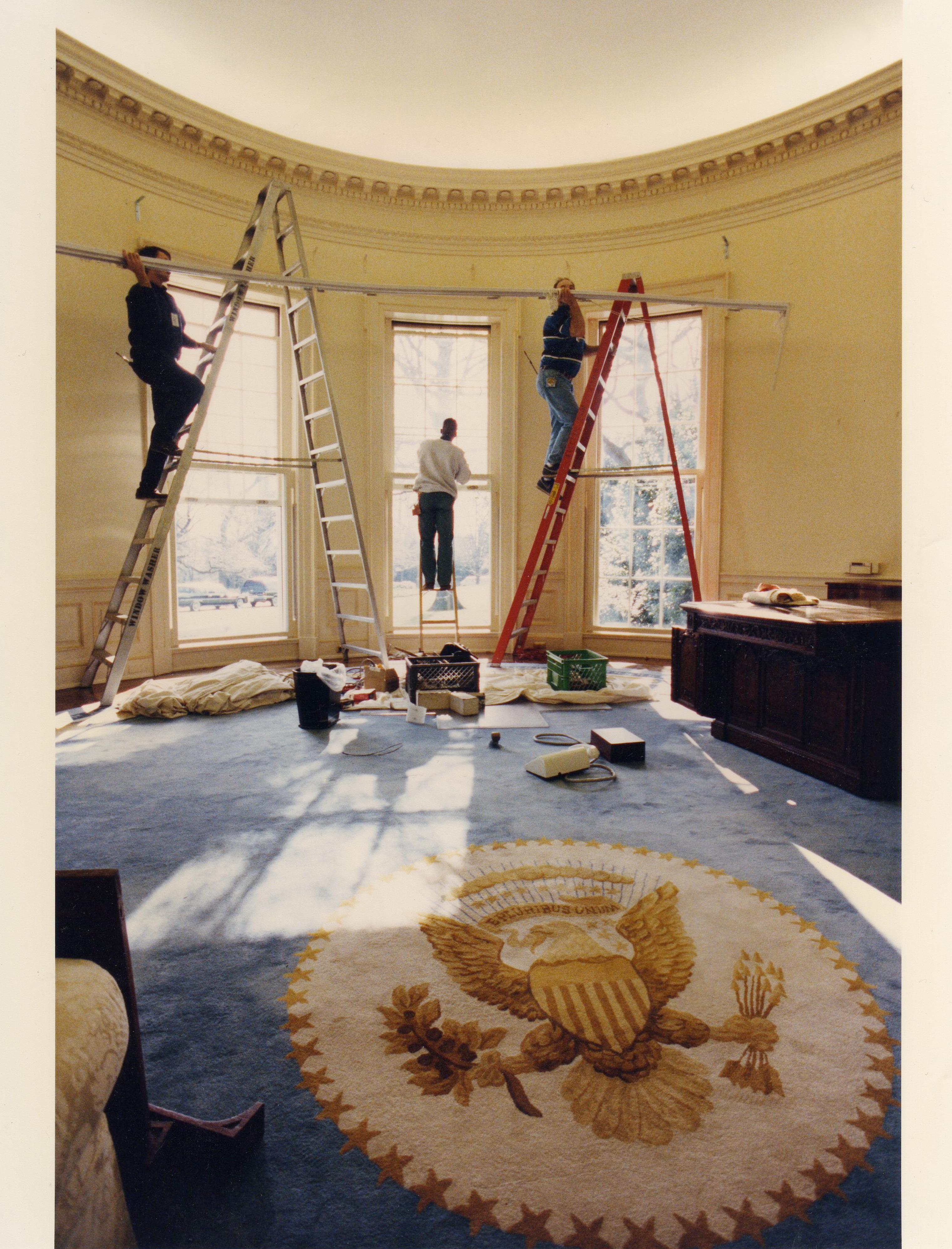 Who was your favorite person to photograph that came to the White House, and why?
I photographed Gorbachev when he came during George H. W. Bush's presidency. Gorbachev came for a State visit and, you know, as a child I had always feared nuclear bombs, and Gorbachev was the bad guy. And then, here I was, seeing my President shake hands with Gorbachev and they just had such a great meeting together and it was really fascinating to see him in person.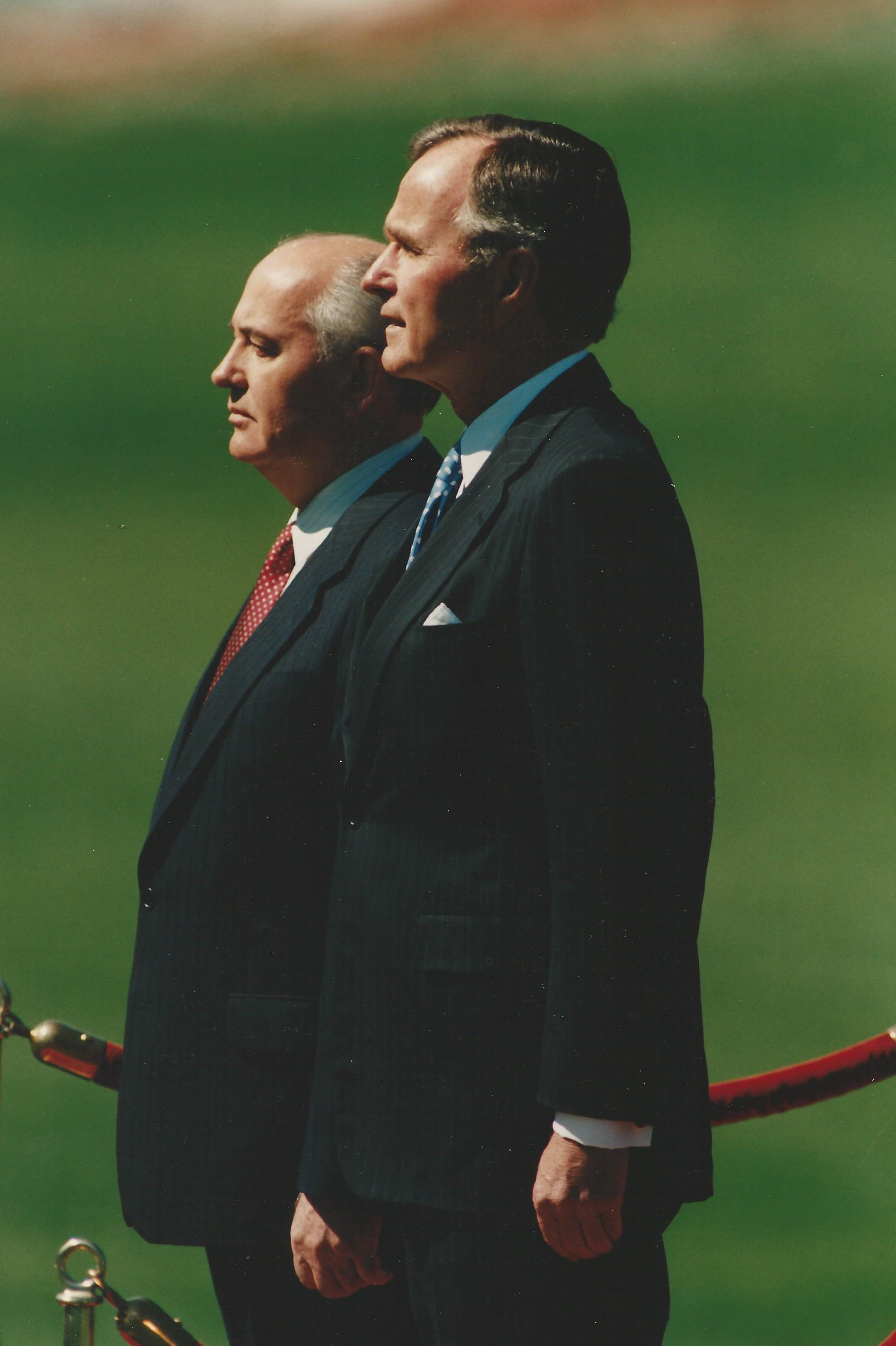 Another one of the people I really enjoyed photographing and meeting was Pope John Paul. I traveled with Bill Clinton in the White House Presse Corps. We traveled to about three different states in one day, I think, one of them being Missouri, where Pope John Paul was on a visit. And I was working for AFP at the time and we were brought into a room at the airport where Bill Clinton and Pope John Paul were meeting and President Clinton remembered that my uncle who had visited the Oval Office three years earlier was an archbishop in the Armenian church, Archbishop Vatche Hovsepian, and when he saw me in this photo opp with Pope John Paul, and he said, "Joyce, would you like to come and meet Pope John Paul?" And growing up as a Catholic, I immediately approached the Pope and knelt down and he blessed me and President Clinton explained to the Pope about my uncle. So, that was a pretty amazing moment.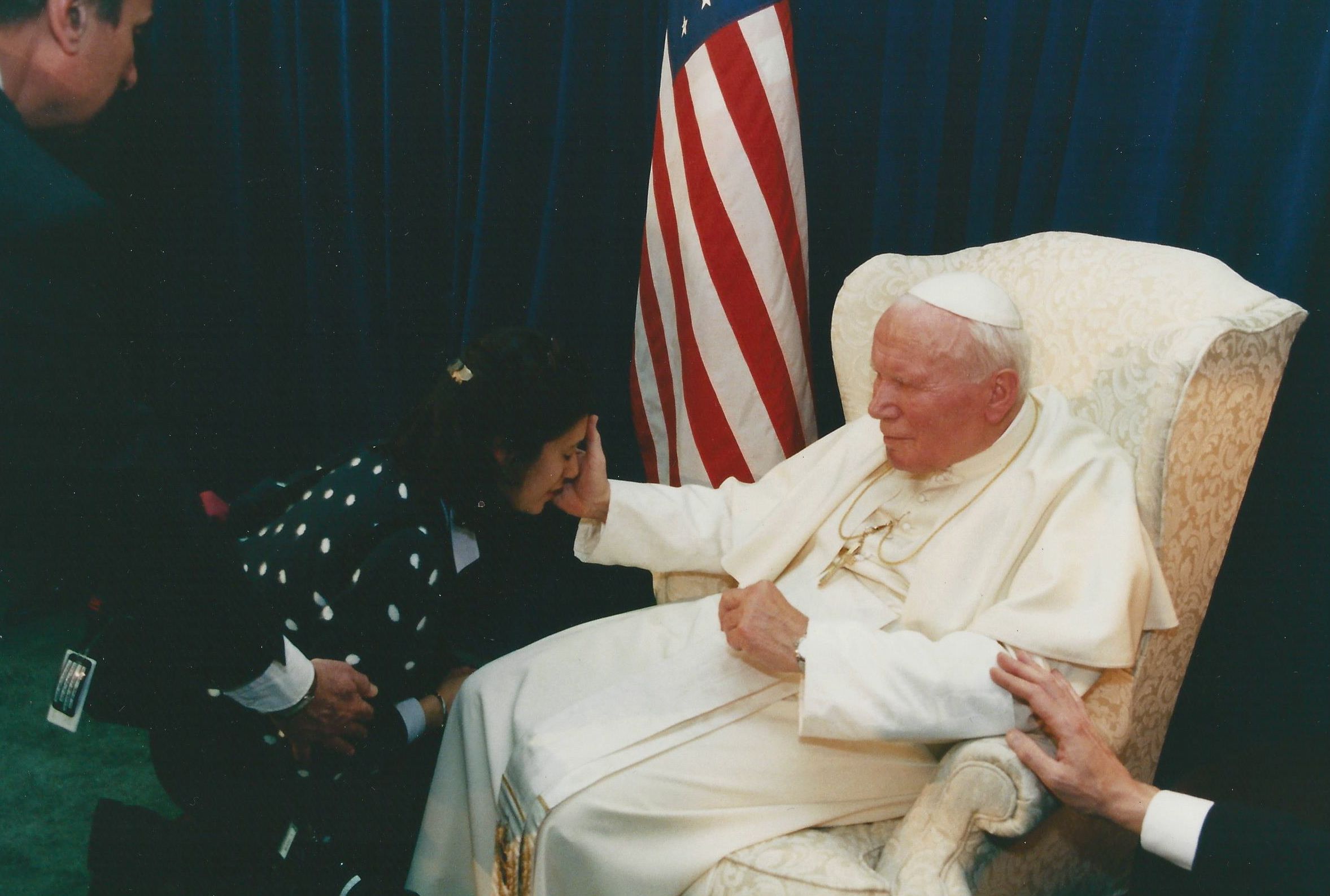 What was your favorite photograph that you took and why?
One of my favorite photos was from the 1996 snowstorm in Washington DC. It's a photograph of tourists looking at the Vietnam War Memorial. It was a blizzard, but I had to look for a snow feature. And I was walking along the Mall in knee high snow and… you know, I often talk to my dad [who passed away in 1994], and I was like, "Come on, Dad, I've been out here for hours, help me find something!" And all of a sudden, the snow just blew over the memorial and I caught this picture of the tourists' reflections in the memorial and the snow blowing over them and it really was a beautiful picture and it got a lot of play and my editors were very happy.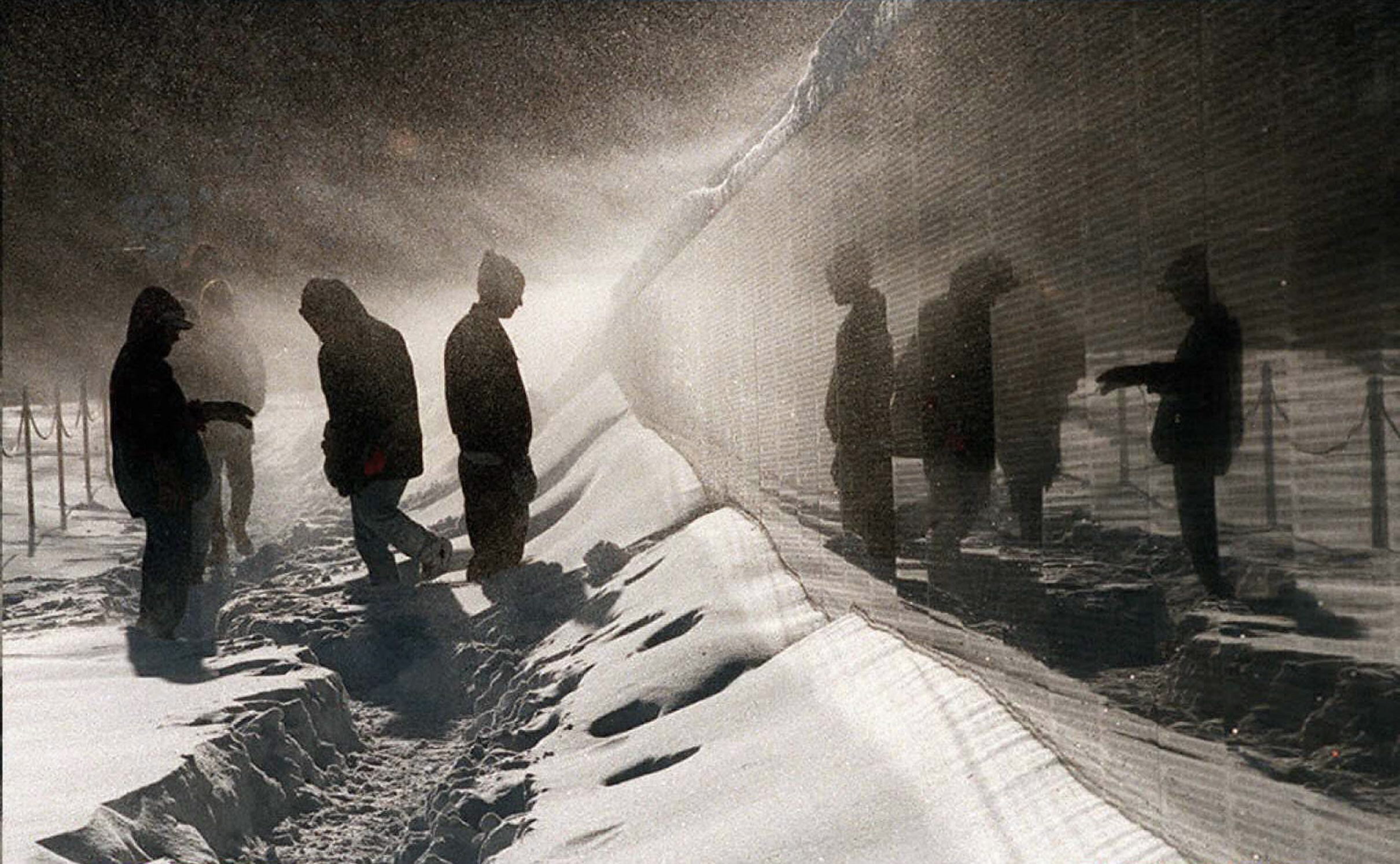 But another great moment was being in the Oval Office in 2009 and photographing five U.S. presidents together. My father photographed four presidents together for the Washington Post when Anwar Sadat was killed and President Reagan sent three U.S. presidents to the funeral, so my Dad got a picture of Carter, Ford, Nixon and Reagan together. So, in 2009, President Bush (43) invited former presidents into the Oval Office for lunch with President elect Obama. So, I was in the pool spray, and I got a picture of Bush (41), Bush (43), Clinton, Carter and Obama standing together.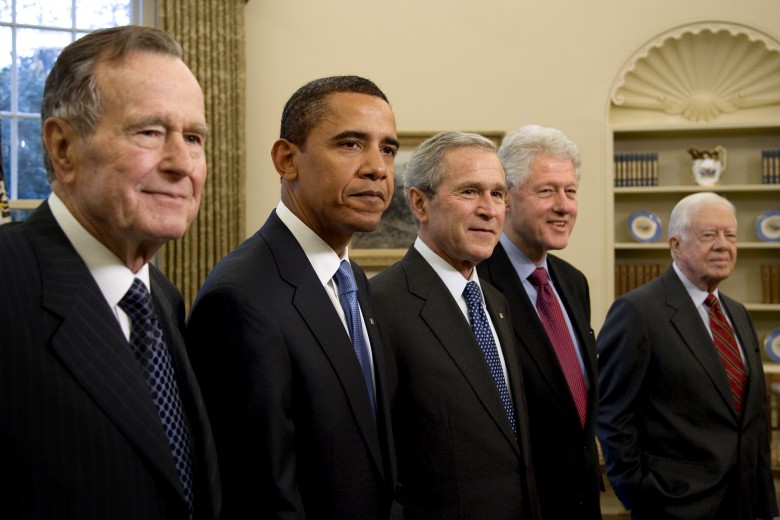 What was it like being a woman in rooms full of men? And have you seen changes in the number of women on staff since you first started photographing the White House?
Yes. When I started back in 1988, I was young so I didn't really note as much as I would right now the amount of women versus men. However, it was only obvious. There were just a handful of photographers — Cynthia Johnson, Diana Walker, there were a few others, Marianne Fackleman was one of Reagan's photographers. But compared to the number of men, it was very little. Maybe 10% would be female. Cameramen, mostly male. 90% were male. Regarding the number of women at the time I started at the White House and in the Washington Press Corps scene back in 1988, there were fewer female photographers than we see today. Opportunities have really opened up to women photographers in present times. There are so many opportunities to be had for women these days.
How do you feel about where photography is headed today, and its overwhelming ubiquity in our day-to-day lives?
Well, one thing I didn't like when I was working at the White House was when I was photographing events and you're trying to get the expressions of people in the audience, all you could see was them holding their cameras, their phones up in front of their faces. So, on one hand, that's great — now everyone's a photographer! They can take their own photos, but when I'm photographing events, yes, it just kind of ruins my picture to have everyone else in the picture taking a picture. I think that it's really changed the world to have digital photography, to have cameras in everyone's phones, and so many people in remote areas can be heard and seen and injustice is being revealed. It is positive. On the other hand, I'm glad I'm not in the media right now. Because it's big; it's really grown. It used to be that there were a handful of media reps who had badges for the White House, I'm talking in the 30s, 40s, 50s, but now it's not only a newspaper or a magazine, it's a blogger, it's a website. There's just so much out there.