Magazine cover design has undergone a major transformation over the last two centuries. As a representation of culture and society, a magazine reflects the trends, fashion, social constructs, and taboos of society. Looking at the progression of magazine cover design we can tell a lot about the development of our society. Magazine cover design also reflects the digital design progress. A glance at the covers of most iconic magazines since the 1900s to the present day, demonstrates a gradual change towards bolder fonts, vibrant colors, and more sexually explicit images. There used to be little if any text on covers, and what text there was would usually written in elegant, handwritten style typography.
A shift towards depicting more confident women was made after the Great Depression of the 30s. Since the 1950s, major magazines – most notably Cosmoplitan, Vogue, etc – pushed female icons to centre stage (Marilyn Monroe and Audrey Hepburn, for examples). Vogue also became famed for using the delicate and bold strokes of Didone typefaces in the 50s, making them a permanent component for magazine cover design. Harper's Bazaar was the most innovative among them thanks to Alexey Brodovitch's unique vision.
In the 21st century magazines still feature powerful female role models but print has been in decline in recent years. The Economist claims that between 2011 and 2017, the number of magazines bought from newsstands in Britain almost halved (from 820m copies to 422m). Yet, the former Spy editor Kurt Andersen compares print magazines to sailboats which "don't need to exist anymore. But people will still love them, and make them and buy them."
Elements of Good Magazine Design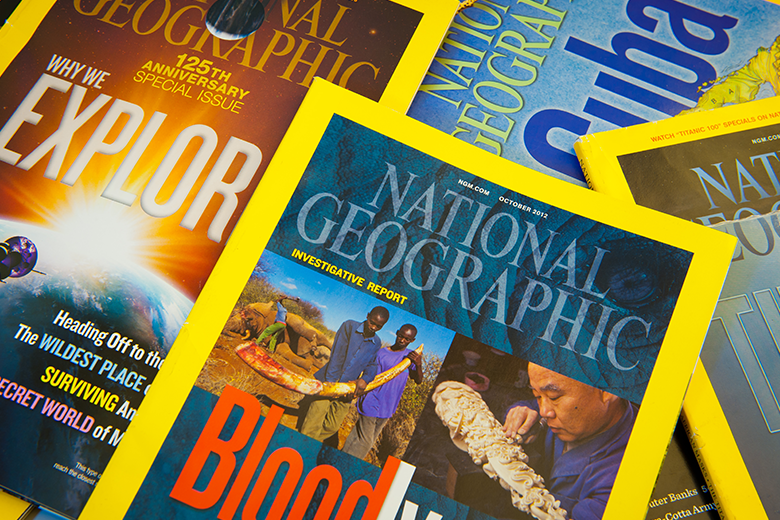 There is no such thing as a good magazine with a bad cover. But what makes a good cover? Publishing companies have spent millions researching this over the years, trying to find the magic formula for magazine cover design. General wisdom dictates:
It should be instantly recognizable in the 5/5 rule (we make our choice within five seconds from five feet away)
Covers should feature an accessible photograph with strong eye contact (we read the picture before the text)
Easily digestible and relatable mix of cover lines is a must
Copy should have a tone of warm, light content
One of the dominant colors should be red
That said, magazine design breaches these rules all the time. Behind every great cover design, there's usually a powerful concept. To visualize concepts, designers use creative compositions, unique layouts, powerful photographs, diverse type, vibrant colors, and innovative illustrations.
Magazine Back Cover vs Magazine Cover Design
Magazine back covers are used to generate additional advertising revenue and will often feature a full-page advertisement. As the last impressions a magazine reader will have, it's the most expensive and coveted position in magazines. It's a common belief that when an ad is placed on the back cover, there is a high chance that it will get great exposure.
Some magazines also use a back cover that becomes a second front cover when turned upside down as a creative way to entertain their readers.
Best Magazine Covers of All Time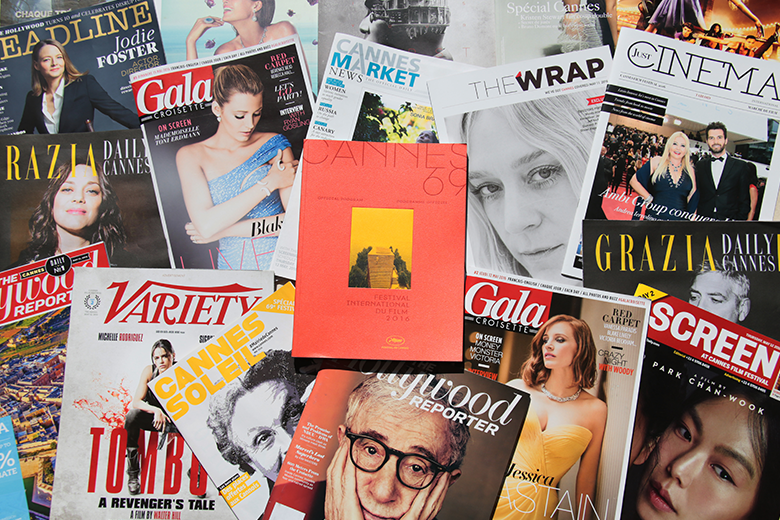 Best Magazine Covers over decades are considered those which venture beyond illustration, transgress boundaries, taboos, and design conventions, or start a conversation, and provoke public debate.
Ian Birch, author of Uncovered: Revolutionary Magazine Covers, thinks that "Great magazine covers are built on a sense of fearlessness".
George Lois' covers for Esquire magazine (from 1962 to 1972) changed the face of magazine design and became essential to the iconography of American culture. They raised issues like racism, feminism, and the Vietnam War. Muhammed Ali pierced by six arrows for dodging his draft to Vietnam, and Andy Warhol drowning in a can of Campbell's soup, are among his most iconic magazine cover design images.
Equally, Alexey Brodovitch's covers for Harper's Bazaar were revolutionary and astounding. The graphic design of the covers was influenced by an amalgam of the European avant-garde movements in art and design. Experimental photography, white space, refined page layouts, and unique typography were the hallmarks of Brodovitch's magazine design.
National Geographic's cover 'Planet or Plastic?' by Jorge Gamboa (2018), is a visualization of our reality and a demonstration of how magazine design can raise the public's awareness of plastic pollution. The digital photo-illustration, titled Iceberg Plástico, shows a plastic bag submerged deep into the ocean, with just the tip of the iceberg peering above.
Creative Magazine Cover Ideas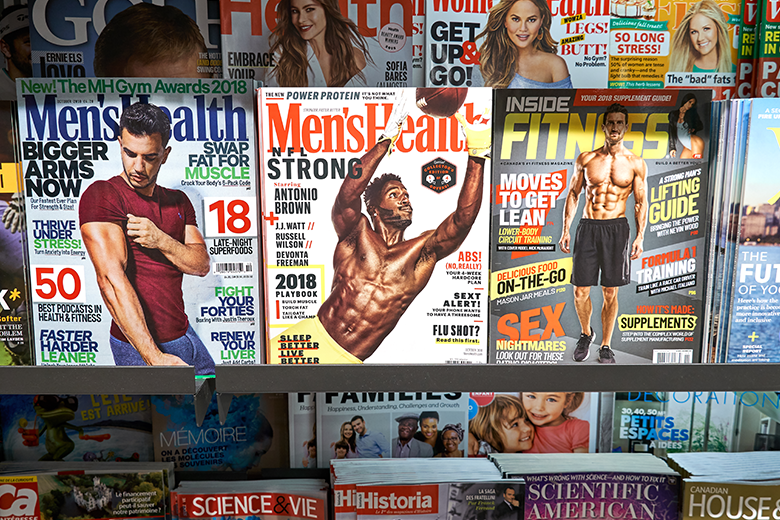 Magazine covers are eye-catching portals into extraordinary stories, innovative ideas, fashion trends, celebrity news, relationship tips, beauty tutorials, and so much more. To design creative magazine covers you need to first come up with a strong design concept in line with the magazine's vision and values. It must also be different from the magazine's previous covers, as well as your competitors'. You will then need to choose the design elements that'll make your magazine cover ideas powerful and attractive. Here are some ideas to consider:
1. Choose a high quality photograph of a celebrity, an expressive photo of a random person, or a dynamic sequence of photos as your central design element.
2. For a minimalistic cover design, create a subtle layout with just a photo and text. You can assign the focal point to the photograph or the text. Use the white space creatively.
3. Choosing the right typeface is integral. Designing unique combinations with diverse type and contrasting shades and textures will transform your text.
4. Select a color palette. You can make bold and brash use of color, go with monochromatic elegance, or add a pop of color.
5. To design vibrant magazine covers combine photographs with illustrations, silhouettes, geometric shapes, frames, masks, embroidery, etc. Use torn paper effects or other visual design techniques.
How to Design a Magazine Cover
Design a magazine cover on the Picsart mobile app, following these easy steps:
1. Open the Picsart app and tap on the purple plus sign to start. Upload your central cover image from your camera roll.
2. Add embellisments such as Stickers.
3. Change the background of your image, by adding filters and Effects, applying them as strongly (or not) as you need.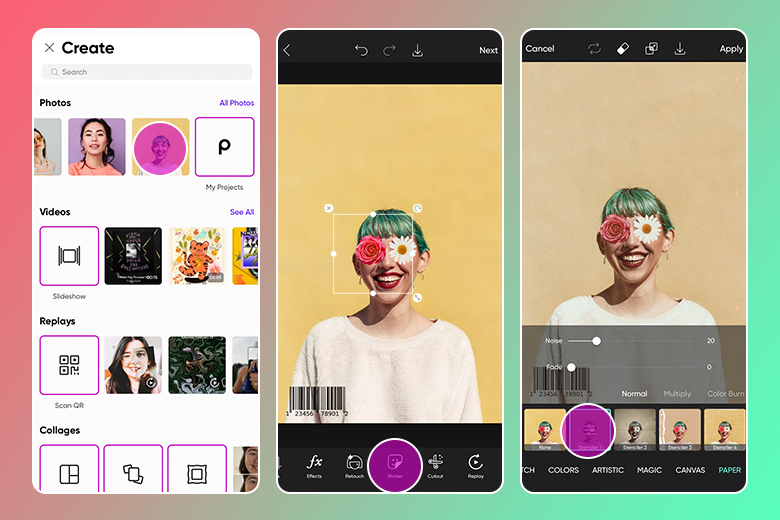 4. Add your masthead by tapping on the Text tool, and typing in your magazine name, adjusting the font and size as required.
5. Edit the masthead further by changing its Color or any other adjustments.

6. You can use your signature colors by inputting the RGB code or using the color picker to pull one from the image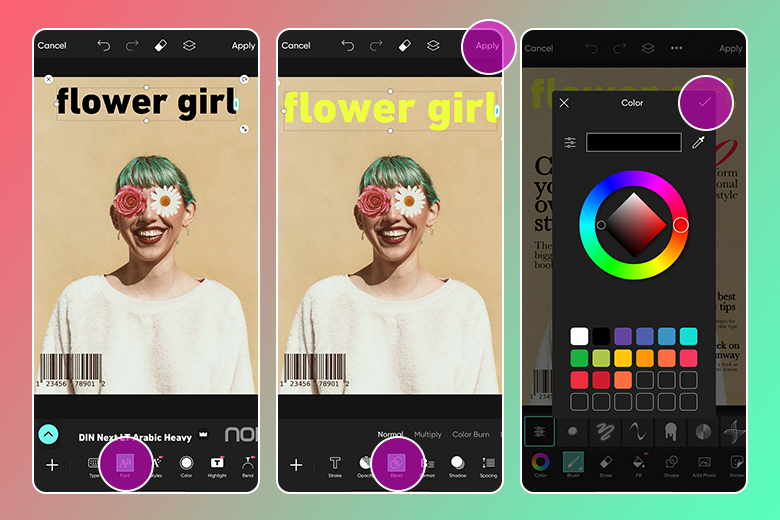 7. Liven up your design with some additional text boxes and Shapes for illustrative purposes.
8. Repeat any of the above editing steps until you're happy with the final design, then tap on the download icon above to finish.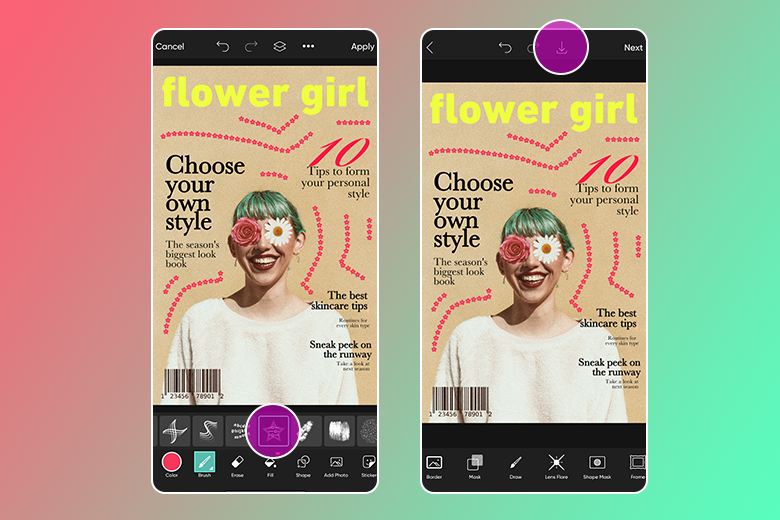 Design a magazine cover using the Picsart web editor, following these easy steps:
1. Start with the canvas size required and Upload your central image.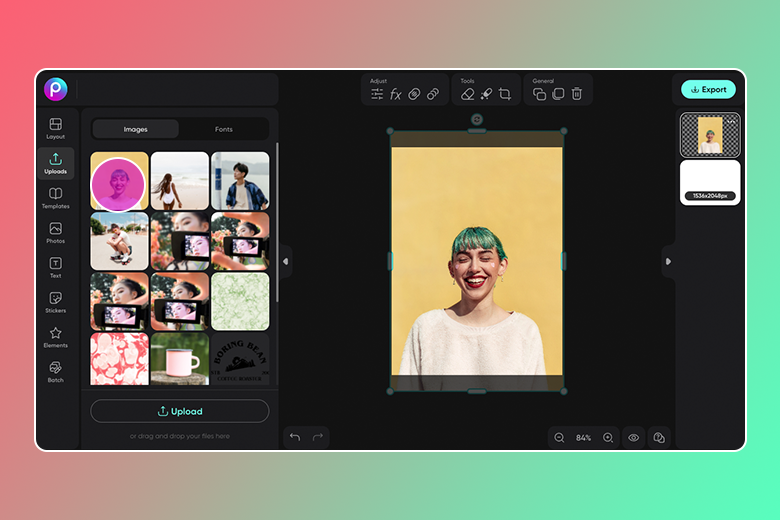 2. Click on the Stickers tool and choose from a library of options (or your own pre-made resources).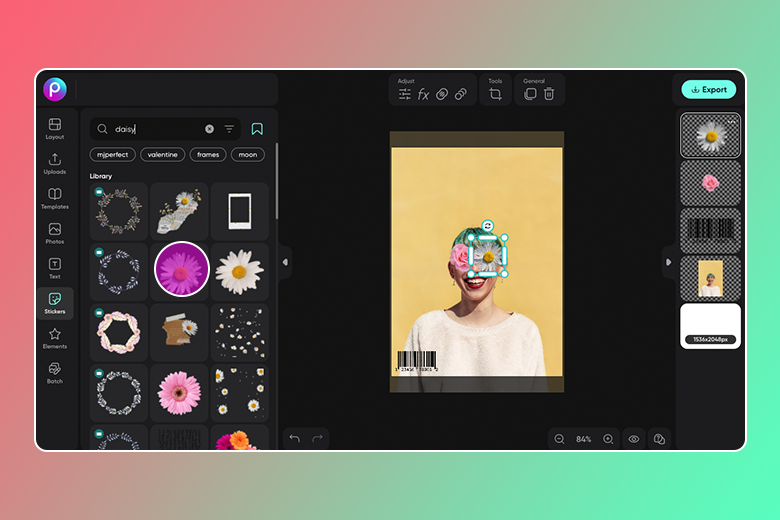 3. Adjust the background and finish by choosing a suitable filter, browsing the multitude of options until you find the one that works best.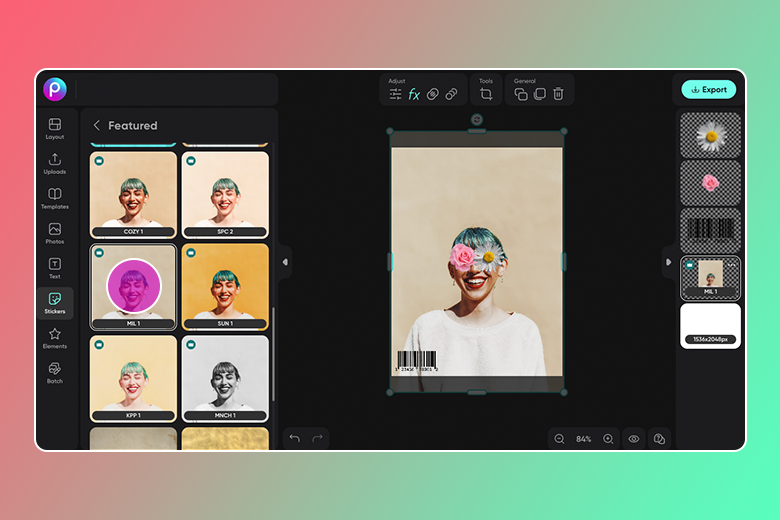 4. Click on the Text tool to add your masthead, coverlines and adjust the colors, size and style of each.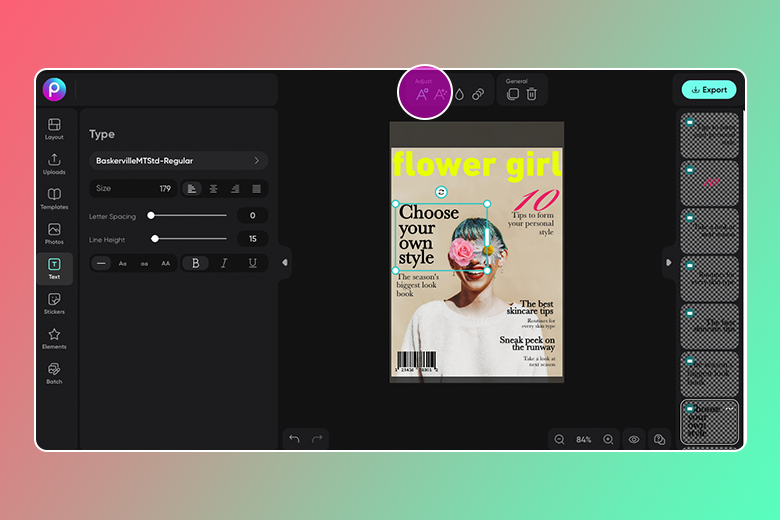 5. Play around with the colors of any Elements (or indeed any other design features) and when you're happy with how your cover looks, click on the Export button to finish.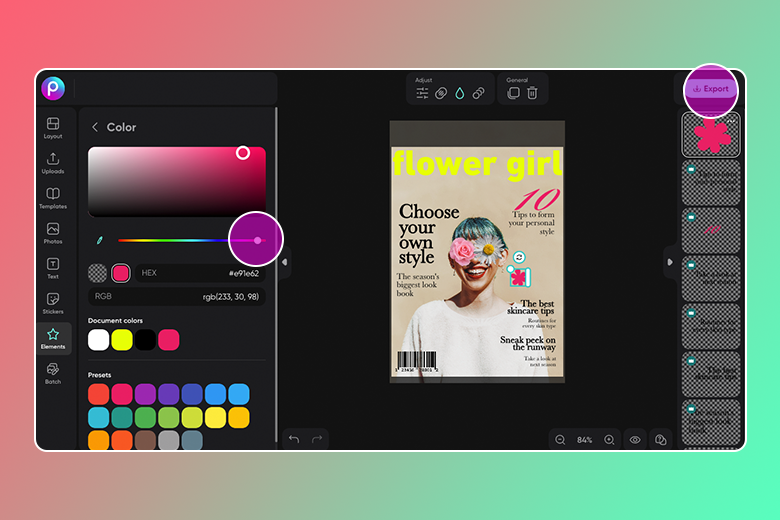 Picsart is a full ecosystem of free-to-use content, powerful tools, and creator inspiration. With a billion downloads and more than 150 million monthly active creators, Picsart is the world's largest creative platform. Picsart has collaborated with major artists and brands like BLACKPINK, Taylor Swift, the Jonas Brothers, Lizzo, Ariana Grande, Jennifer Lopez, One Direction, Sanrio: Hello Kitty, Warner Bros. Entertainment, iHeartMedia, Condé Nast, and more. Download the app or start editing on web today to enhance your photos and videos with thousands of quick and easy editing tools, trendy filters, fun stickers, and brilliant backgrounds. Unleash your creativity and upgrade to Gold for premium perks!