There's nothing as magical as welcoming a new human and helping them through their first steps on planet Earth. That's what makes designing for baby-themed projects so exciting. Whether you're designing a baby shower invitation, creating a greetings card for a toddler's birthday, or making a mockup for a fun educational app, you need to choose a cute font that conveys all the joy and playfulness of early childhood. In this article, we'll go over 13 different baby fonts so that you can choose the style that best serves the task at hand.
Let's explore the wonderful world of calligraphy for little ones.
What is a Baby Font?
Baby fonts are those that are particularly suited for the design of products and services targeting children from birth to age four. They can be used for anything: toy packaging, greeting cards, T-shirts, cakes, social media, apps and websites, decorations for birthdays, baby showers, and other thematic parties. It's also useful to note that in most cases, it's not just toddlers you're trying to please, but parents, so going all out with colors and forms may not always work well. Ultimately, choosing a baby font is all about walking a thin line between pleasing the kids and their parents.
One big subcategory of baby fonts is doodles and handwritten fonts. It's a way for the designer to show that the product speaks the language of its target audience. Another big subcategory is large and easy-to-read fonts that are used for encouraging the toddler to read. The typefaces in this category are typically bold and all-caps. And finally, the third category of baby fonts is typefaces that feature familiar cartoon characters or drawings. Quirky and charming, these fonts are, of course, a favorite among kids.
Best Baby Fonts to Use
Browse the Picsart font collection to choose a baby font from a wide selection of premium and free options. If you're not sure how to choose the right one for your design, check out this article for detailed instructions. 
If your baby design needs a font that's in equal parts cute and simple, Tangerine may be perfect. Somewhat uneven and whimsical, these handwritten letters come together to make one of the best baby shower fonts on our list.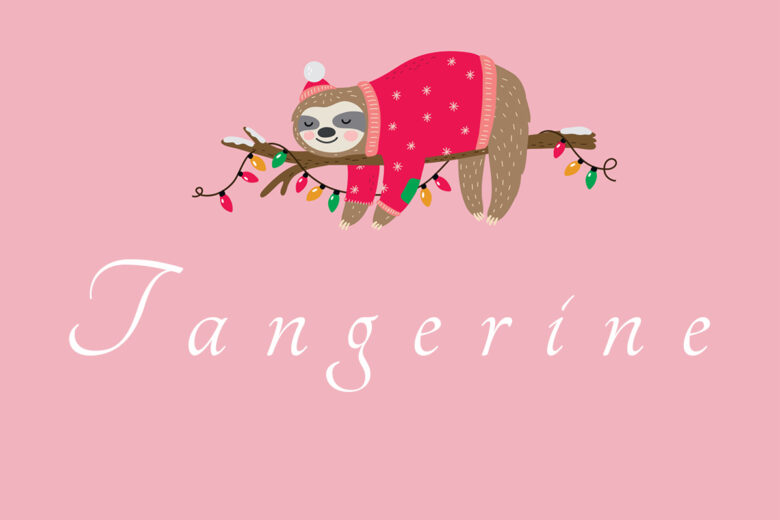 Do you love doodles as much as toddlers do? Then Rain or Shine – an all-caps font with 80 different doodles, including all sorts of flowers, butterflies, hearts, and ice-creams – is the perfect font for your design. Don't be afraid to add a dash of idiosyncrasy to your edits, children will be impressed.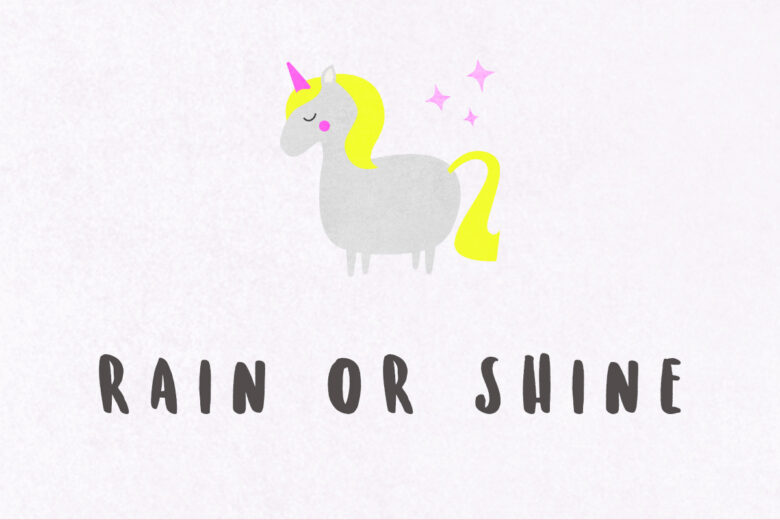 Most children love arts and crafts, and that's why the creators of this font have drawn inspiration from various wooden shapes. You can use this unique font if you're designing a book cover, printing on a mug or creating a T-shirt for babies.

Baby Doodles contains a whole range of little ornaments and illustrations. You can find cute little rubber ducks, teddy bears, baby shoes, pacifiers, and other baby-related items in this typeface.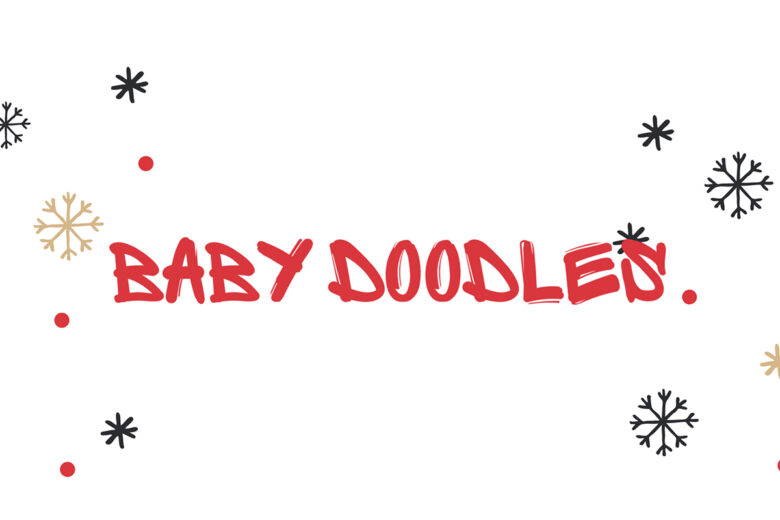 A large portion of designs for babies have an element of the supernatural. As children are true connoisseurs of all fairy-tales and fantasy worlds, they will surely appreciate the mysterious handwritten font Witch Baby. This typeface is especially useful if you're designing for Halloween.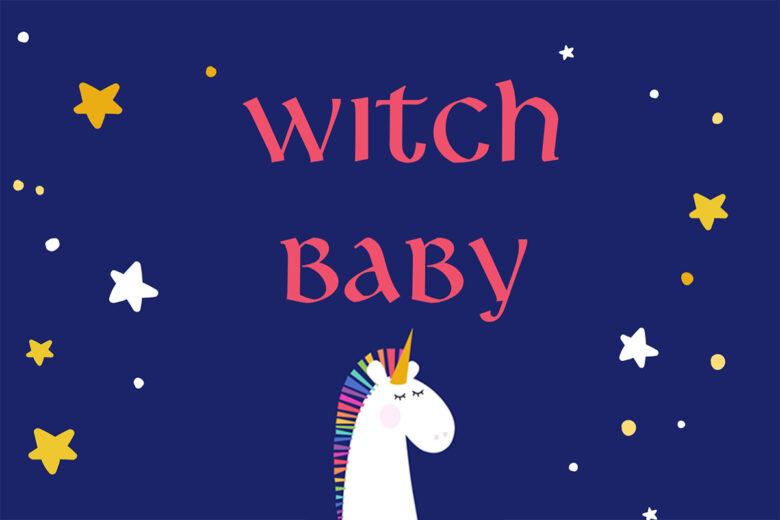 Baby World is a whimsical and fun handwritten font that's especially well-suited for the digital world. So if you're working on an app or website aimed at toddlers, give this typeface a try.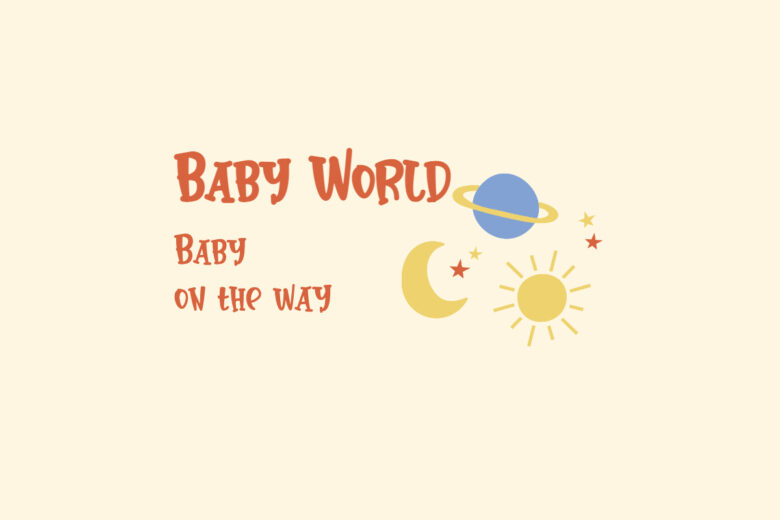 The handwritten font Daisy Girl, as the name suggests, is one of the prettiest baby girl fonts out there. Elegant and unique, this font is perfect for birthday cards and baby shower invitations.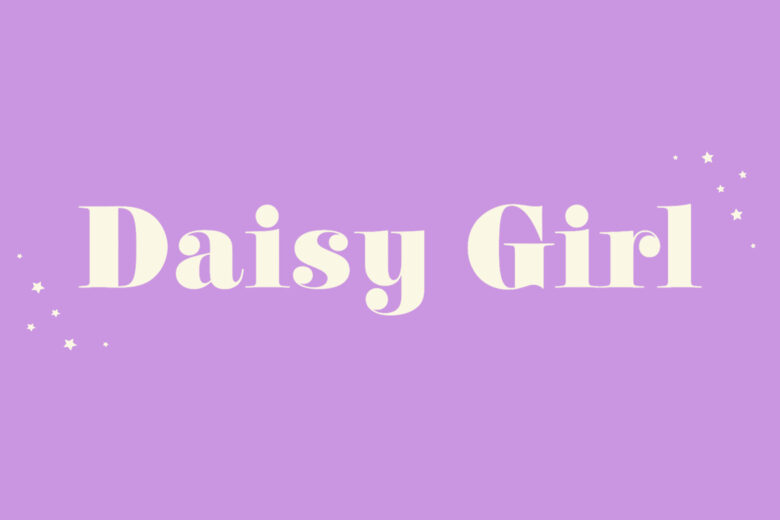 One of the cutest baby handwriting fonts on the list, Lukid Typeface has all the charm of a kid's first attempt at writing. This cursive font is as messy and quirky as it is versatile, so no matter what you're designing it's worth giving it a shot.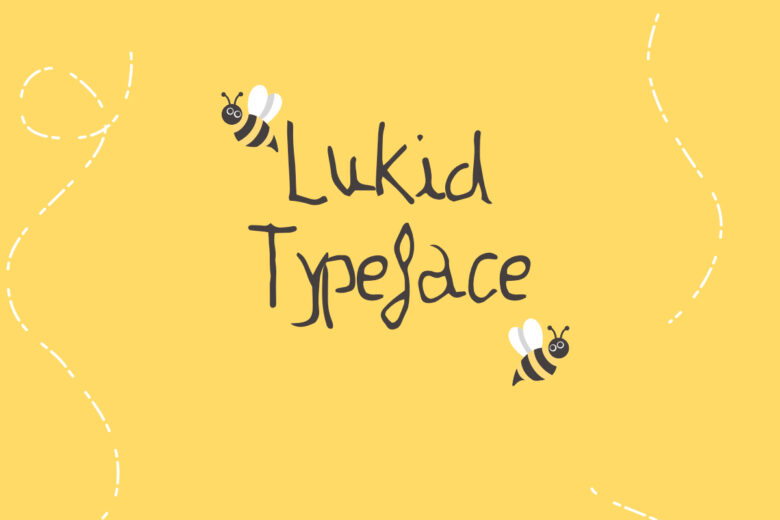 There is no better font for writing out 'Happy birthday' on a greeting card or birthday party decoration for a toddler than this light and neat cursive font. And the best news is that this birthday font is free for personal use. You will have to make a PayPal donation for any commercial use though.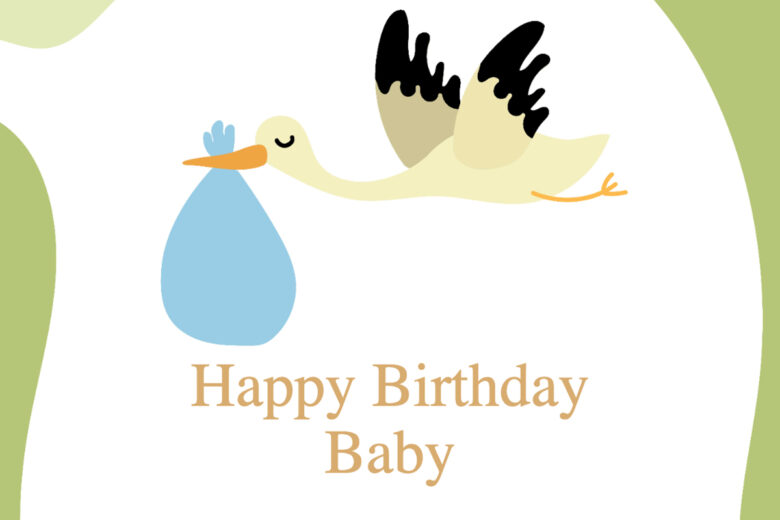 Sugar Donut is a bold and cute baby font. The tiny hearts and dots on the handwritten letters give it a feminine, retro feel. This all-caps typeface comes in four different styles, each in three formats: OTF, TTF, and WOFF.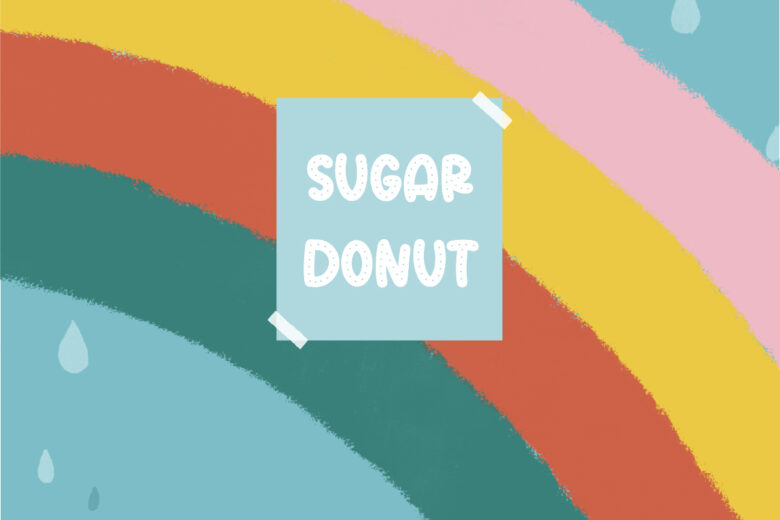 Dino Kids is an easy-to-read vintage font that surely belongs on the list of the most fun and versatile baby fonts. Whether you're designing for web or print, this is a font that'll offer a rare combination of playfulness and comprehensiveness.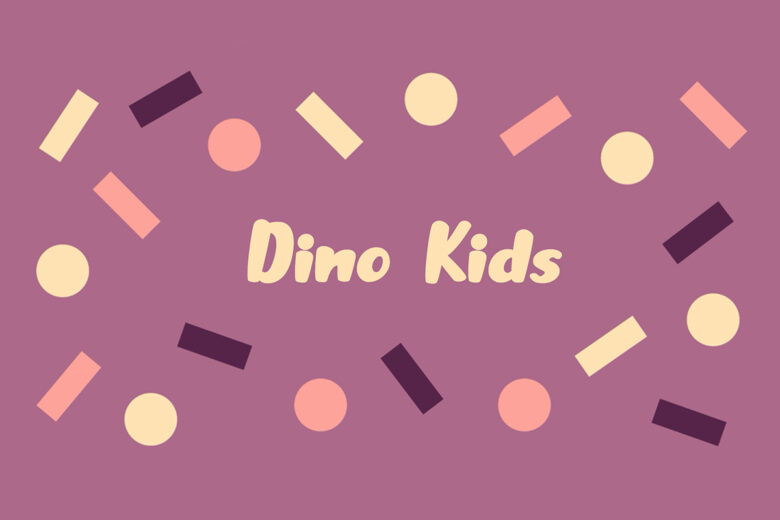 La Petite is a delicate handwritten font that's perfect for designs targeting newborn to one-year-olds. No matter if you're creating a logo, a brochure, an invitation or a website, La Petite is a clean and fun font that will work in all contexts.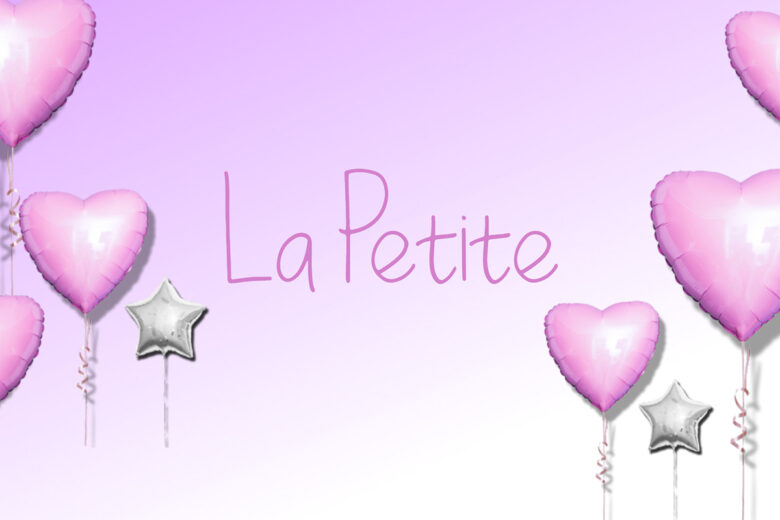 If you're looking for a bold and square sans serif typeface, The Baby Monster is a great option. Available in both uppercase and lowercase, this font will look especially charming and vibrant in different bright colors that kids love.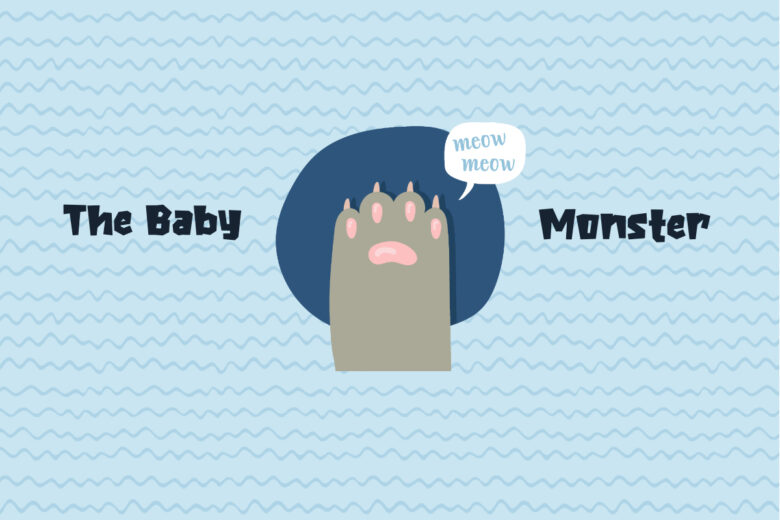 Still searching for more? Check out the Font Generator in Quicktools.
Create Designs with Baby Fonts
If you're ready to take a deep dive into the world of typography and start experimenting with some of the fonts listed above, here's a step-by-step framework:
1) Open Picsart Editor and click on New Project.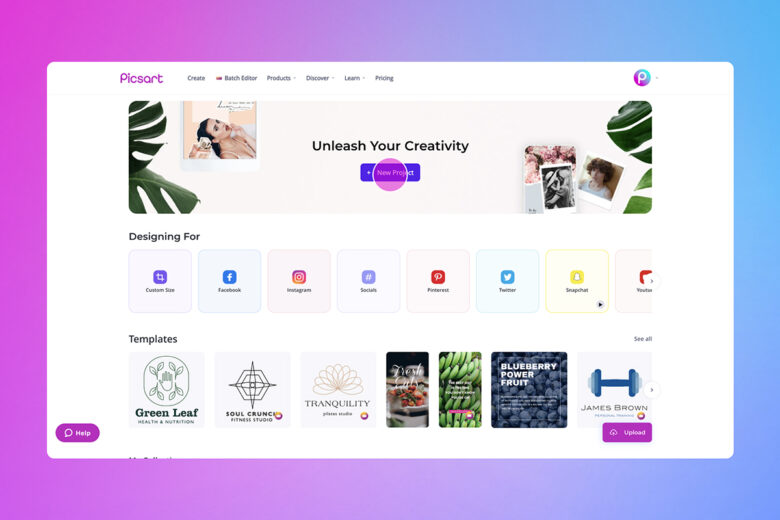 2) Click Text from the left-side menu to add new text. Fill your canvas with a background color.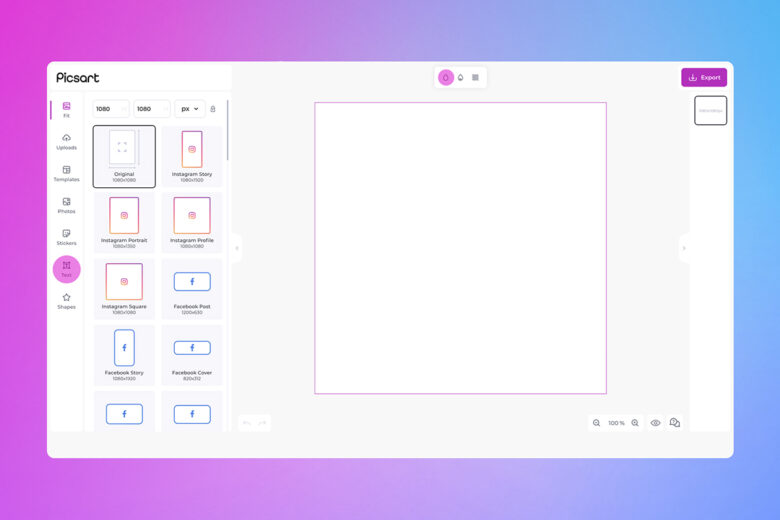 3) Choose your font and place it on the canvas.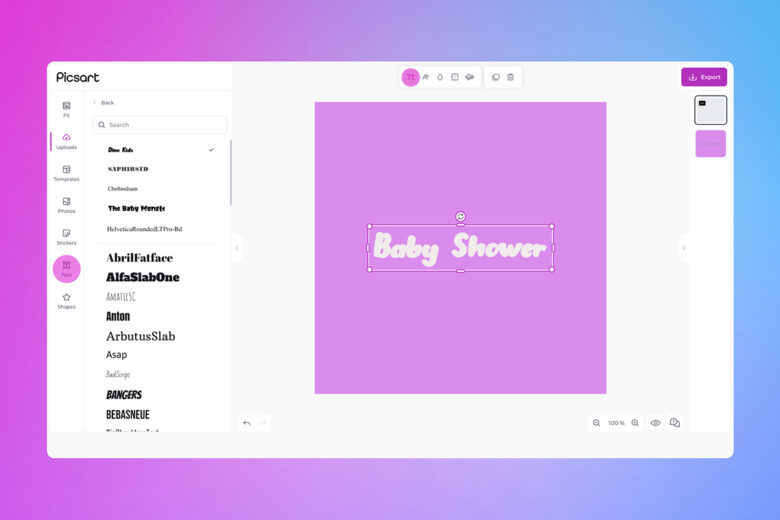 4) Use the menu above the text to adjust the font's color, spacing, and size, make it italic or bold, or duplicate it.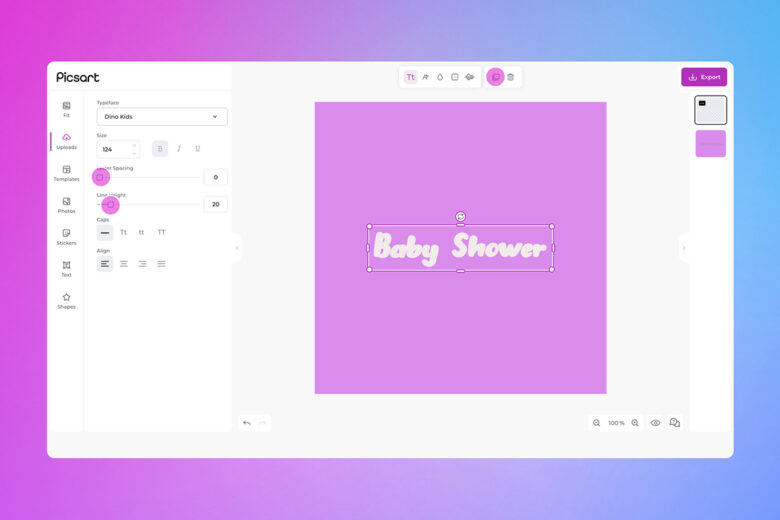 5) You can add an effect, a sticker or a shape from the Effects, Stickers, and Shapes menu sections on the right. When you're done editing, click Export in the upper right corner to download or share your design.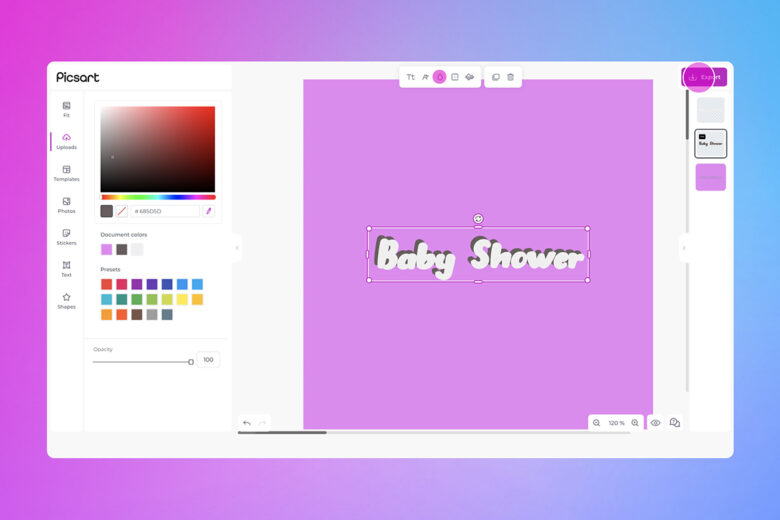 And here are the steps to follow if you're editing on your smartphone:
1) Open the Picsart app and tap on the purple plus sign in the middle to start a new design.
2) Scroll down to Color Backgrounds and pick a suitable background color for your baby-themed design.
3) Tap on Text from the bottom menu. Write in the text you need (i.e. "Happy Birthday!" or "Baby Shower") and tap on the checkmark in the upper right corner.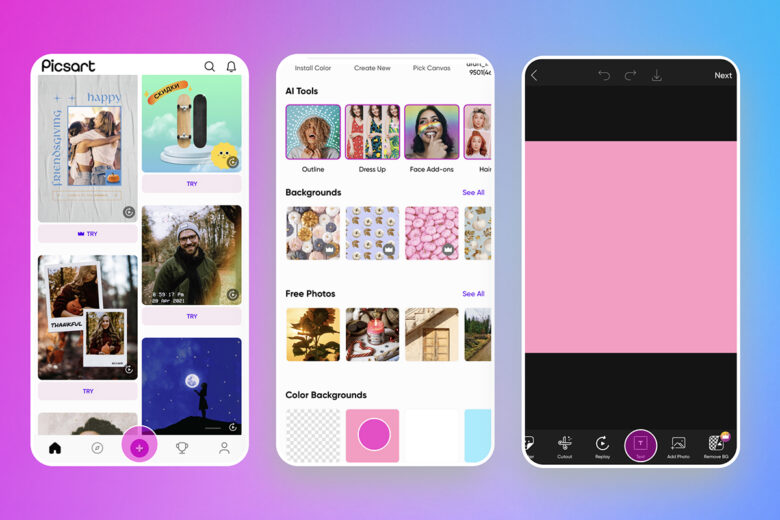 4) Type in your message and scroll the menu to browse the free collection of fonts.
5) If you want to upload a custom font or download one of the premium Picsart fonts, tap on the upwards arrow on the left and use My Fonts and Premium tabs.
6) Tap on Apply when you're done adjusting your text. Tap on Next to post it on social media or save your design for later.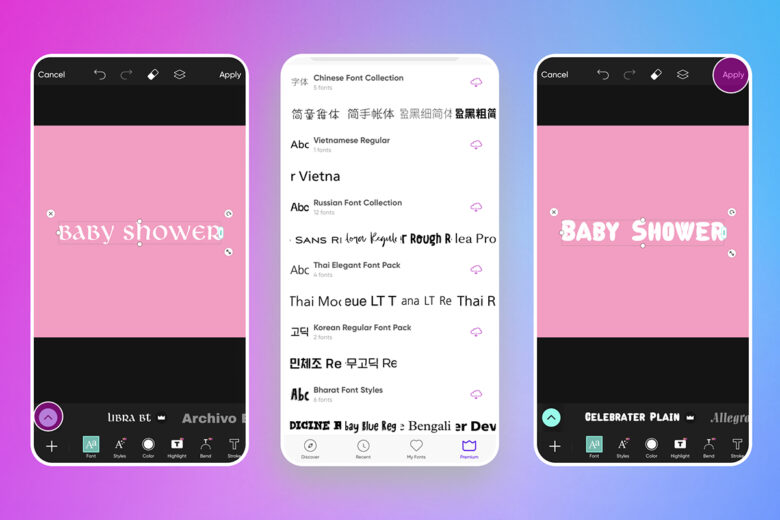 Picsart is a full ecosystem of free-to-use content, powerful tools, and creator inspiration. With a billion downloads and more than 150 million monthly active creators, Picsart is the world's largest creative platform. Picsart has collaborated with major artists and brands like BLACKPINK, Taylor Swift, the Jonas Brothers, Lizzo, Ariana Grande, Jennifer Lopez, One Direction, Sanrio: Hello Kitty, Warner Bros. Entertainment, iHeartMedia, Condé Nast, and more. Download the app or start editing on web today to enhance your photos and videos with thousands of quick and easy editing tools, trendy filters, fun stickers, and brilliant backgrounds. Unleash your creativity and upgrade to Gold for premium perks!