When it comes to starting a business, picking the right name is essential. It's the first thing a potential customer will come across when finding your brand. In order to make yourself known to the world, you need to pick the perfect name for your business. It's the first impression that you are giving, so it should be one that reflects the vibe of what you do. However, choosing a unique and memorable name that is reflective of your brand's essence is easier said than done. Let us guide you through the exciting process of selecting the perfect brand name.
Why a Business Name Matters
As we mentioned before, choosing the right name for your brand is super important for first impressions. People will naturally make an assumption about your business based on what the name of it is. It's just human nature! In fact, it takes people an average of 7 seconds to form an impression of your brand.  If you go with a name that doesn't reflect the look and feel of your brand then you may potentially not attract your target audience. Or to be honest, any audience at all! A simple way of thinking about this is just to make sure you are keeping consistent with your branding. If your business is fun and lighthearted, choosing a more serious brand name does not necessarily make sense. Think Dunkin Donuts – a fun food chain that sells… you guessed it, donuts! The name rolls of the tongue and is light and bubbling. Perfect for the brand!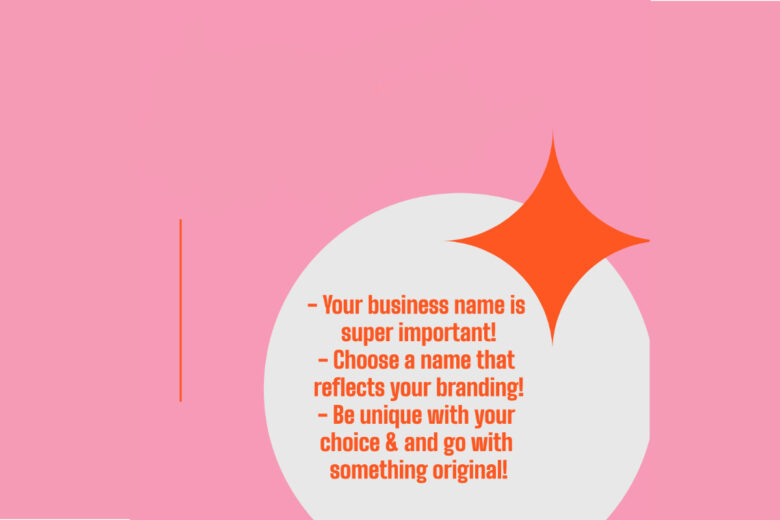 SEO & Online Visibility
Another great reason to make your business name unique is that it massively increases your online visibility. By having a name that stands out from the crowd, you will massively increase your digital presence. This is because your brand will not be lost amongst other similar results when people search for the name. If you choose something that is one of a kind you will completely maximize your search engine optimization. Which is a great way for new consumers to find your business! For example, a brand name like Spotify is great as it will always be the first thing that comes up when searched. It's not a word that has any association with anything else but the product. It's genius!
Trademark Issue
It is also important to consider a unique name as choosing one that is similar or the same as another brand can be a big no-no. There are many legal complications that can come from an already-established brand becoming aware of a new business that has taken its name. If a company has already copyrighted a name, they may take legal action against you. This can result in things like being sued, which nobody wants to happen! The point is, make sure to choose a unique name that hasn't already been taken. 

Brainstorming Your Business Name
In order to choose the best name possible for your business, it's important that you know your brand. The more secure you are in understanding what your brand stands for, the better. A great place to start is to define a mission statement. This is basically a sentence or two that perfectly describes what your business intends to do. It's also helpful to identify what your visions and values are. By deciphering this information in the early stages, you can form a super strong idea of what your brand represents. Simplicity is key. By having a short and easy-to-pronounce name you are making sure that you are extremely accessible to a wider audience. Think of Snapchat for example. You snap pics to send to people whilst you chat to them. You snap and chat – Snapchat! Its short and easy to understand whilst also completely relating to product. Short and snappy names are also more likely to stick in people's heads. This is a great way to be memorable to customers whilst improving your shareability. Remember to embrace getting creative with this. There are so many different ways that you can create a strong brand name. Consider combining words, using foreign phrases, or even straight-up inventing something completely original! 72% of the best brand names are made-up words or acronyms. Words that mean nothing else other than your business name automatically increase brand strength.
Feedback Loop
There's also a lot of value in getting feedback from friends, family, and even potential customers on some of your best name ideas. Gaining the opinions of others can really help guide you to make the best decision possible. It's always a positive to receive any sort of response to your ideas.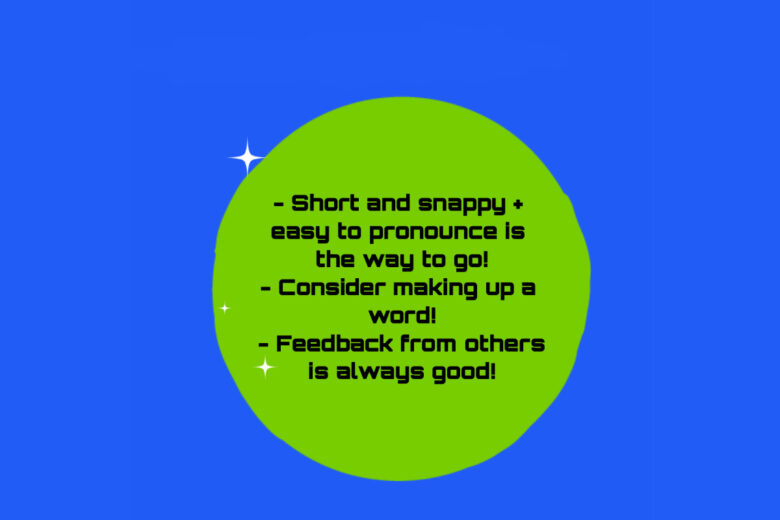 Enter Picsart's Business Name Generator
Supplying super helpful tools to solopreneurs is a Picsart staple at this point. If you want a simple way to think of the perfect brand name then look no further! Our Business Name Generator tool is an easy-to-use platform that can help you think of the right business name for you. Follow this step-by-step guide on how to use the genius generator to achieve all your business name dreams ✨.
Step 1.) Open up the Business Name Generator. 
Step 2.) In the description bar, type out a description of exactly what your business is. The more detailed the better!
Step 3.) Select the tone of voice that you want the name to be in. The more accurate with your branding you go, the stronger the outcome will be.
Step 4.) Specify the character limit of your new name.
Step 5.) Add the language that you want it to be in.
Step 6.) Click generate and let the name picking begin!
Once you have shortlisted your favorite options, remember to check for their availability. It's always helpful whilst generating the names to highlight specific words that you feel relate to the brand. You also have the option to rephrase any names that you feel are almost right but are just slightly missing the mark. It can also be a great way to come up with even more results. Pretty great right?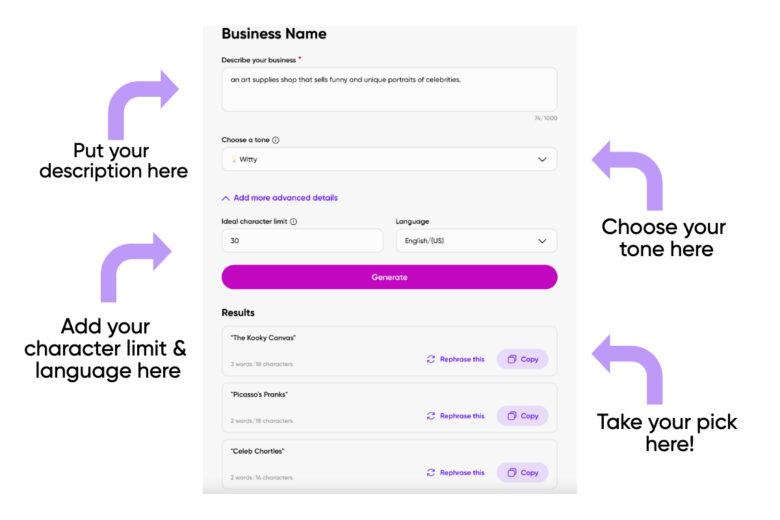 Final Checks Before Finalizing
Once you have worked out your final name choice, it's important to run some final checks before sealing the deal. Domain availability is super important – you need to 100% check that there is a domain web address that is available for you to use on your brand's website. This is a crucial part of having online visibility, and if one isn't available you should strongly consider changing the name. You should also check for the availability of the name for a social media handle. It's key to have consistent branding across all platforms, so having the same name set for everything is something to consider. It's even been found that A consistent presence on all platforms can increase revenue by 23%. Cultural sensitivity is also of the utmost importance. You need to make sure that your name doesn't have any unintended or negative meanings in other languages or cultures.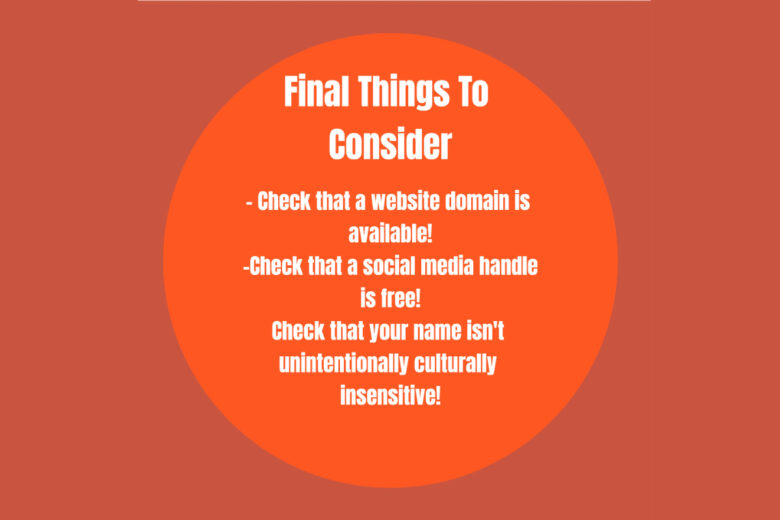 Choosing the right name for your business can be a tricky task. As long as you remember to keep it relevant to your brand whilst sounding catchy and unique, the options are truly endless. Remember that this process is one that shouldn't be rushed or taken lightly. Your brand name is something that truly can define your success in the business world. Just make sure to choose the right one for you. So go on! Start your naming journey today and make sure to share your experiences and chosen names! It's giving business ready.
---
Picsart is the world's largest digital creation platform. Its AI-powered tools give creators of all levels the ability to design, edit, draw and share photo and video content anywhere. It's used by consumers, marketers and content creators for both personal and professional design, and is available to businesses via API partnerships and integrations. Picsart has collaborated with major artists and brands like Discord, PopSockets, Shopify, Taylor Swift and more. Download the app or visit picsart.com.