Everyone loves getting a heartwarming happy birthday card with an emotional message, but there's also a time and place for messages designed to amuse. Birthdays are emotional events, and sometimes, it's nice to lighten the mood. Even if you have a great sense of humor, you may need some help. Writing birthday cards is no easy task. There's a reason that you can easily buy them ready-made. But never fear, we're here to help inspire with funny birthday card ideas.
Below, we'll suggest some cool birthday card ideas for everyone in your circle and show you how to use Picsart to make messages that will get a laugh and warm the recipient's heart. Your loved ones are sure to appreciate the time and effort (and great design) you put into making them the perfect card.
Best Funny Birthday Card Ideas by Type
Ready to make a handmade funny birthday card idea real, but still on the search for the perfect saying or graphic? Read on for jokes and creative comic ideas you can use on cards. Keep these in your back pocket for all of your friends' and family members' milestones, whether it's their 21st birthday or 40th birthday. When you're ready, customizable Picsart templates can inspire your designs.
Jokes
Put bad dollar-store card jokes out of your mind. Here, we're talking about humorous birthday cards that are genuinely funny.
Funny Birthday Card Ideas for Dad:
It's no secret that poking good-natured fun at a parent's age is always funny. Just take a spin around the card department in your local pharmacy for proof. Here are some of good digs for dad that have just enough kick to be funny, but remain heartwarming.
"You're not old, you're vintage."
"We've lost count" (Accompanied by an image of a lot of candles)
"Your birthday is becoming a fire hazard" (Accompanied by an image of a lot of candles. Are you seeing a pattern here?)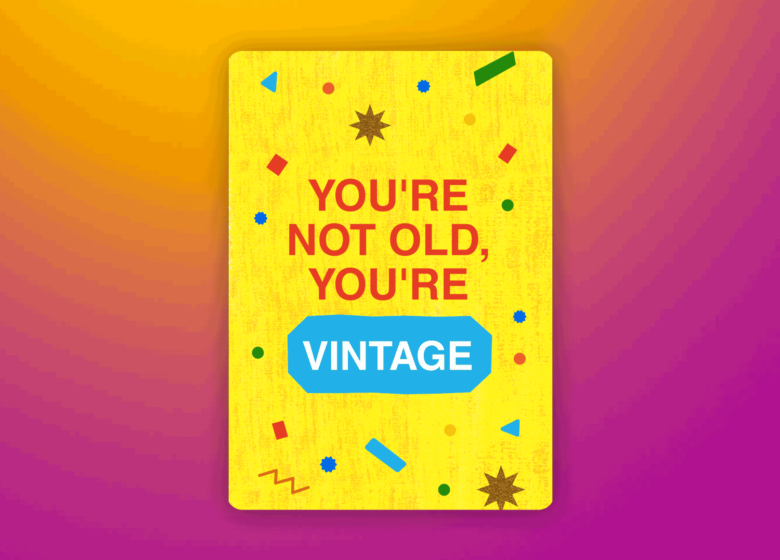 Funny Birthday Card Ideas for Mom:
Of course you can use the "dad jokes" above for any of your family members, but if you're looking for a saying that's more tailored to mom, check out the ideas below to strike a balance between sassy and sweet.
"You're not a regular mom. You're a cool mom."
"Age gets better with wine."
"You're the best mom in the whole wide house."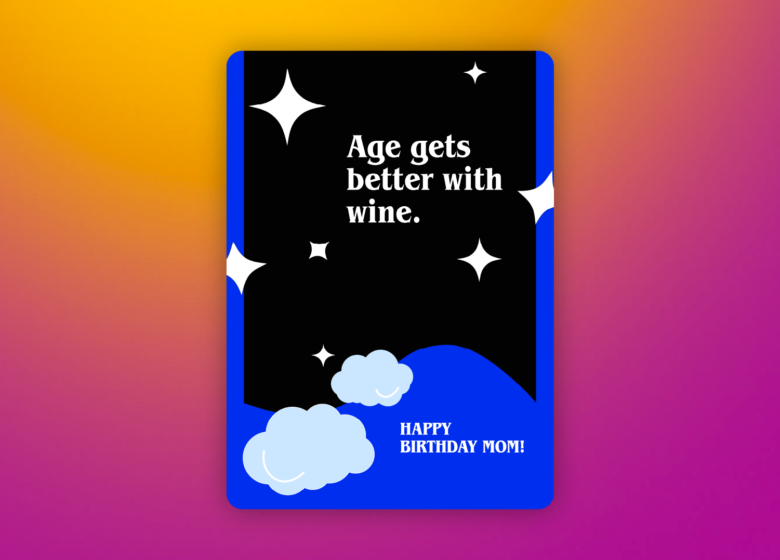 Funny Best Friend Birthday Card Ideas:
When it comes to making your best friend laugh, take a stab at your own brokenness or try some other self-deprecating approach. Since this person is your chosen family, this will definitely get a smile from them.
"I got you a little something for your birthday. This is it." (Referring to the card)
"Obligatory card I have to give you on this occasion."
"Please accept this card as a token of my poverty."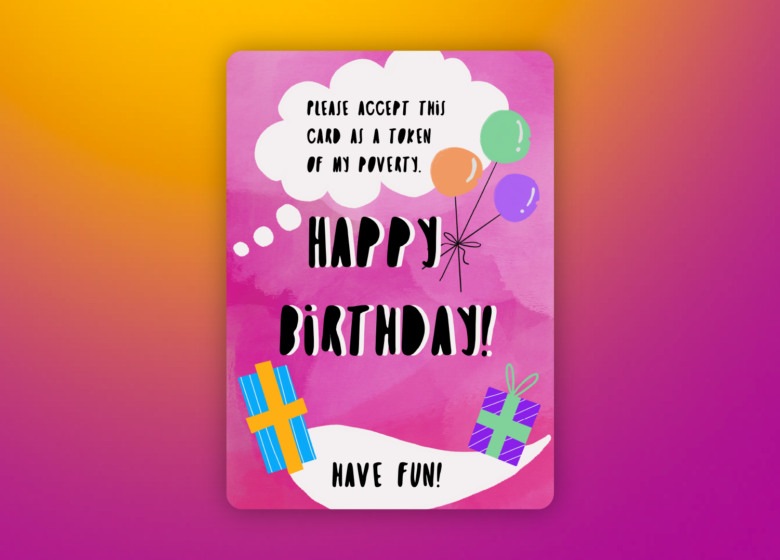 Funny Partner Birthday Card Ideas:
Your partner understands your sense of humor best, so go all in when making their birthday card.
"You're the second hottest thing I've ever seen." (Accompanied by a graphic of the sun)
"I love you more than…" (Accompanied by a picture of your favorite food or drink).
"You make everything better. Except bacon. Bacon's already great."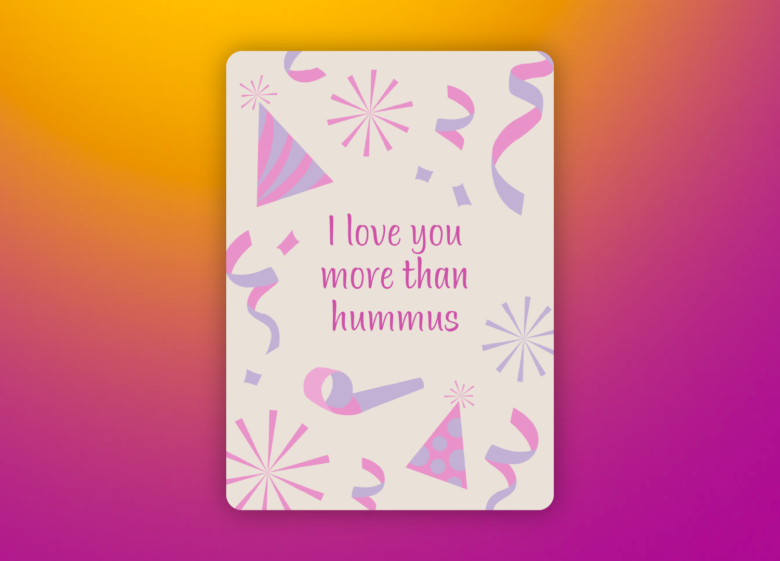 Funny Pictures and Edits
Part of the joy of using a design app to make a custom card is having access to a suite of editing tools. This means that you can apply special effects and filters and make creative crops. Some of the following are sure to result in cards your loved ones will save as keepsakes, almost as if they're birthday gifts themselves.
Crop People into Images:
Make your friends and family members laugh by cropping them into their bucket-list vacation destinations or settings with their favorite celebrities. Don't worry about getting the copy-paste job just right. Sometimes, a little bit of amateur editing makes the joke even better.
Special Effects:
Do a bit of creative editing on your photos using effects that add filters, fix "imperfections", and turn back the biological clock with a lot of "face-tuning".
How to Design a Funny Birthday Card From a Template with Picsart
On the Web
1. Open the Picsart web editor and click on New Project to start.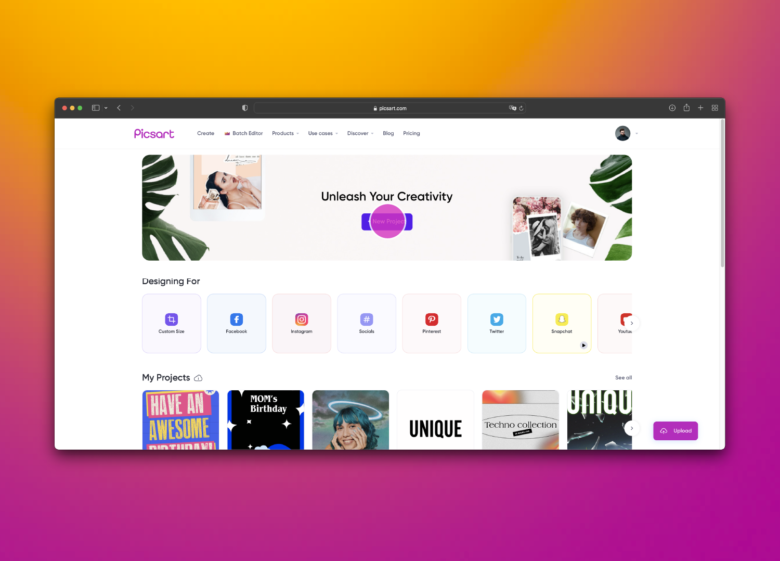 2. From the left-hand panel, scroll down and click on Templates.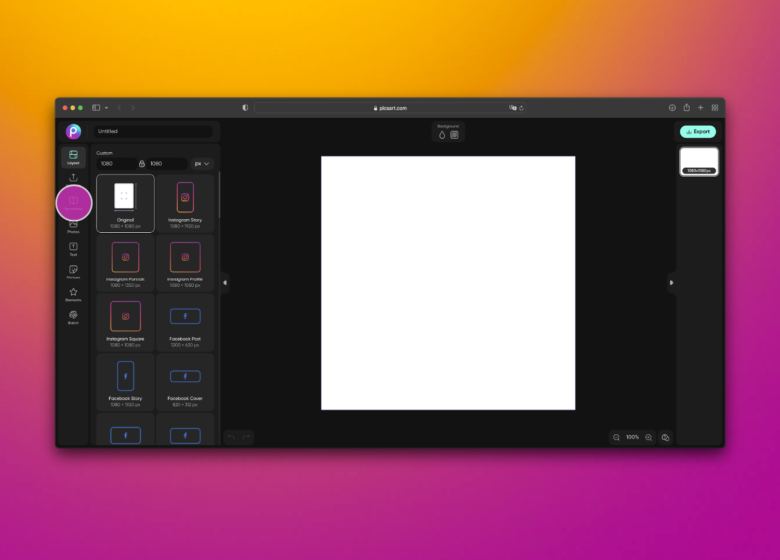 3. In the search bar, type in 'birthday' to browse and select from a range of themed templates.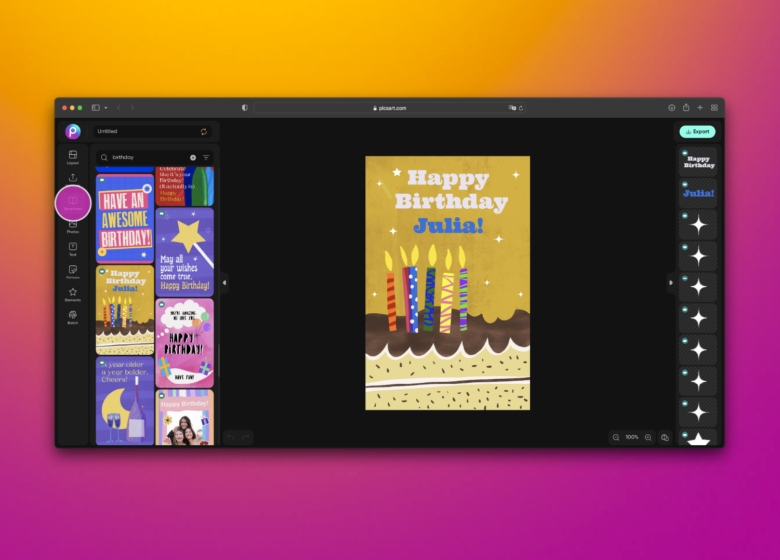 4. Customize your template by adding or removing elements, replacing or editing Photos, Stickers, Shapes, and Text, using the corresponding tools in the menu on the left-hand side of the screen.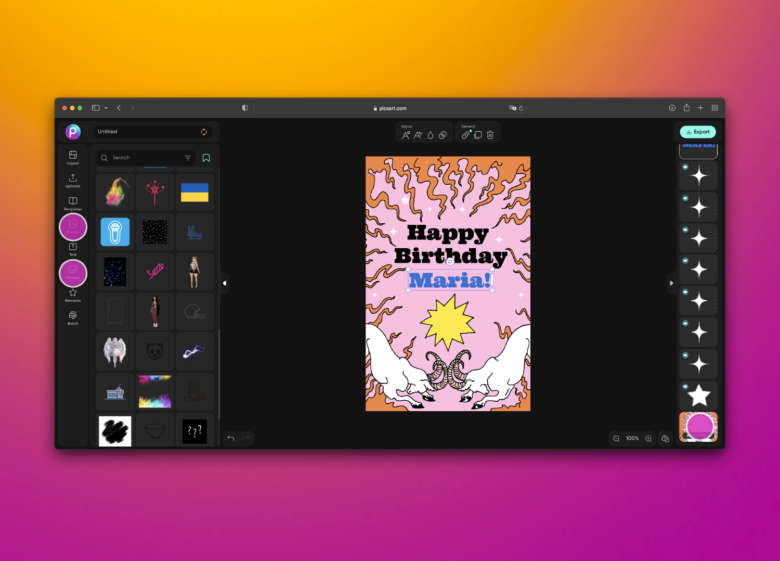 5. When you're happy with your design, download it by clicking Export in the upper right-hand corner of the screen, and prepare to print or send your card off to your loved one on their special day.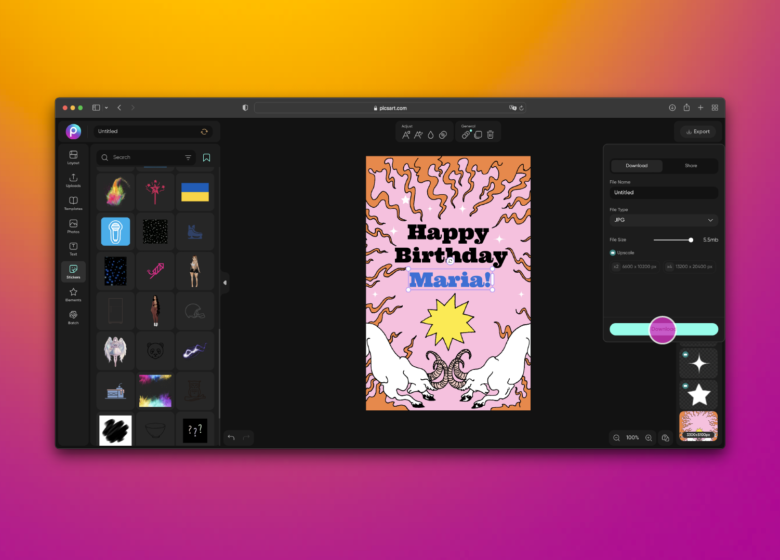 On the App
1. Open the Picsart mobile app, and click on the purple plus sign at the bottom of the screen to start a new design.
2. Scroll down to Templates and then click on All Templates to browse a vast library or search for 'birthday' to view a range of premade options that you can personalize.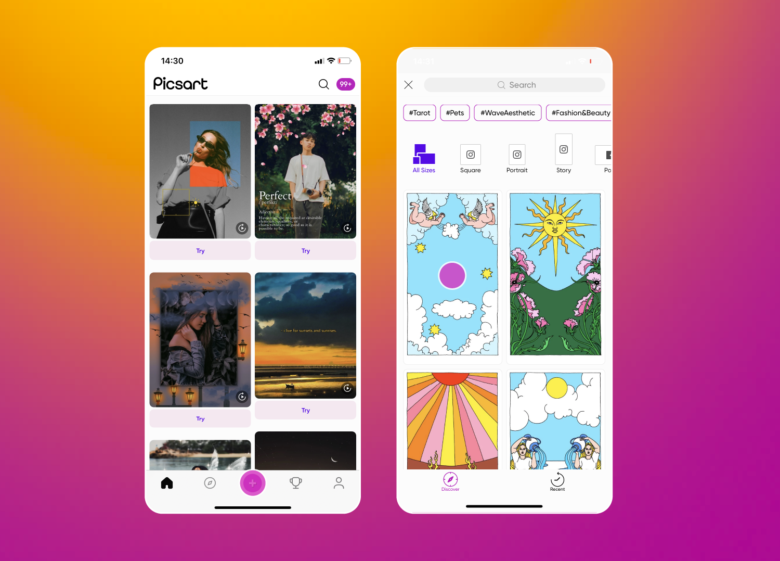 3. With your chosen template loaded, you can now customize virtually every design detail to make it yours. Add or replace Text, Photos, Stickers, and more, using the tools on the bottom panel.
4. When you've finalized your customized design, tap on Next and Save to complete your work.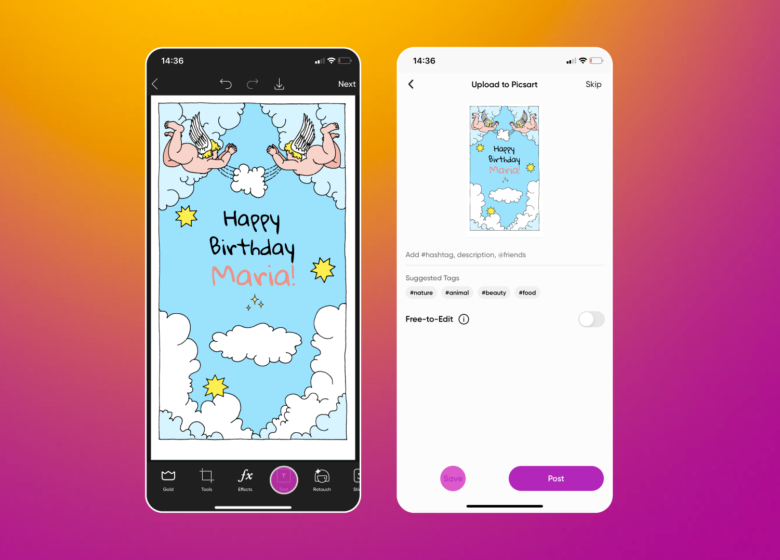 Picsart is a full ecosystem of free-to-use content, powerful tools, and creator inspiration. With a billion downloads and more than 150 million monthly active creators, Picsart is the world's largest creative platform. Picsart has collaborated with major artists and brands like BLACKPINK, Taylor Swift, the Jonas Brothers, Lizzo, Ariana Grande, Jennifer Lopez, One Direction, Sanrio: Hello Kitty, Warner Bros. Entertainment, iHeartMedia, Condé Nast, and more. Download the app or start editing on web today to enhance your photos and videos with thousands of quick and easy editing tools, trendy filters, fun stickers, and brilliant backgrounds. Unleash your creativity and upgrade to Gold for premium perks!