Every day that Halloween approaches, we are more and more captivated by all things eerie and scare-tastic. We're going to show you how to use PicsArt's Stretch Tool to create pictures that will make your hair stand on end.
The Stretch Tool does what it says, letting you stretch, pull and mold your images into new shapes, in this case, shapes of the ghastly kind. Here are some ideas on how to make horrors so real, they'll crawl out of your screen.
Wicked Witch
Set your tool to Warp mode, and pull on your nose and ears. To create points, narrow your brush size and boost the power. For green skin, the Color Replace Effect is in the Colors section of the Effects menu.
Sculpting Horns
The Stretch Tool becomes a sculpting tool with silhouettes, where you don't have to worry about over-distorting details. Set the power to high and stretch out a pair of horns from the shadows.
Melting Clocks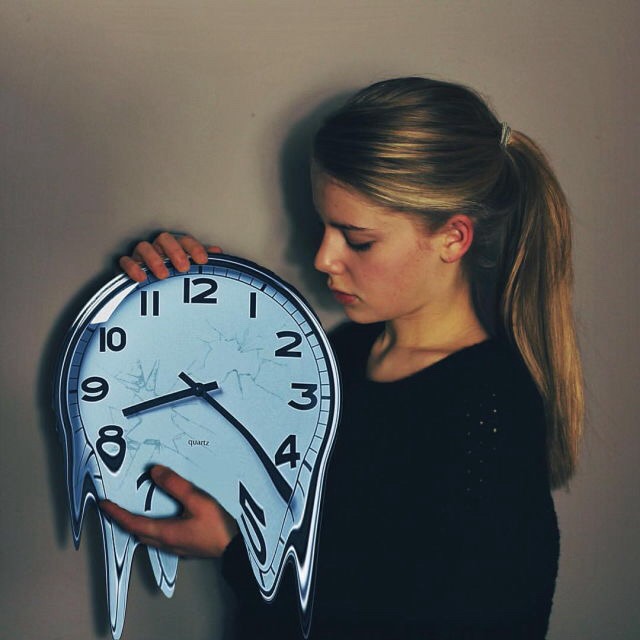 Give Salvador Dali a run for his money, and melt clocks by distorting them with downward strokes of the warp setting.
I'm Melting!
Melt yourself like a wax statue with the same principle, but to really sell your illusion, be careful about what you melt. Preserve fingers touching your face and hair by tapping on the brush icon with the lock when you first open the Stretch Tool. This way, some things will stay put when you start to push and pull.
Caveman
Turn the most handsome model into a caveman by thickening his features. Use the inflate mode on both sides of the forehead for bulging eyebrows, and give his nose and lips the same inflation treatment. Widen the nose by pulling the nostrils left and right. Our Body Wounds clipart pack is the perfect way to scuff him up, and yes, we also have fire stickers in the Fire Flames clipart pack.
Queen of Hearts
Give yourself a Tim Burton-style makeover, and pull up and outward on your forehead and hair. You can use Inflate to round things out, and, with a bit of clipart from the What If pack, soon you'll look like a character right out of "Alice in Wonderland."
Dr. Jekyll and Mr. Hyde
The Stretch Tool doesn't always have to be used to carefully. Anything long and slender is an invitation to create wild distortions. The fingers have been bent and pulled to look like an excruciating transformation. Goodbye Dr. Jekyll, hello Mr. Hyde.
Alien Eyes
Aliens are one of the easiest and most satisfying transformations to make. Inflate the eyes and squeeze the area of the lower face that includes the mouth, nose and chin. The result becomes bulging alien peepers, with a creepy and narrow lower face.
The Stretch Tool shines around Halloween because their are so many creative possibilities… and we want to see them all! Share your devilish distortions on PicsArt photo editor with #StretchMonster. Or, check out our Halloween Clipart, Pumpkin Clipart and Ghost Clipart to create even more spooky edits!