The rising prominence of glitch artwork is forever changing how we perceive errors in our photos. While common sense might tell you that you don't want your image to look like it's failing to load, once you start creating your own glitch artwork, you'll likely want to apply this edgy aesthetic to a lot of your other creatives.
If you've ever wondered how to make vaporwave art or have seen glitch art photos on Instagram stories, then you've come to the right place! We've pulled together some of the best glitch artwork examples and tutorials into this actionable guide. After reading it, you'll feel like a glitch design editing pro. 
What Is a Glitch Effect?
The glitch effect is an aesthetic movement originating from digital and analog technology errors. It aims to imitate the aesthetic of flaws and imperfections often found in older VHS recordings and other electronic errors. A few decades ago, glitches were viewed as undesirable mistakes that needed to be eliminated. Nowadays, creative design has evolved to embrace glitch effects as a sought-after artistic statement, often lending fun splashes of color to graphic designs or an air of nostalgia.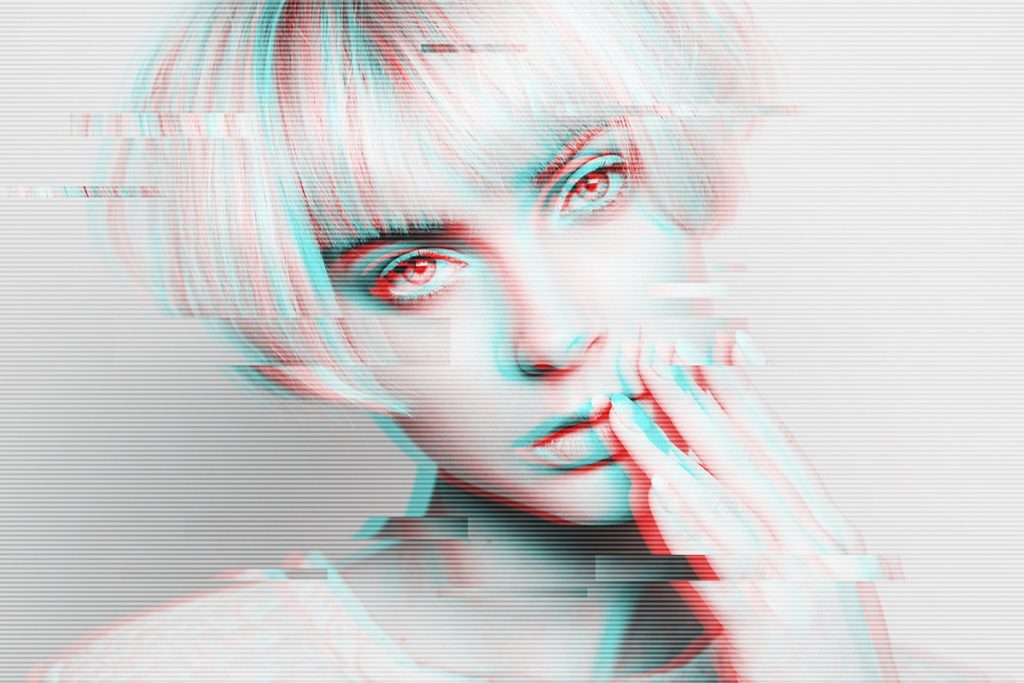 In technical terms, a glitch is an unexpected consequence of a malfunction often found in media such as video games, video recordings, and image files. While at first the glitch effect was popularized in music, over time it also appeared in the visual arts sphere. Starting around the 1980s, glitch art became a popular movement within the graphic design community.
The glitch art movement has a rebellious nature as it aims to show that even the errors outside of our control can be a beautiful addition to images. Slowly but surely, this technocentric art movement gained popularity among the general public. Nowadays, it's hard to find a social filter, party invite, or a concert poster that doesn't use this effect. From aesthetic gifs to streetwear photos, the glitch effect is an absolute hit and we're here for it!
Glitch Artwork vs Vaporwave Art 
Glitch artwork and vaporwave art often get compared to one another. In order to better understand their differences and learn how to make vaporwave art vs glitch art, let's take a closer look at each one of them.
Vaporwave art in its origin is a music genre that branched out from electronic music. Over time it developed its own iconic visual style that slowly turned into a meme on the internet. Nowadays, the visual style of vaporwave art is almost more popular than the music genre it originated from. The common aesthetic elements of vaporwave art include greek statues, pastel color palettes, and checkered backgrounds.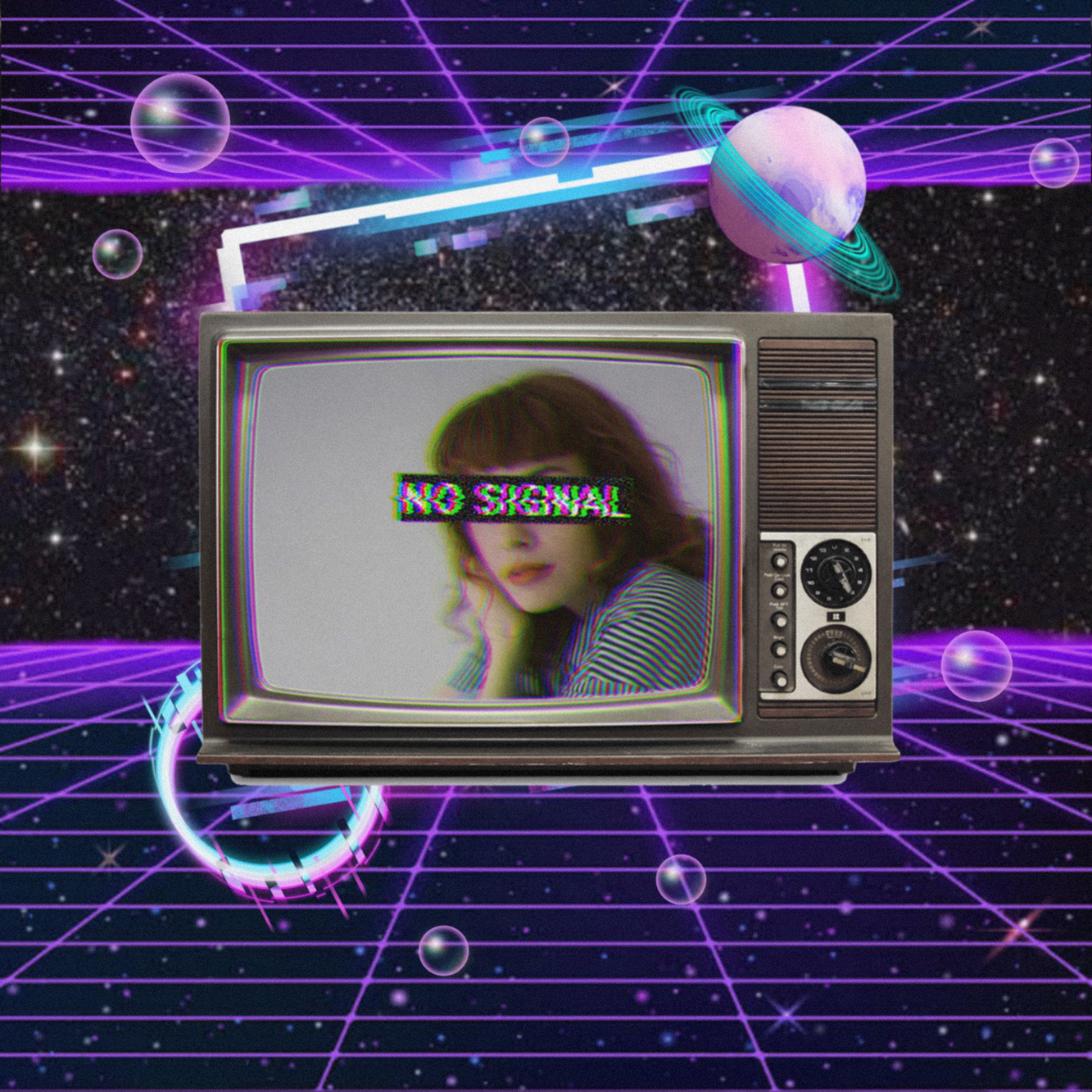 via PicsArt
Glitch art on the other hand focuses on the accidental imperfections created by electronic devices. Nowadays, artists have more control in creating glitch artwork. Unlike vaporwave, glitch designs don't have a specific color palette or particular visual elements. Glitch art is overall more versatile and can be applied to images in different ways based on the preferences of the editor.
via PicsArt
Despite their differences, these two art genres are often combined in designs. If you scroll through vaporwave images in PicsArt and online, you'll notice just how often the glitch aesthetic is used in them.
Cool Glitch Design Ideas
With the ever-increasing popularity of cyberpunk and vaporwave aesthetics, you'll find thousands of amazing glitch designs online. Before creating your own amazing glitch design, let's check out some inspirational glitch artwork made by other PicsArt creators. 
Here are some of our favorite glitch design ideas. Get inspired and then go ahead and try them out on your own images. If you like what you see, you can easily apply these editing steps to your own photo in just a few taps. These are all PicsArt Replays, so simply open them in PicsArt and tap on the Replay on My Image button. You'll be able to automatically recreate the individual editing steps on your own image to get the perfect glitch design in seconds.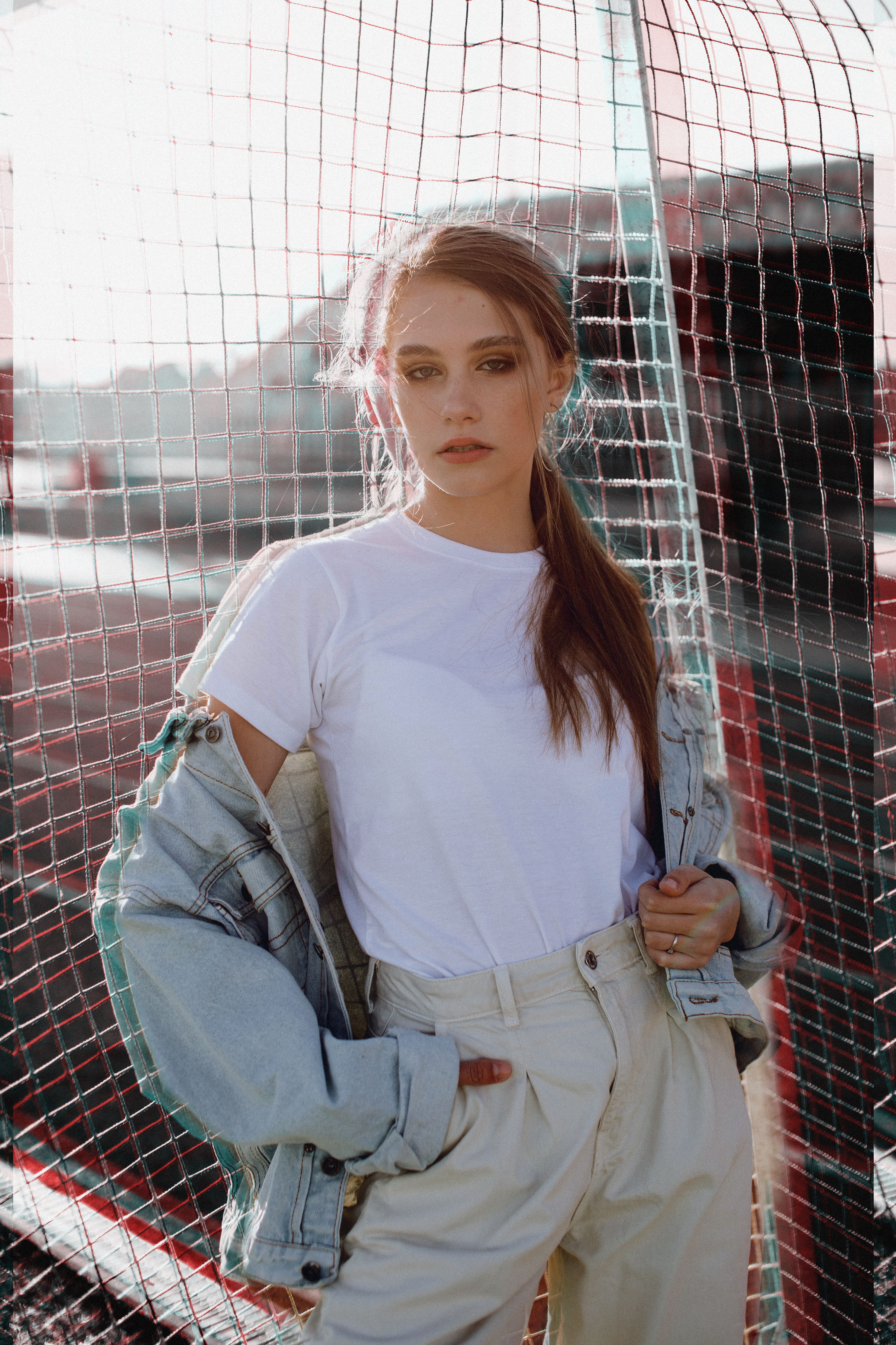 via PicsArt
Let's start things off with a simple aesthetic glitch design that will compliment any type of a photo. Without changing the original image too much, the glitch effect adds a decisive edge to this image. These types of designs are especially perfect for streetwear or #OOTD photos.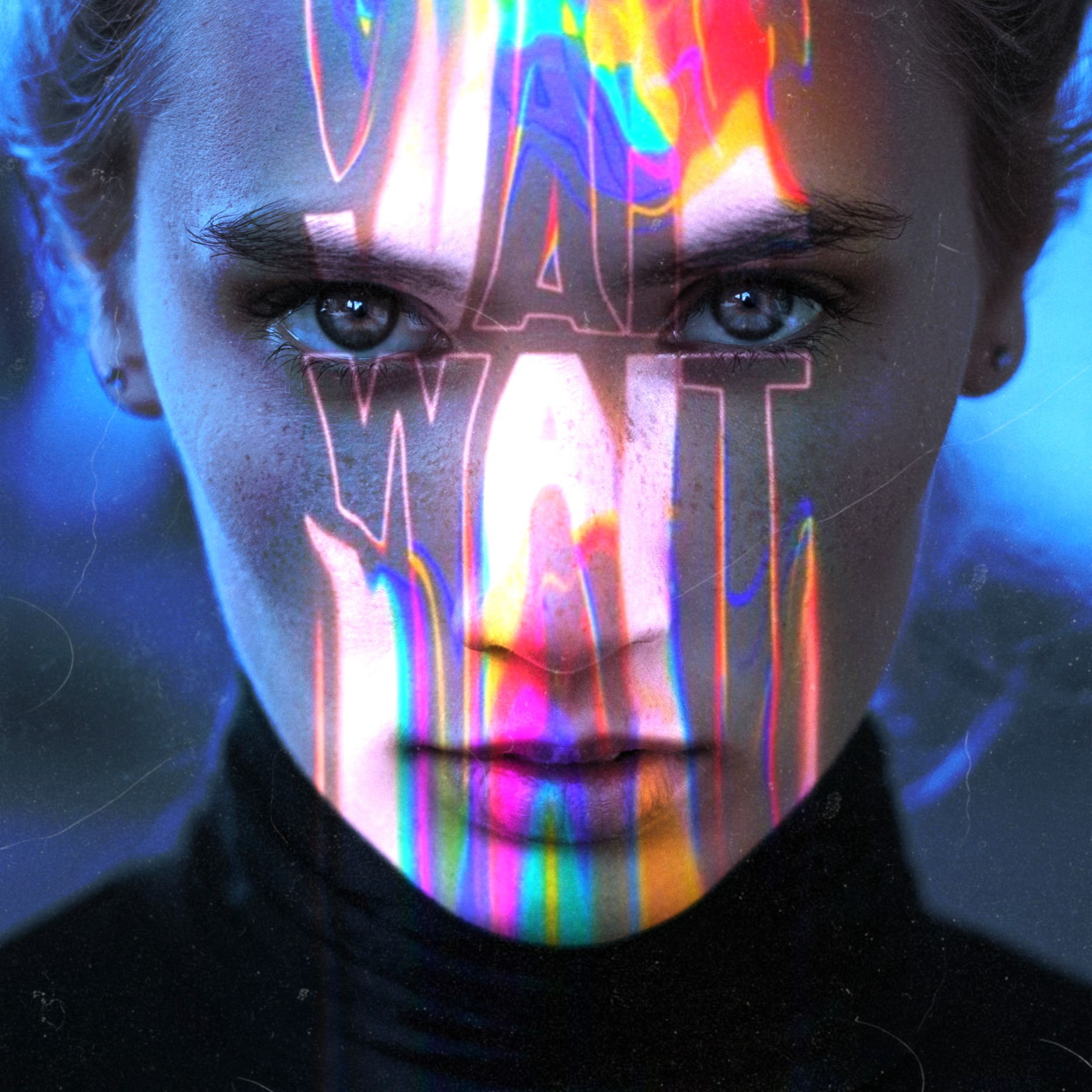 via PicsArt
Is there anything more popular at the moment than the cyberpunk aesthetic? This surreal glitch design makes it seem like the model is in a dystopian cyberpunk world. The neon sign reflection combined with a glitch effect on the photo will make anyone feel like the main character in a video game.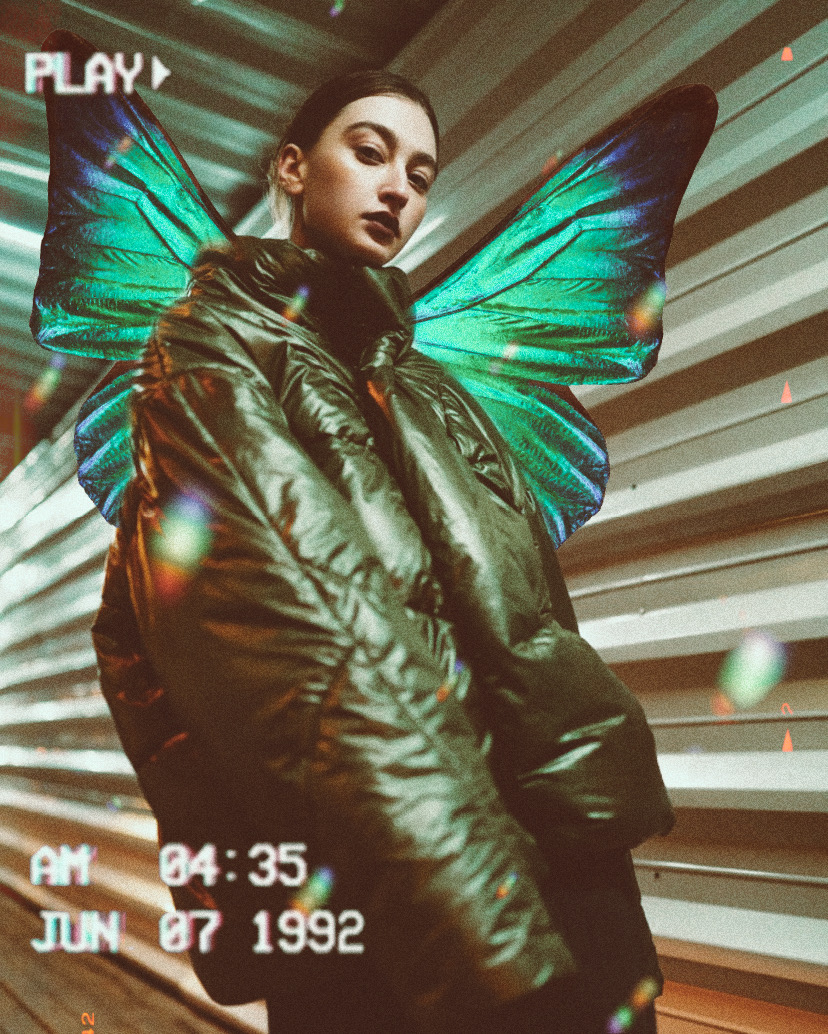 via PicsArt
Glitch art fits well simultaneously with both futuristic designs and old-school aesthetics, but 1990s VHS designs definitely deserve their own category here. This glitch design captures all the small details of a VHS recording still frame, but also adds an ethereal element through the addition of butterfly wings. If you want a hint of grunge and a little out of the ordinary, you should try this design on your own photos.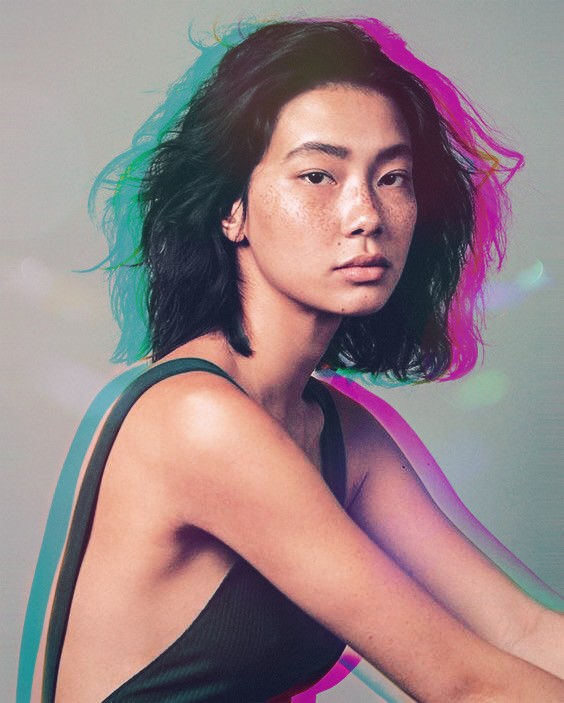 via PicsArt
This glitch artwork looks like it's straight off the cover of a fashion magazine. The chromatic glitch effect outlining the model helps to focus all the attention on her without any additional unnecessary elements.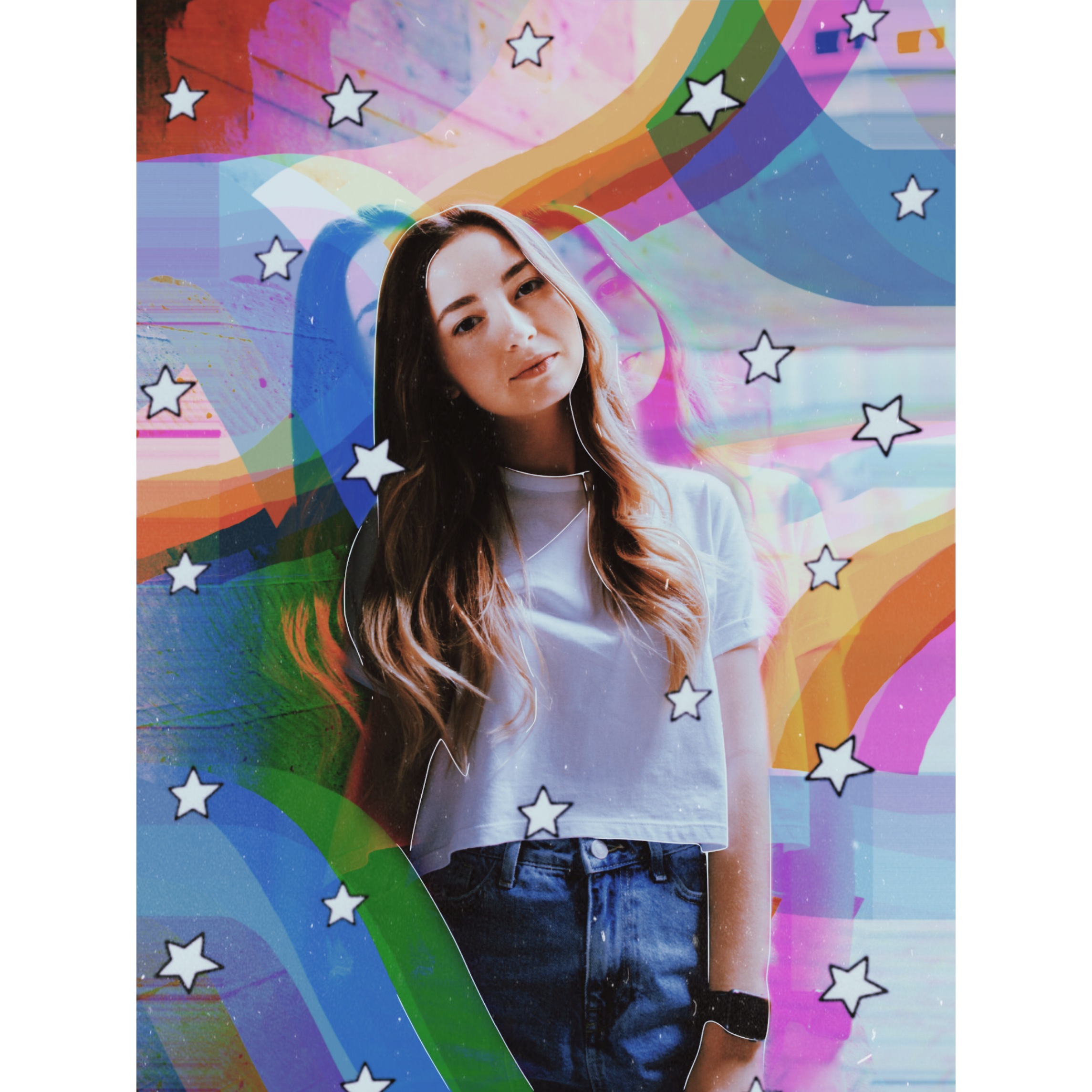 via PicsArt
If you want something fun and colorful for your glitch design then this glitch artwork is the perfect inspo for you. The combination of all the colorful stickers along with the chromatic glitch effect creates a retro design that is to die for! This design will make an absolutely stunning addition to your feed.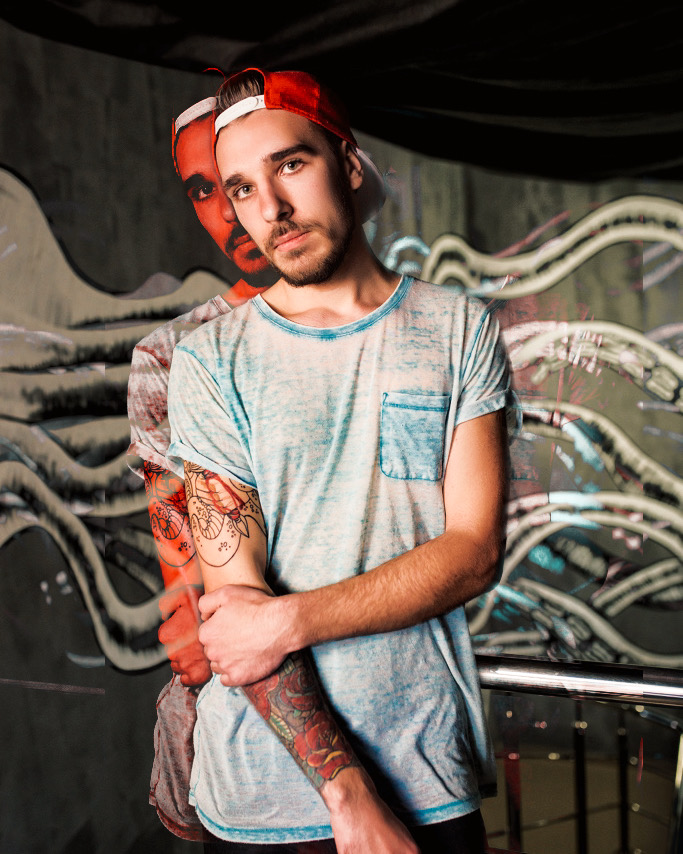 via PicsArt
Double the fun with this amazing glitch design idea! By cloning the subject of the image and applying the glitch effect to the cloned part, you can easily create enticing images. This is a great way to stand out among the crowd with minimal effort.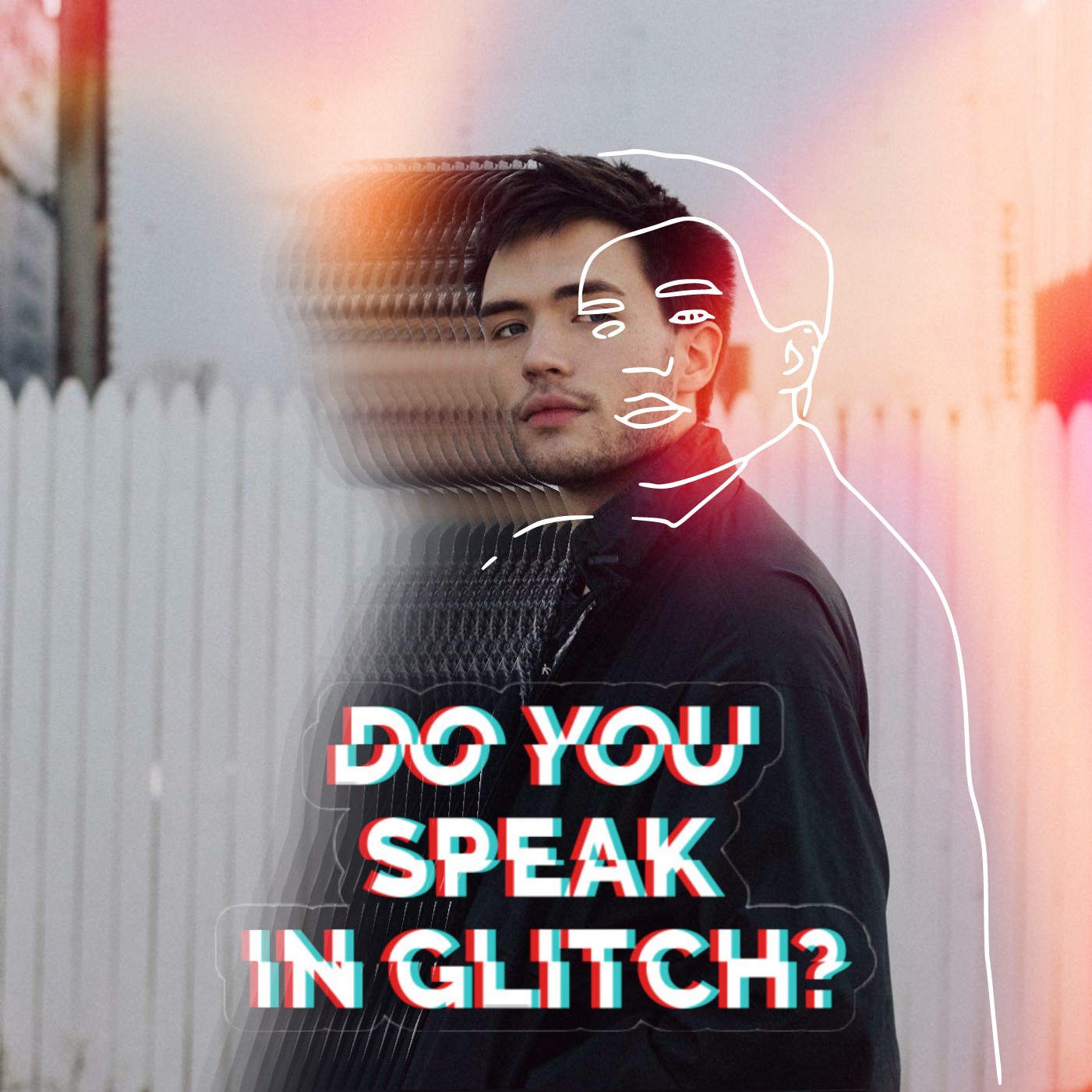 via PicsArt
Glitch effect often gives a sense of movement to static images; however, when it's combined with an action shot, this illusion is amplified to maximum levels. While the person in this Replay is standing still, the glitch effect works well on images capturing movement. Try running, swinging or even dancing in your image, then apply the glitch art filter to make your image seem caught in motion.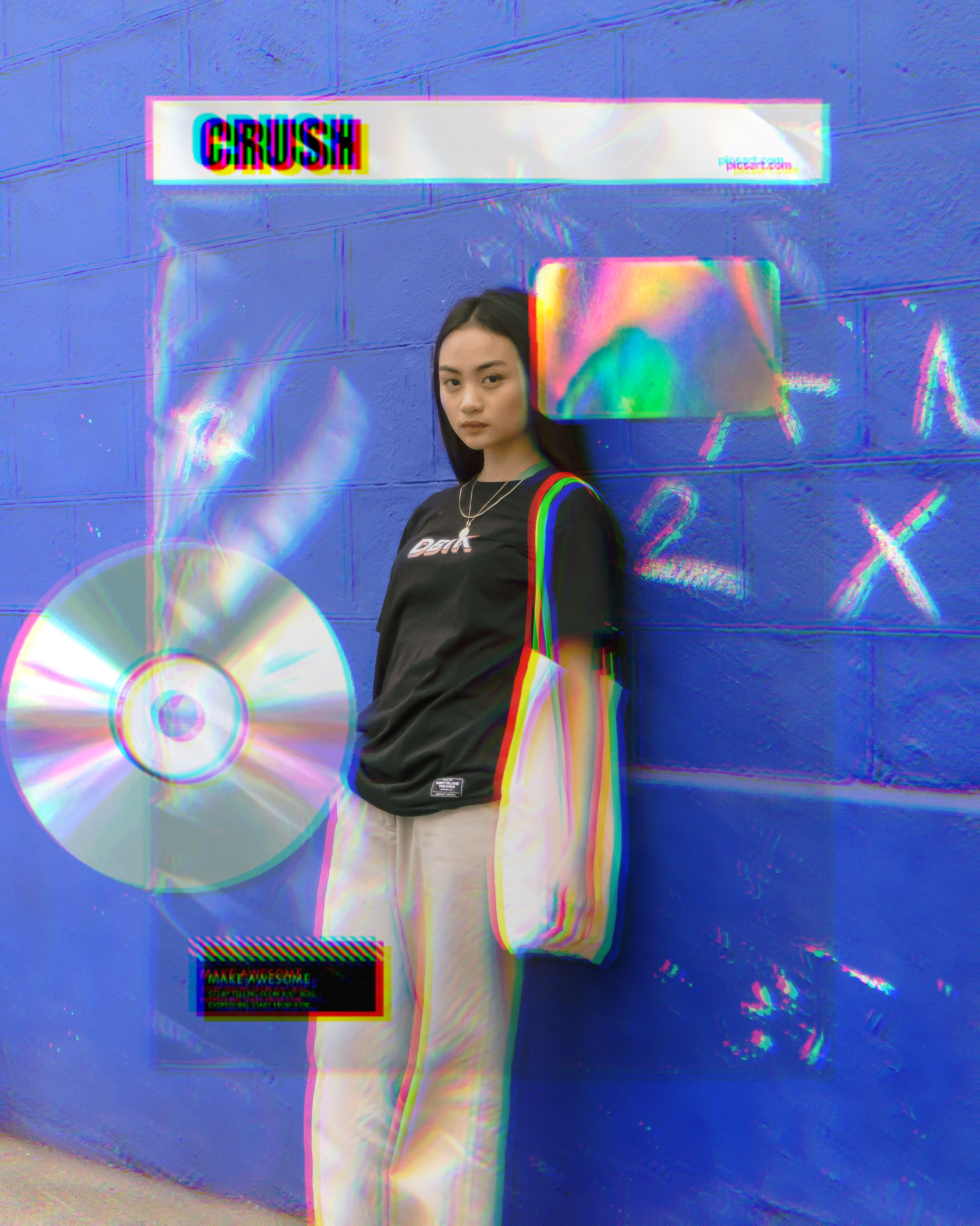 via PicsArt
The glitch effect makes a perfect addition to album cover designs. It's said that you shouldn't judge a book by its cover, but when it comes to albums (or even podcast cover images), the cover design is just as much part of the experience as the music itself. It's very common for glitch artists to be commissioned to make album covers.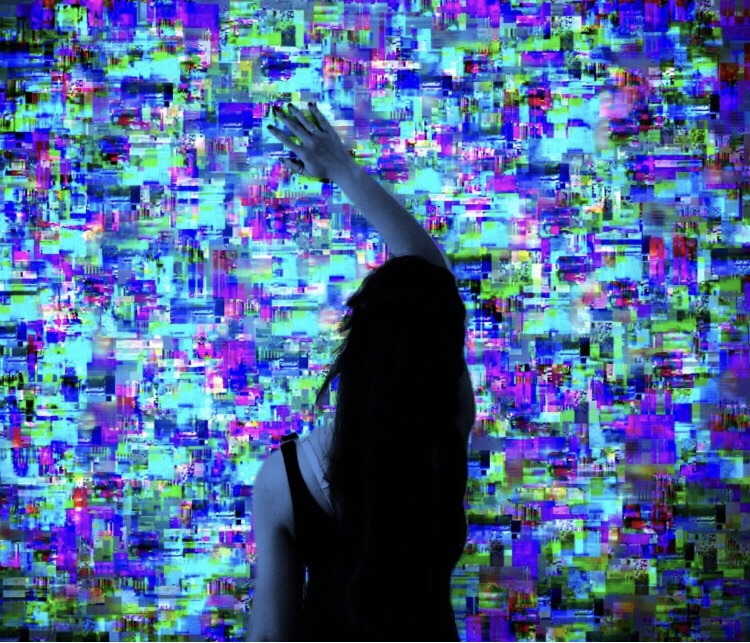 via PicsArt
If you're looking for something more edgy and unique, then this design is the perfect addition to your feed. The use of the glitch effect is much heavier than in the other design ideas listed above. This helps to give your image an eerie yet futuristic vibe. And the best part is that you don't even need to leave your room in order to create a similar image of your own. Simply search for glitch backgrounds in PicsArt and change the background of your image.
How Do You Make Digital Glitch Art?
Whether it's colorful digital collages or sketches of neon-lit streets, we can't get enough of all the awesome vaporwave and glitch art that's sweeping the digital creative landscape. Typically highlighting blue, pink and purple hues, the vaporwave aesthetic features images from the 80s and 90s mixed with glitch effects and hints of new-age technology. 
As far as the internet is concerned, this retro-yet-modern visual art style is here to stay, and we're obsessed. Here's how you can use PicsArt's unique filters and effects to create your very own glitch aesthetic photo edit.
Download PicsArt

photo editor and collage maker for

iOS

,

Android

, or

Windows

. 

Open your photo in the photo editor. Tap on Effects > Colors > Colorize. Tap on the Colorize icon again to open the settings menu and adjust the hue to 212. 

Adjust the blending mode to Color Burn, then tap on the eraser at the top of the screen. Erase the photo effect on the subject. Tap the checkmark to continue.

Tap the double square icon next to the eraser in the top toolbar to apply the photo effect. Tap on the Artistic tab and select the Watercolor effect. Adjust the lines to 23, the brightness to 50, the contrast to 50 and the fade to 0. Tap on the eraser icon and erase the effect over the subject. Tap "Apply" to continue.

Tap on the Sticker icon and search for "glitch." Tap a glitch sticker you like to add it to your photo. 

Adjust the size of the sticker so it covers the entire photo. Change the blending mode to Soft Light. 

Tap on the eraser icon and adjust the size to 40 and the Hardness to 100. Using your finger or stylus, draw two horizontal stripes across your photo at the mid-top and mid-bottom. Adjust the size of the eraser to 15, and erase any part of the glitch sticker that is covering your subject. Tap "Apply" to continue.

Tap on Effects > Color > Color Replace and select part of your background photo to replace the color. Adjust the Replace Hue to 284, the Min Hue to 8, and the Max Hue to 5. Tap "Apply" to save.

Save your photo and share it on PicsArt with the hashtag #vaporwave.
PicsArt all-in-one Photo and Video Editor, Collage, and Sticker Maker is the world's largest creative platform with over 150 million monthly active creators and influencers. PicsArt has collaborated with major artists and brands like The Jonas Brothers, Gwen Stefani, Maroon 5, Lizzo, Meghan Trainor, One Direction, MONSTA X, Warner Bros. Entertainment, iHeartMedia, Condé Nast, and more. Download the app today to level-up your photos and videos with thousands of quick & easy editing tools, trendy filters, fun stickers, and brilliant backgrounds. Unleash your creativity with PicsArt and upgrade to Gold for awesome premium perks!