Have you ever taken a photo only to wish you could change the background? Whether you're trying to spotlight products for your online shop or want to create a fun social media post, there are plenty of reasons to change the background of an image. But if you're here, you're probably wondering – how can I change the background of a picture? We'll show you how.
While you might be intimidated by the idea of removing the background of a photo, there are easy and intuitive ways to edit pictures digitally. In this post, we will teach you exactly how you can not only remove background images, but also create a variety of new backgrounds with a range of fun colors, shapes, patterns, and more. 
How to easily change a photo background online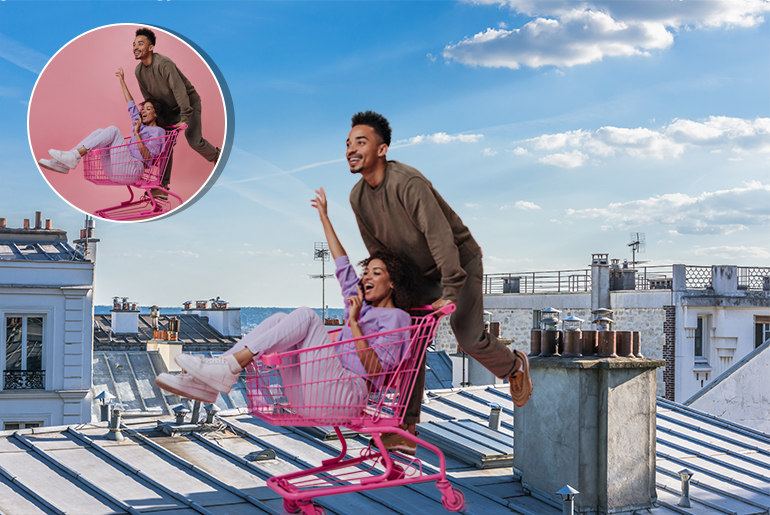 One of the easiest ways to change the background of photos online is to use the Picsart background changer tool. Here's how:
1) Open the Picsart background changer tool and choose an image from your photo library or select an image from the free to edit photo library. 
2) At this point, you will have a few tools to select from to effectively remove the background from your image. 
Eraser tool:

This tool is as simple as it sounds and found in the toolbar above your image in the web editor. When you use the eraser tool on a photo, it removes any part of the image that you pass over. This is perfect for removing very specific portions of a background. What's great is that you can adjust the size, opacity, and hardness of the eraser.
With the size adjustment, you're able to control the width of your eraser. With the opacity adjustment, you can decide whether you want to remove the background entirely, or simply make it less visible. Remember, the higher your opacity, the more background the eraser will remove. Last but not least, with the hardness adjustment, you can control how harsh the outline of your eraser is. If you decrease hardness, your eraser strokes will have soft edges that seamlessly blend in with what's left of the image. 
Brush tool:

What happens if you're using the Eraser tool and accidentally remove part of the photo that you wanted to keep? The Brush tool will restore anything that has been erased. You can also apply the same adjustments (size, opacity, hardness) to the Brush tool that you apply to the Eraser. It's best to use the Brush and Eraser tools together to perfectly outline the part of your photo that you want to keep.

Remove Background tool:

The Eraser and Brush tools allow for traditional or more in the weeds DIY photo editing. But, if you're looking for a quick background change edit, try the Remove Background tool. This AI-powered tool automatically detects and removes the background from any photo, giving you a transparent background. Just look for Remove BG in the toolbar above your image. You can always use the Eraser tool to remove get any fine details afterwards.  
3) Okay, so you've removed the background from your photo. You can either save the image as a custom Sticker or add a new background to the photo. To add a new photo background, click on Photo in the left panel toolbar and search from the vast library of stock images or upload your own.
Pro tip: Whatever you choose to use as your background, make sure that your original subject is placed in front of all the layers. You can adjust this by right-clicking on the subject and selecting Bring to Front, or by adjusting the order of the layers in the right sidebar on the Editor. 
4) Once you've added a new background to your photo, consider adding a light filter to help tie the two images together. This adds a sense of cohesion to an edited photo. Just click on Effects in the toolbar above your image and select your favorite filter.
5) Click on Export to download your new image. 

How to change photo backgrounds on the Picsart app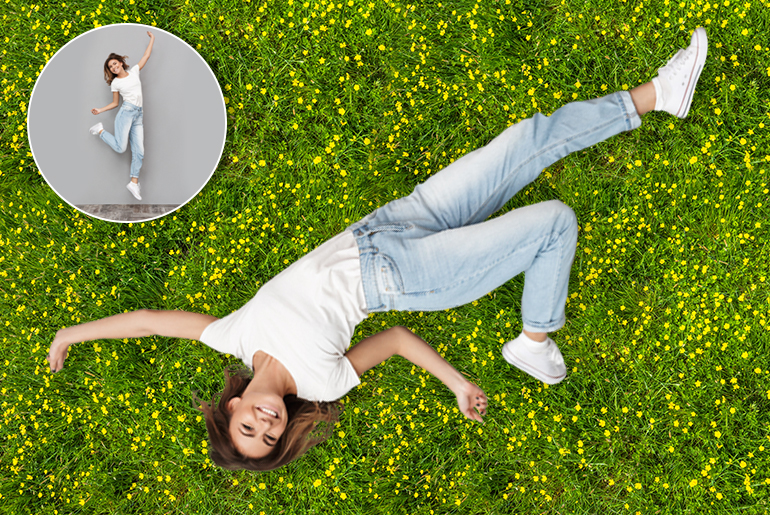 Here's how to change the background of a picture if you're editing on a mobile device.
1) Open the Picsart app and tap the plus sign (+) at the bottom of the screen to start a new edit.
2) Select a photo from your camera roll or pick a stock image from the free to edit library.
3) Scroll across the Editor toolbar and tap on the Remove BG icon. This AI-powered photo editing tool will instantly remove the background of your image, leaving you with a transparent background. If there's anything you'd like to clean up, the Eraser tool (similar to the Web Editor) can be found in the toolbar above your canvas. 
4) Now it's time to add a new background to your transparent image with the image editing tools in the bottom toolbar. Tap on Color to add a plain color background or fun gradient or Background to select from a variety of preset background ideas. Tap the up arrow to search among more Free to Edit backgrounds. You can also access photos from your camera roll as the new background by tapping on the downward pointing carrot next to Free to Edit. 
5) Now that your new background has been applied to the original image, you can resize, rotate, or blur it using the slider tool. 
6) When done, tap Apply to save your changes, then Next and Save or Post your photo to the Picsart community.
Fun ideas for changing the background of iPhone photos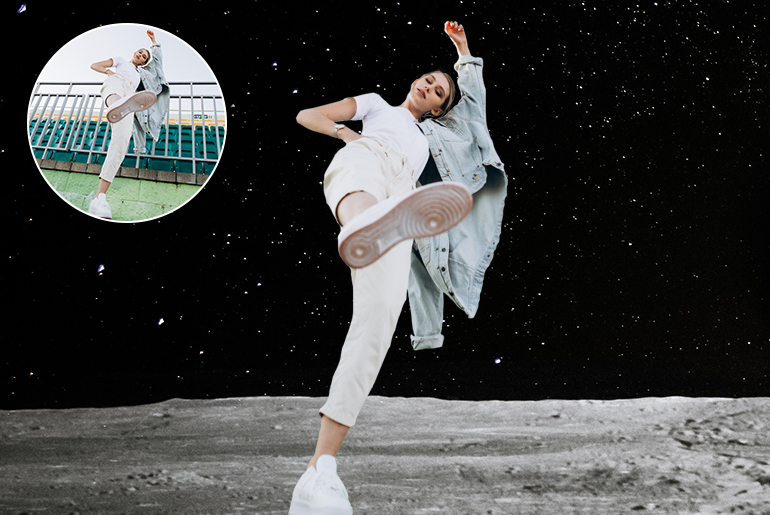 Now that you know how to remove backgrounds from photos using Picsart, let's talk about some practical ways to apply your photo background change skills.
Add bold colors: If you're posting a product to a website, uploading a new headshot to LinkedIn, or simply sharing a portrait on your social media accounts, adding a color background to your image can be a great way to insert a little personality into your digital presence. Don't be afraid to be a little bold and cheerful with your color palette.
Play with pattern: Another way to add a little interest and texture to your images is to experiment with pattern. Whether you want add a floral pattern or a tiger stripe to your Discord profile picture, playing with pattern is a great way to convey story and mood.
Get artsy:

A little creativity can go a long way. Now that you've mastered the art of creating stickers and replacing the background on an image, try making a collage out of several stickers or playing with brushes and effects. The digital photo editing world offers so much flexibility, you should always feel free to get a little whimsical.

Don't be afraid of humor:

Everyone loves a good Leaning Tower of Pisa photo, or that one where it looks like your friend is standing on your shoulder. And changing the background of a picture is no exception to this. 

Say something special:

They say a picture is worth a thousand words, but sometimes you just need the words. A great way to take your photos to the next level is by applying typography as a photo background.
There you have it, some easy ways to replace the background of a picture. We can't wait to see what you come up with!
Picsart is a photo and video editing platform and creative community. A top 20 most downloaded app worldwide with over 150 million monthly active users, its AI-powered tools enable creators of all levels to design, edit, draw, and share content anywhere. The platform has amassed one of the largest open-source content collections in the world, including photos, stickers, backgrounds, templates, and more. Used by consumers, marketers, content creators and businesses, Picsart tools fulfill both personal and professional design needs. Picsart has collaborated with major artists and brands like BLACKPINK, Taylor Swift, Lizzo, Ariana Grande, Warner Bros. Entertainment, iHeartMedia, Condé Nast, and more. Download the app or start editing on web today, and upgrade to Gold for premium perks!