Sending a last-minute presentation to someone important? Need to print something quickly without sacrificing image quality? We've all been there before. No matter what your editing needs are, we have some good news. With Quicktools by Picsart, you can easily convert JPG to PDF in seconds. It's a straightforward process that only requires a few clicks, and you don't need expensive design tools to get the job done right. Let's dive right in.
What are JPG and PDF files?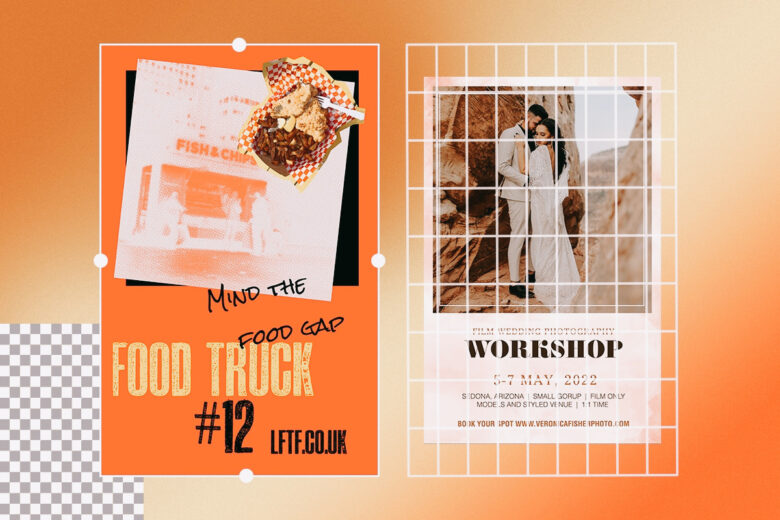 Let's start with JPG files. Joint Photographic Experts Group (JPEG/JPG) files are one of the world's most widely used image file formats, and for good reason. They can easily compress details into shareable file sizes, making them one of the best options to store and share images. JPG files are a great choice for social media, blog, and email content.
Meanwhile, a Portable Document Format (PDF) can display a wide range of document types. In fact, you've probably downloaded PDFs from a few different websites without even realizing it. It's a popular format for bank statements, contracts, presentations, tax forms, and other files.
So, why do so many companies use PDF files? It's simple: PDF is a universal format. Accordingly, the content of a PDF file will always display consistently across devices. Whether you're using a laptop, tablet, or smartphone, PDF files keep your page components intact without sacrificing image quality.
What's the difference between JPG and PDF files?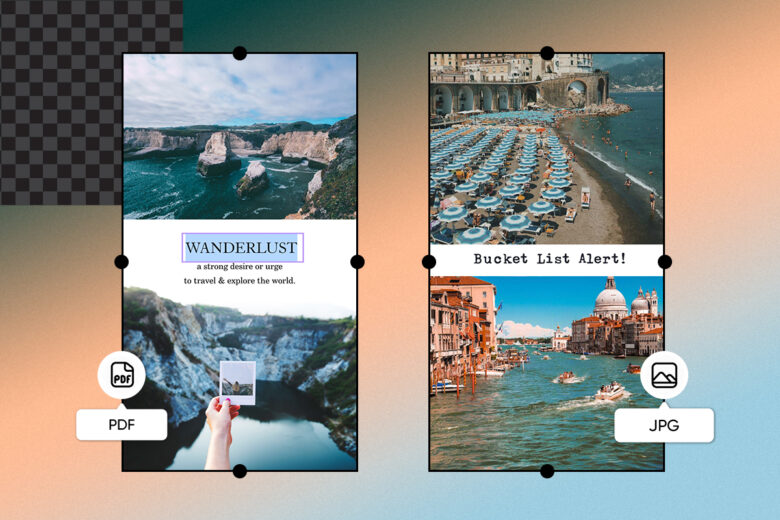 From JPG and PNG to GIF and PDF, navigating different file types can feel overwhelming. Maybe you don't know which file type is the best choice for your project or you're just trying to maximize the quality of a school presentation.
Whether you're a seasoned graphic designer or small business owner, we've got you covered. Here's how to sort out the differences between JPG and PDF files, so that you can beat the file-type-alphabet-soup headache.
Compression
While JPGs are primarily used for images, PDFs can handle all types of rich media. Because JPGs compress image data, their file sizes are relatively small, so they're a convenient way to share digital images online. With that said, it's important to remember that JPGs use lossy compression. Each time you save a JPG file, you lose a little bit of image data, which can lower the image quality.
Customization
The main advantage of PDFs? They keep your layout consistent while leaving other parts of the document open to editing. On the other hand, JPGs can't be separated into components since they compress your images into a single layer.
Storage
JPG files are relatively small, which means they take up less space on your hard drive, smartphone, or cloud storage. Despite their bigger size, PDF files are a more reliable file type to store documents and images on. You can easily upload PDFs via the cloud from your computer, smartphone, or tablet without sacrificing image quality or affecting your file format.
Why would you convert JPG to PDF files?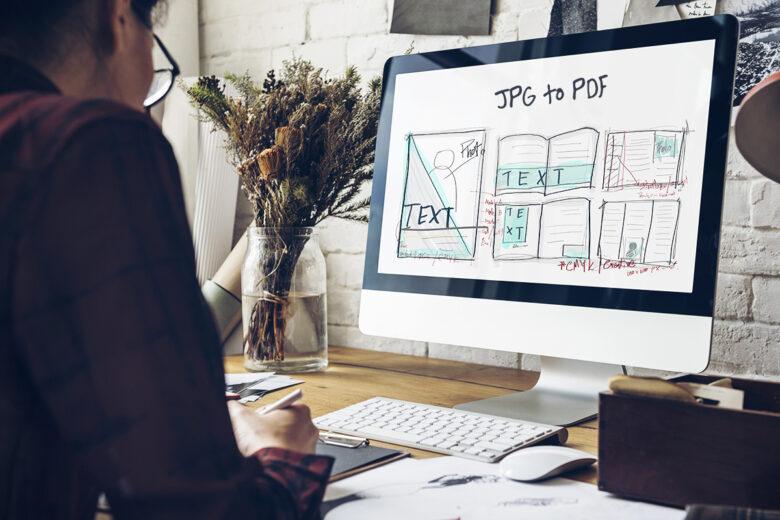 Sure, you can use both JPG or PDF files to share data, but there are good reasons why you'd choose one file type over another. Here are some examples of why you might convert JPG to PDF online.
Retain image quality
In general, PDFs are higher quality than JPGs. As already discussed, JPGs compress images, which can take a toll on image quality. On the other hand, when you save digital images as PDFs, you'll retain their quality, even if you're printing a larger file. So, if you have a JPG and need to convert it into a more printer-friendly file, PDF is a great file type to choose.
Sharing rich media
Most PDFs are larger than JPGs because they can share rich media (think: audio, video, animations). Meanwhile, JPG files typically contain a single image.
Printing files
If you have a JPG and need to convert it into a printer-friendly file, PDF is a great option that won't sacrifice your quality or format. Conversely, if you want to convert scanned pages into a more readable format, you might want to convert image files to PDFs.
What's the easiest way to convert JPGs to PDFs?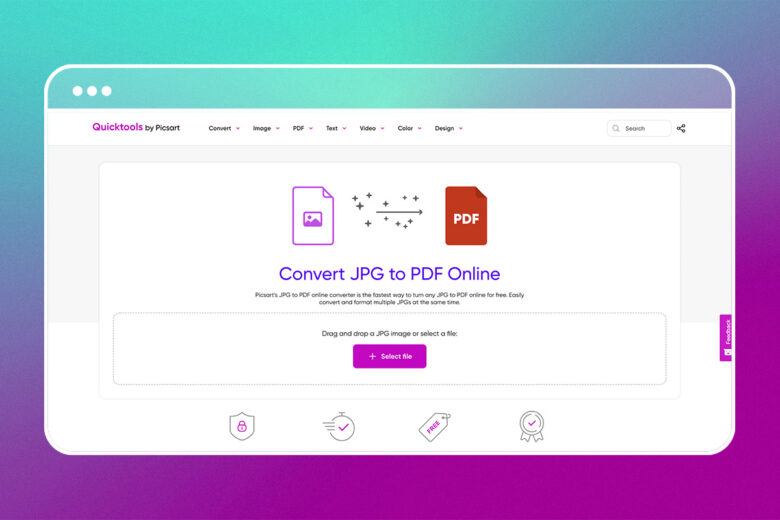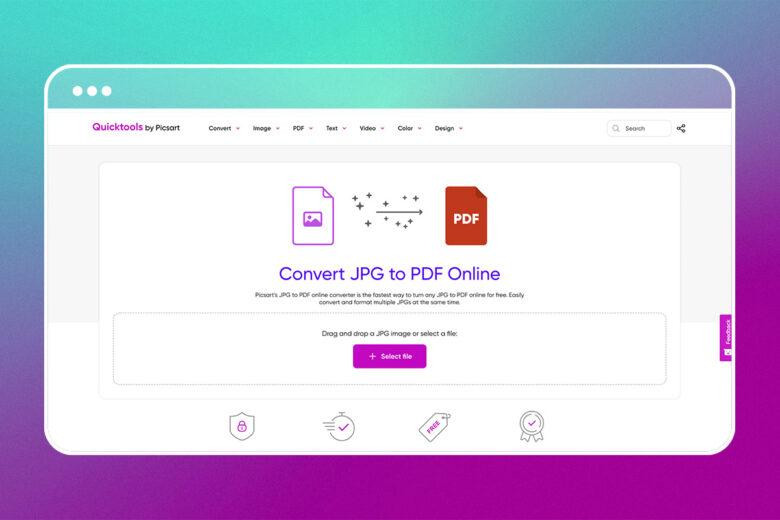 Searching for user-friendly editing tools to convert your files? Check out Quicktools by Picsart. You don't need to download any third-party editing software to get started, and it only takes a few seconds to convert your JPGs into PDFs (even if you're converting multiple files).
Quicktools, a set of free image editing tools, can quickly solve your image editing needs. Whether you're converting files for last-minute assignments or prepping a marketing report, you won't have to spend hours downloading third-party editing tools just to convert your file.
When you use Picsart for your image editing needs, we'll store your file securely before removing it after conversion, so you won't have to worry about your file's safety. Plus, our free JPG to PDF converter requires no sign-up or payment to use. Just upload your JPG file to quickly convert it into a PDF, it's that easy.
Need to put the finishing touches on your PDF file? Quicktools also features easy-to-use PDF tools to convert PDF files to other file types, merge PDF files, or extract pages from PDF files. Win-win!
How to change JPG to PDF using Quicktools by Picsart
When you use Quicktools to convert JPG to PDF online, you don't have to worry about learning curves or waiting time. All you need to do is upload your file, choose your settings, and download your PDF.
Sounds simple enough, right? Here's how to convert JPG to PDF files for free using Quicktools.
On the web:
1. Open the Quicktools JPG to PDF Converter.
2. Drag and drop a JPG image into the dotted box. Or, click Select File choose a JPG image from your photo library.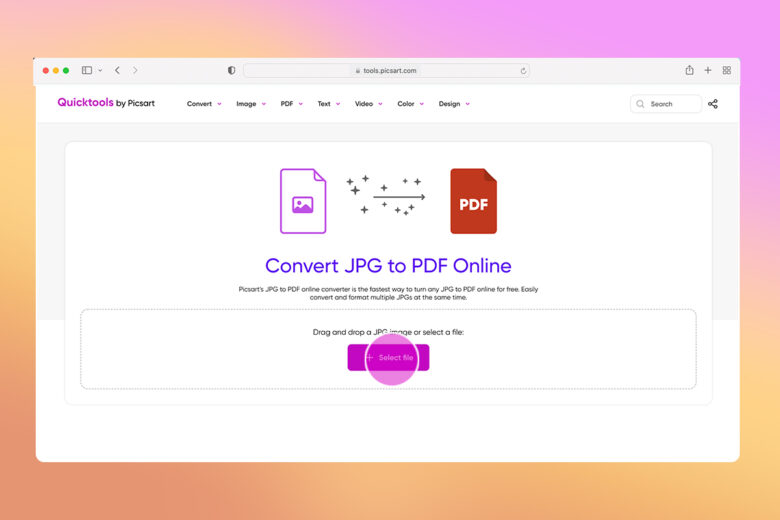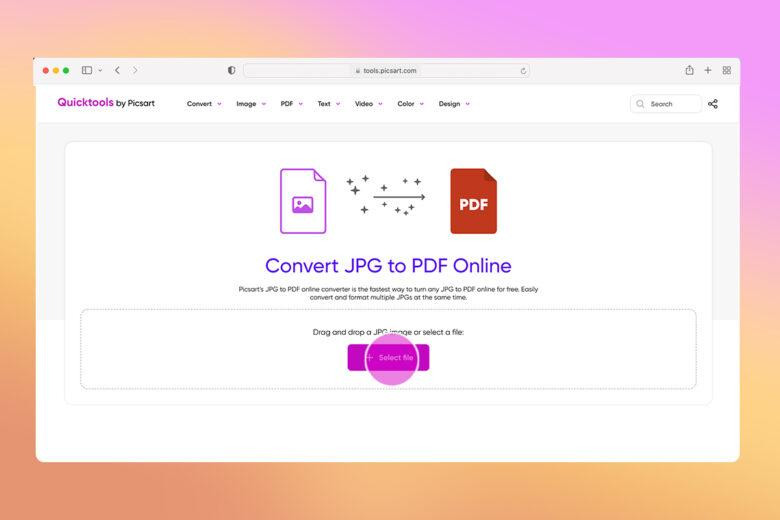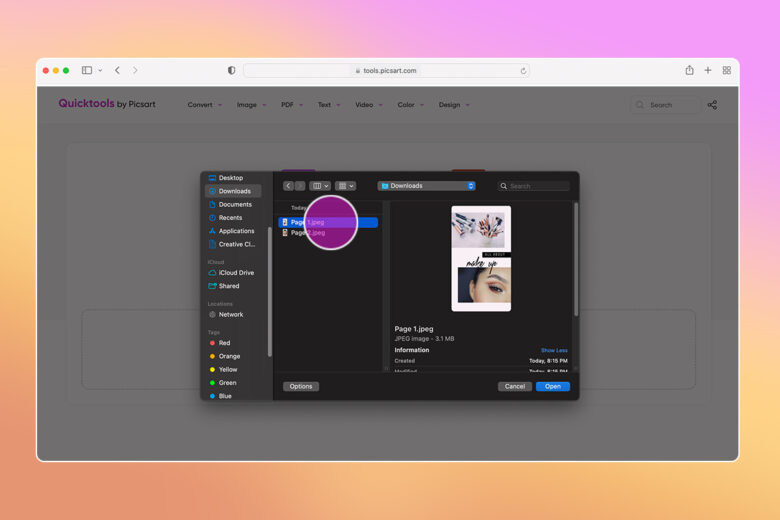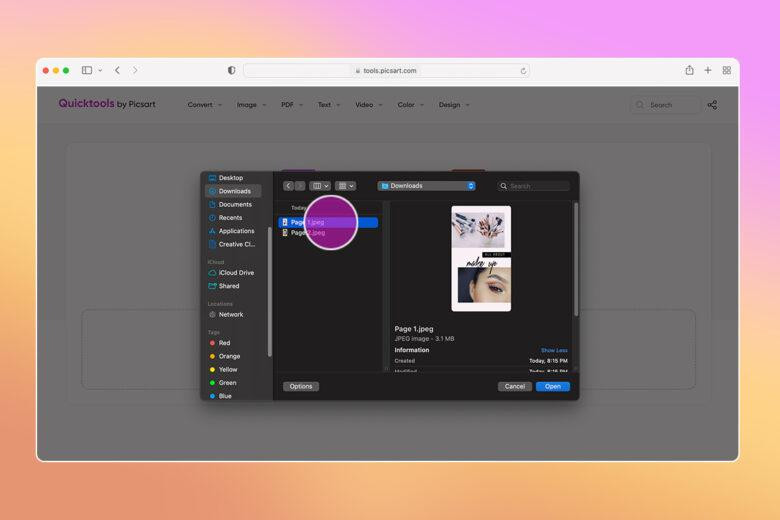 3. Once you've uploaded your file, choose between portrait and landscape formats to retain your image format.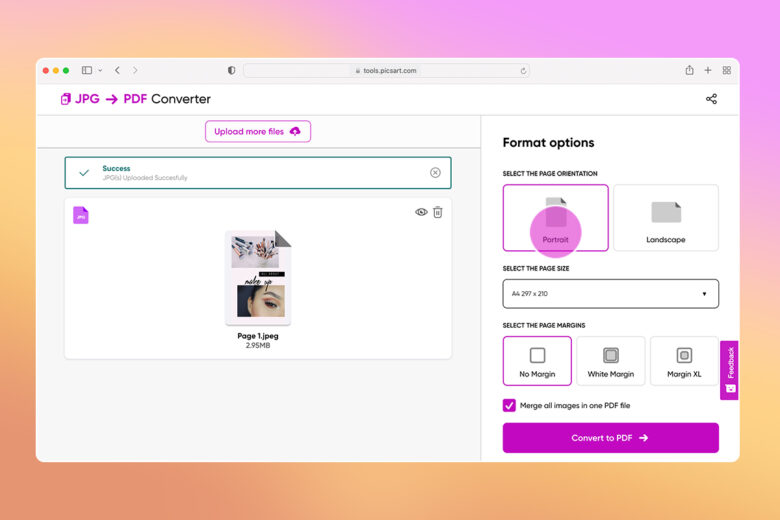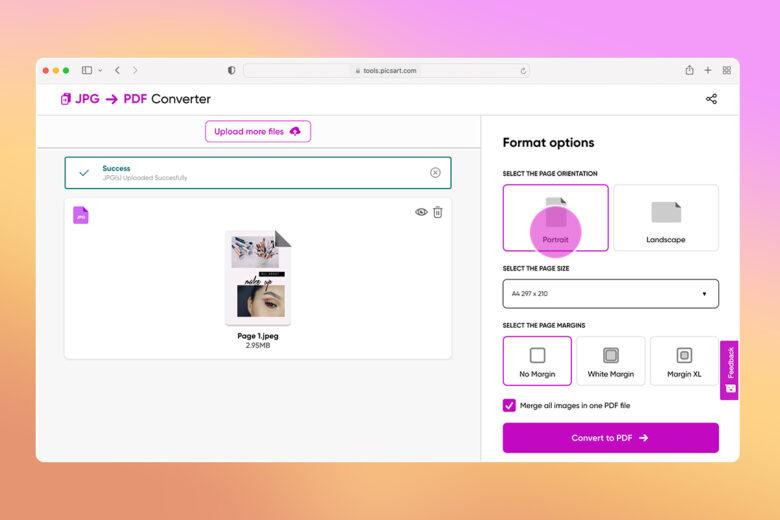 4. Next, select your page size from the dropdown menu. If you're printing on standard printer paper (8 ¼ x 11 ¾ in.), choose the A4 option.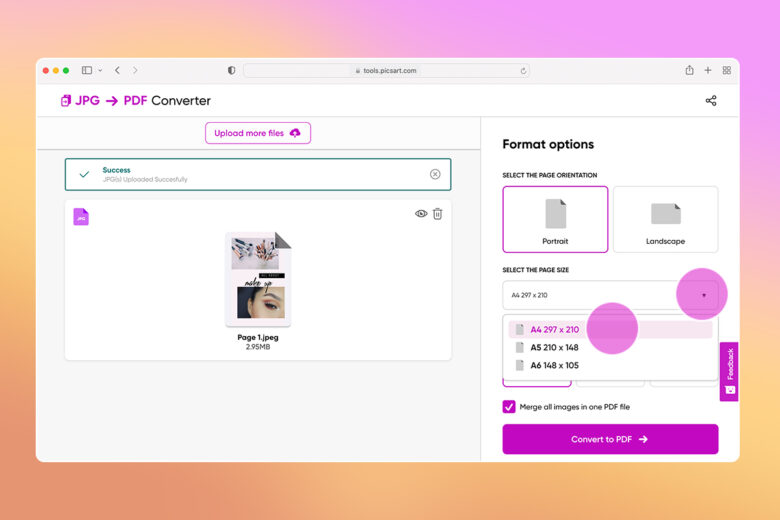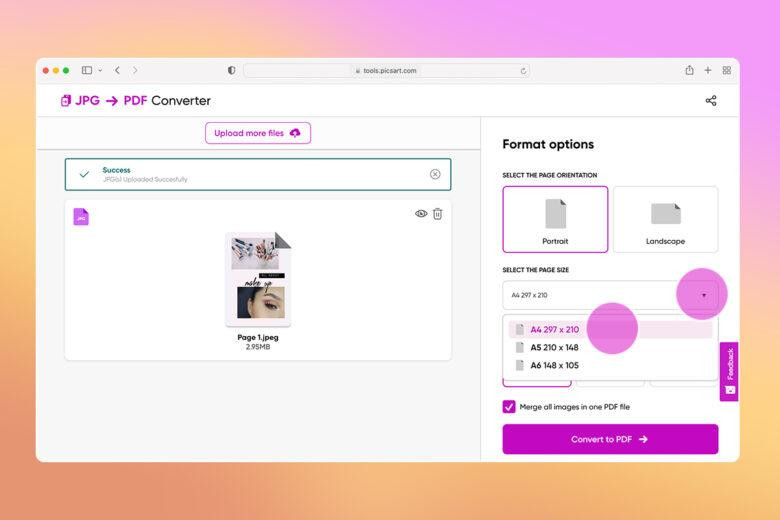 5. Choose your page margins as needed.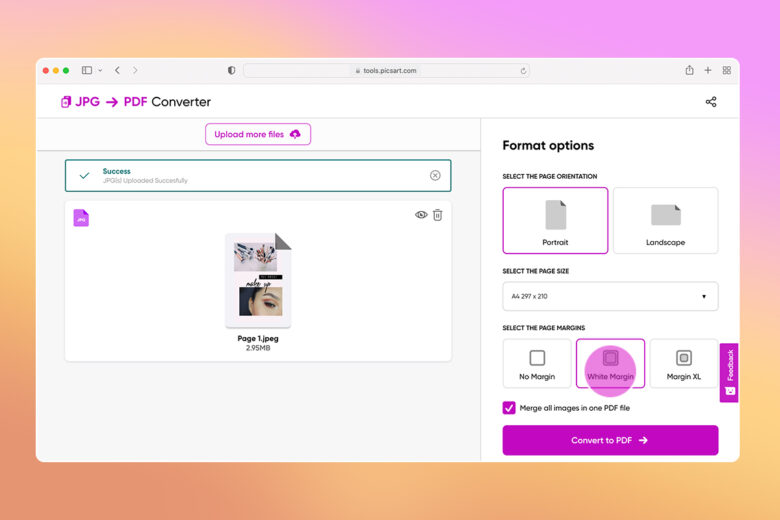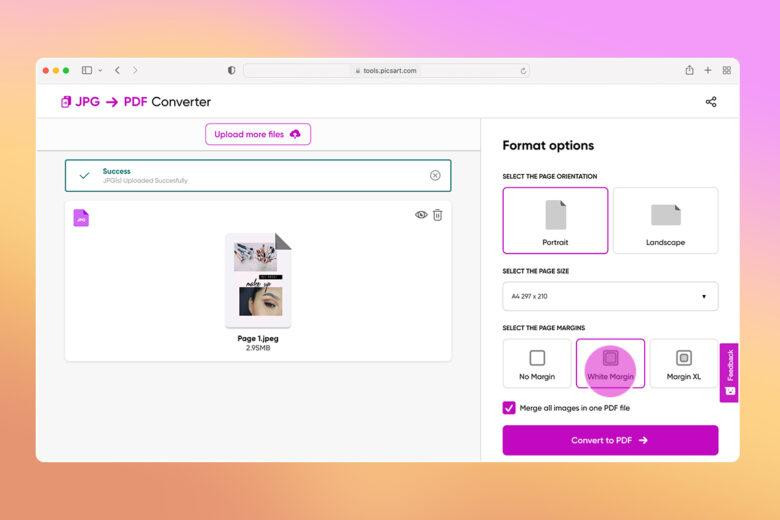 6. If you're creating a multi-page PDF file, click Upload More Files. Then, click Merge all files into one PDF file.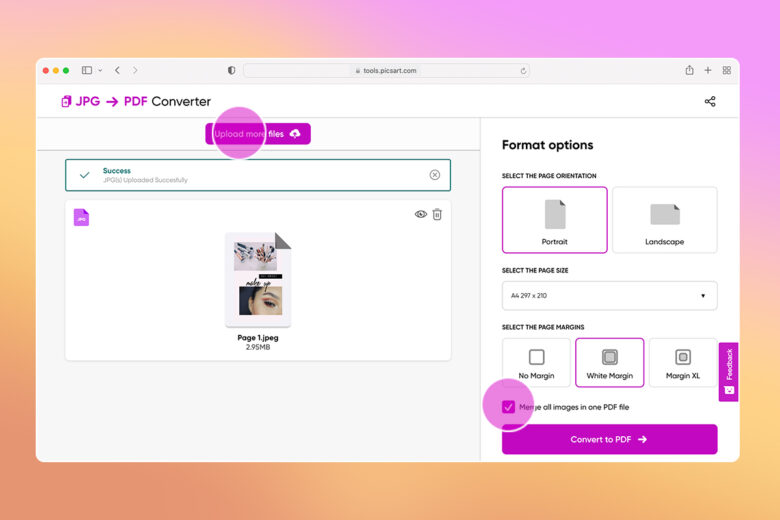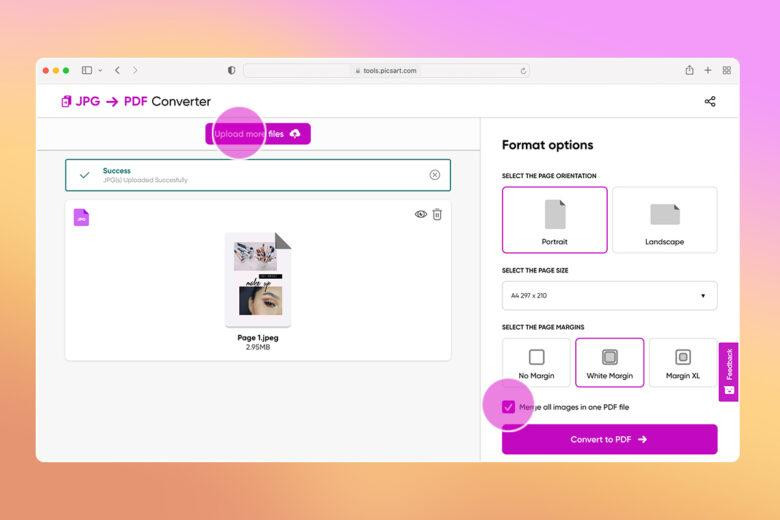 7. When you're finished uploading JPG files, click Convert to PDF.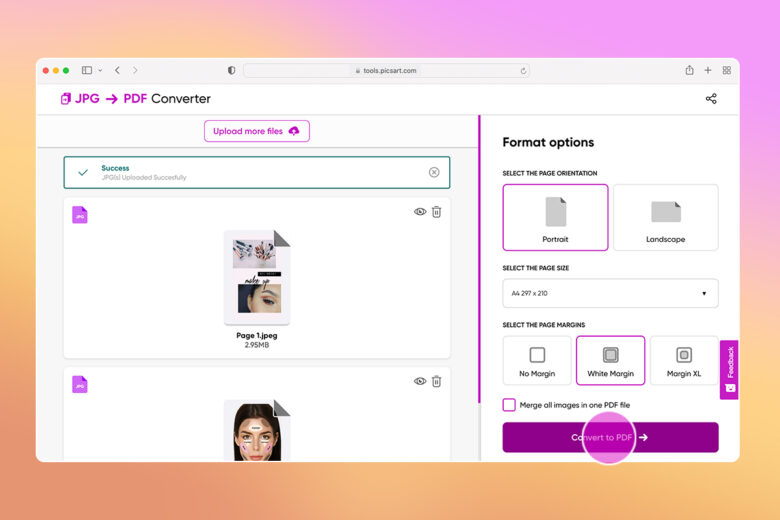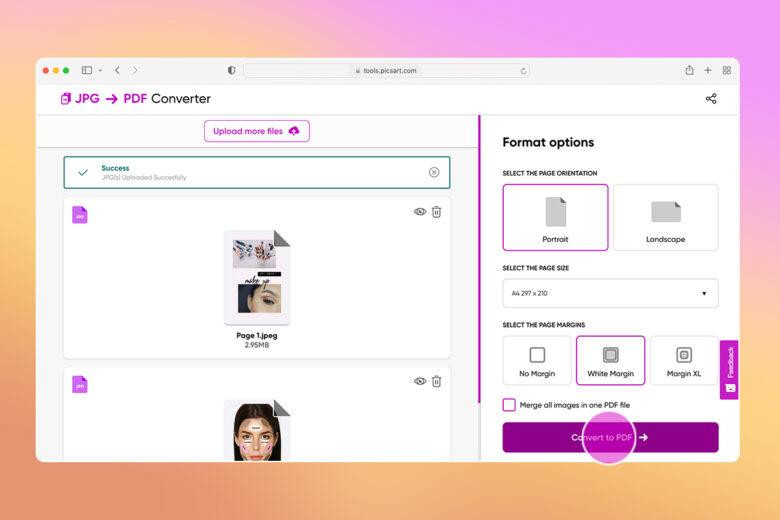 8. Congratulations. You've converted your file. Now, click Download to save your new PDF file to your computer.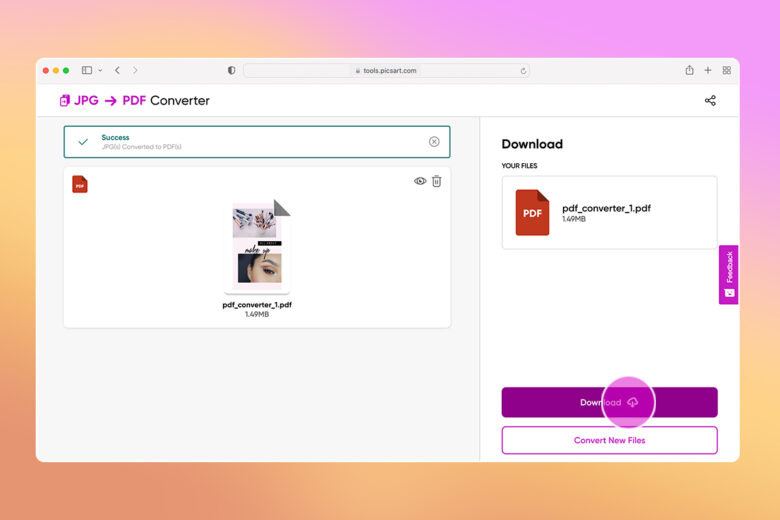 Picsart is a photo and video editing platform and creative community. A top 20 most downloaded app worldwide with over 150 million monthly active users, its AI-powered tools enable creators of all levels to design, edit, draw, and share content anywhere. The platform has amassed one of the largest open-source content collections in the world, including photos, stickers, backgrounds, templates, and more. Used by consumers, marketers, content creators and businesses, Picsart tools fulfill both personal and professional design needs. Picsart has collaborated with major artists and brands like BLACKPINK, Taylor Swift, Lizzo, Ariana Grande, Warner Bros. Entertainment, iHeartMedia, Condé Nast, and more. Download the app or start editing on web today, and upgrade to Gold for premium perks!