Looking for a quick way to convert JPG to PNG? We've got you covered. With Quicktools by Picsart, you can easily convert JPG images to PNG files in a few clicks. Plus, you won't have to worry about time-consuming uploads or expensive conversion software to get the job done right.
Ready to get started? Whether you're working on a new illustration, infographic, or creative project, here's how to convert JPG to PNG in just a few seconds.
What's the difference between JPG and PNG?
Chances are, you already know that JPG and PNG are image files. Both file types contain visual information—usually in the form of photographs, screenshots, drawings, or other media. So, what's the difference between JPG and PNG?
Let's start with some definitions. JPG or JPEG (Joint Photographic Experts Group) files are one of the most popular ways to store digital photos. If you've uploaded pictures from a memory card, you've probably noticed that your camera uses JPG to shoot and share images.
JPG images go through a compression process (AKA lossy compression) to reduce their file size, so they're easier to store and load on the web. But there's a catch: When JPG undergoes lossy compression, some data from the original image is permanently deleted to compress the file size.
Meanwhile, PNG (Portable Network Graphics) files are compressible, and like JPGs, they can store up to 16 million colors. PNG images are typically used for website graphics, brand logos, infographics, and illustrations because they take up more storage space.
Unlike JPG, PNG files are lossless, so no data is lost when a PNG image is compressed, and the quality stays the same no matter how many times you edit or save the image. PNG images also support transparency, which allows specific pixels in your image to stay empty.
In addition, some software and hardware, like website design tools, offer better support for PNG files. As a result, an online JPG to PNG converter is a must-have if you're working on a web design project.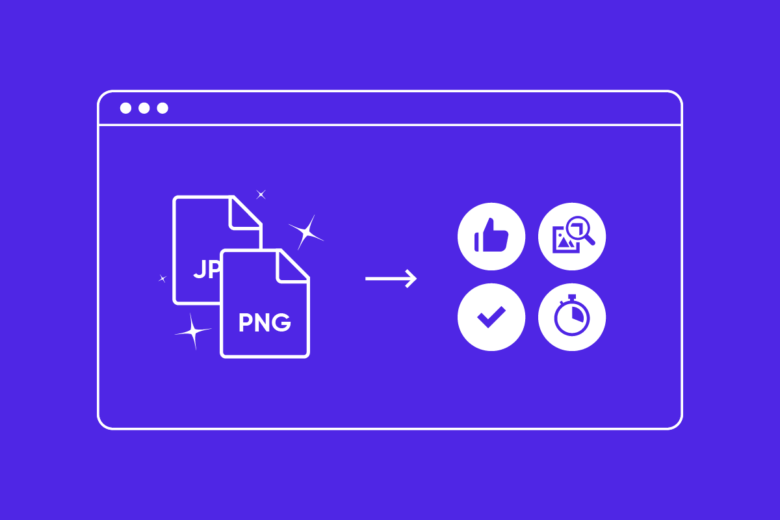 JPG vs PNG quality: which should you choose?
When you're choosing between JPG or PNG, better quality is an important factor. You don't want to sacrifice your image quality when it comes to file conversions, especially if you're working on important marketing materials or other creative projects that need high-quality graphics to shine. How can you choose the right file type for your project?
For most projects, PNG is the answer. PNG files don't get compressed, so you don't have to worry about distorted images—even if you're uploading PNG images to services that compress images. Unlike JPG images, your PNG upload will look the same as it does on your computer.
The main tradeoff with PNG images is that their lossless compression creates bigger file sizes since they retain more information than JPGs. They're usually larger than JPG and GIF files, so large file sizes can take up more file storage space on your device.
With that said, converting JPG to PNG can be tricky if you're planning to print later on. Since PNG files don't contain information from the Cyan, Magenta, Yellow, and Black (CMYK) color wheel, they don't always retain their quality when printing. For the best results, you'll want to save your original JPG for future printing jobs.
Why should you convert JPG to PNG?
Now that you know the difference between JPG and PNG, why should you convert your image files into PNG? Here are a few reasons why you might use online conversion tools for your next project.
You can create transparent images
Whether you're finishing up your new moodboard or creating eye-catching social media posts, there's one main reason why people convert JPG to PNG: transparency. If you have an image with a lot of white space that you'd like to remove, PNG is the best way to go. JPG needs to have color information with every pixel, so transparency isn't an option.
You'll create high-quality web graphics
Just as JPGs are popular with photographers, PNGs are popular with web designers. PNG files are typically the best option when you're dealing with highly detailed, high-contrast web designs. They're also the default file type for screenshot images since they provide a detailed overview of your desktop and don't compress pixels together.
Whether you're working on a new brand logo, colorful illustration, or Facebook cover design, PNG is the best choice. Thanks to their extensive color palette and lossless compression, you won't have to worry about losing any details.
You can preserve images
When we're comparing JPG vs PNG, quality usually goes to PNG. As we've already mentioned, PNG files benefit from lossless compression, so you won't lose any data when you're saving, sharing, or editing pictures. On the other hand, saving and editing JPGs could compromise the quality of your image because you'll lose more data over time.
In other words, PNG images won't become blurry, distorted, or pixelated, so you can preserve important information. As a result, PNG is the ideal file type for sharp logos, infographics, web screenshots, detailed drawings, and any other images you want to preserve.
What's the easiest way to convert JPG to PNG?
Want to learn how to convert JPG to PNG? Need to convert your file before sharing your project? No matter what your editing needs look like, Quicktools by Picsart is the answer.
Quicktools features a free set of digital editing tools to easily convert JPG images into high-quality PNG files. And if you're converting JPG images to use as part of a bigger project, you've come to the right place. Quicktools comes with easy-to-use tools so you can unleash your creativity with the online photo editor, color palette generator, pro-grade AI copy, and more.
The best part? You don't need to download expensive editing software to convert files with Quicktools, and you can tap into the full suite of editing tools without any payment or registration. You can even use Quicktools to kickstart your creative project from scratch. Just check out the online image editing tools to create a profile picture, remove the background from your image, add text to pictures, and more.
Even if you're dealing with sensitive files, Quicktools can help you get the job done. When you use Quicktools for your file conversion needs, you can rest assured knowing your file is safe. We'll briefly store your image before removing it after conversion, so you don't have to take any extra steps to protect your privacy.
How to convert JPG to PNG using Quicktools by Picsart
When you're looking to upgrade your creative project with high-quality PNG images, Quicktools can be your MVP. After you're finished converting your files, you can download and share them across your digital and printed platforms to captivate your audience with beautiful designs.
The best part? Quicktools is quick, free, and easy to use, so you can convert any JPG image into PNG, even if you're not a tech whiz. Here's how to convert JPG to PNG in a few clicks with Quicktools.
On the web:
1. Open the Quicktools JPG to PNG Converter.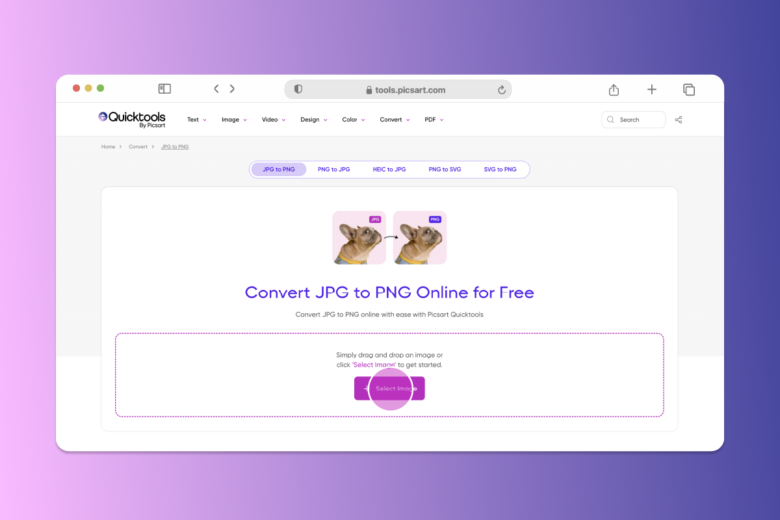 2. Drag and drop your JPG image into the dotted box. Or, click Select File and choose a JPG image from your library. After you've uploaded your JPG, it'll instantly convert into a PNG file.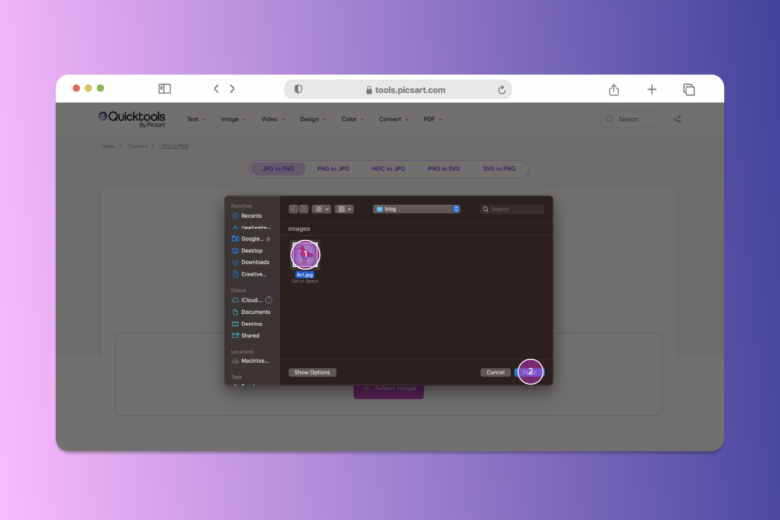 3. Click Download to save your new PNG image. It's that simple.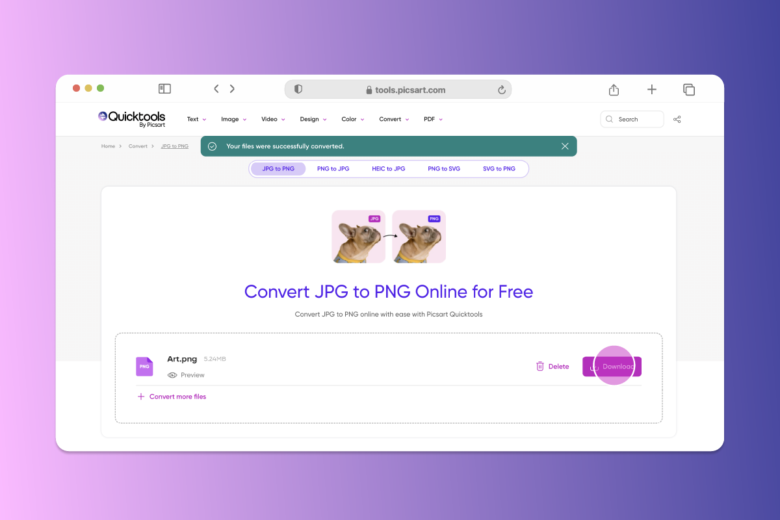 Picsart is a photo and video editing platform and creative community. A top 20 most downloaded app worldwide with over 150 million monthly active users, its AI-powered tools enable creators of all levels to design, edit, draw, and share content anywhere. The platform has amassed one of the largest open-source content collections in the world, including photos, stickers, backgrounds, templates, and more. Used by consumers, marketers, content creators and businesses, Picsart tools fulfill both personal and professional design needs. Picsart has collaborated with major artists and brands like BLACKPINK, Taylor Swift, Lizzo, Ariana Grande, Warner Bros. Entertainment, iHeartMedia, Condé Nast, and more. Download the app or start editing on web today, and upgrade to Gold for premium perks!