You've created a unique brand that offers products, services, or content and it's starting to gain traction. Whether you're on YouTube hosting a comedy podcast or bossing Instagram as a beauty influencer, you have something special that keeps your audience coming back for more. By designing and creating personalized merchandise, you can give back to your audience and bolster your brand in the process. Custom goods can be profitable and creating DIY designs isn't even difficult. Want to learn how to design your own merch? Let's go.
Truth or Myth?
You have to be a professional designer
Myth: Not all of us are talented artists or graphic designers, and that's perfectly okay. You can start with a simple design and continue to improve the details with revisions. Once you nail down a design, create mockups to see how your merchandise would potentially look. It's a great idea to get feedback from others to see if you need to make any changes. You can also look at other similar merchandise to get a sense of how your design compares. It's always more cost effective to do the designing yourself, versus hiring an outside designer.
Many people don't like custom merchandise
Myth: Fans love sporting their favorite merchandise. Merchandise helps fans feel a sense of connection with your brand and with each other as a community. Whether you're a comedian, YouTube star, or musician, your fans will no doubt want to show off their adoration for your by buying and wearing your merchandise to your events or in their every day lives.
You shouldn't stick to one type of merchandise design or product
Truth: Sticking to one type of product, such as a t-shirt, only limits your creativity and your profits. Remember, not everyone wants to buy a t-shirt. By expanding your products to items like hats, sweaters, backpacks, and keychains, you'll diversify your inventory and attract more potential customers to your merch store.
You can make good money from selling merchandise
Truth: Whether you're selling merchandise for a living or just as a hobby, you can definitely make a pretty penny and earn yourself some extra income. This can come handy to those who have high expenses or it can be reinvested to making more merchandise down the line.
Designer Skills Needed To Make Your Own Merchandise
If you've decided to design your own merchandise, there are a few skills needed in order to do so successfully. If you feel like you have some of these skills, you'll be well on your way to designing some must-buy merch. 
Creativity
It's important to be creative and original when it comes to your merchandise design. Your fans are looking to show off your creativity and stand out through the merch they wear. Put yourself in their shoes and make sure you would wear the exact merchandise you are designing.
Knowledgeable of Current Trends
While you may not be a full-time fashion designer, you should still keep up with the latest fashion trends as it relates to merchandise. Knowing how to design merch that your target audience would potentially wear can greatly influence your work.
Detail-oriented Eye
This doesn't mean your merchandise design must be detailed in design. Being detail-oriented simply means having a good eye for the minor design details, such as color and fabric. Being detail-oriented ensures product quality is up to par.
Decision-Making Skills
You may be faced with a ton of decisions when it comes to your merch. Whether it's narrowing down the number of designs or selecting certain product types over others, it's important that you make informed decisions using your discretion and what's best for your brand.
Graphic Design Software Skills
You can use a number of complex software programs or better yet, try the user-friendly interface on Picsart. Either way, you'll need to have some level of graphic design skills when it comes to your actual merchandise design.
Tips for Designing Every Type of Merch
From socks and beanies to reusable tote bags and towels, the number of different merchandise products you can create and sell are virtually endless. With such a variety of items, we thought it would be helpful to offer some advice. Check out these invaluable tips on how to design merch.
Clothing

The clothing category alone has such a variety of products. There are t-shirts, sweaters, jackets, and hoodies. Then there are v-neck, crew-neck, zippers, and buttons. There are many details to consider not only on the product, but how it will look on your customers.
Consider the audience. The key demographics you'll want to keep in mind when designing clothing are age, gender, and perhaps even location. Is the clothing designed for a specific gender or age? Or can it be compatible across different demographics? Know your audience and you'll know how to design merch for them.
Consider the fabric. Ideally, you have a sample of your merchandise before selling them to your fans. Ensure that the fabric is up to standards and the clothing is also comfortable.
Consider the size. How will your design look when it is scaled up and down on large and smaller sized clothing? Ensure that your printing process is smooth and will cater to all sizes. Also, it's important to have quality control over the various sizes and make sure a large size is infact a large and a small is in fact a small.
Consider the color and dye. Keep in mind that your merchandise will most likely be thrown in the wash time and time again. You'll want to ensure that the colors don't completely fade after the first wash so that your fans are able to repeatedly wear your merch.
Consider keeping it simple. You'll want to avoid intricate details and color on your design when it comes to clothing. There are so many variables to consider, like the diverse spectrum of body types, especially when trying to create a detailed, symmetrical design. It is safer to keep it simple when it comes to merchandise design for clothing.
Objects
Who doesn't love sipping coffee out of their favorite artist's merchandise mug? How about using your favorite brand's reusable tote bag when grocery shopping? You most likely have some type of beloved merchandise object from your favorites sitting on your desk or in the cupboard.
Consider its function. Does the object have a function? Or is it purely decorative? If it does have a specific use, make sure that it functions the way it's supposed to. For example, if you're selling custom lighters, make sure that it does in fact spark properly.
Consider items that have high usability. If you do choose to go with a functional product, choose one that has a perceived value. It's a win-win if your customer can make great use out of your product. Some items to consider are water bottles, bags, and journals.
Consider its size and weight. Keep in mind that you'll have to ship the item. It would be more cost-effective to choose lighter and smaller items instead of a custom bowling ball, for example.
Consider the material. Depending on the type of material your object is, you'll want to make sure your design is properly printed and looks aesthetically pleasing.
Consider a series or a collection. Having a collection of related products is a great way to not only tell a cohesive story about your brand, but increases your sales potential. A collection of lifestyle products with high usability can include a pen, notebook, water bottle, and phone accessories.
Paper
Paper merchandise can include posters, stickers, custom stationery, and notepads.
Keep consistent with your logo. If you have an established brand logo, you'll want to include it on virtually any merchandise you create, especially paper products. Your new product launches will come and go, but your logo is forever.
Carefully select typography. While this tip applies to all types of merchandise, like t-shirts, sweaters, and mugs, you'll want to carefully select a font style that reflects your brand accurately for any paper merchandise you sell. If you already have an established font, great. If not, check out 30 Fonts for Your Design Projects.
Poster material matters. Indoor posters are ofen printed on heavier photo satin paper where the colors really stand out and images look crisp. On the other hand, outdoor posters are printed on more durable, water-resistant paper. You can also make your poster self-adhesive on vinyl paper.
Branded stationery can go a long way. Stationery can seem like such a basic product, and in reality, it is. Its impact, however, can be greater than you think. Imagine your custom stationery with your logo imprint sitting on a fan's desk for a long period of time. Every time they need to jot something down, they grab your stationary. Your brand will be making a lasting impression on them, consciously or subconsciously.
Don't underestimate stickers. Stickers may seem juvenile, but they are in fact wildly popular among adults as well. When done right, custom stickers can look professional and vibrant. Whether a small die cut sticker or a bumper sticker, provide your customers with this fun merch option they can stick anywhere.
How To Design Merch on Picsart
Now that you have a good sense of the basic designer skills needed to design merchandise, plus tips for designing different types of merch, let's put your knowledge to practice. Follow this step-by-step guide on how to design merch on the Picsart desktop editor.
1) Open the Picsart Editor and click New Project to begin.
2) If you have a logo, you can upload it to your design through the Upload button or via Stickers, if you've saved it prior. To see how your logo will look on various items, upload an image of a blank version first.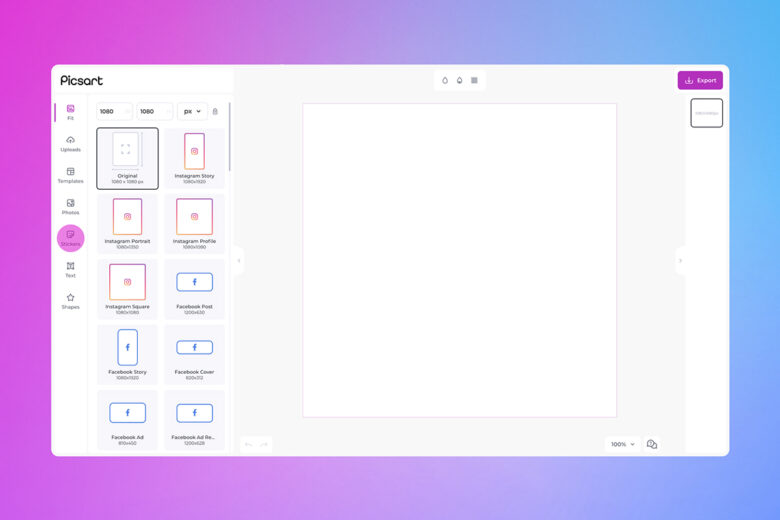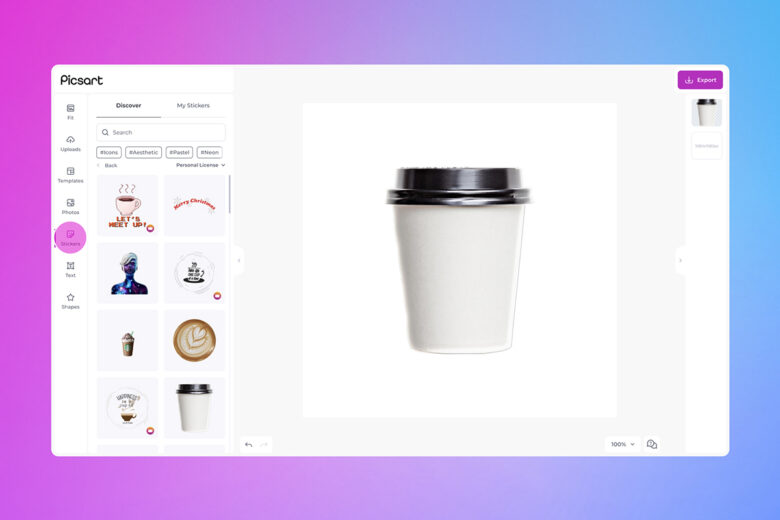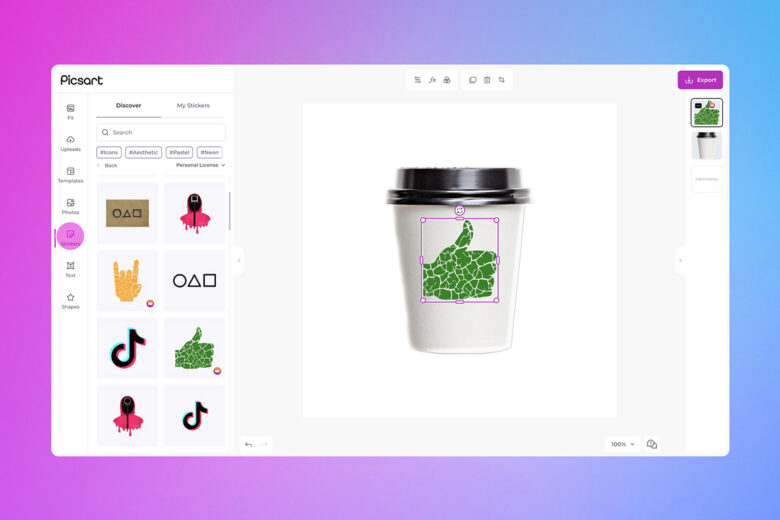 3) Make any adjustments or design tweaks required (such as Color, Saturation, etc) and click on Export to save or post your design.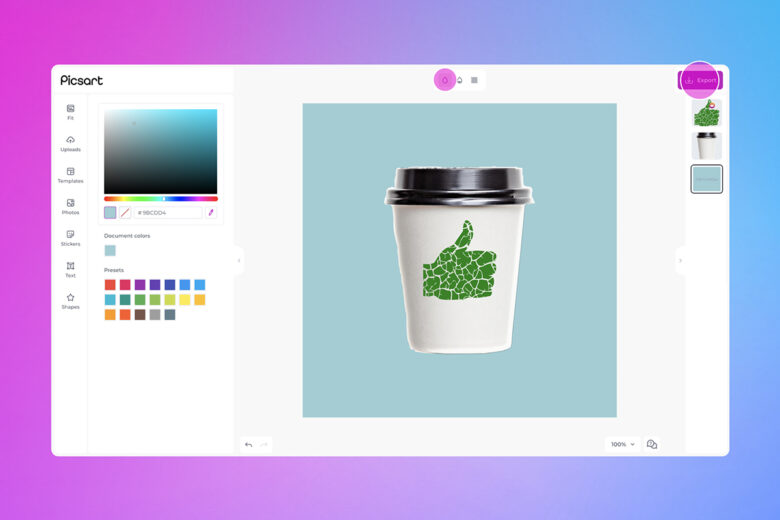 Want to create a custom design on your mobile device instead? No problem. You can do so with ease on the Picsart mobile app.
1) Tap on the purple plus sign in-app to start off.
2) Choose your canvas or insert a background.
3) Add your blank merch item as a Sticker.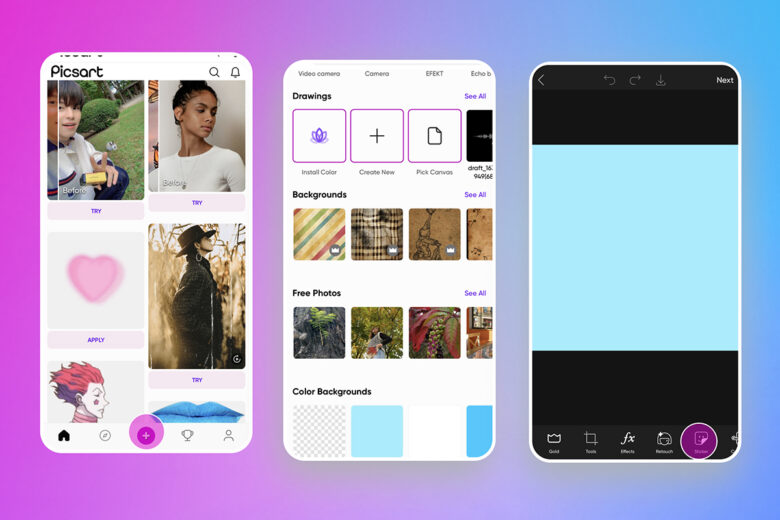 4) Resize and position the item as required.
5) Place your brand logo on the blank merch and resize and tweak if needed.
6) Tap on Next to save the final design.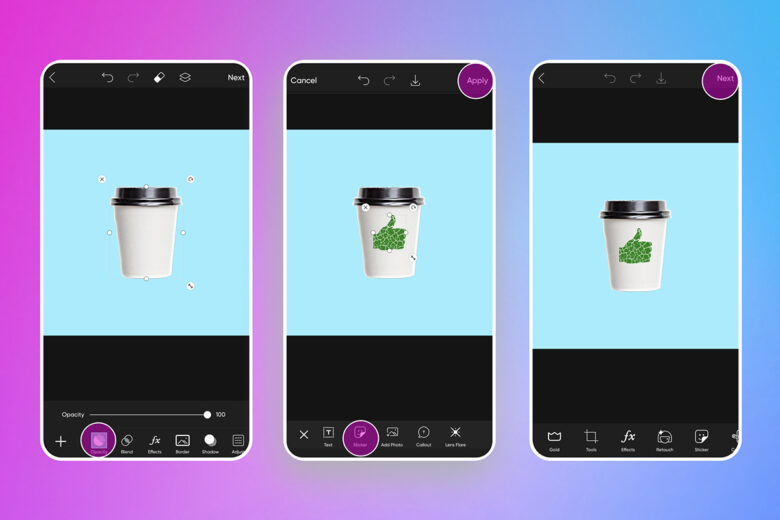 Picsart is a full ecosystem of free-to-use content, powerful tools, and creator inspiration. With a billion downloads and more than 150 million monthly active creators, Picsart is the world's largest creative platform. Picsart has collaborated with major artists and brands like BLACKPINK, the Jonas Brothers, Lizzo, Sanrio: Hello Kitty, I am a Voter, Bebe Rexha, Maroon 5, One Direction, Warner Bros. Entertainment, iHeartMedia, Condé Nast, and more. Download the app or start editing on web today to enhance your photos and videos with thousands of quick and easy editing tools, trendy filters, fun stickers, and brilliant backgrounds. Unleash your creativity and upgrade to Gold for premium perks!