With the advent of the camera phone, we've all become amateur photographers. Now more than ever, capturing your experiences and the world around you is as simple as pressing a button on your mobile device! And while there's a real joy to that kind of ease and convenience, you may have a desire to take your photography skills to the next level. Whether you're trying to stand out on social media channels or simply want to indulge your love for the art, taking some time to improve your understanding of photography and your photo editing skills can be a real gamechanger. In this easy beginner's guide, we'll cover some of the basics, from portrait angles and lighting to editing and Instagram filters. Let's get started!
How Do You Teach Yourself Photography?
There's a million-dollar question! If you're thinking about getting into photography and learning how to take professional photos, you might consider attending an art college or taking professional courses. There are obvious benefits to this approach, but if you don't have the time or resources to commit to getting a degree or taking extensive (and possibly expensive) courses, you might want to go with the self-taught route. In some ways, this is the much harder option, but it can definitely be worth it.
And what does it take to learn photography on your own? Well, first you'll need a camera, some time, and lots of patience. Once you get started, the internet is full of helpful tutorials that can answer any questions you might have about camera selection, how to take pictures, camera settings, editing software like Photoshop and Lightroom, and just about anything else related to professional photography. Remember, even though the process can be challenging, practice makes perfect. Your determination is a key component to your success!
Now, you may be wondering if photography is easy to learn in the long run. Let's be honest, photography is an art form that can take years to master. But taking the first steps toward becoming a more competent, creative, and versatile photographer isn't the hardest thing in the world. And what's possibly even more important is that you don't have to buy a fancy camera and invest in a bunch of equipment in order to produce photos that look amazing. You can create some fantastic images with just your phone camera and a little creativity!
How Do You Take Professional-Looking Photos?
So what happens if you want to take professional-looking photos without spending hundreds, if not thousands, of dollars on a DSLR camera and expensive lighting equipment? Believe it or not, you can get a lot done with just your smartphone and a few easy-to-use editing apps like PicsArt. 
Before we get to the editing portion of this article, here are just a few things to consider when you're going about taking the photos themselves. These are just some tips that can be helpful when you first set out to create some truly fantastic and professional-looking photos with your phone camera.
Lighting:

Whatever your subject is, maybe it's a landscape or your favorite pet or a scrumptious meal (it's ok, we all do it!), consider how light is going to affect your photo. Whenever possible, make sure you have adequate lighting so your phone can capture more detail. You might also look for dynamic or interesting natural lighting, such as portraits shot within the golden hour. The more you experiment, the more you'll develop an intuition for what kind of lighting works for what kinds of photos. And if you're not happy with the lighting in your environment, don't worry too much, you can always edit brightness and exposure using digital tools. 

Composition:

One of the elements that immediately distinguishes professional-looking photos from amateur ones is composition. Composition refers to arranging and moving objects or subjects within the photo. There are a lot of fancy rules out there when it comes to composition, but in the end a strong composition is one that emphasizes your subject and offers a pleasing aesthetic. The more you take pictures, the more you'll gain a sense of composition. In general, try to experiment with detail and negative space. Whatever your style, don't be afraid to play with composition — you never know where your creativity will take you!

Color and Texture:

Everyone loves a nice black and white photo with classic elegance. But there are plenty of ways to engage with color (or the lack of color) in your photography. You might explore a monochromatic palette with some of your pictures, or maybe you'd like to insert a unique color scheme into your composition. Either way, color can have a huge effect on the mood and style of your pictures. Texture is another important component to consider when you're planning your images. By introducing a variety or sparsity of textures into your composition, you can apply depth and complexity to your photos. As with anything that is creative, the key is to experiment! 
How Do You Take Flattering Portraits?
Portrait photography is an art unto itself, but with a few tips and tricks you can learn how to take beautiful and captivating portraits with just your phone camera. Especially if you're taking photos for Instagram or some other digital medium, learning how to compose, light, and edit compelling portraits can make all the difference.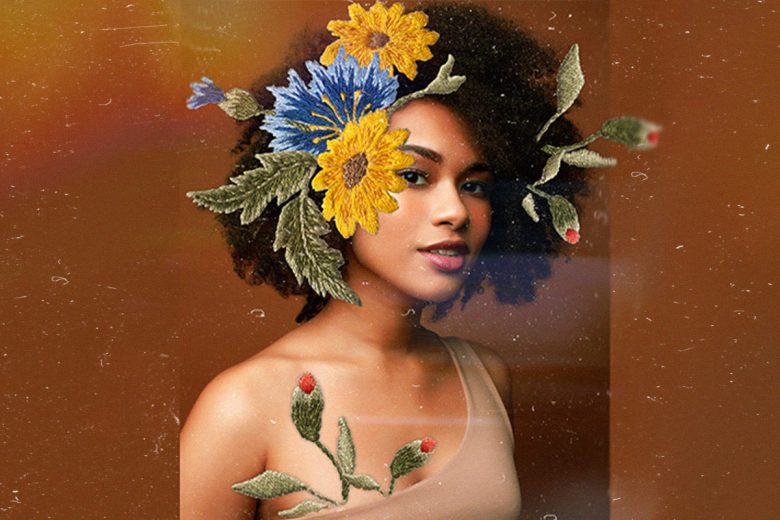 Here are some important things to consider when taking a portrait or trying to make a new profile picture, especially if you're using a phone camera:
Lighting:

Once again, we come back to lighting! Lighting can really make or break a photograph, and when you're taking a portrait you want to be sure the lighting complements your subject. For example, you'll want to avoid backlighting as it can wash out the person in front of the camera. Try experimenting with natural light, as it's often the most attractive lighting for a portrait and can imbue the picture with a warm glow. Whatever the result, a lot of the magic happens in the editing phase, which we'll discuss later in this article.

Angles:

Everyone thinks they have a good side, but as the photographer, it's your job to decide which angles are truly flattering, beautiful, or interesting. Beauty is in the eye of the beholder, and you'll know best how to capture your subject. Don't be afraid of taking a series of pictures and letting the process lead you where it will. 

Styling:

Much like composition, styling really influences a photograph. When you're styling a portrait, ask yourself what kind of story you're trying to tell with this image. All of the elements that you use to style your portrait should speak to one theme in a cohesive way. From clothing and backdrop to lighting and makeup, there should be a clear through-line and harmonious aesthetic. Styling requires time and effort, but it will lend your pictures significant professionalism. 
How Do You Take Good Instagram Photos With Your Phone?
So now that you've done the research and taken the time to master some important photography skills, you might be thinking about how to craft images specifically for Instagram and other social media platforms. If you're taking pictures on the fly and want to maintain high quality and present truly aesthetic photography, the PicsArt app could be the key to your success. With some easy-to-learn tools, you can edit photos within a matter of minutes and share them directly to Instagram. The results will surely blow your followers away.  
Here are a few tools and effects to use when you're trying to take good photos for Instagram with your phone.
Tools:

When editing photos on your phone, your first stop should always be the Tools section of the

PicsArt app

. Here you'll find a variety of adjustments that will help fine-tune and enhance your image. This suite includes basic tools like Crop, which lets you adjust the borders of your image, and Adjust, which lets you alter everything from Brightness and Contrast to Saturation and Hue. All of these changes can make a dramatic difference to your photograph, and with the right editing, you'll end up with a really professional-looking image.

Effects:

Once you've gotten the basic edits out of the way, you can try further enhancing your photo with some unique effects. PicsArt offers a huge array of effects for you to explore. These photo overlays can make your image look brighter or more subdued. You can choose traditional filters or more artistic ones. If you're trying to get that pro photographer look, we'd suggest looking through the FX section, which offers lots of classic overlays and enhancements.
Retouch:

If you're editing a portrait or selfie, the Retouch suite of tools is your best friend. Here you have tools like Detail that will add a little sparkle to the eyes and lips or Eye Bag, which, true to its name, reduces the appearance of dark circles under the eyes. These are just a few of the tools available for portrait editing on the

PicsArt app

. Take your time and explore them, but remember, over-editing portraits can result in fake or unhealthy looking images, so try to approach the editing with an attitude of enhancement rather than replacement!
There you have it — some basic tips for learning how to take professional-looking photographs that translate beautifully to social media. Now it's time to get out there and start taking pictures. We can't wait to see what you capture!
PicsArt all-in-one Photo and Video Editor, Collage, and Sticker Maker is the world's largest creative platform with over 150 million monthly active creators and influencers. PicsArt has collaborated with major artists and brands like Taylor Swift, The Jonas Brothers, Gwen Stefani, Maroon 5, Lizzo, Meghan Trainor, One Direction, MONSTA X, Warner Bros. Entertainment, iHeartMedia, Condé Nast, and more. Download the app today to level-up your photos and videos with thousands of quick & easy editing tools, trendy filters, fun stickers, and brilliant backgrounds. Unleash your creativity with PicsArt and upgrade to Gold for awesome premium perks!