Pisces Season: February 19 – March 20
Pisces squad, let's talk!
You're the real MVPs. Did you know it's been proven you're the chillest of all the zodiac signs? Haters will write off your mellow personality as a weakness, but it's actually your secret weapon! Your "Keep Calm and Carry On" attitude lets you dodge all the drama — leaving you with plenty of time to work toward your dreams, PLUS get some quality naps in. Obviously you'll duke it out for your besties, but you'd 100% rather be crafting with your dog at home and we totally support you for it!
The Tea On Your Upcoming Year ?
Love horoscope ?: It's been confirmed: Being a hopeless romantic is finally going to pay off! If you're single, prepare for your ultimate meet-cute moment. If you're boo'd up, get ready to be appreciated on a whole new level. The stars are telling us your love life is about to put everyone else's to shame and we couldn't be happier for you!
Career/School horoscope ?: Your school and/or work life will challenge you this year, especially between the months of June and November when your ruling planet Neptune is in retrograde. Before you stress though — don't! You may have to take a Netflix and/or TikTok break here and there, but you're definitely up for what lays ahead and are going to emerge fiercer than ever.
Travel horoscope ?: Venturing outside your comfort zone and exploring is going to be KEY to living your best life this year! Here's some tough love: Stop browsing destinations on Instagram for hours on end. It's time to pick one and Make. It. Happen. It doesn't matter if the place is 20 minutes or 20 hours away — it's all about exploring and living in the moment!
Pisces Photo Editing Guide 
We created a PicsArt Pisces guide to help you shine equally as bright on social media as you do in real life where let's be honest, you're THRIVING✨
If Pisces had a spirit animal it would be Luna Lovegood hands down. People don't always have an appreciation for your whimsical taste, but we say own it! Use our PLRD FLTR and Bokeh Masks to take your photos to next-level dreamy in seconds.
Our Bubble Stickers were made for you! You're not fooling anyone…we know at heart Pisces are just big kids with the wild imaginations to match. With PicsArt, you can bring some refreshing childhood magic to your photos quicker than you can say "jinx" or "no tag backs."
Our Pow and Galaxy Magic Effects have Pisces written alllll over them. They're mysterious, stunning, intriguing, and have the unique ability to make art out of anything — just like you! These instant effects are perfect for when you want to unleash your creativity and/or stand out in your feed with minimal effort.
Pisces are gentle souls with a serious affinity for nature (Non-horoscope talk: You're an avid follower of dog accounts and can be found hiking on the regular). It only makes sense that we suggest you use our Floral Brushes when you want to spruce up your pics and/or just make a photo feel 100x more YOU!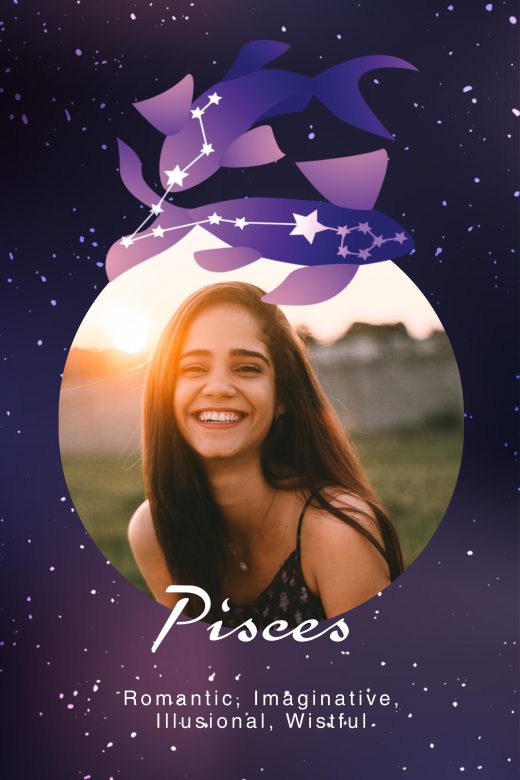 Feeling proud to be a Pisces after reading all of the above? You should be! Tell the world what's up with our Pisces Instagram Story Template. Just select a fire selfie, save, and post! And remember, every SZN is your time to shine ?
PicsArt photo and video editor, collage and sticker maker is the world's largest creative platform with more than 100 million monthly active users and influencers. PicsArt has collaborated with several brands and artists, including Disney, MTV, Dior, DJ Snake, Gwen Stefani, Maroon 5, 30 Seconds to Mars and more. Step-up your photo editing with thousands of tools, edits, backgrounds, stickers and filters. Awesome starts here! Download the app today, and upgrade to PicsArt Gold to unleash your creativity!