Sagittarius Season: November 22 – December 21
Sag cuties, where you at?!
If we had to guess, we'd say you're a) binging a Netflix docuseries b) binging a podcast series or c) somehow managing to accomplish both at the same time while paging through Nat Geo. Your constant and tireless quest for knowledge is seriously impressive and just one of the Sagittarius-born traits we can't get enough of! In addition to being the most woke of the zodiac signs, Sagittarians like yourself tend to lead the astrological pack in terms of optimism, energy levels, and spirit for adventure! TL;DR: Basically, we're obsessed with you ?‍♀️?‍♂️
The Tea on Your Upcoming Year ?
Love horoscope ?: Your restless nature may have spelled T-R-O-U-B-L-E for your love horoscope in the past but it doesn't have to this year. In fact, the universe is dropping hints that you're going to meet a pretty awesome person who just might be your soulmate relatively soon! Pro tip: If you start feeling bored of your boo try spicing things up with a little bay-cation or fancy date before leaving them on read to avoid major #regrets ?? 
Travel horoscope ?: ???❗️Someone in your life will want to take charge on the trip planning front this year — let them! Your built in Sag sixth sense for finding Instagram-worthy destinations usually makes you the front man/woman when it comes to anything and everything itinerary related but handing over the baton will be well worth it! Buckle up and get your phone ready because it's about to be WILD. 
Friendship horoscope ?‍♀️: Unfortunately, it looks like a few of your besties are going to enter high-stress situations within the next 365 days. The good news is, as a Sagittarius, you're totally equipped to guide them through it. Just make sure to focus on pointing out the good and steer clear from being too honest during Mercury Retrograde and everything will turn out ?! Keep an especially keen eye out for the signs you're most compatible with ⁠— Aries, Leo, Libra and Aquarius — they'll need you the most.  
Sagittarius Photo Editing Guide
We created a PicsArt Sagittarius Photo Editing guide to help you shine equally as bright on social media as you do in real life where, let's be honest, you're THRIVING✨
Did you know that you and your fellow Sagittarians are low-key the Golden Retrievers of the zodiac world? Sagittarians are super peppy, happy, and zoom around non-stop. This makes the Motion Tool perfect for you ? Next time someone captures a photo of you running around like a lovable maniac, stop, drop, and try it out ASAP. Your social media followers will ❤️ it and it'll showcase your Sagittarius personality to a T! 
If you don't have a million nature pics hogging up all your phone storage are you even a Sagittarius? It's not your fault — having a lifelong case of wanderlust will do that to you! Next time you want to add a little extra oomph to your pics before sharing to social media, we 10/10 recommend applying a SUN FLTR and a Light Mask. The combo won't let you or your Instagram feed down ? Of course, we have dozens of more awesome Filters for your pictures too! 
Fun Fact: You were born to be an influencer! ?‍♀️?‍♂️❤️ As a fire sign, you're automatically programmed to be charismatic, passionate, and a leader. With that said, if you want to try to make it big in the social media world our one-tap Photo to Sketch Effects are a MUST. They're super aesthetic and can turn any photo from basic to bomb instantly! 
Correct us if we're wrong, but we're 99.99% sure your most used emojis are ???. No we didn't stalk your phone, we just know Sagittarians are the kings and queens of spamming their friends' posts with hype comments. Our On Fleek Sticker Pack is here to help you take your social media game to the next level! *When you're really feeling it, choose the 'Yasss' Sticker.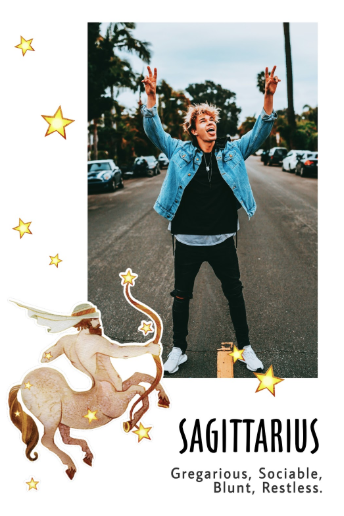 Proud to be a Sagittarius symbol after reading the above? You should be! Share your finest Sagittarius traits in a few simple taps with our Sagittarius Template. Just select a fire selfie, save and post! The best part? It can be resized to Instagram Story dimensions in one tap ?
PicsArt photo and video editor, collage and sticker maker is the world's largest creative platform with more than 100 million monthly active users and influencers. PicsArt has collaborated with several brands and artists, including Disney, MTV, Dior, DJ Snake, Gwen Stefani, Maroon 5, 30 Seconds to Mars and more. Step-up your photo editing with thousands of tools, edits, backgrounds, stickers and filters. Awesome starts here! Download the app today, and upgrade to PicsArt Gold to unleash your creativity!