Scorpio Season: October 23 – November 21
Hiiiiii Scorpio babes!
If we had to pick a song that defines you it would hands down be the love child of Katy Perry's "Hot N Cold" and Cardi B's "Thru Your Phone"' Of the 12 zodiac signs, you and your fellow Scorpios are the first to go from 0 to ? (and back again) BUT that's only because you're also the most passionate of the astrological bunch. By nature you're 200% committed to being all in when it comes to matters of the ❤️, extremely confident, and, per our last point, completely unfazed by your haters. PLEASE (for our own personal wellbeing) DON'T EVER CHANGE.    
The Tea on You Upcoming Year ?
Love horoscope ?: Just because you're well-practiced in putting all your feelings out on the table in real time doesn't mean your boo, or potential boo, is/will be! According to the stars, there's a high chance your love interest of the year will be on the more reserved side (GASP).  Remember, everyone has a different 'love language' so a little communication and patience can go a long way! Only a small percentage of the population is fluent in the lingo of Scorpio woman/ Scorpio man.
Travel horoscope ?: Good news! All signs in the solar system are pointing to the trip of a lifetime for you and your day ones in the near future. Remember, your natural built-in Scorpio street smarts make you the ideal traveler so there's no need to crack open the planner and analyze every single detail. Put your energy toward packing some ??? outfits instead because the destination is going to be IG-worthy! 
Friendship horoscope ?‍♀️: SPOILER! A friend will seek you out for important advice this year during Mercury retrograde. Don't get upset if they don't listen! We know, we know — it's annoying, but there's only so much you can do and jumping into Scorpio overprotective mode isn't going to help anyone. Try your best to be understanding and everything will be ?Keep in mind your communication style is most compatible with your Cancer, Virgo, Capricorn and Pisces friends.      
Scorpio Photo Editing Guide
We created a PicsArt Scorpio guide to help you shine equally as bright on social media as you do in real life where, let's be honest, you're THRIVING✨
We don't hand out the Dispersion Tool to just anyone. It's INTENSE and a serious force to be reckoned with. But then again, so are you (!!), which leads us to believe we can entrust you with it. All it takes is a single tap to take your photos from low-key to next-level! Not to mention it's guaranteed to catch the attention of even your most distracted followers. It's a Scorpio planet and everyone else is just living in it ?
Next time you feel like you need a little extra luck on an Instagram post you may want to consider harnessing the power of the universe with our Light Masks. The majority of them feature your lucky colors — red, yellow, and orange — and they can be easily applied just like any other FLTR! Plus, they'll accent you're fiery scorpio personality perfectly ??
Our Beating Hearts Sticker Pack was practically made ? for ? you! ? The wide range of heart styles means there's one to match every one of your Scorpio moods and they go well with, well, pretty much everything. Don't forget to add the Lights and/or Galaxy Brush to the mix if you're looking for max drama (totally recommended!)!
The Color Splash Photo Effect has your name written all over it! Being a Water Sign makes you a creative mastermind by default (see famous Scorpios: Katy Perry and Drake for proof) but unfortunately it doesn't grant a million hours a day to make something awesome. That's where the Color Splash Effect comes in. It only takes seconds to work its magic! Next time you're rushing out the door just tap and go ?✨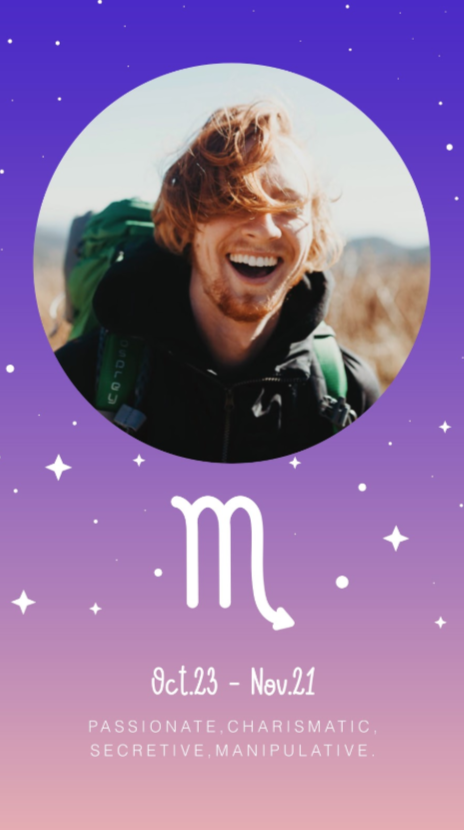 Proud to be a Scorpio after reading the above? You should be! Tell the world what's up with our Scorpio Template. Just select a fire selfie, save and post! The best part? It can be resized to Instagram Story dimensions in one click ?
PicsArt photo and video editor, collage and sticker maker is the world's largest creative platform with more than 100 million monthly active users and influencers. PicsArt has collaborated with several brands and artists, including Disney, MTV, Dior, DJ Snake, Gwen Stefani, Maroon 5, 30 Seconds to Mars and more. Step-up your photo editing with thousands of tools, edits, backgrounds, stickers and filters. Awesome starts here! Download the app today, and upgrade to PicsArt Gold to unleash your creativity!