Maybe you're already investing in Instagram ads and posting beautiful pictures to build your business, but you're not hitting your sales goals. Sure, visually appealing ads and relevant hashtags can grow your following, but figuring out how to sell on Instagram is another story.
Enter Instagram Shopping. It's the tool you need to tell your brand story, showcase your products to the world, and create a seamless shopping experience for your audience, all from the palm of your hand.
How? Instagram's one-of-a-kind shopping experience helps creators connect with new customers by tagging products, linking to landing pages, and creating an online shop. And if you're already running an eCommerce store, you can easily sync your existing platform to your Instagram catalog to build an immersive in-app storefront.
If you haven't tapped into Instagram's massive audience to market your business, it's time to start. Here's how to sell on Instagram, from creating shoppable Instagram posts to editing standout product pictures.
What is Instagram Shopping?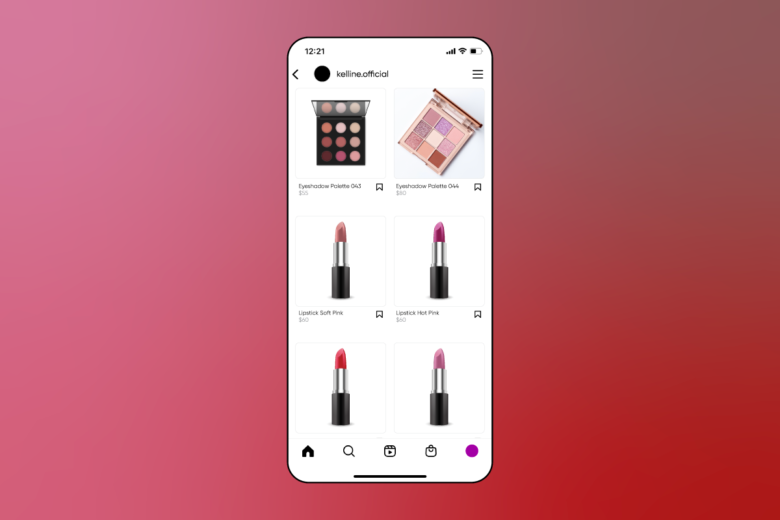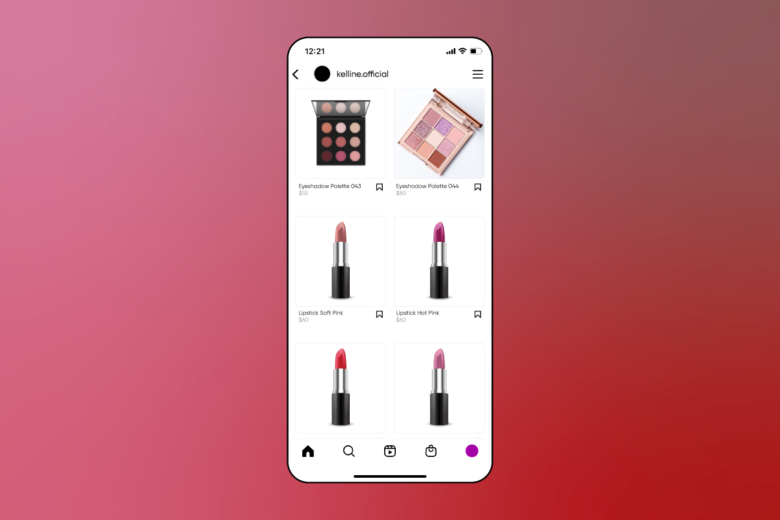 In a nutshell, Instagram Shopping makes it easy for users to shop on Instagram. Even though it's a relatively new feature, countless eCommerce businesses are tapping into the power of Instagram Shopping, and for good reason.
With Instagram Shopping, businesses and creators can tag products in their posts to create a seamless shopping experience, all without driving consumers off the Instagram app. By creating an immersive Instagram storefront, business owners can sell products, build brand awareness, and connect influencers and brand ambassadors in one place.
Still not sold on Instagram Shopping? According to SurveyMonkey, over 50 per cent of millennials and Gen Zers have purchased products after finding a brand on Instagram. The average Instagram user already uses Instagram for over 30 minutes each day. And captivating visuals are all you need to turn casual scrolling into an online shopping trip.
How to Sell on Instagram: Setting Up Your Shop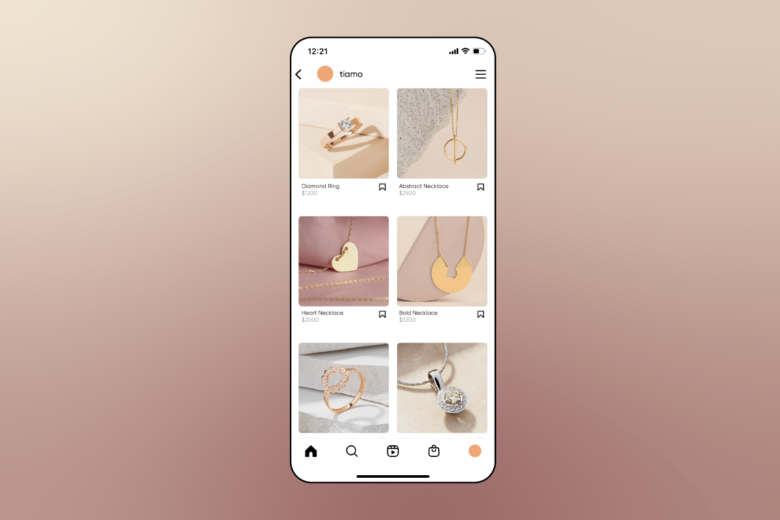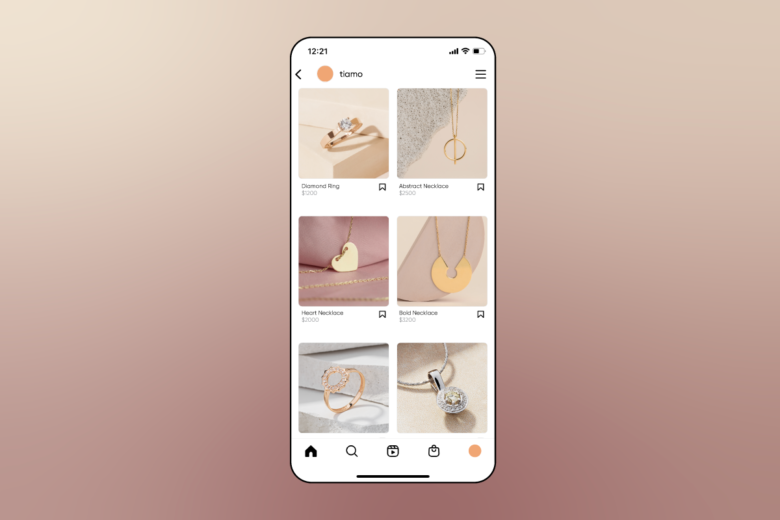 As eCommerce sales continue to skyrocket, learning how to sell on Instagram is more important than ever. And it all starts with your Instagram shop. Before you start setting up your shop, you'll need to make sure your business complies with Instagram's commerce policies.
Next, it's time to build your online storefront. Here's how to start selling on Instagram with an immersive in-app shop:
Log in to your Instagram business account and connect it to your Facebook business page.
Connect your Instagram account to a Facebook catalog using the Catalog Manager or Facebook Partner.
Navigate to your Instagram profile's settings, choose Business, and then select Instagram Shopping.
Follow the steps and submit your account for review.
After your Instagram account has been approved, you can start using Instagram Shopping to sell products. Even if you're not social media savvy, it's relatively simple. All you need to do is choose Tag Products when you create a post or Story.
How Can You Offer Your Products on Instagram?
There are a few different approaches to selling on Instagram, from linking to landing pages in Stories, to driving prospects to your Instagram storefront.
Whether you're running a start-up business or building your creator brand, here's how to sell products on Instagram.
Instagram Feed Post Shopping: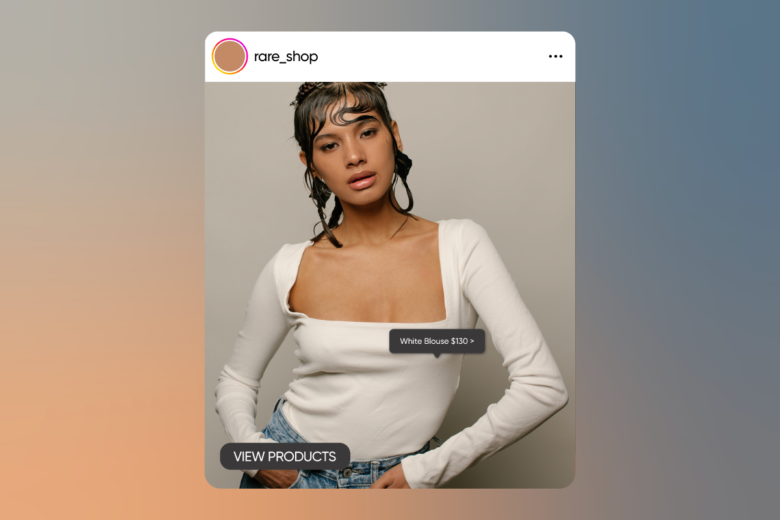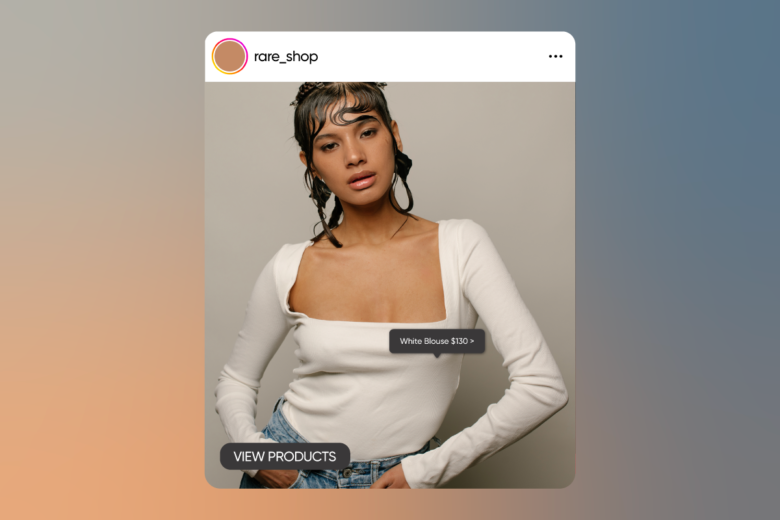 Feed posts are one of the easiest ways to start selling on Instagram. After setting up your storefront, you can tag up to five products on single-image and video posts. You can also tag other Instagram accounts, making feed shopping posts a great opportunity to drive sales with user-generated content.
Instagram Shops:
Instagram Shops are an amazing tool for reaching new customers, driving traffic, and creating a personalized Instagram shopping experience for your audience. You can use Instagram Shops to create a curated list of shoppable products for your audience that are accessible through the View Shop button on your profile.
Instagram Stories Shopping:
Selling on Instagram is easier than ever with Instagram Stories. Instead of using a swipe up call-to-action to drive traffic to landing pages, you can tag products using a product sticker. This way, potential customers can learn more about your products without swiping up.
Instagram Live Shopping: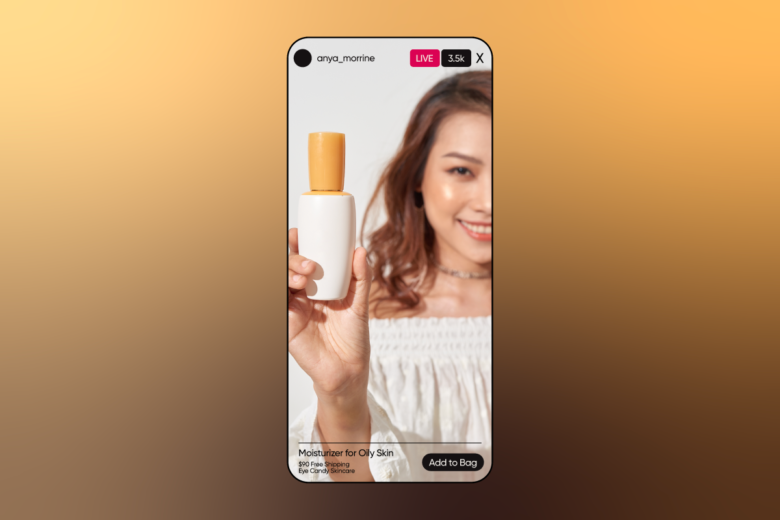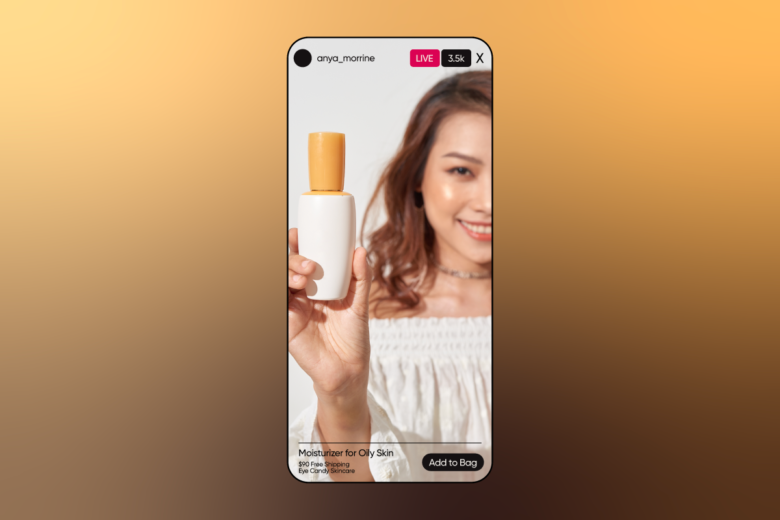 When it comes to Instagram shopping, Live is one of the most valuable assets in your marketing toolbox. With live video, you can add a personal touch to your brand, answer real-time questions, and showcase products in a relatable way. The best part? You can tag products directly in your broadcast for viewers to tap and purchase.
How to Sell on Instagram Effectively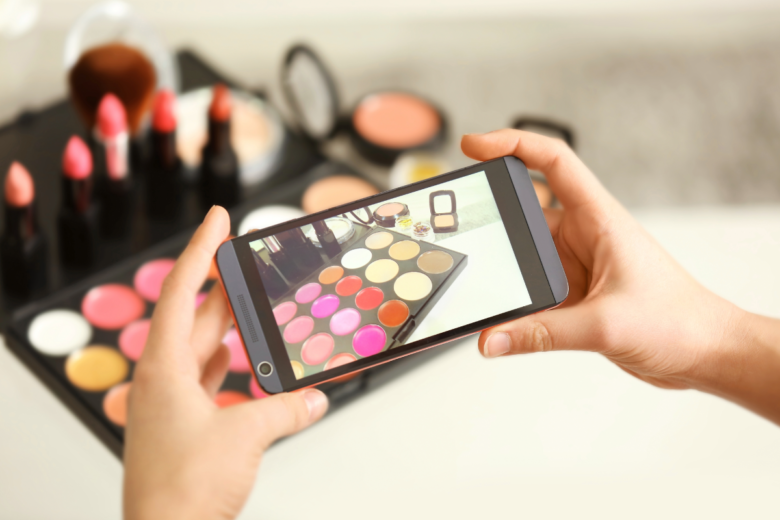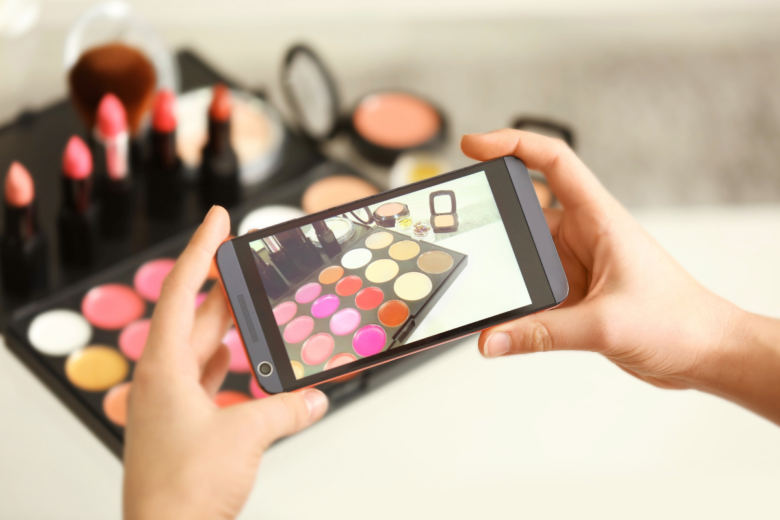 With so many businesses and creators selling on Instagram, you need to create captivating content to successfully convert followers into paying customers.
Your Instagram posts should engage your target audience, resonate with followers, and highlight your products. All while guiding prospects down the sales funnel and enticing them to click Buy Now. Here's how to sell things on Instagram while creating a one-of-a-kind Instagram shopping experience for your audience:
1. Choose a Distinct Aesthetic
Since Instagram is a visual network, the secret to sales success is eye-catching visuals. Keep your content consistent by choosing a color theme, specific font, and brand voice. Take the time you need to get your photos right. Don't be afraid to edit your product photos to really make them pop.
2. Make Quality Your Top Priority
Let's face it, grainy images and shaky videos don't sell. Images are at the forefront of your Instagram strategy, so they need to be professional, resonate with your target audience, and stay consistent with your brand.
3. Plan Your Instagram Feed
Once you've nailed down your aesthetic, planning Instagram content will be a breeze. Keep your Instagram content fresh with a mix of sales-focused posts, promotions, user-generated content, and educational content. Your main goal is to captivate prospects with attention-grabbing content, and then provide more details (like promotion dates, product info, and a call-to-action) in the caption.
Build your community with hashtags – When it comes to social selling, hashtags will be your best friend. Hashtags hold incredible potential for building brand awareness and connecting with new customers (and, ultimately, selling more products). Figure out which hashtags are relevant to your audience to boost your exposure.
Show off user-generated content – Even if you have professional product photography, don't sleep on UGC. Whether you're partnering with influencers or reposting pictures of everyday customers using your products, UGC can help you build trust and social proof.
How to Edit Your Product Photos with Picsart
So, you've set up your Instagram Shop and you're ready to start selling. But with countless businesses and creators already selling on Instagram, how can you stand out from the crowd? You need high-quality content.
Just because someone sees your product photos doesn't mean they'll take action and purchase your products.
That's why it's so important to have compelling images. You want potential customers to stop scrolling, look at your products, and click Buy Now.
Even if you're doing DIY photography, it's easy to edit professional product pictures with Picsart. Here's how to amplify your Instagram storefront with outstanding, conversion-driving product pictures.
On Desktop:
1. Open the Picsart Online Editor and choose Uploads.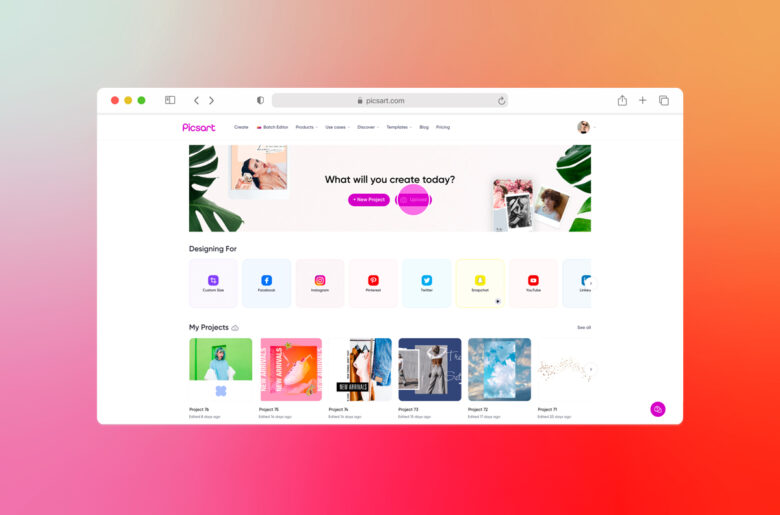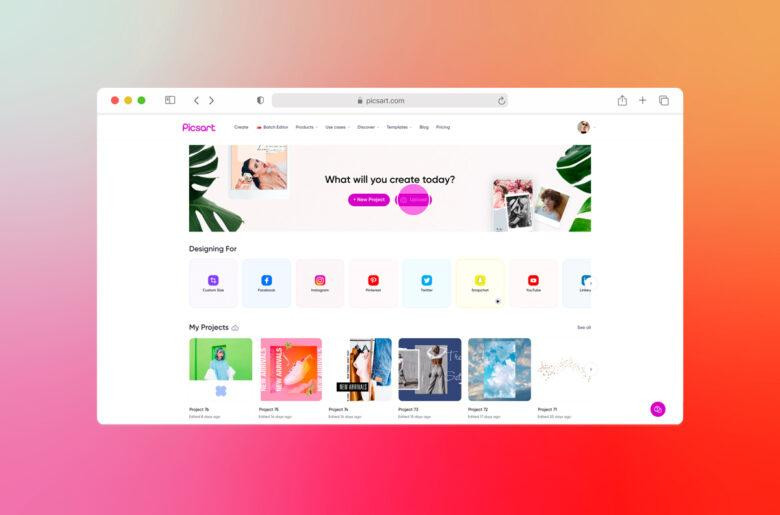 2. Select the image you'd like to edit.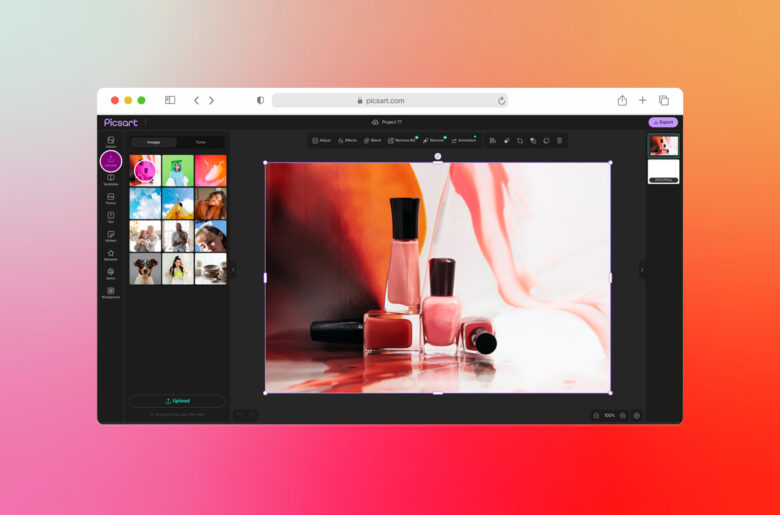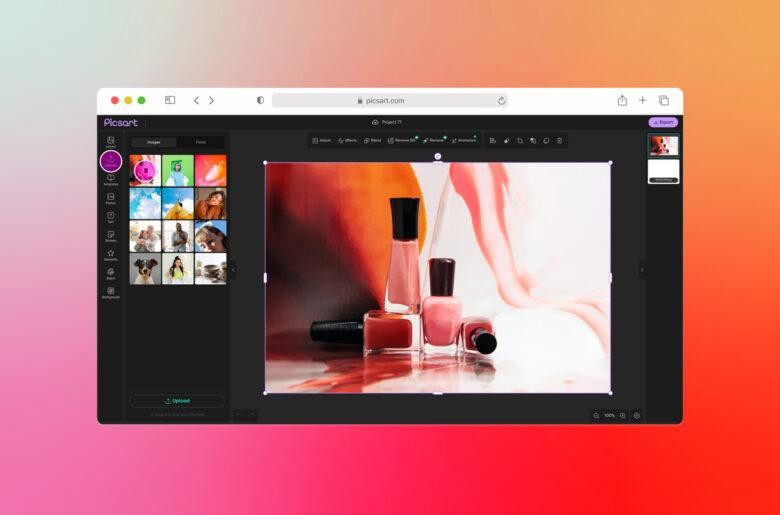 3. Under the Adjust tab, experiment with different Brightness, Contrast, Shadows, Highlights, Opacity, and Saturation settings to brighten your photo, edit your lighting, and add a professional touch.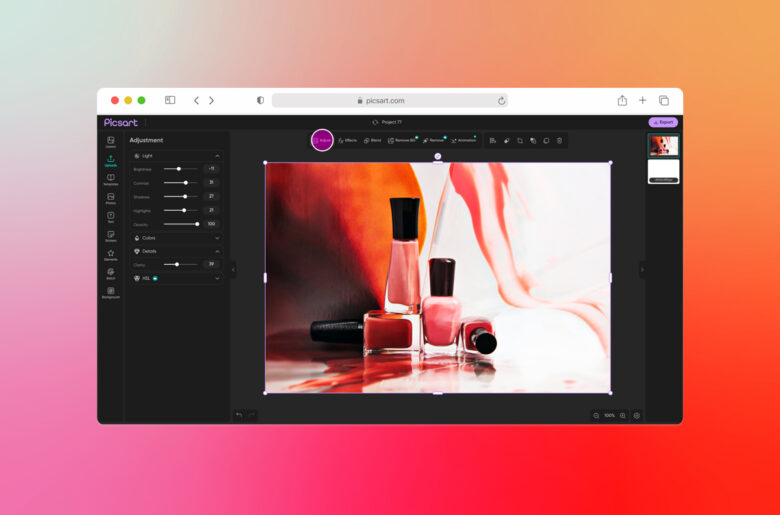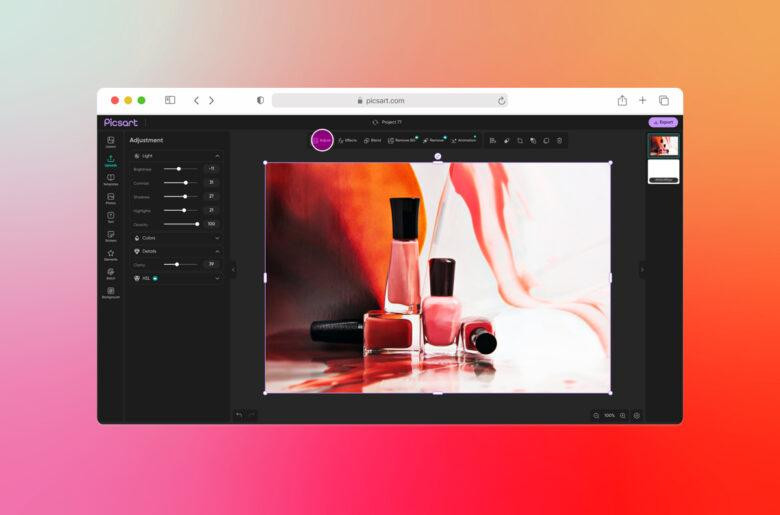 4. If needed, add filters and effects by tapping FX. Remember not to go overboard with filters. The main focus of your picture should be your product. You want to present it as authentically as possible to show your customers what they can expect.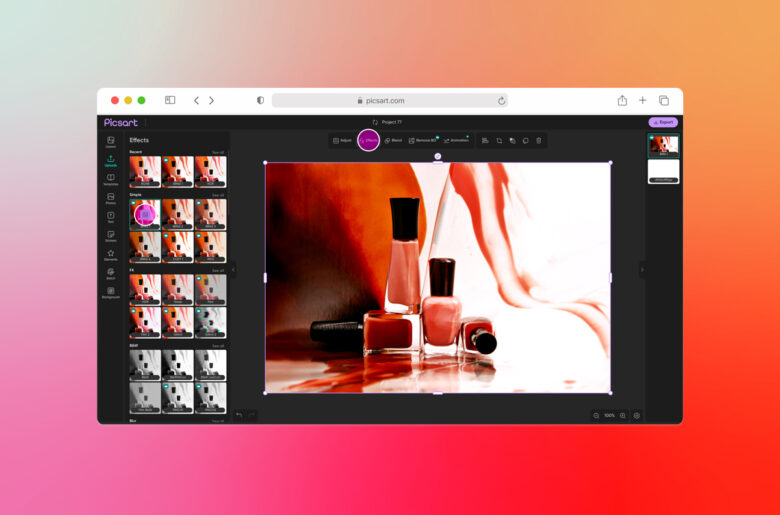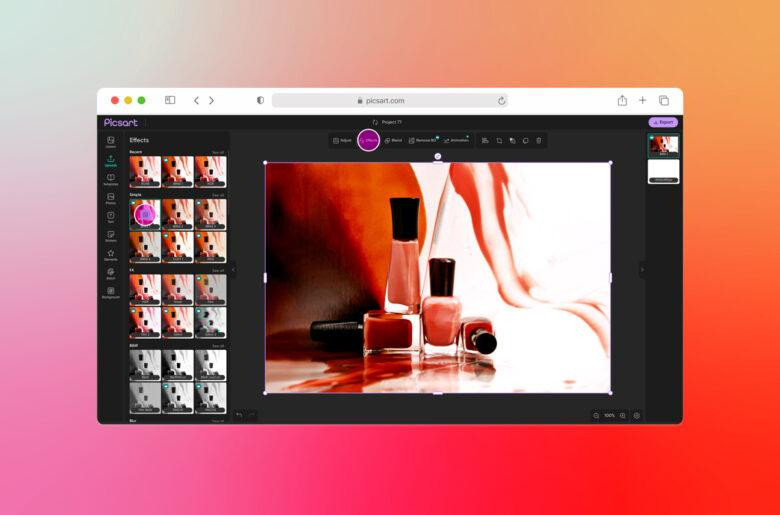 5. Click on the Export button when you're done, to save your edit and show it off on Instagram.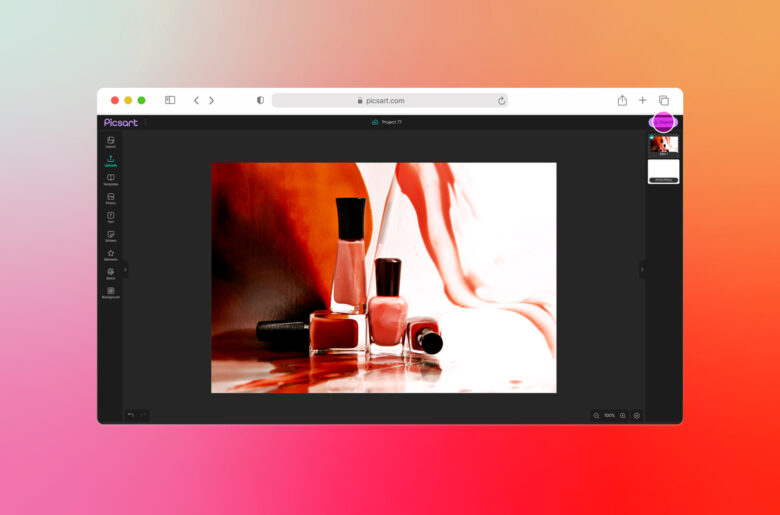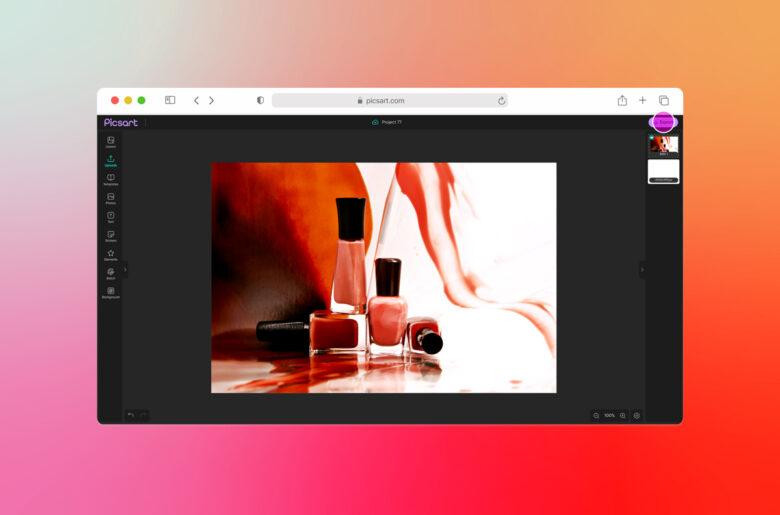 On Mobile:
1. Open the Picsart app and tap on the plus sign (+) to start a new project.
2. Upload the image you'd like to edit.
3. Tap on the Tools icon to start editing your photo.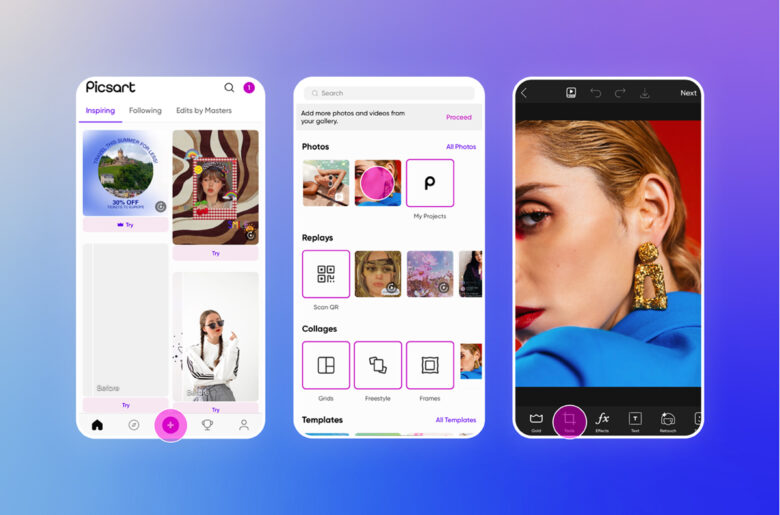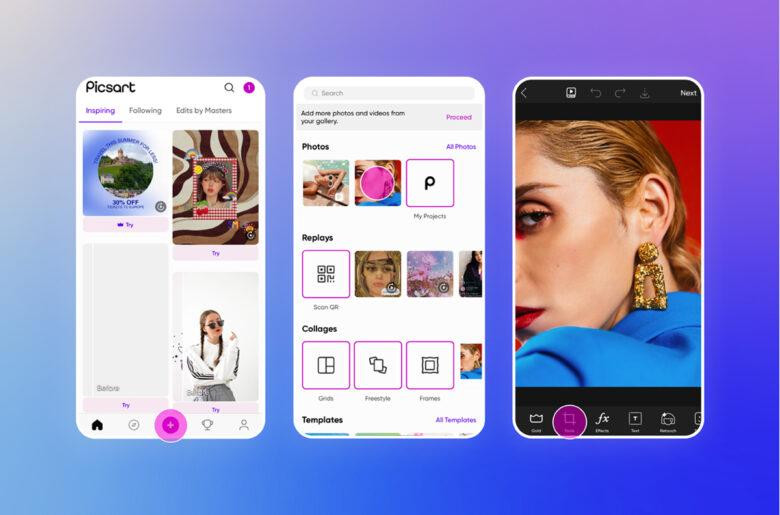 4. Experiment with different Brightness, Contrast, Clarity, Saturation, Hue, Shadows, Highlights, and Temp settings to edit your lighting and infuse your product pictures with professionalism. 5. When you're done, click Apply to save your settings.
6. Choose FX to add filters and effects to your product pictures.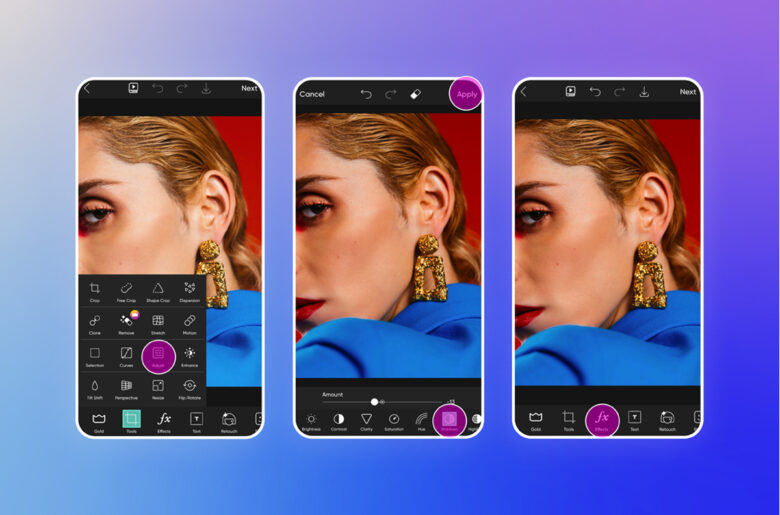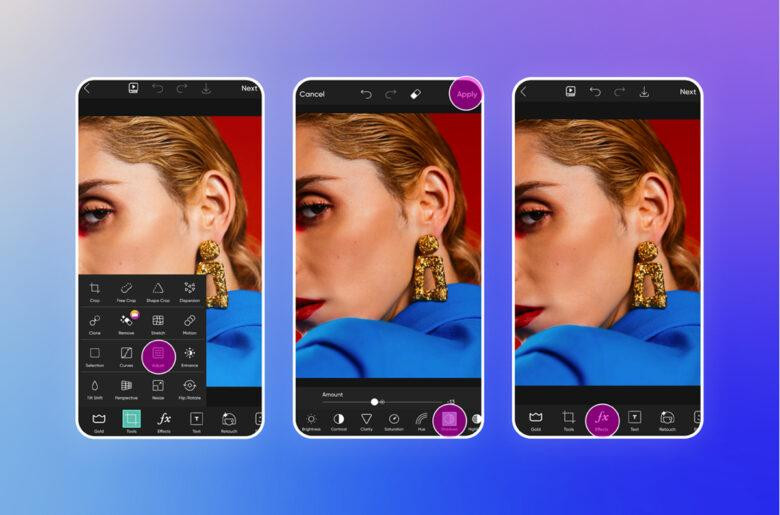 7. You can add multiple effects, but avoid going overboard. The main focus of the picture should be your product.
8. To add a mask, click on the Mask icon and choose the mask that works best for your photo.
9. Confirm by tapping on the Apply button.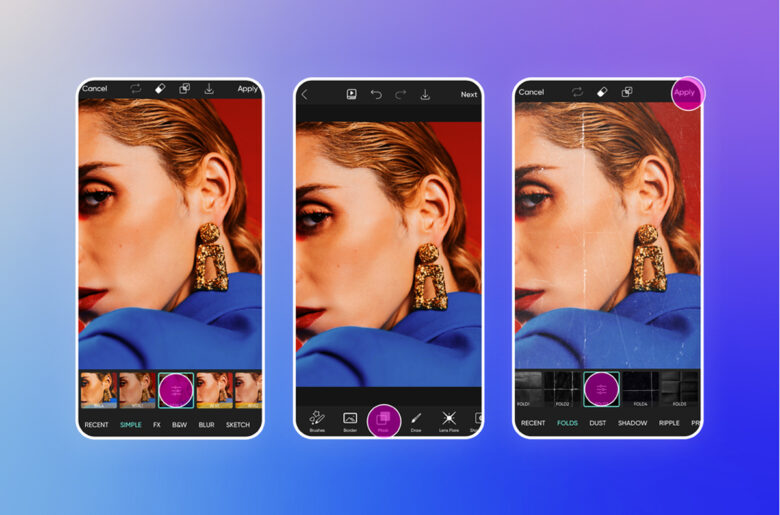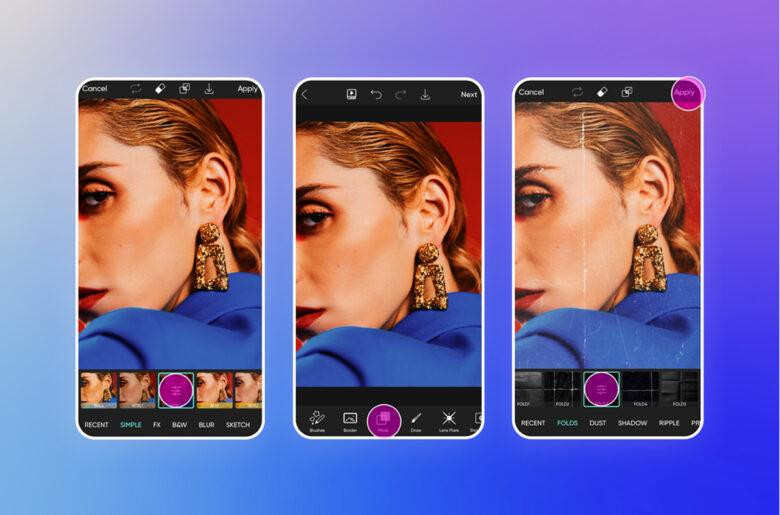 10. When you're finished editing, tap on the Next button in the top right.
11. Save your work or if you want some instant feedback on the Picsart community, share it by tapping on post.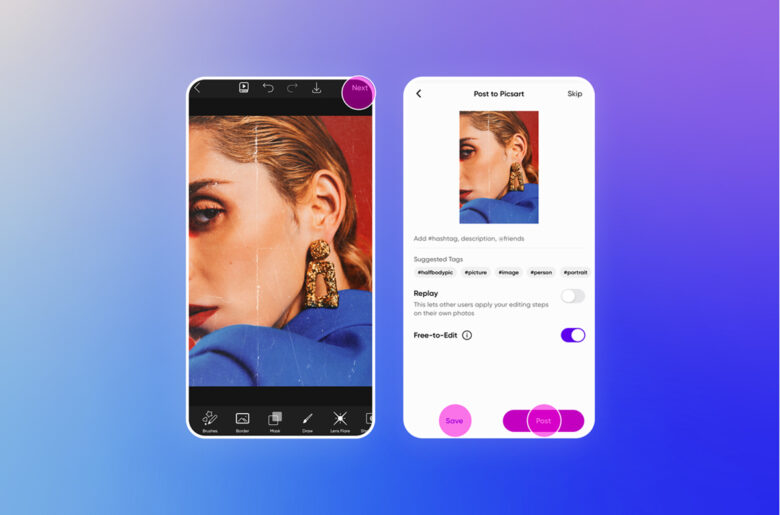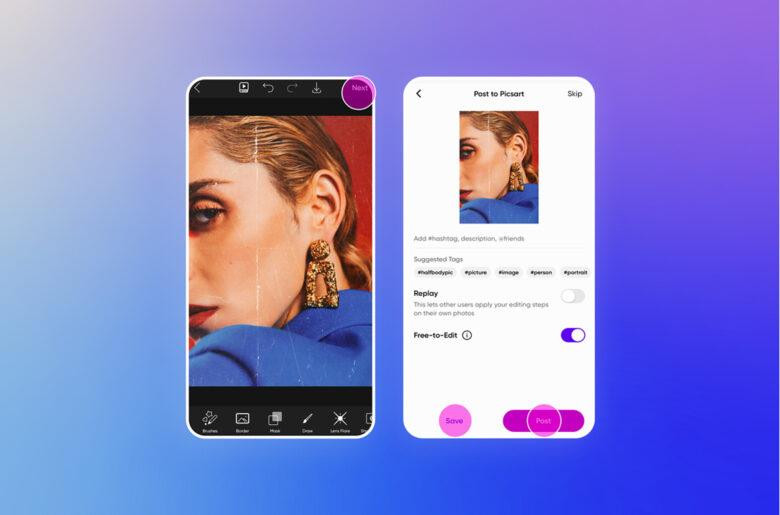 Picsart is a full ecosystem of free-to-use content, powerful tools, and creator inspiration. With a billion downloads and more than 150 million monthly active creators, Picsart is the world's largest creative platform. Picsart has collaborated with major artists and brands like BLACKPINK, Taylor Swift, the Jonas Brothers, Lizzo, Ariana Grande, Jennifer Lopez, One Direction, Sanrio: Hello Kitty, Warner Bros. Entertainment, iHeartMedia, Condé Nast, and more. Download the app or start editing on web today to enhance your photos and videos with thousands of quick and easy editing tools, trendy filters, fun stickers, and brilliant backgrounds. Unleash your creativity and upgrade to Gold for premium perks!