Trying to break a PDF file into multiple pages? Struggling to upload a large PDF file? If you're looking for a quick way to extract pages from PDF, you've come to the right place. Splitting a PDF file into multiple pages only takes a few seconds – as long as you have the right tool for the job. Here's how to separate PDF pages for free in just a few clicks with Quicktools by Picsart.
What are PDF files?
First things first: what are PDF files? Before you learn how to separate PDF pages, it's important to understand why you should choose a pdf file over other file types. PDF stands for Portable Document Format and was created by Adobe in the 1990s. In today's digital world, PDFs have become the preferred file format for sharing and printing files.
What's the main reason why PDFs are so popular? It's simple: They're universally compatible. PDF formatting maintains all the elements of a printed document (think: pictures, rich media, and text) across devices. So, whether you're emailing a PDF document or printing an assignment, you won't have to worry about sacrificing formatting elements.
Plus, anyone can open and view a PDF file, even if they don't have Adobe Acrobat installed on their computer. Compared to Word documents, PDFs are typically the best choice for creating business-ready documents since they can be encrypted. PDFs are also difficult to edit, which can help protect your data from being tampered with.
If you're debating between PDF and Word, PDF is usually the way to go. PDF documents are usually smaller in size and take up less space on your hard drive than other file formats. So, when you're dealing with large files like academic papers, contracts, manuscripts, or tax forms, you'll be able to upload and send files more quickly. Even if you're dealing with a larger file, PDFs are easy to edit and separate into multiple pages if needed.
Why should you separate PDF pages?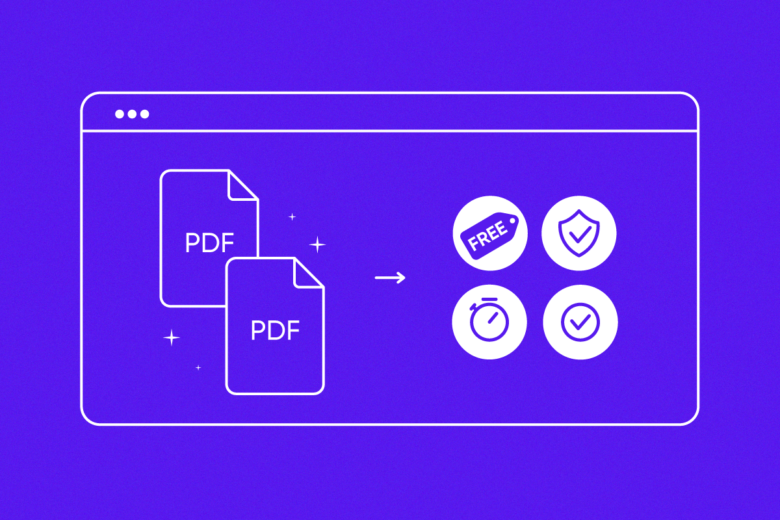 Dealing with large PDF files can be frustrating. If you've ever tried to send a long report to your manager or email a thesis dissertation to your professor, you'll know that sending large PDFs can be time-consuming. But when you split a PDF into multiple pages and files, you don't have to worry about sending a large file. 
Adjusting your PDF size only takes a few steps, and you don't need expensive software to do it. If you need to keep your file intact, compress a PDF file for free to quickly reduce its size without sacrificing quality. After all, PDFs should be portable so you can email them, upload them to a USB drive, or print them. Smaller file sizes also open faster, so you can get the information you need quicker. They're also less likely to get corrupted, so you can be confident that the information in your document is safe.
If you only need part of a longer PDF, you can also split a PDF into multiple pages to create smaller files. This way, you can split large files into individual chapters, an appendix, or remove unnecessary pages to reduce PDF file size. Then, you're free to save, send, or mark up only what you need.
When you learn how to separate PDF pages online, you can mix, match, and reuse pages from multiple PDF documents to create a single file. Or, you can customize files with all the form fields, comments, and links included. Plus, since smaller PDFs are easier to send and viewable on most devices, you'll have an easier time collaborating with coworkers, teammates, or friends. So, what are you waiting for? Below, we're showing you how to separate PDF pages. 
What's the easiest way to split PDF into multiple pages?
Compiling a long-form marketing report? Trying to save a few important pages from your lease agreement? No matter what your editing needs look like, Quicktools by Picsart can help you quickly split PDF into multiple pages.
Quicktools offers a free and easy-to-use set of PDF tools, so you can quickly customize PDF files to meet your editing needs. With Quicktools, you can easily extract pages from PDF files, convert PDFs to other file formats and vice versa, and compress a PDF file. And when you're finished editing documents, you can head over to our online photo editor to flex your creative muscles or create attention-grabbing graphics for your project.
Instead of trying to manually extract pages from PDF files or download expensive third-party software, you can transform your files in seconds for free with Quicktools. Plus, you can instantly convert files, craft custom designs, create AI-generated copy, and more.
Extract pages from PDF files with Quicktools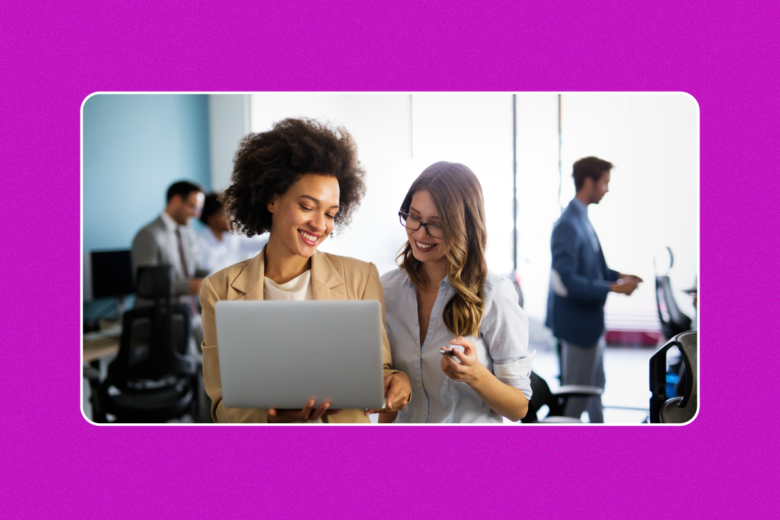 When you're looking for the easiest way to split a PDF into multiple pages, Quicktools is your best friend. When you're ready to split PDF pages, all you have to do is upload your PDF file and choose the pages you want to save. Then, you can save individual pages as PDFs or merge your selected pages into a single PDF file to download.
Even if you're extracting pages from a secure document, you'll have the peace of mind of knowing that your files are safe with Picsart. We don't save any of your files, and everything happens in your browser for full privacy and security. Since we remove your file after conversion, you don't have to take any extra precautions to protect sensitive or confidential information.
At the end of the day, the size of PDF files should never get in the way of your projects. So, when you use Quicktools for your editing needs, your PDF documents won't lose any quality even after you convert, edit, or compress them. 
How to separate PDF pages online
Looking to split a PDF document into multiple files or pages? With our quick and easy Split PDF pages tool, you'll learn how to split PDF pages online in no time. 
Ultimately, PDFs provide countless benefits compared to other document types. And if you're looking for simple ways to make larger files more accessible and user-friendly, splitting PDF pages is the answer. Here's how to split PDF pages online for free with Quicktools.
On the web:
1) Open the Quicktools Split PDF Online tool. Drag and drop your PDF file into the dotted box. Or, click Select File and choose a PDF file from your library to start splitting pages.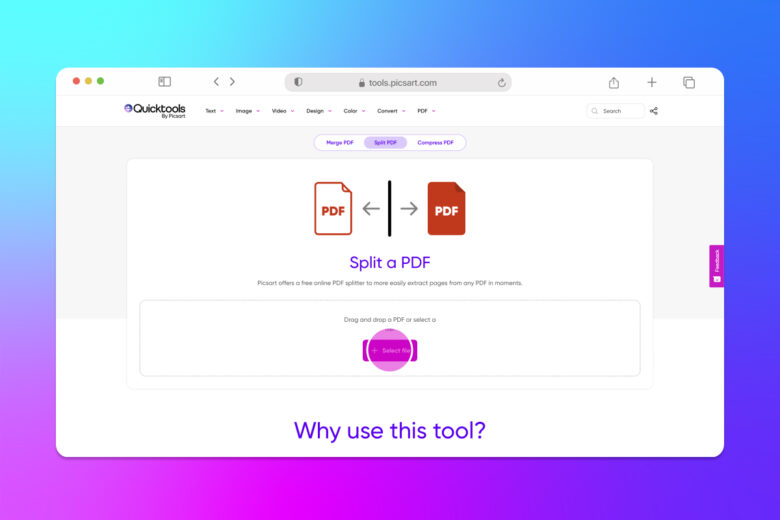 2) To extract pages, click the checkbox in the top left corner of any pages you want to keep. If you want to merge those pages into a single PDF file, click the Merge pages into one PDF file checkbox. To split the document, click Split Document and enter the range of pages you want to extract.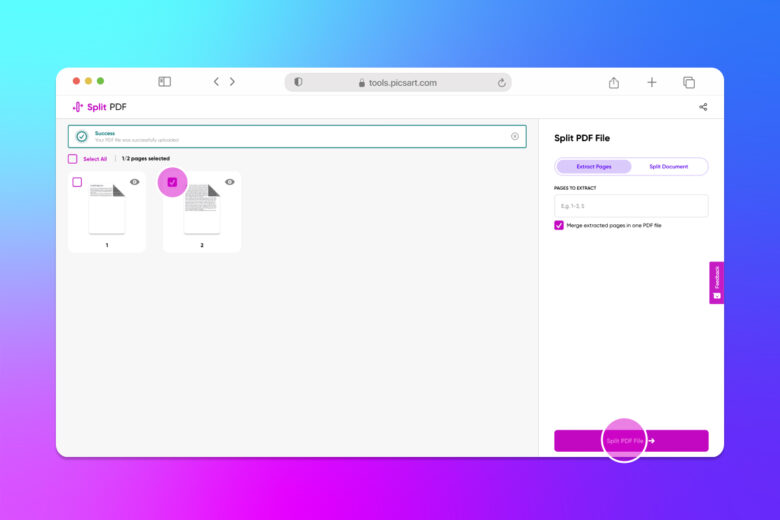 3) When you're finished adjusting the settings, click Split PDF file to instantly split PDF pages. Then, click Download PDF File to save your finished project to your computer.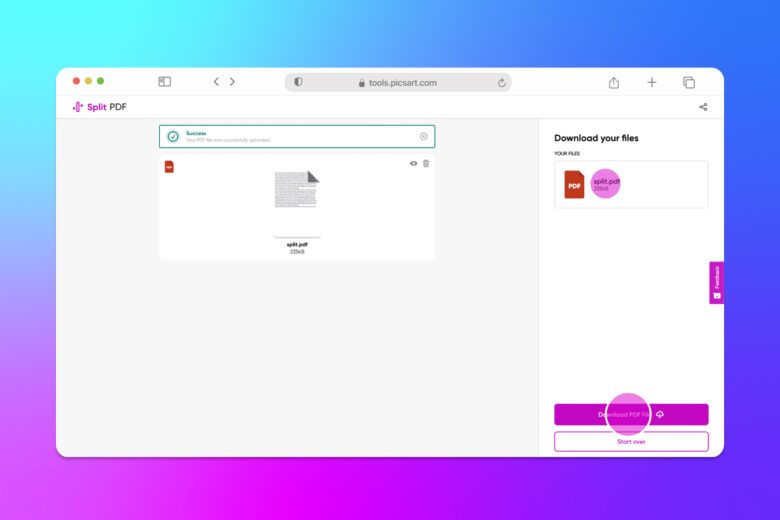 Picsart is a photo and video editing platform and creative community. A top 20 most downloaded app worldwide with over 150 million monthly active users, its AI-powered tools enable creators of all levels to design, edit, draw, and share content anywhere. The platform has amassed one of the largest open-source content collections in the world, including photos, stickers, backgrounds, templates, and more. Used by consumers, marketers, content creators and businesses, Picsart tools fulfill both personal and professional design needs. Picsart has collaborated with major artists and brands like BLACKPINK, Taylor Swift, Lizzo, Ariana Grande, Warner Bros. Entertainment, iHeartMedia, Condé Nast, and more. Download the app or start editing on web today, and upgrade to Gold for premium perks!