Feel like taking your creativity to a new level? Fancy some fun in the process? Of course you do. That's exactly what the face swap phenomenon was made for. You've probably seen it trending on social media platforms like Snapchat. But with Picsart, you can do it easily. From editing essentials such as crop and collage, to advanced tools, it's got everything you need for your creative journey. Need alast minute facial tune-up before you're ready for the face swap fun? No problem. How about some dental cosmetics? You can do that too.
How about a group pic in which everyone's looking just right, except for one person? Picsart can help you make professional-level edits by swapping out people's faces easily. Or perhaps you want to see how you'd look with a friend's face or pet's body, creating a brand new selfie? Well, why not? Swap faces using Picsart and all those curious dreams can come true. No matter how out there.
You don't need Photoshop. Your smartphone can do this. Just download Picsart from the app store. It's the only photo editor you'll need. Simply select a photo from your iPhone (or indeed any other brand of mobile device) camera roll, upload a pic, and engage in all manner of flights of fancy. Ready to start creating unique face swaps? Let's go.
How do you
face swap

?

1. Open the Picsart app and click + to start the face swapping fun.
2. Choose an image from your camera roll under the Photos category.
3. This is the background image. You'll swap faces out from this and add faces from another. Following? Great.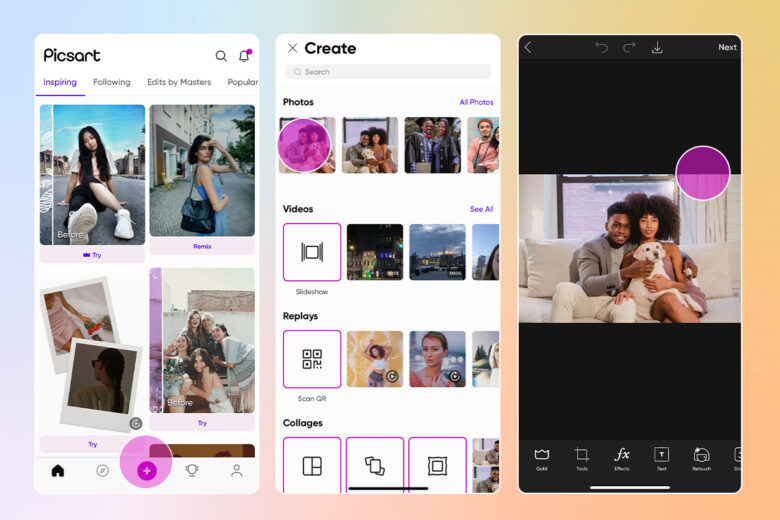 4. Okay, so now it's time to upload that other image. Tap on Add Photo.
5. Now let's tap on the Eraser icon at the top. You'll see the image zoom in on the replacement face swap shot.
6. From the options under the image, tap on Face and AI will magically create a new face mask from that image. Tap the checkmark in the top right corner to confirm.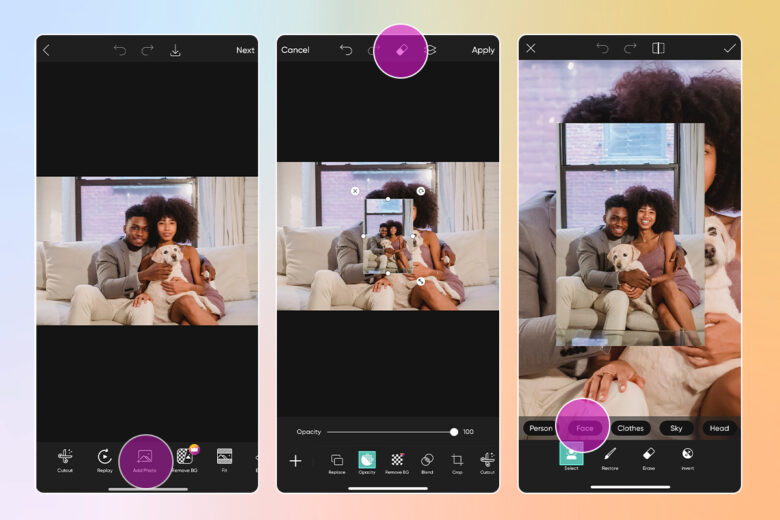 5. Now it's time to blend the two images together, making sure skin tone and other details match. Move the frame around the image in the direction required until it looks like a realistic fit on top of the original. Tap on Apply when it's a match.
6. When you're happy with the face swap so far, tap on Next to move onto the refining stage.
7. Tap the FX tool to add a filter if required (so that the face mask matches the skin tone of the background image, for example).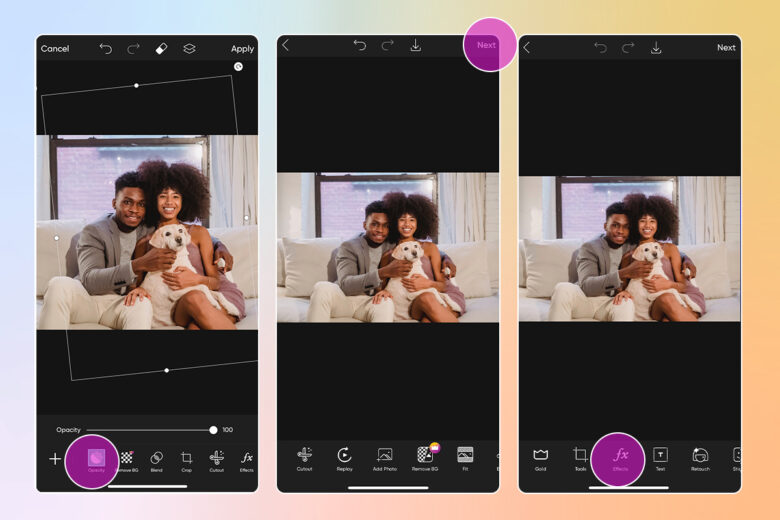 8. Select the filter that works best and looks most naturalistic.
9. Use the Adjust option to edit opacity, fix saturation, and tone.
10. And that's is that. You have a live face swap, ready to share.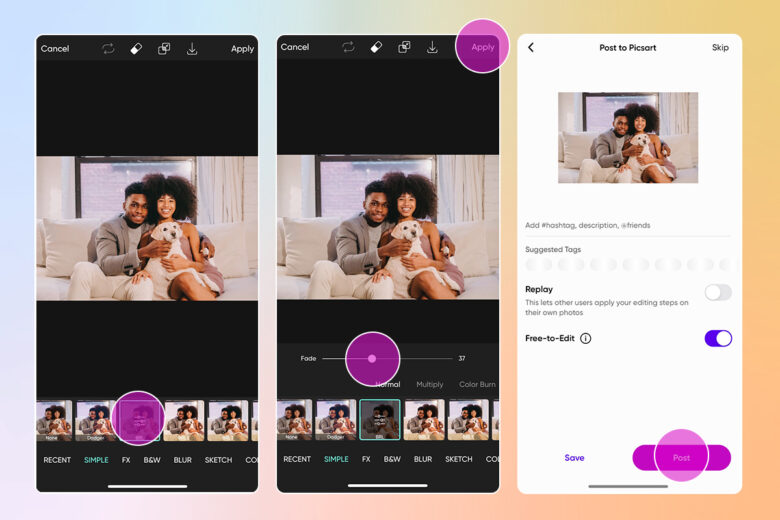 But what if you want to change a face on a picture? Don't worry, that's easy too.
How do you change a face on a picture?
1. Open the Picsart app and tap + to import the background image.
2. Tap on Add photo to select the picture you want to use.
3. Hit Tools, crop the face of the person whose face you want to use, make a mask, and save it to your gallery. Tip: Repeat the same steps above to extract the second face.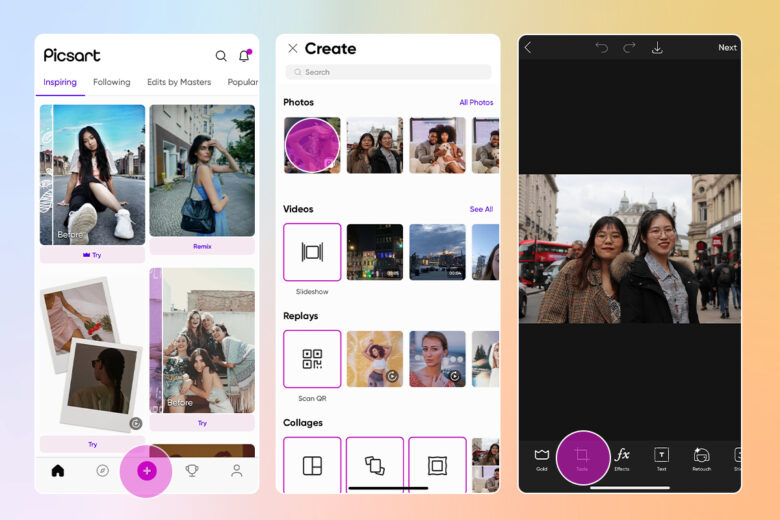 4. After saving your cropped image, you will return to the editing canvas. Time to change the faces. Tap on Add Photo, select the crop from your photo gallery, and fit the mask to the person's face you want to change and fix it to look realistic.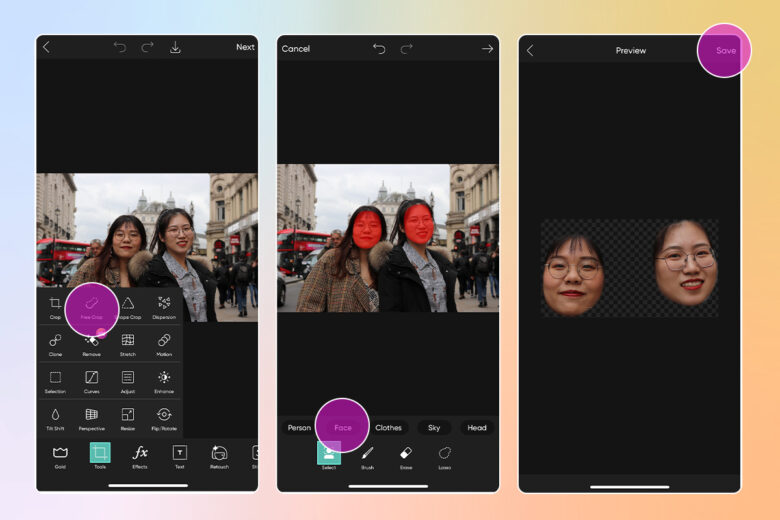 5. Repeat this process for the second person in the image to change their face for the replacement option. Lower the opacity and erace the edges if required. Some blending may be necessary, depending on how refined you need the final edit to appear.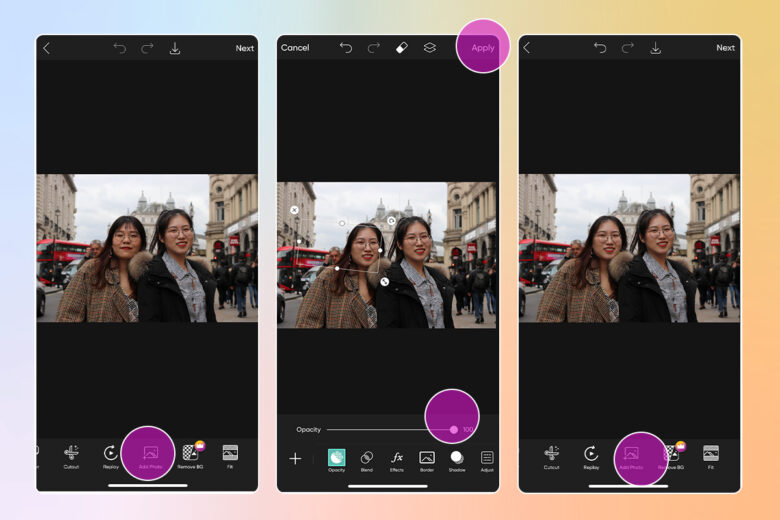 6. Click on the FX option to put on a filter so that the mask matches the skin tone of the background image (you can also put on a filter on the whole picture to make it look real) and use the Adjust option to edit, i.e. adjust opacity, fix saturation or the tone.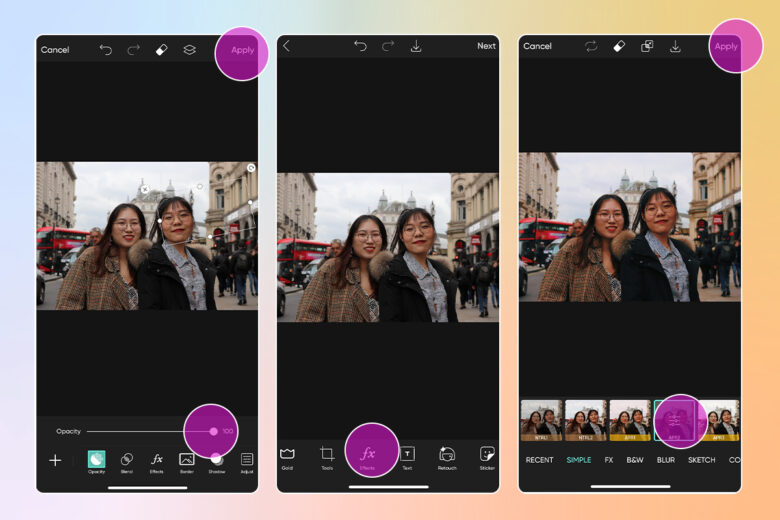 And voilà, you have a live face swap. Now you can now share your photo on your social channels. All you have to do is click the sharing icon at the top to post. Then share your face swap image to Picsart or the social network of your choice.
Where can you
face swap

online?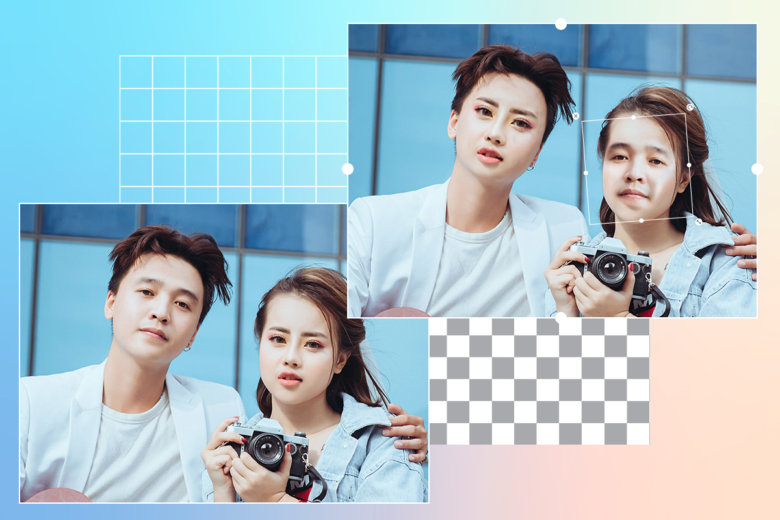 Whether you choose to face swap on iOS or Android, or online, Picsart is the ultimate all-in-one advanced editing app, and it's free to download. Google names Picsart an Editors' Choice app. Forbes features Picsart among the top photo editing apps, and more than 6.1 million users share these sentiments.
How do you
face swap

in a video?

Sadly, Picsart doesn't currently offer the option to switch faces in a video, but you can use other cool apps, like, REFACE.
What Is the
best

face swap

app

?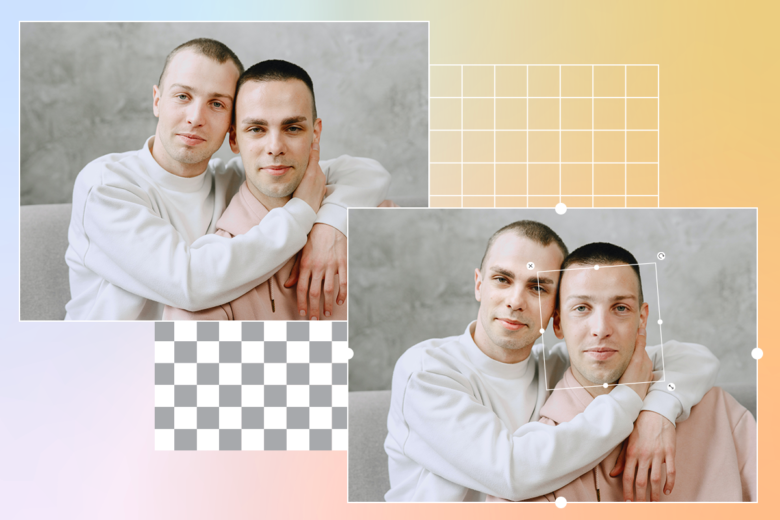 Picsart is the leading face swap app and here's why:
It's fun and easy to use. Picsart offers lots of creative control to productively experiment with

face swapping

.
Picsart has an extensive range of photo-import options, enabling you to swap faces in

real-time

with clicks and drags, plus a full-featured camera module which includes pre-capture live effects.
How about the array of editing tools (crop, cutout, perspective, etc) and filters (VHS retro, background blur, vintage light leak…)? They add a touch of class to photos and enable you to apply various artistic styles to customize your final

face swap

.
You can combine your pictures into highly customizable collages, add stickers from the Picsart library, or create custom stickers from your own

face swap

photos.
With the Picsart editing tools and a variety of on-trend filters and effects at your fingertips, your face swap photos are sorted. It's the only face swapping app you'll ever need. Remember, face swapping is all about expressing yourself and being creative, so just have fun with it.
Picsart is a photo and video editing platform and creative community. A top 20 most downloaded app worldwide with over 150 million monthly active users, its AI-powered tools enable creators of all levels to design, edit, draw, and share content anywhere. The platform has amassed one of the largest open-source content collections in the world, including photos, stickers, backgrounds, templates, and more. Used by consumers, marketers, content creators and businesses, Picsart tools fulfill both personal and professional design needs. Picsart has collaborated with major artists and brands like BLACKPINK, Taylor Swift, Lizzo, Ariana Grande, Warner Bros. Entertainment, iHeartMedia, Condé Nast, and more. Download the app or start editing on web today, and upgrade to Gold for premium perks!