Today we're unveiling the next iteration of the AI Avatar trend that has taken over the Internet: the ability to generate two people in one image. Now you can take images of besties, spouses, partners, boyfriends and girlfriends to the next level!
Starting today, upload 5-20 images of you and another human and receive a whole set of fun stylized images of the two of you. Current styles include cyberpunk, pop art, fantasy, illustration and more – with new styles introduced regularly. You can even continue editing the images to your liking with Picsart's thousands of tools, stickers, filters and more. So the next time you want to wish your bestie a Happy Birthday on your IG stories, you'll have a whole arsenal of cool images to choose from.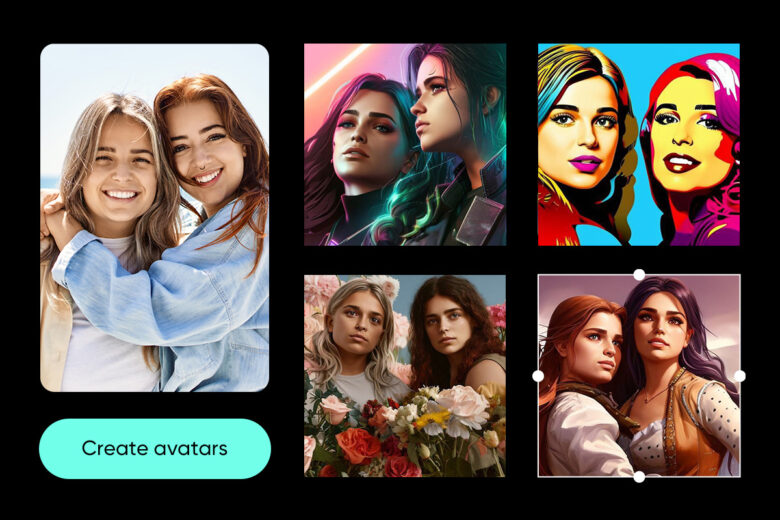 Valentine's Day is also just around the corner, and Picsart provides plenty of editing options for you to express your love, friendship, or even the opposite. Maybe you're feeling spicy and want to replace your ex with a red flag, or you're ready to hard launch your relationship on social media in a fun and unique way with Avatar Couples. Picsart is here to cheer you on either way. 
    How to generate AI Avatar Couples
 Open the

Picsart app

for iOS or Android and tap the plus sign (+) at the bottom of your screen 

Scroll down to the AI Tools section and select "AI Avatar" then "Try it out" or "Get new avatars"
Select "Couple"

Upload 5-20 selfies or close-up portraits of you and another human, and select "Continue"

On the payment page, select how many avatars you want and click through to purchase 

Wait for your avatars to be finished (this can take up to 30 minutes)

Select your favorite avatars from your collection and either download to your device or continue editing it by selecting "Edit Image"
AI Avatar Couples is available now on the Picsart app. Avatars can be purchased in packs of 50,100, and 200. To access AI Avatar Couples, download the latest version of the Picsart app.
Empowering the Creator in Everyone
Picsart is the world's largest digital creation platform, offering AI-powered tools to creators of all levels to design, edit, draw and share photo and video content anywhere. It is used by consumers, marketers and content creators for both personal and professional design, and is available to businesses via API partnerships and integrations. With 150 million monthly active creators, Picsart has collaborated with major artists and brands like Discord, PopSockets, Shopify, BLACKPINK, Taylor Swift and more. Available on mobile and web, download the app or visit picsart.com and picsart.io for more information.