Millions of you use our design tools everyday to bring your imaginations to life. You're artists, drawers, fandoms followers, content creators and die-hard music fans. You are photographers, movie fanatics, meme makers, AI enthusiasts, graphic designers and maybe just a little (too) obsessed with cats. You're all driven by such different and diverse things, and we see that. 
Today, we're excited to bring you Spaces — a new community feature that fosters these endless interests, and allows you to connect and create around the things that you love.
Here's everything you need to know. 
Getting to know Spaces
So, what exactly is Spaces? They're in-app communities dedicated to a specific topic, interest, passion, culture, subculture, you name it. Places for you to be your most creative self and find those who celebrate you for that. We like to think of them like collaborative forums or a group chat with your most creative friends. 
When you're in Spaces, you can browse and post content, as well as like, comment on and remix other's posts. You can also suggest new Spaces for us to create. 
Maybe you're sharing your latest k-pop album art edit, or showing others how to use a new AI tool. Maybe you're looking to find new nature content and just want to get inspired. Whatever it is, Spaces is a way to express your passions, collaborate and get inspired by others, learn new tips and tricks, and have an easier content discovery experience.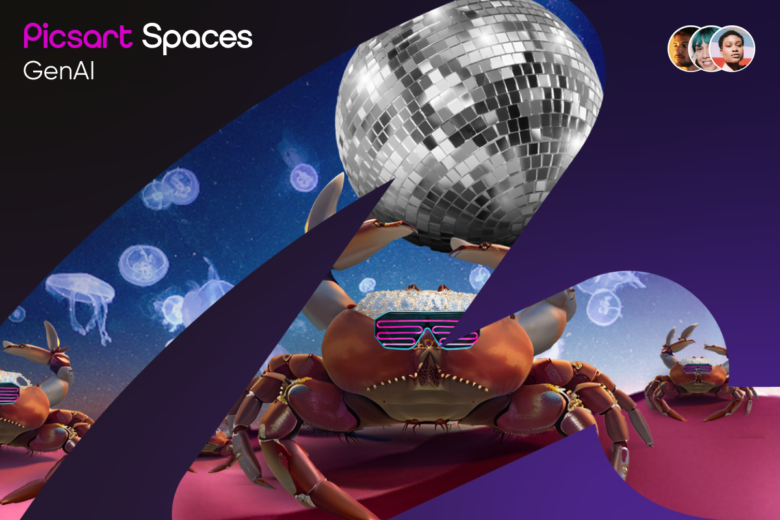 Why we're launching Spaces
We're one of the largest creative communities in the world and we've gotten here by giving you the tools to create anything you want. Literally, anything. From flying unicorn crabs shooting rainbows, aliens big wave surfing in the clouds, dogs as humans and humans as anything but. We've empowered the creator in everyone and now, we want to take that a step further and give you not just the ability to create, but share and collaborate with each other too. 
There are such diverse interests, passions, cultures and subcultures shaping the content creation on our platform, and we want to encourage those. We believe creativity is the most powerful when it's shared and that's what Spaces is all about.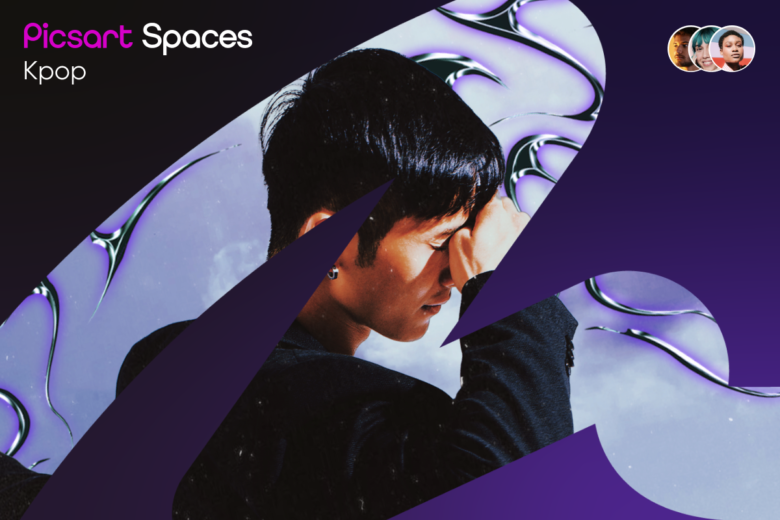 How to use Spaces
First up, make sure you have the most up-to-date version of Picsart. From there, you should see the Spaces icon on the top right corner of your screen to click into. For any of the active communities displayed, you'll be able to browse and engage with content even if you're not a member yet. 
To create a post, you'll need to join the Space. Then tap the bar down the bottom of the screen labeled "create a post" and click the image library icon on the left. This will open up your camera roll and allow you to select an image to post (you'll need to update your phone settings for this). You also have the option to post directly from the Picsart editor or your profile.
The rest is hopefully pretty intuitive – tap the heart icon to like a post, tap the message icon to comment and tap the "Remix" button to continue editing and iterating upon another user's post. You can also hit the three little dots on the top right of a post to report it, helping us keep the communities fun, safe and civil.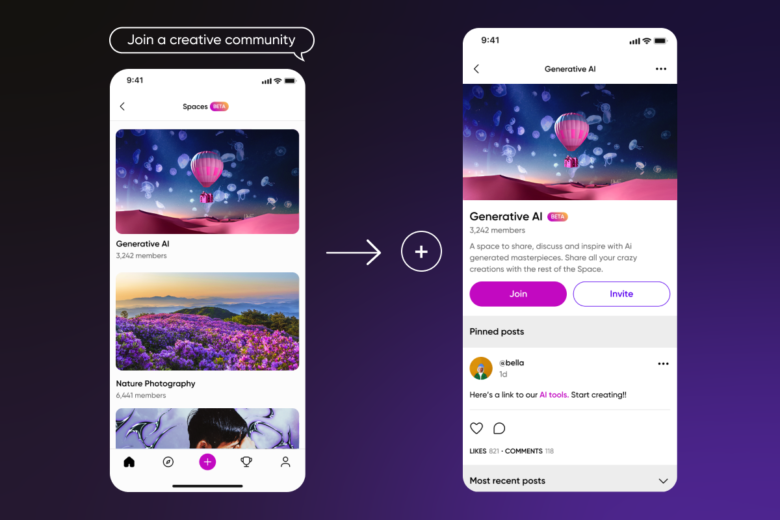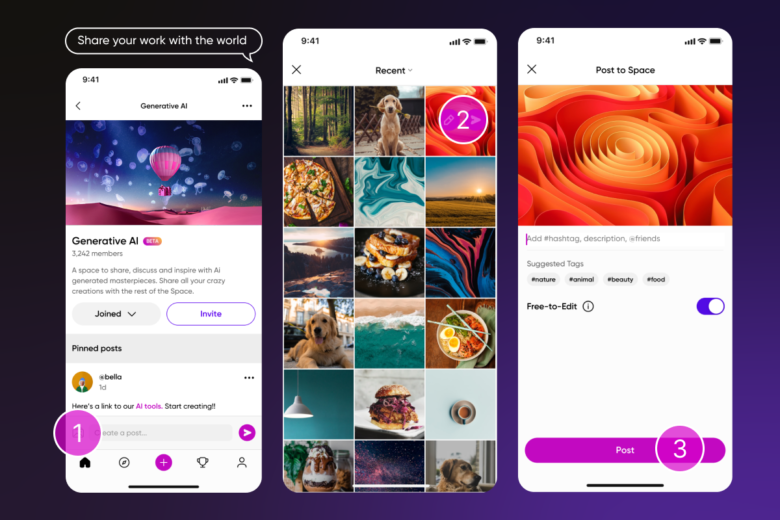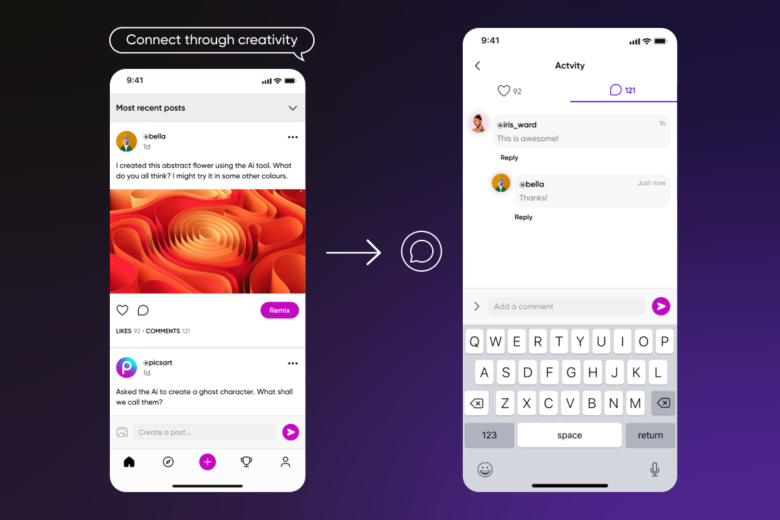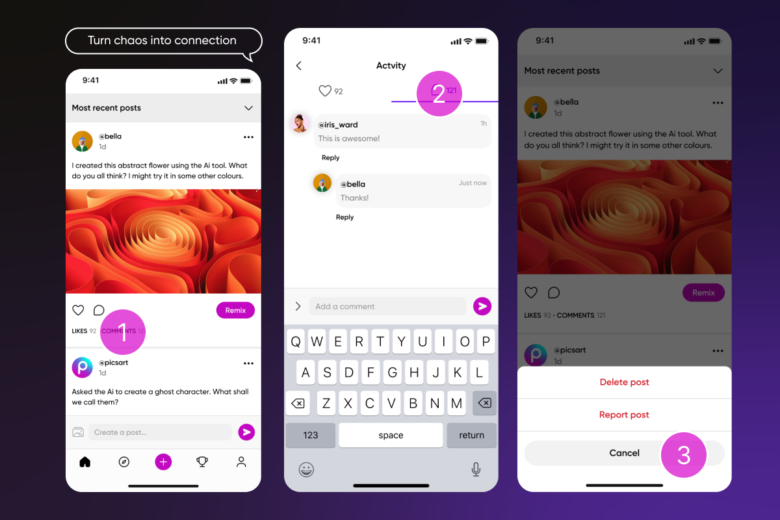 Availability of Spaces
Right now, it's open to all iOS, Android, and Web users in the US, UK, Canada, New Zealand and Australia – for both standard and Gold members. We're working to bring the feature to more of you soon. 
Finding the perfect Space for you
Our Spaces are growing every day, with communities around everything from Cats and Generative AI to K-Pop Fans and Light Effect Edits. Soon, you'll have the ability to create and manage your own Spaces. The possibilities will be endless. In the meantime, there's the option to submit a Space suggestion – we're all ears! 
What users are saying about Spaces
"If there's one thing that Picsart users love and have in common, it's to create. Art in general brings us together, whether it's drawing, painting, photographing, and so forth. And I'm excited to share and come together with others in just one tap. No more secondary logins to other apps, which is a plus." – @zanytaz
"The first thing I fell in love with, and why I continue to love Picsart, is the community itself. Encouragement from others is so valuable and helps you grow as an artist. And because we all have preferred tools and styles, being able to go through questions and experiences with other artists is really fun." – @hey_its_me_april
"I had limited technical skills when I joined Spaces just a few months ago and it's been wonderful in providing a hands-on learning experience. Remember that excitement of opening your first box of giant crayons in kindergarten? Get ready. Spaces is your grown up box of crayons." – @kaiakreations
"I am a passionate photographer, and if you would have told me 1/2 a year ago I would do edits…I wouldn't believe it! Spaces is new and makes it fun, I would not have started to edit and share if it were not for Spaces." – @kuller
"I like Spaces because I can communicate with other creators with similar interests and find inspiration." – @luvpixels
Picsart is the world's largest digital creation platform. Its AI-powered tools give creators of all levels the ability to design, edit, draw and share photo and video content anywhere. It's used by consumers, marketers and content creators for both personal and professional design, and is available to businesses via API partnerships and integrations. Picsart has collaborated with major artists and brands like Discord, PopSockets, Shopify, Taylor Swift and more. Download the app or visit picsart.com.