Looking to explore the beautiful colors of Kwanzaa and learn how to use them in your next Kwanzaa-inspired design projects? You've come to the right place! But before jumping into Kwanzaa colors, let's go over the history of Kwanzaa to offer some background and better context. 
The name Kwanzaa originates from the Swahili phrase "matunda ya kwanza," which means "first fruits of the harvest." Kwanzaa is a relatively new celebration honoring African-Americans and celebrated by millions of people in African communities around the world. This holiday was created in 1966 by Dr. Maulana Karenga, a black nationalist, and professor of Pan-African studies at California State University, Long Beach. 
Kwanzaa is a celebration of family, community, and culture. While not a religious holiday, Kwanzaa is a cultural observance that can be celebrated together with Christmas or any other religious holiday. In fact, many African-Americans celebrate both Kwanzaa and Christmas simultaneously. Kwanzaa is observed from December 26th to January 1st. Celebrations often include singing and dancing, storytelling, poetry, gift exchange, African drumming, and feasting.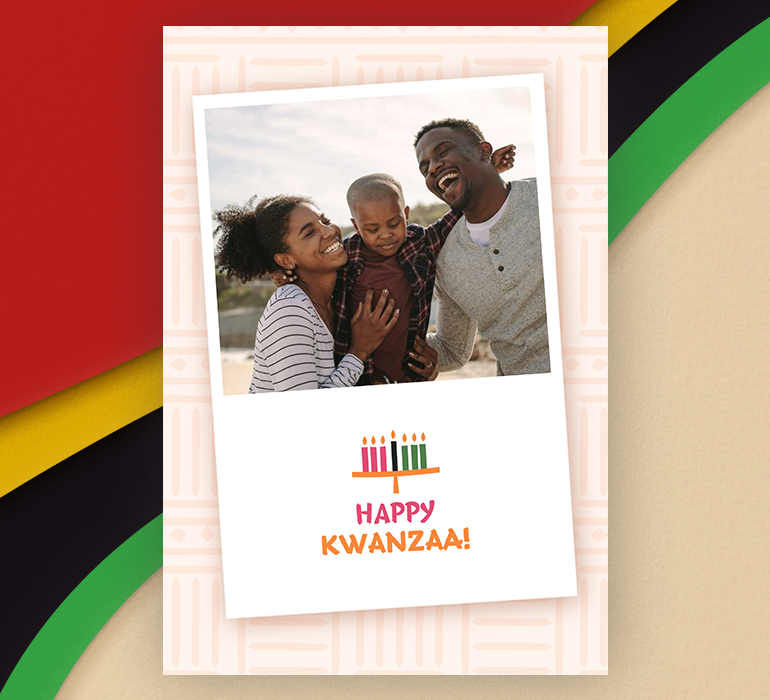 At the heart of Kwanzaa are seven guiding principles, each representing seven values of African culture that reinforce community among African-Americans. Each day, a candle is lit on the candle holder, and a principle is discussed with family and friends. Participants celebrate the end of the holiday with a day of reflection and recommitment to the seven principles, as well as other cultural values. The proper greeting for Kwanzaa each day is "Habari Gani?" meaning "What's the news?" for which the core principles form the answers.
The Seven Principles

These seven principles (or Nguzo Saba) are said to have been the building blocks to creating strong, productive families and communities in Africa.

1. Umoja: Unity
Umoja means building and maintaining the family unit, community, nation, and race.
2. Kujichagulia: Self-Determination
This means defining yourself, speaking for yourself, and making choices for the good of the community.  
3. Ujima: Collective Work and Responsibility
Ujima means building and maintaining your community as one and coming together to solve one another's problems within the community.
4. Ujamaa: Cooperative Economics
This means building shops and stores within the community and supporting businesses that care about the community and being able to profit from them together.

5. Nia: Purpose
Nia means setting collective goals of building and developing the community to restore people to their traditional greatness.

6. Kuumba: Creativity
Kuumba means creatively doing as much as you can to make your community more beautiful and beneficial than you inherited it.
7. Imani: Faith
Imani means to believe in the people of your community and have faith that a better world can be created for communities now and in the future.

The Seven Kwanzaa Symbols
In the Kwanzaa tradition, there are seven symbols that are beautifully arranged on a table. Each represents the values and concepts of African culture and reflects the building and reinforcement of the community as a whole.
Mazao


This symbol represents fruits, nuts, and vegetables. It is tied back to harvest fruits that nourished the people of Africa. In fact,

Kwanzaa

is based on the year-end harvest festivals in Africa that have been taking place for thousands of years.



Mkeka


This symbol means "mat." All seven

Kwanzaa symbols

are arranged on the mkeka made of straw or African cloth. It symbolizes the history and foundation of the communities built and for which people can stand on and build their lives.



Vibunzi


This symbol means the ear of corn which represents fertility and the concept of children carrying out future hopes of families. One vibunzi is placed on the mkeka for each child present.

Mishumaa Saba


This symbolizes "the seven candles that represent the seven principles." A different candle is lit each day to symbolically recreate the sun's light and power. There are three red candles on the right, three green candles on the left, and one black candle in the middle that are placed on the kinara (or candleholder.)

Kinara


This symbol means "the candleholder." The candleholder, which holds seven candles, represents stalks of corn that branch off to form new stalks. This ultimately symbolizes the human family that is created.

Kikombe Cha Umoja


This symbol means "the unity cup." On the sixth day of

Kwanzaa

, there is a ritual to drink from this cup to honor African ancestors. Before drinking, each person says "harambee," meaning "let's pull together.

Zawadi


This symbol represents gifts. On the last day of

Kwanzaa

, January 1, gifts are handed out to family members (mostly children) to encourage growth, achievement, and success. Handmade gifts are encouraged as well as educational and cultural gifts.  
Colors of Kwanzaa
The official Kwanzaa colors are red, black, and green. Red represents the blood that is shed in the struggle for freedom. Black represents the people of African descent. Green represents the fertile land and hope for the future. 
In addition to the red, green, and black Mishumaa Saba (or candles), many celebrate Kwanzaa by dressing up or decorating their homes in these colors. Kwanzaa decorations incorporate traditional symbols of African and African-American heritage. Some decorative items include African-style textiles, African baskets, tribal masks, cloth patterns, art objects, and harvest symbols that can be displayed throughout the home. 
The karumu (or ritual feast) is celebrated on December 31 and can be viewed as the most important part of the Kwanzaa celebration. The seven symbols, laid out on the mkeka, are arranged on the table for karumu. 
Kwanzaa Designs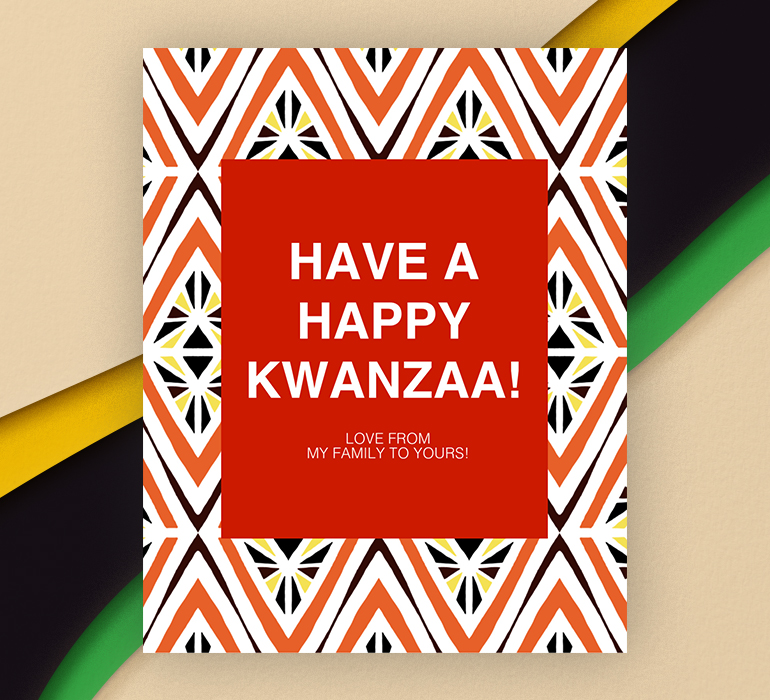 Now that you're inspired by the beautiful colors and traditions of Kwanzaa, let's dive into how to create Kwanzaa-specific designs.
Open the PicsArt app, follow these easy instructions:
Tap on the plus sign at the bottom of your screen.

Upload an image or select a background. If you're not sure where to start, simply choose a solid background such as black. 

Tap on the

Text

icon at the bottom of your screen and type your text, such as "Happy

Kwanzaa

."

Select a font. We suggest going for bold or block-letter typefaces such as Kairos Sans W1G, Blackboton Std-Bold, Nina Bold, or Jambalaya Itc Std. 

Edit the text using

Color

,

Opacity

,

Spacing

, and any other tool along the bottom. 

Place your text anywhere on your image and click

Apply

on the top right.

Click

Add Photo

and search "

Kwanzaa

" in Picsart's image library. You'll find some great images you can paste into your design. 

Click the

Sticker

icon and search "

Kwanzaa

" or "Africa" for themed stickers. 

Select the sticker(s) you like and place them on your design. Remember to click

Apply

on the top right to save all edits.

Add special effects to your card with the

Effects

and

Mask

tools. 

Download or post your

Kwanzaa

design!
If you're using PicsArt's Desktop editor instead, check out this step-by-step guide on how to create a Kawnzaa card online. 
Open

PicsArt's Text Editor

.

Select any free image or upload or own using the top left

Upload

button. You can search "

Kwanzaa

." 

Click on

Add

a heading,

Add

a subheading, or

Add

a body text. Then type in your text and move the text box to the desired area on your image. You can also adjust the text box size by clicking and diagonally dragging the corners of the textbox.

Click on

Font

above the image and you'll see a dropdown of typefaces you can choose from. You can also adjust for size, letter spacing, line height, alignment, caps, and the options to make your text bold, italic, or underlined. 

Next to

Font

, you'll find

Color

,

Outline

, and

Shadow

. Click into each of these editing tools and adjust your font accordingly. 

Click the

Sticker

icon and add any

Kwanzaa

stickers.

You can always add special effects with the

Effects

tool on the left.

Click

Download

at the top right or

Share

.



Today you learned the deep history and symbolisms of Kwanzaa and how to use its colors of red, green, and black. Remember to keep the vibrant theme and honor the traditions in your next Kwanzaa design!
PicsArt all-in-one Photo and Video Editor, Collage, and Sticker Maker is the world's largest creative platform with over 150 million monthly active creators and influencers. PicsArt has collaborated with major artists and brands like Taylor Swift, The Jonas Brothers, Gwen Stefani, Maroon 5, Lizzo, Meghan Trainor, One Direction, MONSTA X, Warner Bros. Entertainment, iHeartMedia, Condé Nast, and more. Download the app today to level-up your photos and videos with thousands of quick & easy editing tools, trendy filters, fun stickers, and brilliant backgrounds. Unleash your creativity with PicsArt and upgrade to Gold for awesome premium perks!